POV Holder:
?
Next POV
July 27th
POV Used
?
POV Ceremony
July 29
HOH Winner:
Aaryn
Next HOH:
Aug 1
MVP:
?
Original Nominations:
Spencer and Howard
Current Nominations:
Last Evicted Houseguest
David, Nick, Jeremy, Kaitlin
Have Nots
Judd, Amanda, Candice, GinaMarie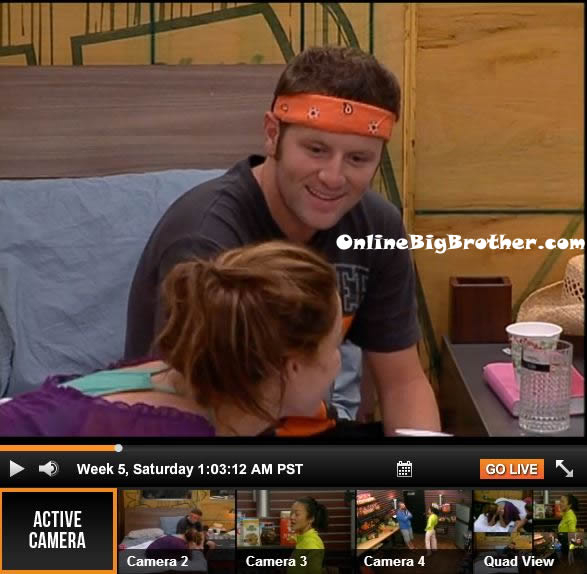 1am Judd and Elissa are talking. Elissa is worried they are going to put me up again. Judd says he asked Aaryn to pick him as house guest choice so even if you do go up I will try and take you off. Judd brings up the possibility of Howard having the Coup d'etat. Elissa asks what that is. Judd tells her that the person who gets it can use it to take two people off the block and nominate two more people. Elissa asks what?! Really? Judd says it's not fair, but I thought Howard had it but not anymore he is acting really nervous and after he cried after the nominations. Judd says I don't cry. Judd looks up at the cameras and asks what's up Rachel & Brendon did you go on vacation or something??! (Because Elissa didn't get MVP last week and this week.) Elissa says they don't love me anymore! Elissa says she thinks they would give the Coup d'etat to a guy. Judd says and you have two weeks to use it. He didn't use it last week and since he cried I doubt he has it. Judd comments that maybe BB will tempt them to drop out of the veto, $15! Elissa laughs. Judd says a gift certificate to Target for $25 – They be dropping like flies. Elissa laughs.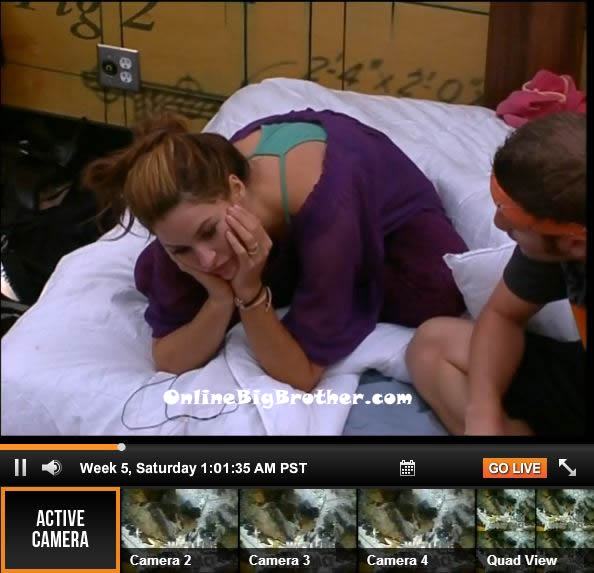 In the storage room – Spencer is talking to Helen. Spencer says that at least I have a few more relationships in the house than he does. And at least it gives me the opportunity to play for the veto. Helen agrees and says that she knows how it feels. She says you just have to wait to see who wins the POV and MVP is. Spencer says that there is also the opportunity of Aaryn back dooring someone. Howard says I can also see it as a chance for someone to Shepard us in. Helen tells him he could go from on the block to up in the HOH, I did it. Spencer says and Aaryn's done it. I am not going to give it up. If I do go home at least I get to go home to a beautiful woman, a loving family and a great job.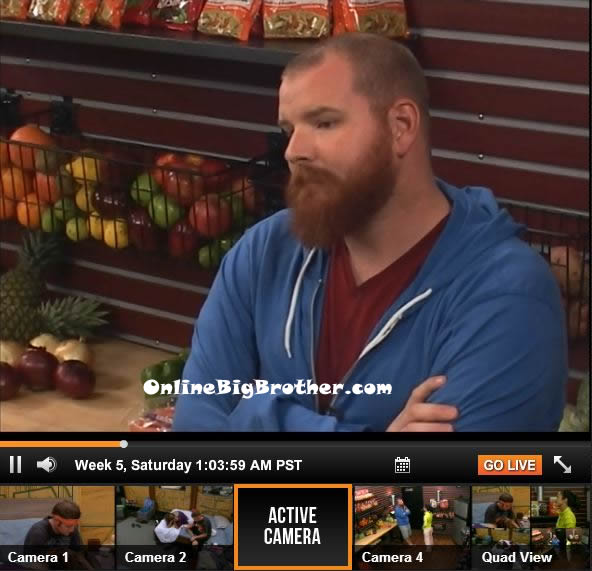 1:30am Up in the HOH room – Gina asks how long do you think this MVP thing is going to go on for? Aaryn says that she think the whole season. Gina asks really, its so unfair with her being here. Aaryn that's why I wanted to send Elissa home this week but I got talked out of it. I would have had the votes to send her home too.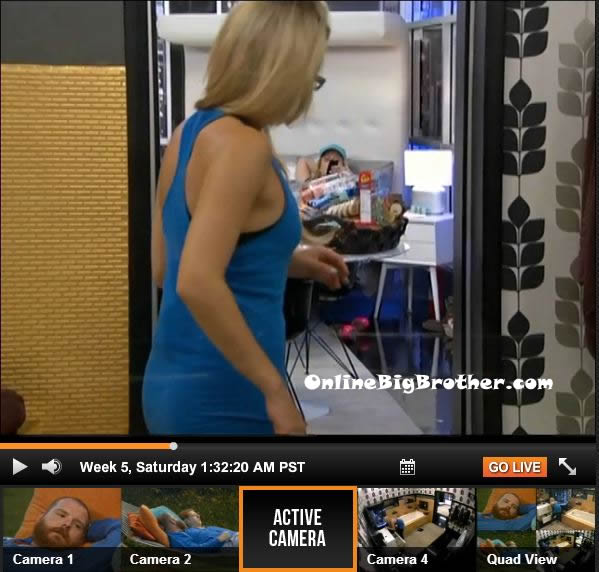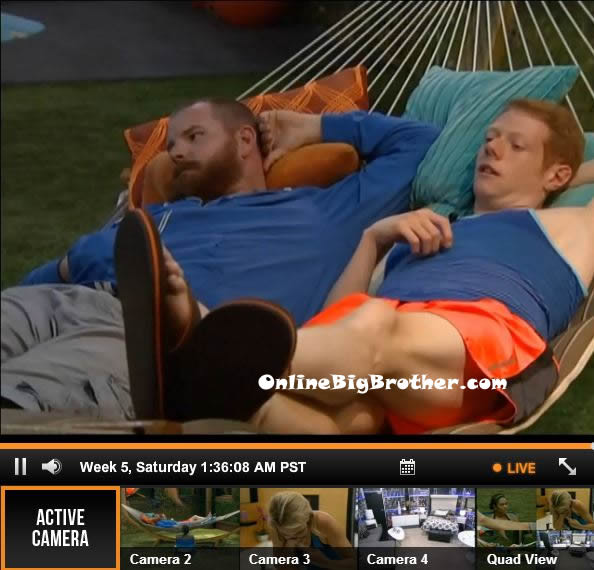 1:40am Out in the backyard – Spencer, Andy and Candice are talking by the hammock about random things. Meanwhile, in the bathroom – Juud, McCrae and Amanda are talking about the MVP. Judd and McCrae speculate that Howard is Danielle Reyes's brother from Big Brother 3 and Big Brother 7. Judd says but it has been so long since she's been on. They head out to the backyard. Amanda heads over to the hammock and gives Candice a taste of her ice cream. She then heads back over to the backyard couch and offers Judd a taste. Judd tries it and asks who else she offered a bite to. Judd says there's some people I wouldn't eat after, but some of ya'll would. The conversation turns to talking about whether or not they will get a reward/punishment competition. McCrae says he wouldn't accept any rewards now. He says he didn't want to last time either. McCrae and Judd both think Howard has a Coup d'etat. Amanda asks why? McCrae says because the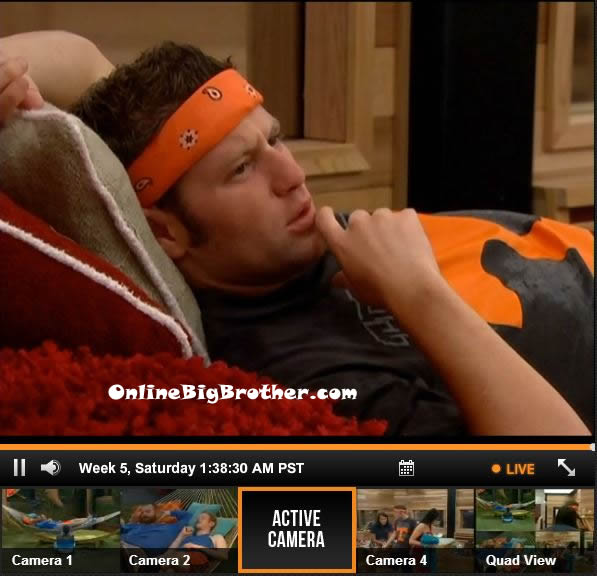 2am In the lounge – Andy, McCrae and Amanda talking about if Howard has the Coup d'etat. Amanda says he doesn't have it, it's too much power! McCrae says be he is fu*king snaky. Andy laughs about when Jeff Schroeder got and didn't know what it was or how to pronounce it. Amanda says if you keep talking about it they'll give it to him. Andy laughs and says maybe if he does have it we can get him to go after Helen. They laugh. McCrae mentions that Judd is wishy washy about Howard going home. Amanda asks what?! Why would Judd be wishy washy? McCrae bring up the possibility of it being a luxury POV and how they could throw it. McCrae says that Aaryn could easily throw it and take the rewards. Amanda gets mad that McCrae is always thinking the worst. McCrae says that he will take pretty much any punishment but he wont shave his head. I would if I was on the block but not if I am not. Andy asks what if I take a bunch of punishments and I take $10,000 do I lose a bunch of points? McCrae says yeah you would lose like 25 points. Andy says I don't have my job in the fall, if I don't make jury I am fu*ked. McCrae says once he is in it he probably would shave his head. Andy says I need that third nominee to be someone like Ginamarie, Elissa or Helen. McCrae agrees. Andy says he can't stand watching those fu*king pictures fly across the idiot screen. Andy wonders who the third nominee would be. McCrae thinks Howards only possibility to stay is if Elissa goes up. If it's America we could have been portrayed as the villains.
Big Brother 15 Live Feeds: FREE 2 DAY TRIAL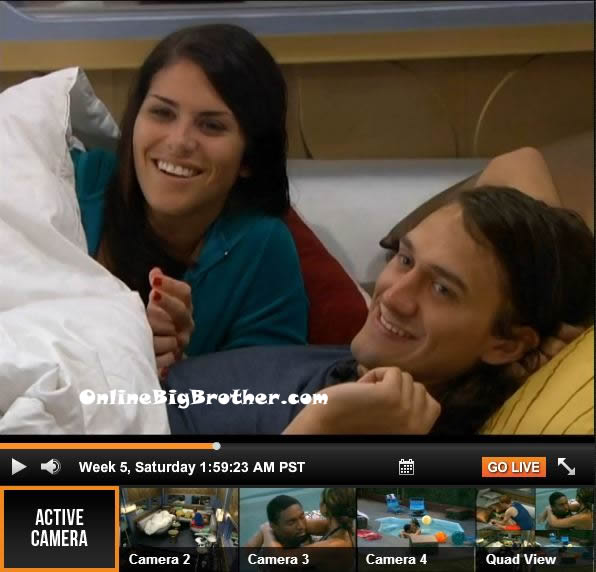 2:20am McCrae and Amanda are alone in the lounge alone talking under the covers. Amanda says you love me so much. McCrae says no. Amanda asks what?! McCrae says yeah. McCrae says the best was when Spencer said we are going to use this microscope to find your pen!s. McCrae says I'll show you my di*k it's daddy size. Amanda laughs. Amanda says it's huge, I bet yours way bigger than his is. Andy and Gina join them. Andy says he thought of her today, you know how you always want to go into the diary room and find a card. Today I went in there and there was a card.. Big Brother cuts the feeds. When the feeds come back Andy decides to go to bed.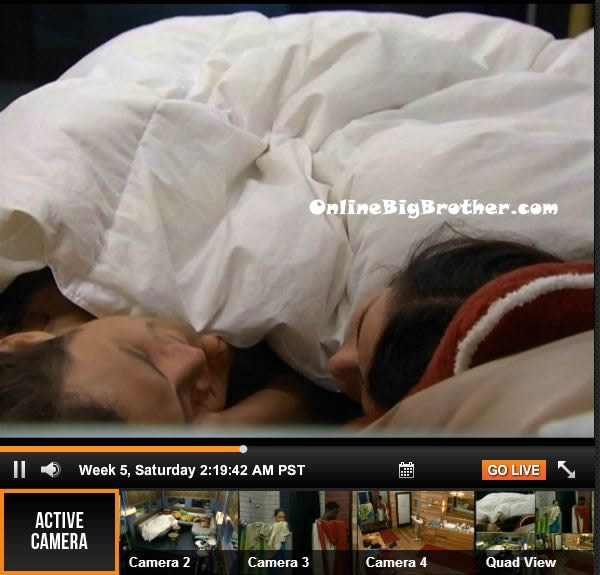 2:35am – 3:20am Up in the HOH room – Judd and Aaryn are talking. Aaryn is talking about how right after the nominations they were all up here jumping and screaming and they not even a few hours later they aren't sure they would vote him out. Judd says oh I know how stressful it is, they did that to me too. Aaryn asks who would definitely vote out Howard? Judd says Amanda, McCrae, Gina.. Aaryn says Amanda, McCrae, Gina, You, Jessie. Judd says we only need 4 and we have 5. Judd says we probably have Andy too. Judd says that Helen and Elissa can do what they want. Aaryn says this is where Helen is wrong she thinks the HOH decides who goes home. Judd says that's what gets me mad, people use the HOH as a scapegoat. Judd brings up how Howard and Spencer both wanted to switch the numbers and get you out last week. Aaryn says I know. Judd says that Spencer wanted me to come up here and talk you out of putting them up. Judd laughs that Spencer looks out for both of them and Howard only looks out for himself. Judd says I would rather Spencer stay over Howard. Spencer is full of sh*t but at least we know he is. We don't know where Howard stands, he is sneaky as fu*k! He goes into the diary room for no reason, he doesn't do anything. The only thing is he is in a showmance with Candice but he was being called in there way before that. Aaryn says that he has to be MVP or that he is related to someone. Judd says Nick was called in all the time to and it turn out to be because he was in that secret alliance. They talk about if the POV is a reward competition. Aaryn says that it will be really hard not to take trips and money and stuff. Aaryn says that Howard has to go, I feel like they really like him and he just needs to go. Aaryn says that with Helen and Elissa are wondering if they want Howard to go home, so why shouldn't I take rewards. I'm not going to do that but.. I am sick and tired of Howard pulling on everyones heart strings. Aaryn says Helen isn't that emotionally strong. Judd says yeah she is a moron. Judd talks about how it makes him sick that Spencer tries to use religion now. Judd says that he regrets not putting up Howard and Spencer, but says that he is happy that Kaitlin left. Judd tells Aaryn that he trusts McCrae and Amanda. Aaryn says that she doesn't trust Helen. Judd agrees and says Helen is too wishy washy. Aaryn talks about how Jessie has flirted with every guy in here. Judd says I think she just has a flirty personality.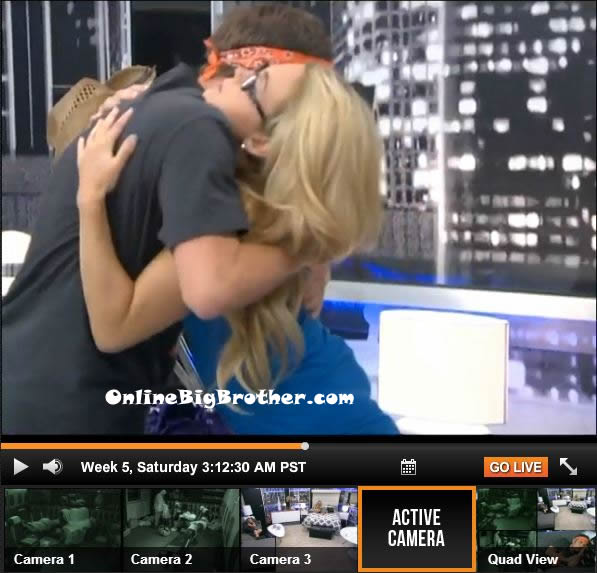 6:30am All the house guests are still sleeping..
| | |
| --- | --- |
| [polldaddy poll=7277508] | [polldaddy poll=7277150] |