POV Holder:
Spencer
Next POV
Aug 3rd
POV Used
?
POV Ceremony
July 29
HOH Winner:
Aaryn
Next HOH:
Aug 1
MVP:
AMERICA
Original Nominations:
Spencer, Howard, AMANDA (MVP nom)
Current Nominations:
Last Evicted Houseguest
David, Nick, Jeremy, Kaitlin
Have Nots
Judd, Amanda, Candice, GinaMarie
Big Brother 15 Nip Slip Flash back time stamps HERE
3:00pm Helen and Spencer Hammock
H: "I'm glad you won"
S: "Thank you"
Spencer starts to explain the power of Veto competition. Helen wants to know what he thought when he say it was a puzzle. Spencer didn't think anything of it.
Helen: "I thought you were good at puzzles"
Spencer: "I'm alright I can figure sh!t out"
Helen wants to know about Howard. Spencer says he knows what is in store for him, he's doing alright.
Helen: 'I love Howard you know.. as a person"
Spencer: "I know he comes across as shady because he doesn't talk to people"
Helen: 'He talks to no one"
Spencer explains that Howard thinks if he trusts people he doesn't need to talk to them. The problem with some of these people he trusts is they don't trust him
Spencer: 'Just coming from me you can trust him.. I don't think other people will"
Helen: "I can't move it.. I can't"
Spencer: "I know if he's not gone this week all it will do is buy him another week"
Helen says that Candice cornered her and bullied her into keep Howard.
Helen: 'Oh my god Spencer… "
Helen retells her conversation with Candice last night skewed to make it look like Candice was bullying and threatening her. Helen mentions how Candice called her out with having a final 4 with McCrae, Amanda and Elissa.
Helen: "She was forceful and bitchy.. she said if Howard doesn't go Me, McCrae and Amanda are going to go"
Helen: "I just don't have the power.. I know how everyone feels"
Helen: "She's my closest Ally I would never threaten my closest ally"
Spencer points out how will Candice take them down she really doesn't have a whole lot.
Helen asks if Spencer and Elissa had up. Spencer says they're talking now.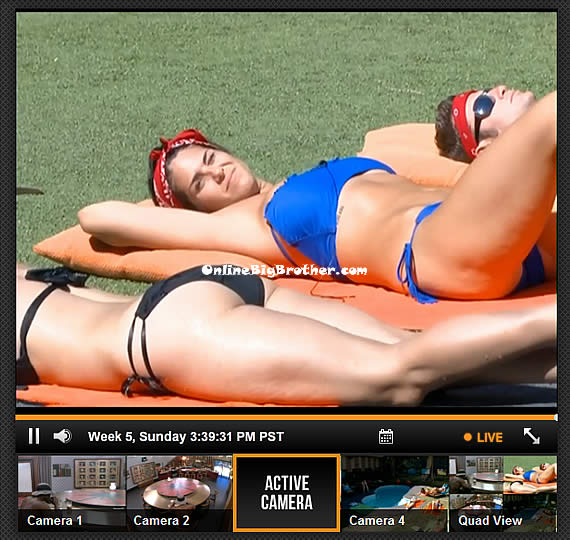 3:33pm Lounging around the backyard random chit chat
JUDD: "Grab your tequila and tetanus shots it's time for the veto competition"
Amanda: "Grab your swastika and gas mask it's time for the veto ceremony"
Nobody laughs.. Elissa: "Amanda that is really bad"
Amanda thinks she can say that because she is Jewish.
3:50pm Aaryn stays inside cleaning up the kitchen
3:55pm Amanda and Helen Looking at the Memory wall
They admire their work saying they have been responsible for every eviction and in a couple weeks the super friends will have made it like they planned from the beginning. Briefly chatting about Jeremy and how they are lucky he played the game like he did because if he was nice and sweet he would be very dangerous. Amanda mentions Jeremy was good for Television but bad for game.
Amanda says the one thing she dislikes are people that prey on the weak and bully people. She adds that Jeremy and Aaryn were just like that the first couple weeks.
Helen says that Spencer needs to go before Candice. Amanda doesn't care because neither of them will vote for her in the final 2 so as long as they are out before jury she's on board.
Amanda: "I think JUDD wants to keep Spencer because he's gunning for me and you"
AManda: 'I want him gone next week
Helen: 'I have no problem with that"
4:05pm HOH Helen, McCrae and Aaryn
Helen says she's happy that Aaryn kept her side of the deal. Helen wants Howard gone this week and next week Spencer. She wants Aaryn to help them get Spencer out.
Helen: "I realize a lot of things ELisa has said about you is skewed" Helen apologizes for some of the things she may have said in the Diary room. She blames it on the things Elissa told her about Aaryn. Helen tells them Spencer is coming after her and Elissa next week he's got to go home.
Andy joins them
MC says Spencer is campaigning to keep Howard so he's been telling spencer there is a slight chance just to make the days go by easier. Andy agrees that this is the best approach.
MC and Andy mention they have been telling Spencer if they win HOH next week they will put up Aaryn and Ginamarie.
Aaryn says that spencer is such a pu$$y he'll put up Gm and her.
Andy joins them
Aaryn says she's thinking Elissa will win the next HOH. She wonders who Elissa will put up. Helen says it will be Spencer and Ginamarie.
McCrae: "We have numbers no matter what happens at this point"
Helen says once they get to Jury it's game on, "If you all help me get to jury I will be happy to win it but also happy if any of you win it"
Helen says she's happy they are going to make it to Jury they all made big moves deserve to be there.
FYI nail party tonight
4:25pm Backyard Howard and Candice
Candice tells him that Amanda has been talking to her like she's on the block. She told Candice she won't campaign against her, "B!tch i'm not even on the block yet" Candice thinks thy're plan was to backd**r her all along. Howard says he's being optimistic says a lot of things can happen between now and Thursday. Spencer adds that Kaitlin was going to stay up until the day before so they never know.
Candice: 'Kaitlin was never staying.. they got to Aaryn immediately.. they talked about the secret alliance to make her look bad.. I don't even care anymore honestly.. I'm just not talking to anybody"
4:43pm Backyard Amanda and Howard
Howard says if he stays his allegiance is with Amanda, McCrae and Spencer. Amanda: "Lets be honest you were coming after me I was coming after you. Amanda says Howard's best bet is to let Candice keep threatening people. Andy joins them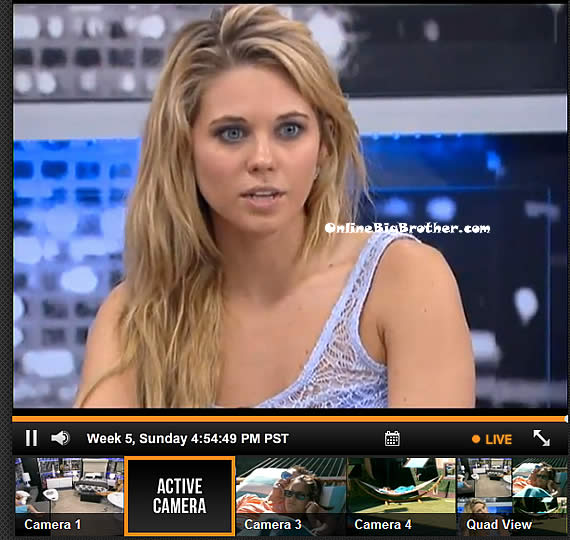 4:48pm HOH Spencer and Aaryn
Aaryn I bet you are so happy. She mentions that he's probably the target next week. Spencer knows he sees the handwriting on the wall. Aaryn says if he put her up against GM she will stay because of what she did for the superfriends.
Spencer asks if Helen and Elissa are targeting him. Aaryn says they don't let her in on the private big picture conversations. She's in the same position as him on the outs.
Spencer: "Who is after me that you are aware of"
Aaryn: 'I've never heard of anyone being after you.. the reason you are up on the block is because of Howard"
Aaryn says the 4 strongest people in the house are Amanda/McCrae and Helen/Elissa
She recommends if he wins HOH he goes to them and asks for a deal so it buys him another week. This is why she's safe next week because she made a deal. "Unless you want to rally the other side of the house"
Spencer doesn't think the other side will rally they are too scared of messing up their games.
Aaryn says she had no issues with Howard and Spencer she only put them up because of her deal with Helen.
Aaryn: "If it was my noms I would have put up Elissa and Candice"
Aaryn says McCrae wouldn't put her him up. Spencer Doesn't think Andy, Judd or Jessie would. He thinks it would be Elissa, Amanda and Helen that put him up.
Aaryn says there is a lot of lying going on in the house just like Helen telling Candice
Spencer: "Candice is f****ing up Howards game.. "
Aaryn: 'Are you allied with Candice"
Spencer: "F*** no I don't even like that b!tch"
Aaryn says if he makes a deal with McCrae and works with him he's set until mid jury.