POV Holder:
Spencer
Next POV
July 27th
POV Used
?
POV Ceremony
July 29
HOH Winner:
Aaryn
Next HOH:
Aug 1
MVP:
AMERICA
Original Nominations:
Spencer, Howard, AMANDA (MVP = America)
Current Nominations:
Last Evicted Houseguest
David, Nick, Jeremy, Kaitlin
Have Nots
Judd, Amanda, Candice, GinaMarie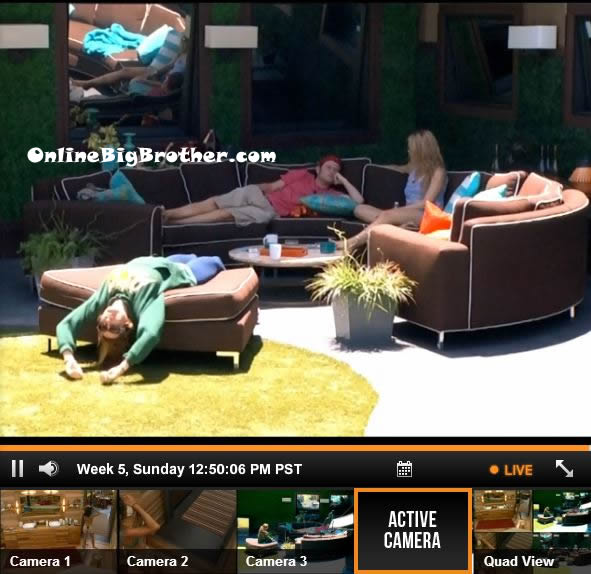 12:50pm Aaryn joins Elissa and Judd on the backyard couch. Judd tells her that she smells like HOH shower. Judd says he is going to get HOH so he doesn't have to worry about being on the block or being a havenot. Elissa heads inside to read. Judd asks if Aaryn is putting up Candice. Aaryn says yes. Judd tells Aaryn about how Howard came up to them last night talking about how he has to do damage control for all the things Candice has done with threatening people and stuff. Aaryn says that she would be happy with either Howard or Candice leaving, so you guys decide. Judd says that Howard has a better chance at winning HOH so I would rather he leaves. They start talking about whether or not there will be a double eviction.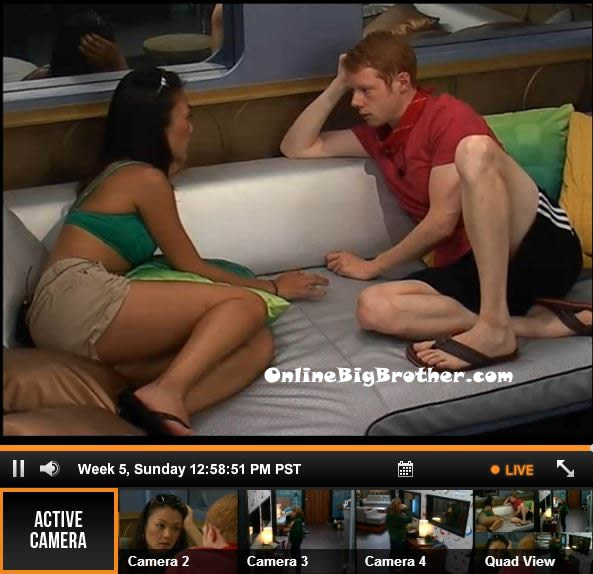 12:55pm – 1:15pm Andy and Helen are talking in the lounge. Helen explains that they need to get out Aaryn because she is a vote for Amanda and McCrae. Andy agrees. Andy says we need to get out Elissa too because of how she is acting. Helen agrees. Andy tells Helen that he strongly believes that Judd made up all the stuff about kaitlin coming after Helen. Helen believes that too. She says but we need him on our side. Helen says we need to keep Ginamarie over Aaryn we would have her as a vote where as we wouldn't have Aaryn's vote. Helen says we need to get out Howard, then Candice and then Aaryn before jury. We would then have Ginamarie and Spencer in jury. Helen says Aaryn has to go up as a pawn next week. She has turned for the benefit of Amanda and McCrae and not us. Helen says Ginamarie is a vote for us that is sway-able. Helen says that between me and you Jessie doesn't want Aaryn in jury. Jessie's biggest fear is that I am loyal to Aaryn more than her. Helen says that I am going to act close to Aaryn to make Jessie mad and want Aaryn out. So if you see me doing that just know what I am doing. Andy says okay. Helen says we need to make McCrae think that we are still close to him. It is going to take all of us to go against them. Helen says that she is over Candice bullying her last night. Helen says we need to make the jury favourable to you and I, instead of Amanda and McCrae because that is what they are trying to do. Andy says that he really believes Judd made up all of that stuff and I think it hurt me. Helen and Andy agree that Judd is on their side and need him for now. Helen tells Andy that people said you are floating through this game. Andy asks who? Helen says Judd, Aaryn and Jessie, but I don't think you are. She says that people also think you float into conversations. Helen says we can trust then for now until we get to jury. Then we will go after Judd and Jessie. Andy says I like that people think I am floating because it means I can talk to people and they aren't scared of me. Why get my hands dirty when other people will do it for me. Helen says she wants Elissa to win HOH. Helen says I believe Judd made all of that up, unfortunately Kaitlin was the one that suffered for it. Helen tells Andy this conversation never happened, we have to be careful even with people in our alliance. Andy and Helen leave the room to head out to the pool.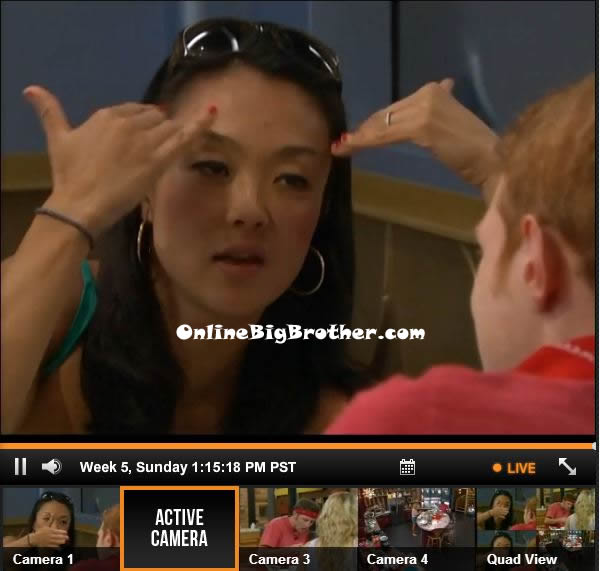 1:30pm Out in the backyard Elissa is reading the bible in the hammock. Meanwhile, in the kitchen – Aaryn is making something with slop. Judd makes a comment and Andy asks what was that? Judd says nothing, I don't even believe you're a teacher because you don't pay attention. Aaryn and Helen laugh.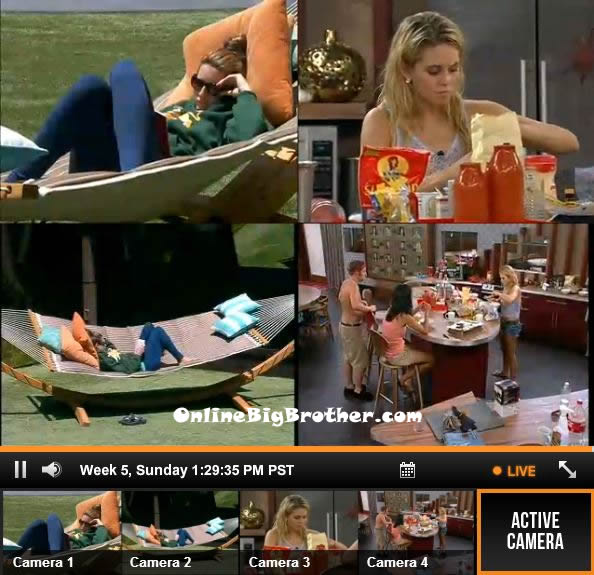 Andy and Judd talk in the storage room. Andy says that Helen pulled him aside and said that we need to stay in the good graces of Candice just in case she wins HOH next week even though the chances of that are pretty slim. Candice joins them to change her batteries. Andy tells her to wake up and get her act together its 1:30pm already!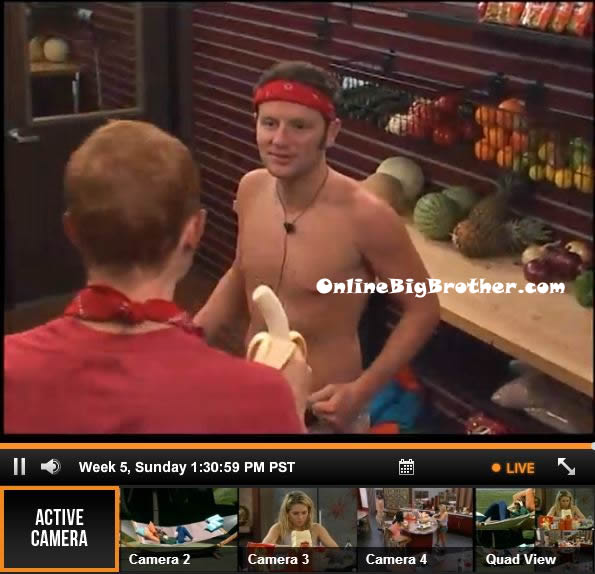 1:35pm Judd finds Amanda's panties on the ground in the bedroom and picks them up with a shirt and throws them on McCrae's bed while he is sleeping.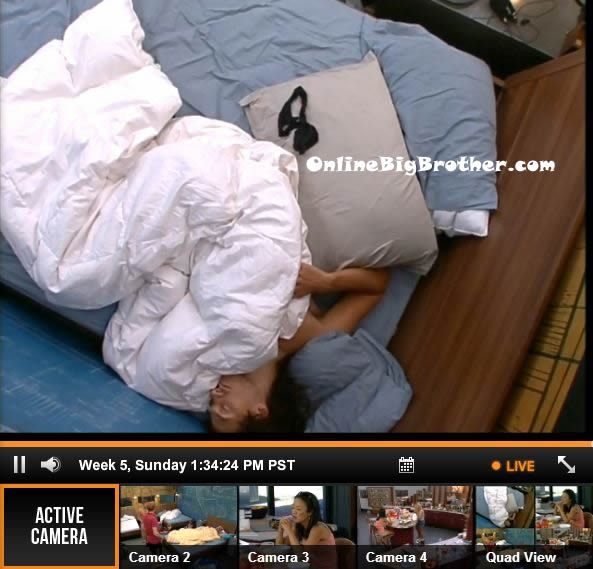 1:55pm Andy, Judd and Candice are in the bathroom talking about random things while Candice does her makeup.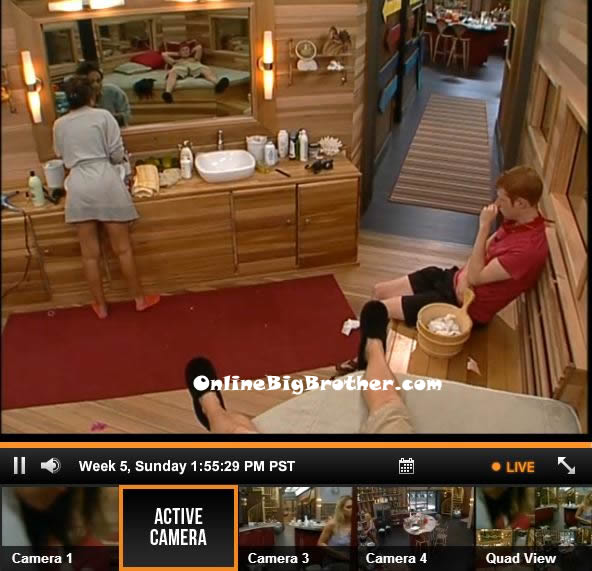 2pm In the storage room Big Brother gave the house guests pool floaties, leis, a mask & snorkel and more little duckies. The head into the lounge to take photos in the photo booth. Aaryn thinks they might get a vacation soon. Helen says oh ya!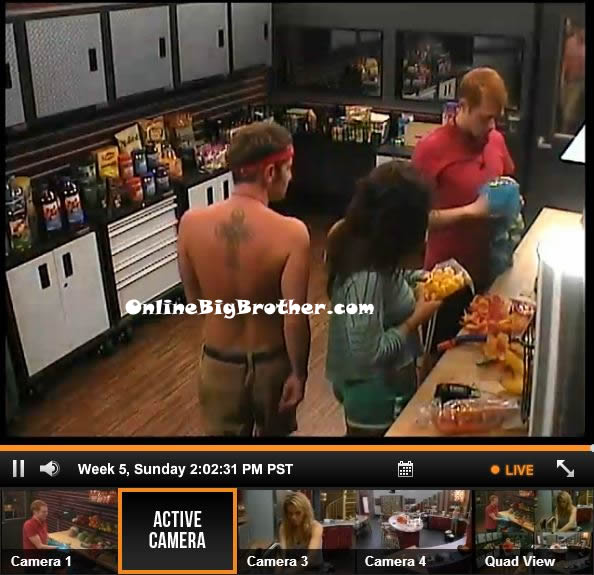 2:15pm – 2:40pm In the back bedroom – Gina says I am sorry to say but lets get Candice out. Howard says I am not going to throw people under the bus but.. Gina says I have always been good with you, you're a gentleman and I like you. Gina talks to Howard about getting everyone to vote out Candice over him. She says that she's annoyed at how Candice takes peoples things without asking and how she makes a lot of noise when people are sleeping. Gina tells Howard that she liked him since day one. Gina tells Howard that he should campaign to Jessie and Helen because they felt bad that he was upset that he got nominated. Howard then heads into the havenot room and talks to Jessie about how he doesn't want to be associated with Candice's actions. Howard says that he wasn't involved with the conversations that Candice had last night and never woudl have come at her like that. He says you know Spencer and I have big love for you. He says that he is god with her and hopes she is with him too. She says they are good and he leaves the room.
All the house guests are taking their turns taking photo booth photos with all of the props.
2:45pm – 2:50pm Out in the backyard – Spencer and Jessie are talking. Spencer asks Jessie if she would put him up if she won HOH. She says I don't want to lie to you so I don't want to say. Then she says no you know what I wouldn't put you up, I would put up Candice and one other person. But I am not going to say who that other person is, that person's name has been thrown out a lot so I think you can guess who it would be. Jessie asks Spencer who he would put up. He says he isn't sure but thinks he needs to win HOH. Spencer says that he isn't sure why he is at a deficit. Jessie tells Spencer that he needs to separate himself from Howard. She says lay as low as you can, I think you are doing a good job at that already. Jessie says she thinks Aaryn will be out next. Jessie tells Spencer that she thinks he would be the first member of the jury. She says Candice will go out right before it. Don't tell anyone this though. Spencer says he is fine with being first in the jury that's what I want. Jessie tells Spencer to tell whoever wins the HOH right before jury and tell them that you will be a vote for them in the end if they don't put him up. Spencer says I think I am going to have to win veto every week just to make it. Jessie says no there are two people that everyone wants out before you. Spencer says Candice and Aaryn. Jessie says yeah, but don't tell Aaryn that because she doesn't know. Spencer says that he doesn't tell anyone anything she tells him. They start talking about random things. Amanda, McCrae, Judd and Howard join them. Amanda jokes that she would nominate Ginamarie because she takes up all the photo booth time. Jessie heads inside to take more photos in the photo booth.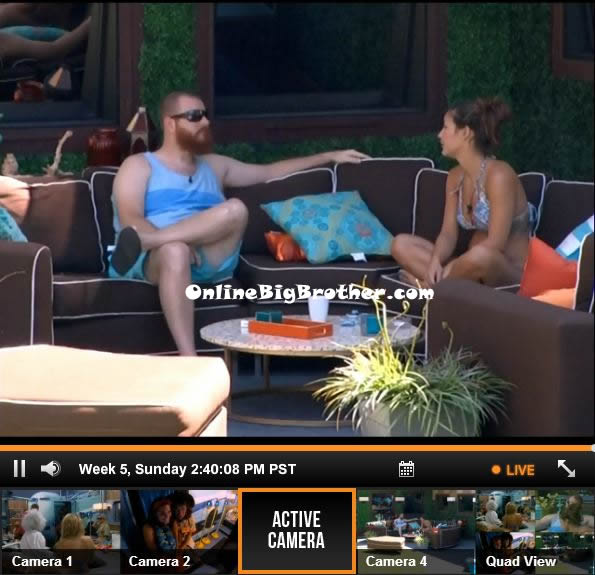 Gina with the wig on gets up from the backyard couch runs and jumps at the camera. Amanda says I just saw your whole butt hole.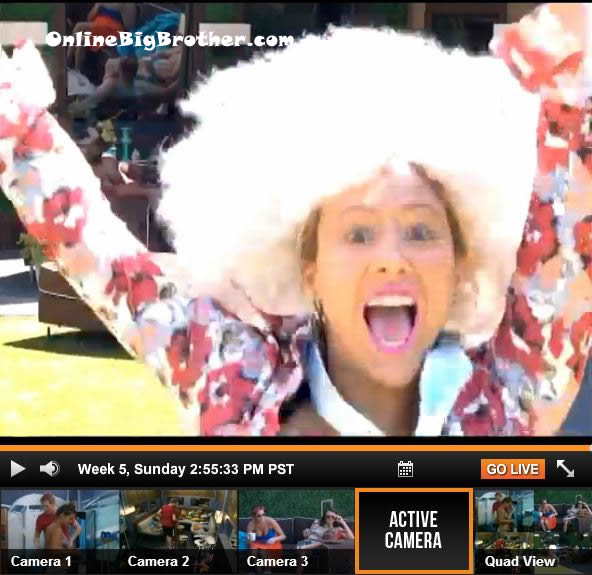 Fire up your Big Brother live feeds and use the FLASHBACK feature to check out the BB15 N!p Sl!ps / N*des