POV Holder:
?
Next POV
July 20th
POV Used
?
POV Ceremony
July 22
HOH Winner:
JUDD
Next HOH:
July 25
MVP:
?
Original Nominations:
Aaryn, Kaitlin
Current Nominations:
Last Evicted Houseguest
David, Nick, Jeremy
Have Nots
Jessie, Candice, Andy, Spencer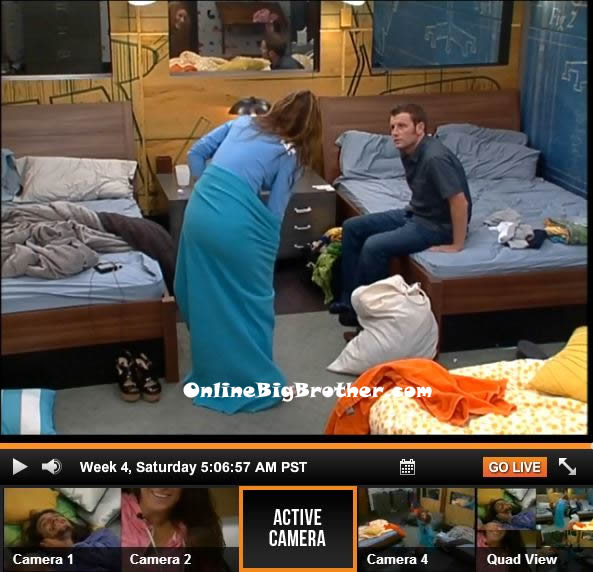 1am Elissa is talking to Judd about the twist Julie mentioned to them. Elissa says that she trusts if Amanda or McCrae got it they would tell her. Elissa says that she is worried that Howard may have gotten a power. Elissa tells Judd that she didn't get the MVP power. Elissa then heads into the diary room. When Elissa comes out of the diary room she tells Judd that she doesn't have MVP. She says she thinks there's a twist to it.
Big Brother 15 Live Feeds: FREE 2 DAY TRIAL
In the lounge – Amanda and McCrae are talking. Amanda tells McCrae that she thinks they're (Amanda, McCrae and Andy) are in a good position because no one is coming after them. Amanda says that she is worried about Howard and says we need to backdoor him. McCrae says he is worried that Howard may have some kind of power. Amanda disagrees and says that if Howard had a power he wouldn't be going around trying to secure safety with us. Amanda says we need to get Judd to backdoor Howard so that we don't have any blood on our hands. Aaryn joins them. Aaryn asks Amanda if she thinks Elissa got the MVP again. Amanda says she thinks she did. Aaryn says that Elissa might be lying about not getting it. Aaryn says that she thinks Elissa could be lying about getting MVP so that Elissa can still back door Howard and not have blood on her hands. Aaryn says that she thinks if she doesn't win veto, she is going home. Amanda tells Aaryn that she needs to be careful about what she says to people because it gets around. Amanda tells Aaryn don't confide in people. Amanda tells Aaryn to just listen and go along with what's being said because she's on the block. Amanda tells Aaryn to go with what the house wants. Aaryn leaves. Judd joins McCrae and Amanda and says that Elissa won't tell him about MVP. Judd says that she just smiles. Amanda says she doesn't trust you to tell you. Judd asks why would anyone be excited about the twist unless it benefited them.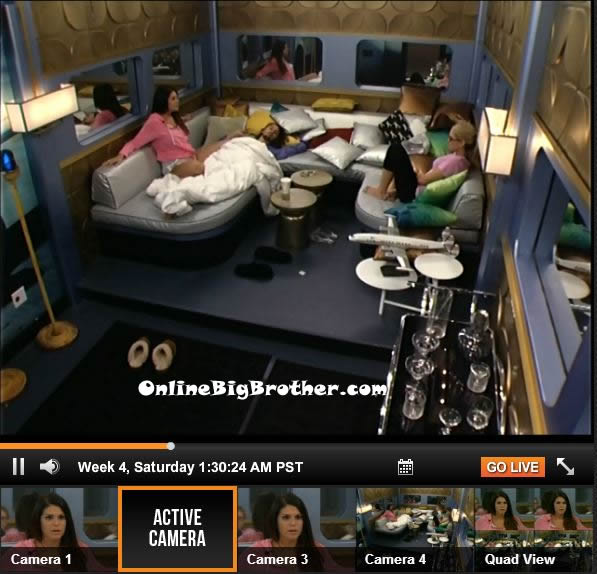 2am In the kitchen – Elissa tells Amanda and Kaitlin that she thinks America got to vote on who to nominate. Amanda says that she doesn't think that she would be nominated by America because I am funny and I'm with McCrae. I have my theories and I just don't think they would do that. They say well we will find out soon enough. Elissa says again that she really thinks America got to vote. They discuss the possibility of someone coming back. Elissa asks Kaitlin if she thinks Jeremy would come back and Kaitlin says that she doesn't think so because he wouldn't ruffle that many feathers.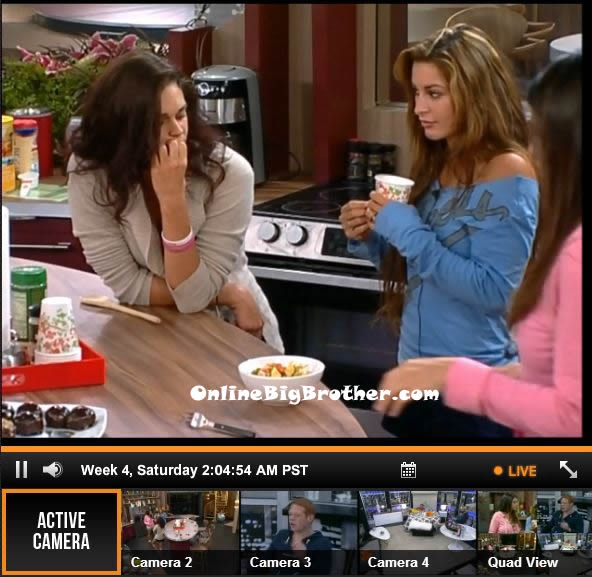 Up in the HOH room – Spencer, Howard, Kaitlin, Gina and Andy. They are speculating on what twist might be. Andy says that they were talking how it would be the dumbest thing like you can't wear shoes for 24 hours. Kaitlin says that she thinks Elissa knows about what the twist is. Kaitlin explains how she saw Elissa talking to production in the storage room through the second door and Elissa tried to pretend she wasn't. Andy repeats what Julie Chen said about the twist. Kaitlin says thanks for the fu*king replay. Andy says is the twist, he is a serial killer. I will wake up in the middle of the night and just stare are people while they sleep. Andy says that he would stand in the kitchen with a knife. Andy starts to head out of the HOH room. Kaitlin tells him to sit down you sketchy fu*k! Andy says that he is going to just get some chocolate milk. He leaves and Kaitlin and Spencer jokingly say they need to watch that sketchy fu*k. They turn on the spy tv and laugh and watch as Andy runs through the kitchen.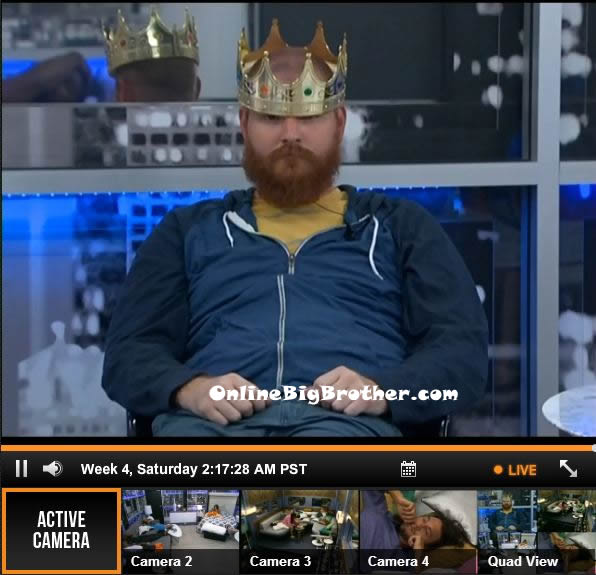 2:20am In the lounge – McCrae and Amanda are talking about the possibility of America voting on the MVP. Meanwhile, In the bedroom – Elissa talks to Helen about who America might vote for. Helen thinks maybe Jessie. Helen thinks Howard and Candice will be portrayed as the victims. Helen says she doesn't think it would be McCrae. She says maybe Gina for saying cockroaches. Elissa talks about wanting to win HOH to see photos of her kids. Helen tells Elissa that she would want Elissa to win for the HOH but no for getting blood on her hands. Helen says that it is almost good that America get MVP because then it gets the blood off your hands. Elissa says that she thinks its fun to make big moves, it makes it more interesting. Elissa says that she thinks Amanda is hiding something. Helen says that she thinks she is an actress. The conversation turns to talking about how Elissa says that Jessie went to the casting with her boyfriend. Elissa say that she likes Judd and doesn't want him to get hurt.
WATCH the ENTIRE season's 24/7 live feeds for only $26.99: SUBSCRIBE NOW!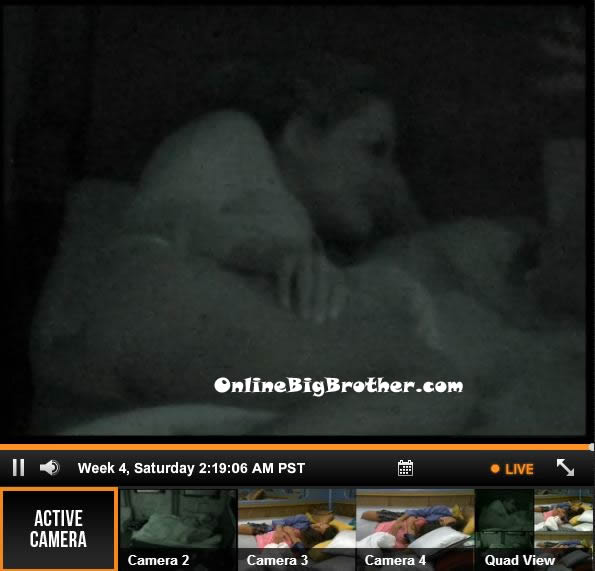 2:35am – 3:20am Up in the HOH room – Howard, Spencer, Gina, Andy and Kaitlin continue to talk about what the twist will be like. Spencer wonders if it will be Pandora's Box. They talk about how Elissa has had a lot of plastic surgery at such a young age. Kaitlin says it scares me. The conversation turns to talking about the questions from the HOH competition. McCrae and Amanda join them. Amanda heads back down stairs. Gina asks if they are fighting. Kaitlin comments how the parents are fighting. Kaitlin mentions how the cameras haven't moved in 45 minutes. She says we are not interesting, they must be doing some serious game talking down there. Andy says it's probably between a sleeping Jessie and Elissa. Spencer says that Jessie's nipple has probably fallen out. Andy says that it's weird that 95% of Jessie's clothes reveal her nip*les. Judd comes back from the diary room to join them. Kaitlin tells Judd how Elissa thinks America votes for the MVP. Judd says yeah Elissa told me right before I went into the diary room. Judd says that he asked her if she was sure she wasn't the MVP. Andy laughs saying she forgot. Judd says that Elissa is acting weird. They continue to talk about random stuff.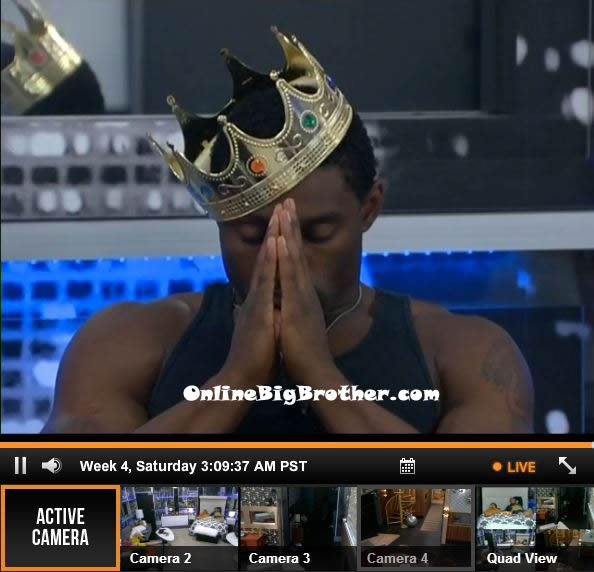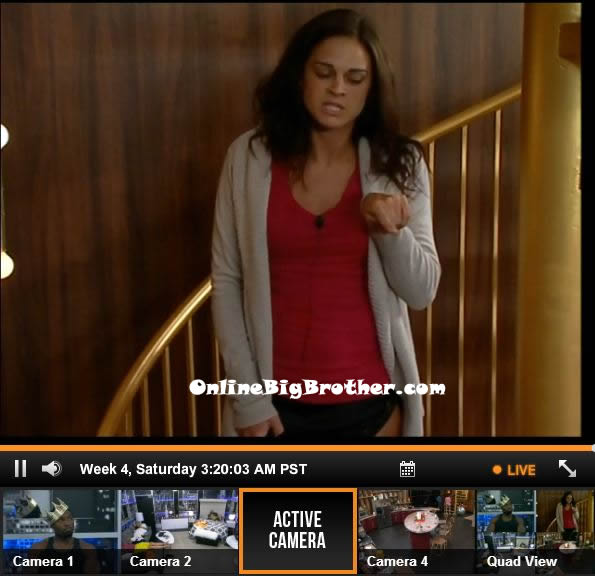 3:20am Amanda, McCrae and Kaitlin head down from the HOH room. Amanda tells Kaitlin on the stairs that Aaryn told Amanda that Kaitlin said I am (Amanda) is being nominated by the MVP. Kaitlin is pissed and says that she didn't say that, that is the biggest bullsh*t I have ever heard. Kaitlin says you give me the time of day and I will confront her in front of you. Amanda tells Kaitlin that she trusts her and feels better knowing Kaitlin didn't say that. Amanda tells Kaitlin to not confront Aaryn yet. Amanda and McCrae head out into the backyard. Amanda says that she feels a lot better about it now. McCrae agrees. Judd says that he has Gina in his pocket now, we are even going to have a secret hand shake. Judd says that he thinks Gina can keep her mouth shut too. They talk about the veto competition. McCrae tells Judd that if he gets house guest choice he should pick him because he is going to go hard for it. Judd says that he really thinks America will vote on who goes up. Amanda thinks America might nominate Gina or Spencer. Judd doesn't think so. Amanda says maybe Howard. Judd says no I think he is somebody. It would be nice though because then I wouldn't have the blood on my hands. McCrae talks about how Aaryn lies so much. Amanda and McCrae head inside to get ready for bed. Judd tells McCrae if he gets house guest choice I will pick you for sure. Amanda says if America is voting there is no way I am going up. They love him and I have never done anything against him.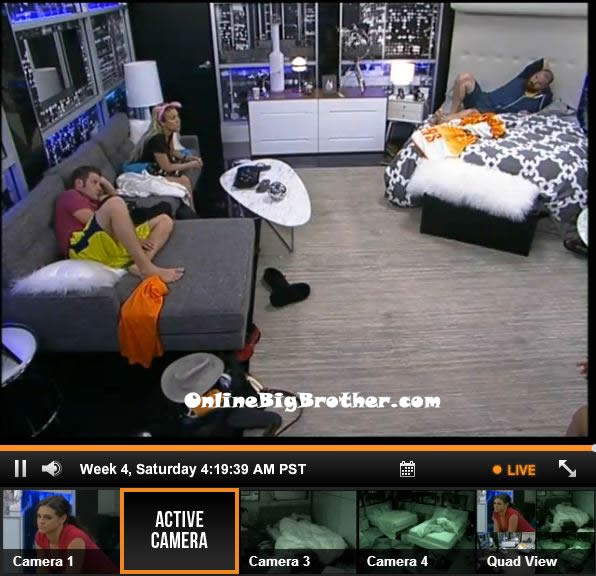 Judd heads up to the HOH room where Howard, Spencer and Gina are talking. Gina says that she feels like the people that have no one are getting picked off. Gina says I am ready to go hard, I will do whatever it takes. I will eat some yogurt, I will eat some snakes. I don't care. Howard talks about how you have power with numbers. Gina talks about how she voted for Jeremy to be evicted because it didn't make a difference. Meanwhile in the bathroom Kaitlin talks to Amanda and McCrae. Kaitlin says that she feels like she is the house designated pawn. Kaitlin says that she is so fu*king pissed at Aaryn right now. McCrae tells her to save it till after the POV. Amanda and McCrae head to bed. Kaitlin goes up to the HOH room. Kaitlin goes off and tells them about how Aaryn lied about her. Kaitlin explains what Amanda just told her. Kaitlin is pissed and says she doesn't understand why Aaryn would do that when she is on the block to and knows it would get back to me. Big Brother blocks the feeds. When they come back Spencer is saying that he thinks Elissa is lying about getting the MVP and just saying America votes so that she can nominate Ginamarie and not get the blood on her hands. Gina believes she is going up too. Kaitlin says that if that happens that will seal Aaryn's fate. Howard tells them not to over think things. Kaitlin and Gina are annoyed about how Amanda wanted them to throw the havenots because they haven't been havenots yet. Kaitlin says that Amanda thought I should have thrown it because I am on the block but I did so much last week. Howard brings up how he is on the outs now for doing the exact same thing that the ones that put him on the outs did. Howard says people think I don't think just because I am quiet but I watch, I see everything. Why do you think I do the dishes? Kaitlin tells them that Aaryn told her that she thinks if she looks weak, then people will keep her. We really fu*ked up our game being associated with her. Spencer says that he and Howard fu*ked up their game being associated with Jeremy. Spencer says lets just see how the veto plays out. Spencer tells Kaitlin that he is keeping her in the house. Howard says that he wants a group to run with to the end. Kaitlin says can't we just get this bit*h out of the game! They ask her who? Kaitlin says Elissa. Gina says I have been trying since week 2. Howard says I want to flip this things and do this. Kaitlin says lets do it! We will have the numbers in a couple weeks. Howard is pissed about how McCrae and Amanda made him put his hand on the bible to use his religion against him. Spencer says lets just meet after the veto.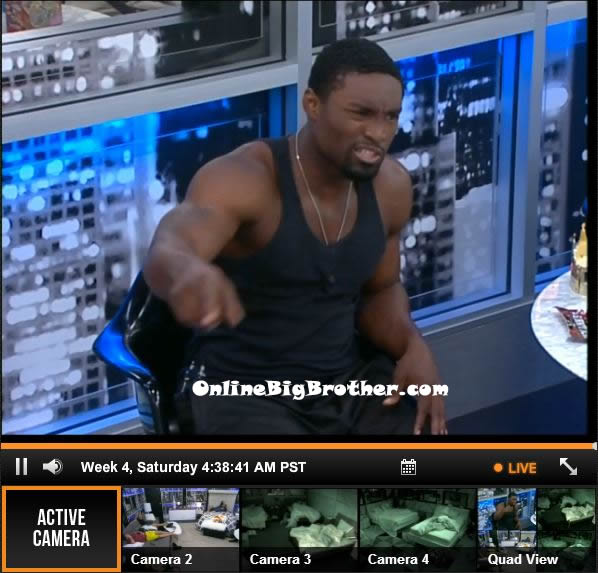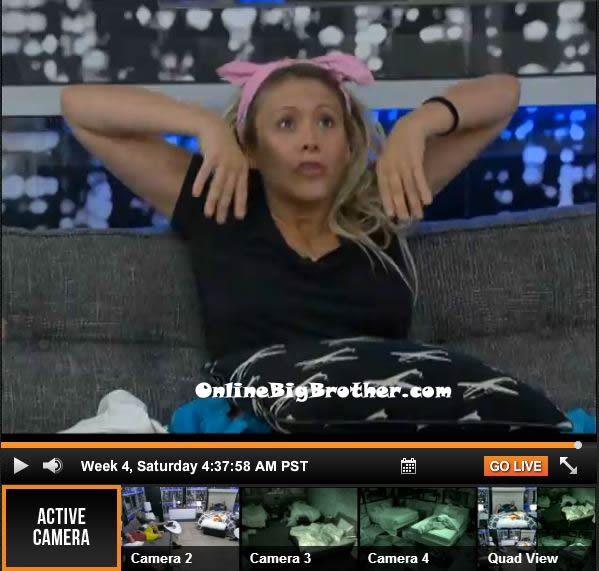 Howard says just trust me I won't lie any more after they put me on blast. I want to work with a strong 6 or 7 and just run with it. Kaitlin asks Howard so will Candice go against those girls. Howard says yes. Kaitlin asks Judd will Jessie go against the girls. Judd says yes. The talk about how Andy will probably be with us too, that makes 8. Spencer and Howard say they won't lie again the rest of the game. Our names already got dragged through the mud. Gina says if we are ready to do this, I am ready to sign papers! Lets do this! I am loyal I stayed by Nick's side until the day he walked out of here. They talk about how not to pick McCrae as house guest choice. Howard says I've got my drawers, ain't nobody control me. They talk about how Andy is a good dude, we won't go after him. Kaitlin asks so next week we put up McCrae and Amanda. Howard tells her not to think that far ahead because you are going to piss yourself off. Just worry about getting Aaryn out. Spencer says we aren't power wh*res that suck the di*k of whoevers in power. Gina says I am ready to rock and roll! Judd says that he will talk to Jessie after the veto. She will do what I say. Spencer brings up how Helen told him she will get him to jury but after that you are gone. Gina says they told me I couldn't walk around with Nick's hat. I am going to do whatever I want to do! They talk about how Amanda was just in bed with McCrae week 1 because he was in power, even though she has a boyfriend at home. Spencer says that he isn't shacking up with no one because I love my chick. They talk about running to the end together. Kaitlin says lets do this! Kaitlin says that she thinks if she wins veto back to back she might get MVP. Gina says yeah lets pound this sh*t in! They all put their hands in together. Kaitlin and Gina head down stairs.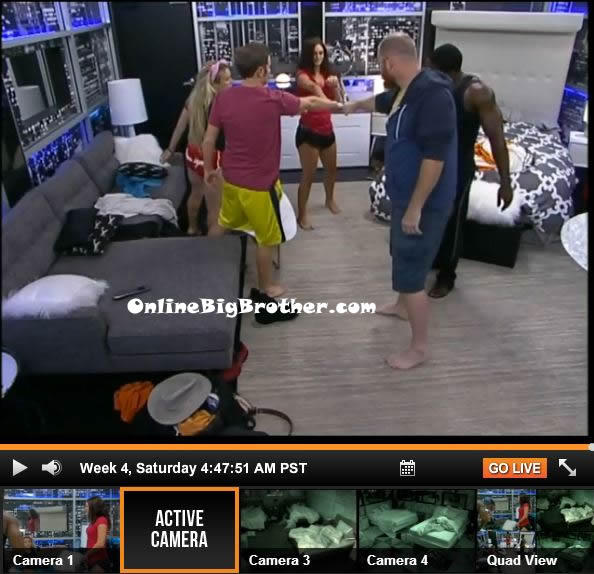 4:50am – 5:10am Judd, Howard and Spencer stay up in the HOH room. Spencer says that he doesn't know if he has a deal with the others. Judd says that it is all spread out now. McCrae and Amanda just seclude themselves all day. Judd says that Amanda was trying to control who he puts up. Spencer says that with them you're at the bottom of the list. With us we are all equal. Judd says if I went to the final 3 with Amanda and McCrae, what do you think is going to happen. Spencer says that they talk so much sh*t about you. Judd asks like what? Spencer says that they have you in their pocket. Spencer says this week will be easy, Aaryn goes home. Spencer says week 1 – Aaryn and David showmance is broken up, week 2 – Gina and Nick showmance is broken up, week 3 – Kaitlin and Jeremy showmance is broken up, week 4 – Aaryn goes home as retribution for being a bit*h and rightfully so. Why is the biggest showmance in the house (Amanda and McCrae) not on anyone's radar? Their name is written in the bathroom! Spencer says that McCrae is doing some scumbag sh*t. Judd says that he down with them (Howard and Spencer). Judd says that he will pick Howard if he gets house guest choice. (Judd has now told McCrae and Howard that he will pick them for house guest choice so it will draw the line if he has to choose.) Howard heads down stairs. Spencer tells Judd that they need to troops. He says that if they can overthrow McCrae, Amanda, Elissa and Helen, we can ride this till the end. Spencer says this week is simple, we send Aaryn home. Spencer says then next week it would perfect for Kaitlin to win HOH and nominate McCrae and Amanda. Spencer says that way the blood stays off our hands. Spencer heads down soon after and they all go to bed.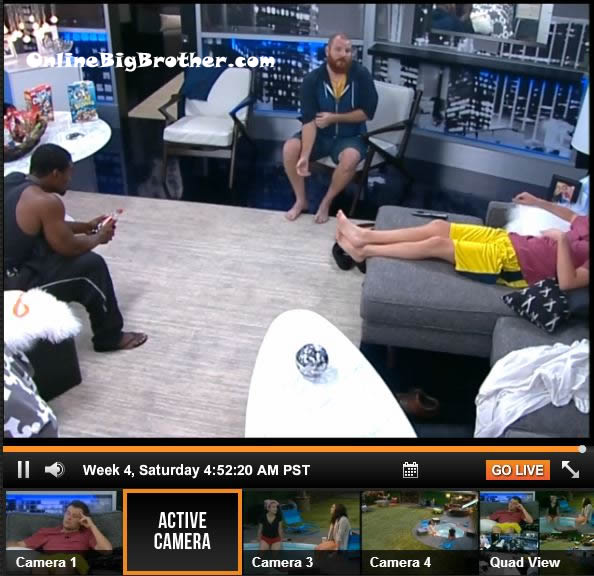 5:15am – 5:45am All the house guests are now sleeping.
[polldaddy poll=7260936]