POV Holder:
?
Next POV
July 20th
POV Used
?
POV Ceremony
July 22
HOH Winner:
JUDD
Next HOH:
July 25
MVP:
?
Original Nominations:
Aaryn, Kaitlin
Current Nominations:
Last Evicted Houseguest
David, Nick, Jeremy
Have Nots
Jessie, Candice, Andy, Spencer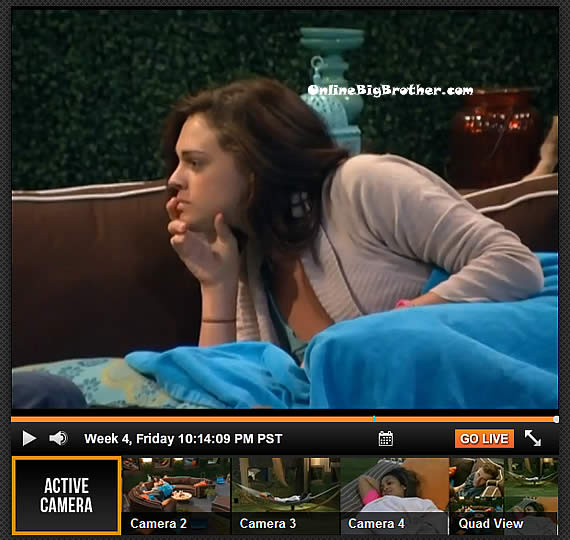 9:56pm JUDD, Gina and Kaitlin
Kaitlin: "I hope I f*** ing win"
JUDD: "I want to win to.. it'll be fun"
Kaitin asks him who he's going to backd**r if the POV is used.
JUDD: 'Get Aaryn out"
Kaitlin: "That is the plane"
JUDD: "ya.. she twists my words"
Gina leaves
KAitlin asks what happens if Aaryn wins the VETO and saves herself. JUDD: "She won't"
Kaitlin: 'You need to have a backup plan"
JUDD: "She won't"
Kaitlin: "You make me nervous"
JUDD is telling her the house wants her to stay. Kaitlin: 'I hope we pull some strong players tomorrow" JUDD: "I'm telling you we have the numbers the whole house"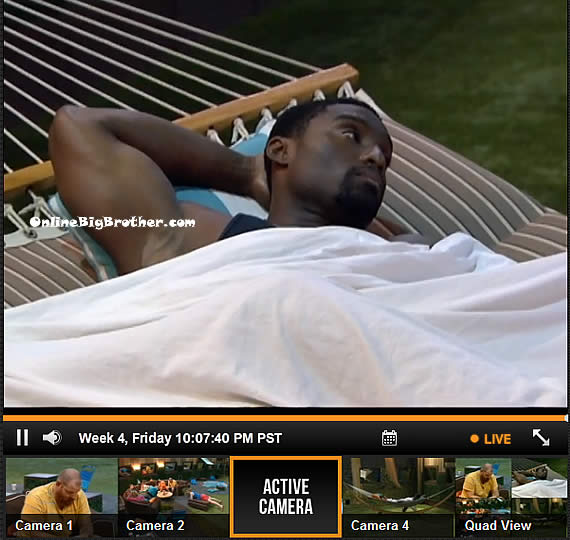 9:57pm Hammock Howie and Candace
(It can be difficult to understand Howard sometimes he talks and talks but never gets to the point)
Howard: "I'm going to talk to you and it's going to stay between us"
Candace is now worried that she's in danger asks him if he would tell her if she is in danger. Howard says he hopes she's not.
Howard trusts her and he hopes she wants to take him far because he hopes to take her far.
Candace: "thanks you"
Howard: thanks you"
Howard starts in on the game talk .
H: "This is my thing about Elissa.. and I just want you to watch her for the week" Howard says Elissa is the type of person that once there mind is set on someone there is no persuading them otherwise, "Even if its not true she's not going to think the other way"
Howard: "She doesn't like Spencer and the propensity for her not liking me only holds true because she likes you"
Howard says that Jeremy really need to do some growing up, He was the typically young guy plus he had those 3 girls stroking his ego. Howard: "Social game was a little too harsh and Abrupt.. he's the tallest guy in the house stuff like that "
Howard: "But what I commend him is that.. it's not fair to be in here and have the power given to her that we're not privy to"
howard says everyone in the house has a good heart and is a good person. "You know how Jeremy was seen as a bully.. I think you can be a bully and be nice to.. use your power to keep you here.. and use it to your advantage to bully people into doing what you want.. You can threaten them to be scared of you because they are afraid of your power "
Howard: "I see that.. "
Howard says Elissa is using Helen they are very protective of each other. Howard says that Candace has mended more bridges than Elissa has and he likes where she is in the game.
Howard says that Elissa reposects Candace because of her accomplishments and she gorgeous, "Most gorgeous women respect gorgeous"
Howard tells her his one concern with Candace is that she's seen as connected to Elissa and Helen so if the power shifts Candace could be in trouble.
Howard: 'Other people are going to try and get her out because they see the fakeness to"
HOward points out that him and Elissa use to pray all the time when Elissa was on the block put now that she's in power she ignores Howard.
Howard: "I'm not retarded.. I just don't say something"
Candace says that Amanda and Elissa bullied her. it was the night she went up to the HOH and tried to keep Howard off the block. Candace was pointing out to Amanda that McCrae was just as guilty for the Moving company as Howard so it's not fair that McCrea is treated differently. Candace adds that Elissa was very condescending to her and dismissed her from the room like she had Power over her.
Candace says that Helen is more with them she doesn't like Elissa that much. Howard i'm not worried about Helen she will go wherever the power is.
Candace said during casting she was asked the two players she disliked the most. They were Boogie and Rachel she felt Rachel walked around entitled and was bully and the only way to deal with her was to stroke her ego.
Candace: "If I won HOH right now I don't think I would put up Aaryn and Kaitlin .. I would have put up Amanda"
Candace says she would give them a pass and put up two shady f*** maybe they could get Kaitlin and Aaryn on their side.
Howard: "If there was an opportunity for a move like that you would be down to fo what I do and trust me"
Candace: "YA I would"
Howard says he only trusts Spencer, Jessie, JUDD , Candace and spencer.
Howard: "I damn near trust Aaryn more than the five I didn't mention"
Candace says that her and Aaryn are in a better place.
Howard says Aaryn and Kaitlin have disdain for the other side and the other side has disdain for them that will benefit them.
They both think they can get Aaryn on their side and don't want her to be evicted this week. Howard says Kaitin is very strong as a competitor so he would rather have Aaryn.
Candace: "I think the MVP is about to be over"
Howard: "I hope it is cause if that happens She up shit creek "
Cadence points out that Helen is trying to get Amanda in her back pocket.
Candace says Amanda is close with Elissa not Helen.
They want to get Kaitlin out this week. Candace thinks there is a good chance Kaitlin will win the POV. They wonder who JUDD would put up. Howard thinks it would GinaMarie.
You can re-watch ever second on the feeds using their flashback feature.. It's super easy to use click this link for a free trial —> Subscribe to the Big Brother Live Feeds
10:22pm Spencer and Howard Pool table
Howard saying maybe they should keep Aaryn because she is more on their side than Kaitlin.
Spencer: "I See what your saying"
Howard: 'It doesn't matter to me as long as those two stick with us.. but they aren't talking a lot of game either"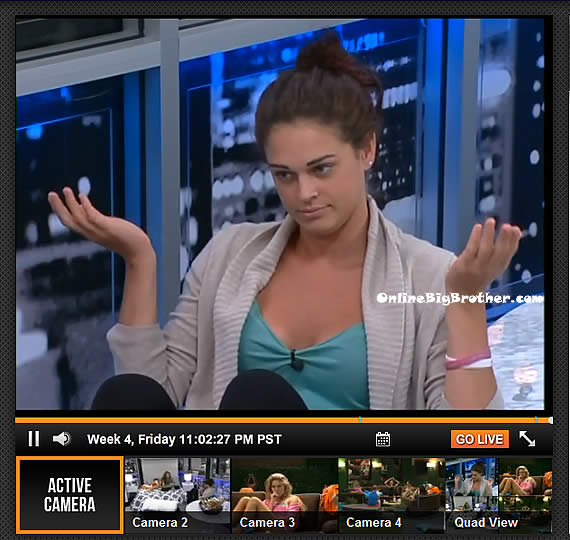 10:30pm HOH Kaitlin, Elissa and Jessie
Kaitlin is saying how she can't stand Aaryn because she's so negative.
Kaitlin: "I don't know what everyones plan I feel super out of the loop.. I would rather be told if i'm the target"
Kaitlin says she's going to fight like hell for the veto but is nervous if Aaryn wins it.
McCrae joins them
Elissa says she's never heard Kaitlin's name being thrown out as a target.
Kaitlin says she assume Aaryn is the target. McCrae: "OHH YA"
Kaitlin she's been lied to for two weeks so she really doesn't know if they are telling the truth or not.
McCrae says the first eviction was a blindside because of the moving company and the second eviction was fallout from the moving company. McCrea tells her she's solid she's not going home. Kaitlin asks him again what if Aaryn wins the POV. MCCrea: "Then someone is going up"
McCrea says there are plenty of other targets.
Elissa ask if her if Gina or Aaryn mentioned MVP to her. Kailtin says no.
Andy joins them.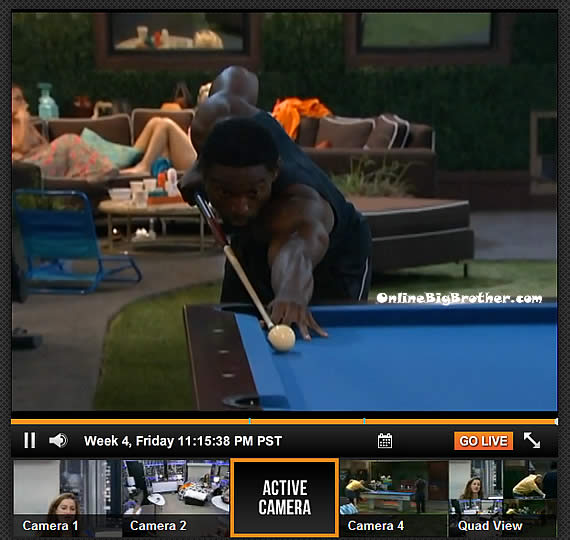 10:39pm
Spencer: "you hear that.. someone screaming" (Somewhere outside the Big Brother House)
Howard: "Ya"
10:55pm Amanda and McCrae Cockpit
Talking about all the messed up things Elissa has been asking them. She asked McCrae if he thought Jessie was cute and she asked him if McCrae found any other the girls other than Amanda attractive in the house. Amanda says Elissa is trying to stir up sh!t and she really doesn't get it. McCrae points out that Elissa is camped out in the HOH.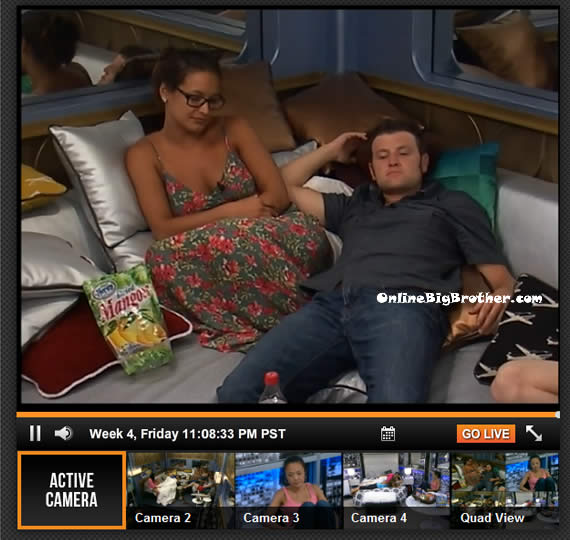 11:04Cockpit Amanda, McCrae, Jessie, Andy and JUDD
They are talking about how Elissa is stuck on them like glue. JUDD jokes that he hopes that tomorrow during the POV that Elissa get chained to Andy for 24 hours, "He'll be stretched in ways like he's never been stretched before"
JUDD leaves to have a smoke. Amanda and Jessie start talking about Elissa and how she's digging at them trying to get information.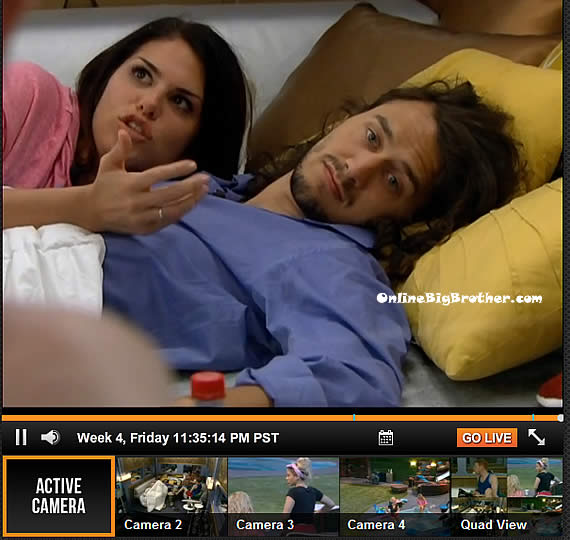 11:17pm Cockpit Amanda, Andy, JUDD and McCrea
Amanda is telling them they have a new operation it's called stay the f*** away from Elissa.
Andy: "What's the f*** going on with her"
Andy: 'She's giving me the weirdest vibes"
Amanda: "She's being facetious.. like malicious to Kaitlin.. asking her questions about Jeremy and Aaryn"
JUDD says she jumped him when he got out of the Diary room
Amanda says that Elissa is being super odd trying to start shit..
Jessie joins them.
Andy asks JUDD who she's putting up.
JUDD: "She doesn't have it yet"
Amanda bring up that Elissa is asking McCrae if he finds any girls attractive other than Amanda, "She asked do you find Jessie Attractive.. right when I was there".
Andy: 'She freaks me out.. To be honest she does.. she freaks me out"
Andy says Elissa has been stuck on JUDD like glue.
JUDD: "She's being strange tonight"
Andy: "Everything about her is weird"
Amanda: 'Today"
Andy:" 'no.. I don';t she was every normal"
Amanda: 'true"
JUDD says she's up in the HOH with Helen and Candace
Amanda warns them to watch what they say around Elissa because she's on some weird rampage and to not hang out with her as much because she's "Going bat sh!t crazy"
Amanda: "She's not making sense she's like a malfunctioning fembot" Amanda impersonates Elissa walking into the HOH earlier in the night.
JUDD: "Is someone giving her cocaine"
11:30pm Cockpit McCrae, Howard, Amanda
Howard tells them Elissa talks down to him. Amanda says she does that to everyone and iof you tell her to do something she gets pissed at you and does the exact opposite. Howard brings up that Elissa was saying to him they should hi-5 when Jeremy leaves she said this in front of Kaitlin. Amanda: "That bad sportsmanship"
Howard thought it might have been game. McCrae: "She scares me .. she's the scariest player in the game because of that stupid power"
Amanda thinks Elissa is freaking out tonight because she's realizing that her roll in the house is to have the MVP and get theses players out but once that power is over. McCrae: "She's gone"
Amanda: "She's worthless here"
12:15AM McCrae and Elissa Cockpit
McCrae is thinking Howard might have a power.
McCrea: "I don't know what will happen if you don't get it.. I think I could go up.. I had to tell him about MVP last week"
Elissa: "Do you think he got it"
MC: "I don't know.. freaks me out"
Elissa points out that they are not setting up for Veto yet so maybe they are waiting a day until they give out MVP. She's bummed out because she's only had one easy week in the house, "I don't want to go on the block again"
12:21AM HOH JEJUDD
Trying to figure out who got the MVP. Jessie thinks it could be her or JUDD
12:44AM Cockpit Amanda, McCrae and Andy
Amanda says that Howard came up to her and McCrae and wanted to work with them. McCrae thinks he has a power because he came to them. Amanda doubts it she thinks he's scrambling trying to make sure he's safe in case they have the power.
Amanda says he wants Howard gone. He's against their six so he's got to be backdoored this week.
Amanda about Elissa "She's like a two year old handling fire"
Lots of speculation about the twist..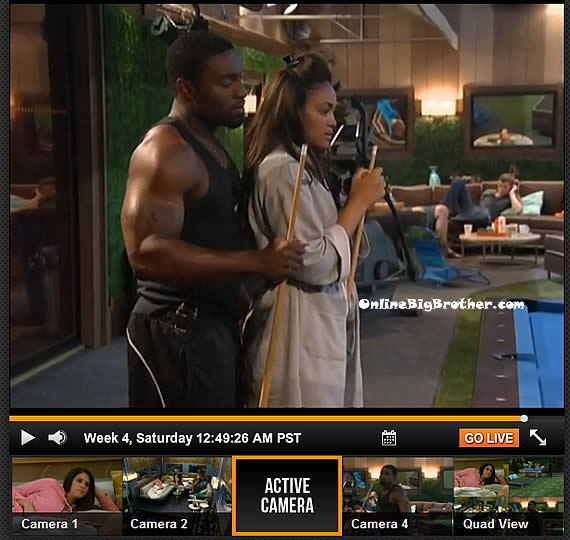 12:48pm Howard and Candace pool
Howard is doing decent in the game of pool. Candice asks him why does he want to finish the game so quickly. Howard jokes tells her it's too cold for her to be outside.
Howard looking through the sliding door at Gina eating 'That's why GinaMaria legs look like that all she does is eat candy and drinks drinks"
Candace: "she never eats meals"
[polldaddy poll=7260936]