8:15am – 8:30am Big Brother comes back for the we'll be right back screen to say "Rise and Shine, it's time to get up for the day!" Judd gets dressed and heads downstairs. Spencer talks to Howard in the havenot room. Spencer says if we win veto and get Judd to put up McCrae. That way Aaryn owns us you know. Spencer says they will will have Gina, Kaitlin, Aaryn and us. Spencer says we need to keep Judd focused. Howard says that he will talk to Candice and Spencer should talk with Andy. Spencer says that he isn't going to say anything until after the veto, I don't want to get him all shook up. They leave the havenot room. In the bedroom – Amanda, McCrae, Spencer and Andy are talking about sleeping in the have not room. Helen joins them and Amanda asks her if she thinks Elissa got MVP. Helen says that Elissa said that she didn't get it and I believe her. Helen says that Elissa thinks America's got it. They all think it is America voting on the nominee. Meanwhile in the bathroom Elissa, Aaryn and Candice get ready for the day.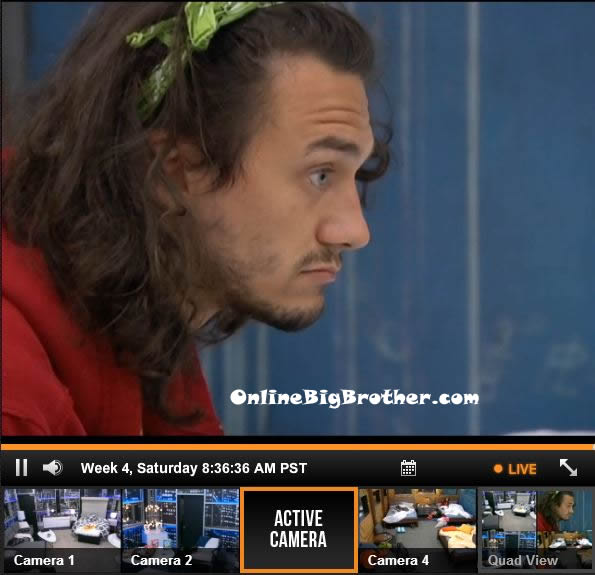 Up in the HOH room – Judd talks to Jessie. Jessie is mad and tells Judd that she thinks Amanda is telling him what to do. Judd tells Jessie that says he might have found them a new alliance. He tells her that he wants to wait until after the veto competition. Judd tells Jessie that it's Spencer, Howard and Gina. He says that Gina owes him for not putting her up as a pawn. Jessie tells Judd that he should put up Amanda. The conversation turns to talking about MVP. Judd says that Elissa does not have it, unless she is lying. He says that it could have something to do with the twist. Andy and Spencer join Jessie and Judd in the HOH room. They talk about random stuff. Spencer tells Jessie that she was talking in her sleep. Andy jokes that Jessie said the order of who she wants evicted in her sleep.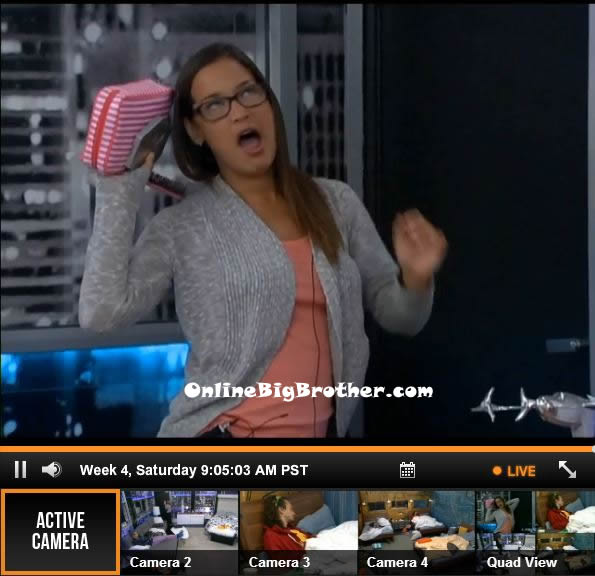 In the storage room – Elissa jokes with Judd about her having the MVP. Judd says really? Who did you put up? Elissa says I'm not telling you. You'll find out. Judd asks her again. She says you guys are funny. She tells him she doesn't know who got it, it might be America. Judd heads up to the HOH room and tells Andy and Spencer that if Elissa doesn't have MVP, then I have no reason to keep her. Spencer says lets just wait till the veto players are pulled. Andy says that he is so tempted to run up to Helen and tell her I know Elissa got it! Just to see if she confirms it.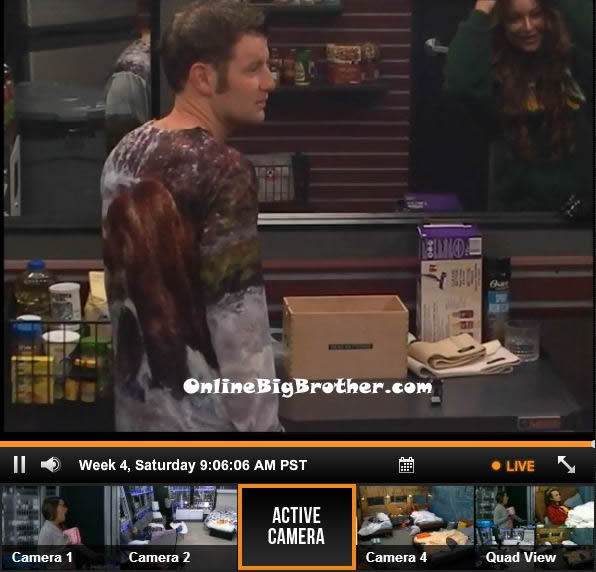 9:20am Up in the HOH room – Judd whispers it to Spencer that he mentioned it to Jessie about us working together. Judd says I told her I would pick her as house guest choice. I can't pick Howard, it would be too fishy. Judd says that he had to tell Jessie, she was pissed when Amanda suggested putting up Howard. Spencer tells Judd that he should put up Elissa, we have the votes to get her out. Judd says BIG MOVES! Let's make it happen! Spencer says either you make sh*t happen or sh*t happens all over you. Judd says all right.. I wanted to lay low but I guess I can't now. Spencer tells Judd he will never lie to him. This is your HOH. I have your back and we have the numbers. Judd says if we win the veto I will take Kaitlin off and put up Elissa. Then worst case Aaryn goes home. Judd says McCrae will be pissed but he doesn't even come up to talk to me. I have to go find them. Spencer says they don't talk to you, they tell you stuff. Spencer says if you get house guest choice pick Jessie.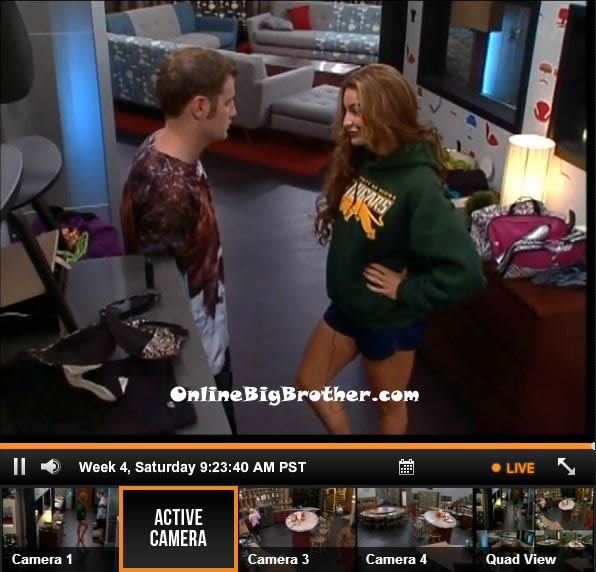 In the hallway to the bed room – Elissa tells Judd that he should back door her. Judd asks what? Elissa says that she isn't really playing the game. I was put in here to mess with people. Judd asks mess with people you haven't done anything. Elissa says that all the moves have been made by her. Elissa says he keeps questioning her. Judd walks away and says this is bullsh*t. He then comes back and she keeps messing with him. She tells him that Rachel isn't really her sister and that she isn't even really playing the game. Judd says if you're not going to take this seriously I might have to back door you. Elissa says you might have to do that. Elissa says I love to be back doored. He walks away again and then comes back. He tells her that if she isn't going to take this seriously then maybe she should… Judd says this means a lot to all of use so if you aren't going to take it seriously.. Elissa says you don't think me leaving my children show how much I want to be here. Judd leaves and then comes back again. He asks her why she is acting like this, especially to him. Elissa says that production tells her everything. I helped produce the show. Judd says that he is disappointed in her. Elissa says well you keep questioning my about it. Judd then talks to McCrae and Amanda how Elissa is pissing him off. She keeps smiling at me and won't give me a straight answer. Judd talks to Andy and tells him that Elissa has been acting like that since 7/8 o'clock last night. He says I might have to back door her.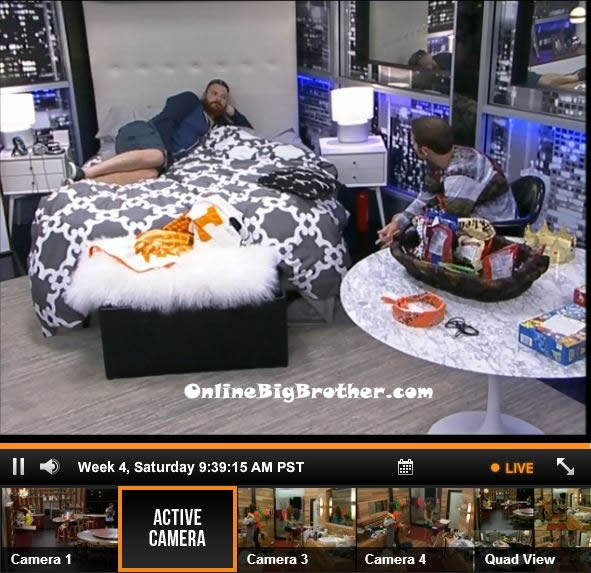 9:50am Up in the HOH room – Judd tells Spencer that he is thinking of back dooring Elissa. Spencer says that is fine with me. Judd says that he doesn't to but because she's a friend of mine but she isn't taking anything serious. Spencer tells Judd that Amanda/McCrae and Elissa think that they don't need to tell you anything. They think you are an idiot.. well not an idiot but they think they have the wool pulled over your eyes. Judd says that's it, I'll put her up then. Spencer tells Judd that he and Howard have Judd's back.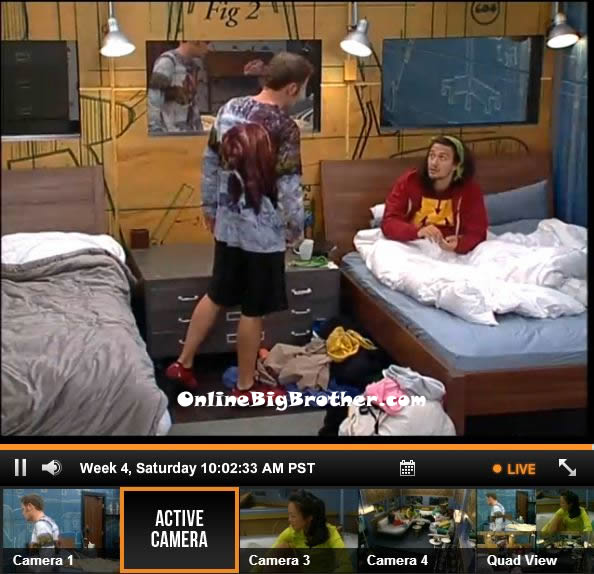 10:05am In the lounge room – Andy, Helen, Candice and Jessie are talking about the twist and what it might be. They are all nervous. Meanwhile Judd goes back to the bedroom and tells McCrae that he doesn't trust Elissa any more. She is acting shaddy. McCrae says that he thinks she's flipped. Judd says trust me I don't think so. Judd says that he is going to try and talk to Helen and see if she looks him in the eyes. Judd says that we might have to get rid of her. McCrae agrees. Judd gets called to the dairy room.
10:10am Up in the HOH room – Helen tells Jessie to talk to Judd and tell him to do what is best for his game. Helen tells Jessie that Elissa is doing the same thing to Judd that she did to her last weekHelen says that she will talk to him too. Jessie cautions her about how she talks to Judd. In the HOH room – McCrae, Andy, Spencer and Helen are talking about what they hope the POV competition is like. They hope it's a prize competition. The conversation turns to talking about the tv show fear factor.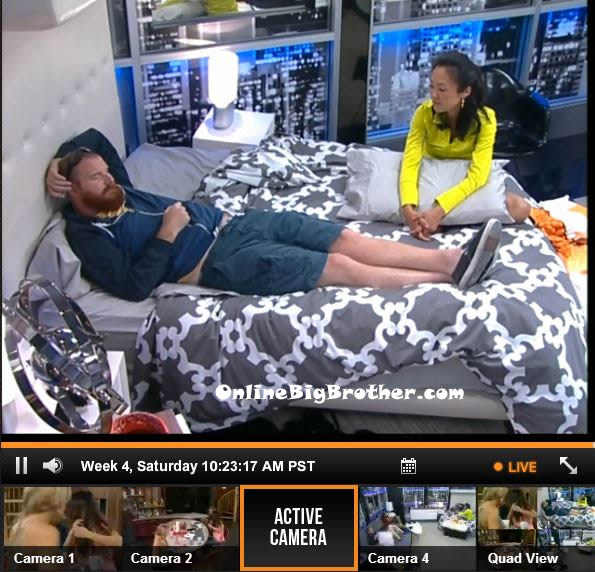 10:30am Judd comes out of the diary room and yells I need everyone… He stops and groans. He steps back and then re-opens the door and yells I need everyone to gather in the living room. Helen tells Judd good job. Big Brother then cuts the feeds. It's time to pick players for the veto competition.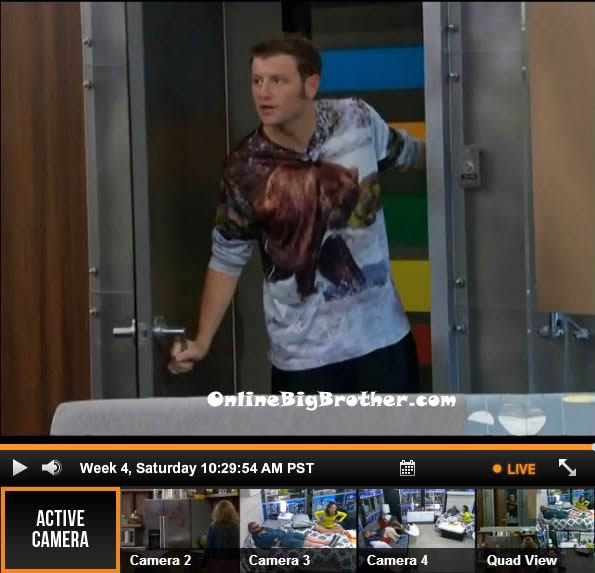 [polldaddy poll=7260936]