POV Holder:
Elissa
Next POV
July 20th
POV Used
YES
POV Ceremony
July 22
HOH Winner:
JUDD
Next HOH:
July 25
MVP:
AMERICA
Original Nominations:
Aaryn, Kaitlin, ELISSA (MVP – America)
Current Nominations:
Aaryn, Kaitlin,
Last Evicted Houseguest
David, Nick, Jeremy
Have Nots
Jessie, Candice, Andy, Spencer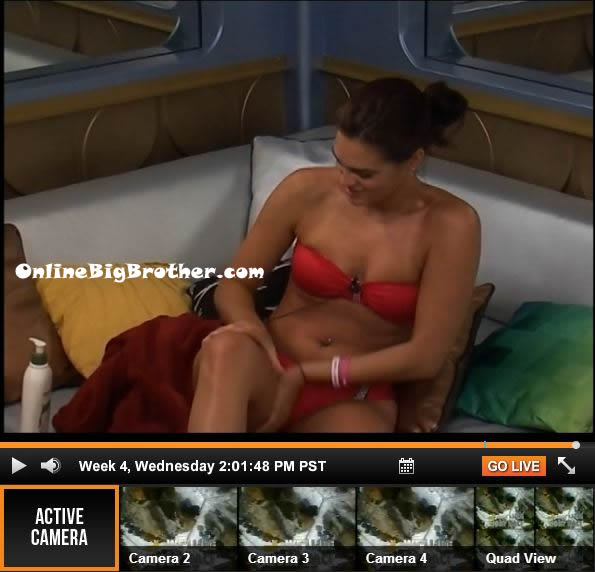 2pm In the lounge room – Andy is talking to Kaitlin about how they wonder if tomorrow will be a double eviction. Andy says it's crazy how its day 35 and only 3 people are gone. Andy tells her that Judd put Vaseline in my hair today. Kaitlin says what an a$$hole!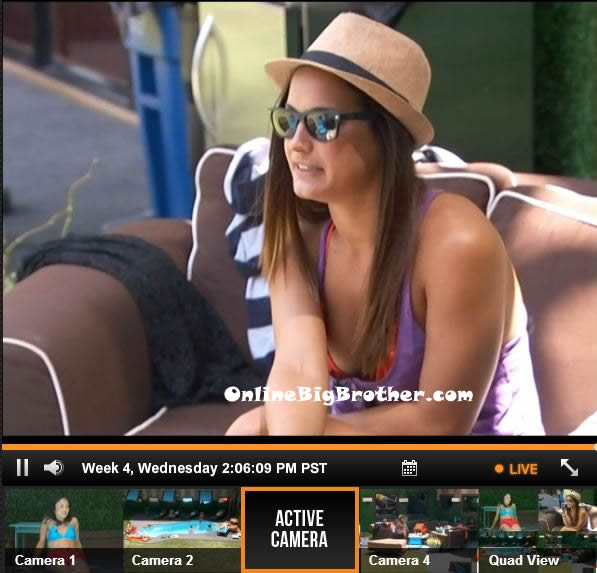 They head out to the backyard. Spencer and Jessie are sitting on the couch. Spencer says that she looks sexy in her hat. I normally don't like girls wearing hats but you look good. Jessie says thank you. Aaryn, Kaitlin, Amanda, Gina, Helen, Judd, Candice and McCrae are in the pool and sun tanning around it. Elissa is running laps around the backyard. They are talking about the possibility of a double eviction. Meanwhile Howard is working out and Elissa starts doing her yoga. Amanda suggests the next time we get alcohol us girls get it all and we have a bachelorette party. Judd says hell no because I know I will be a Havenot and I want to drink a beer before that. Big Brother tells the house guests they are on an indoor lock down.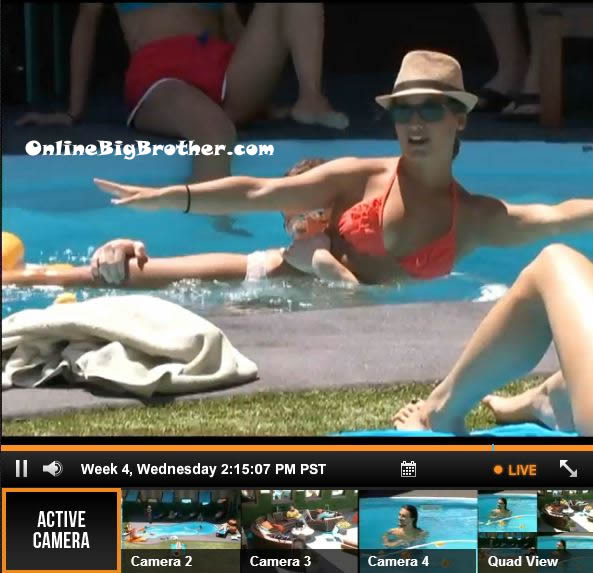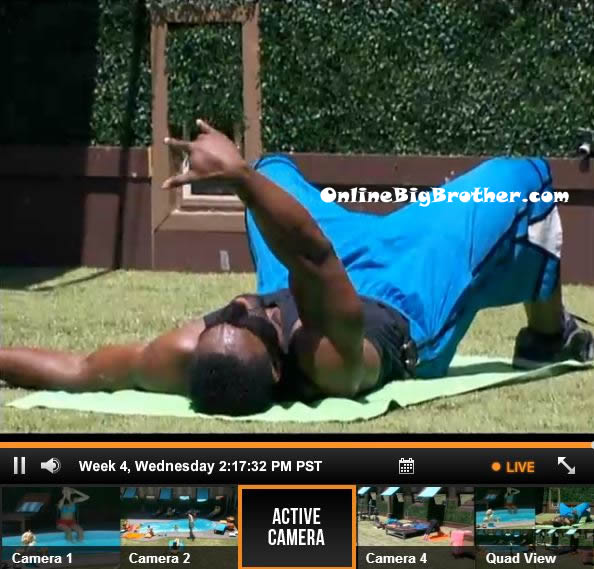 2:30pm All the house guests head inside the house. Spencer and Jessie head up to the HOH room. Spencer says that he could never work in corporate America. He says that he has hit the pinnacle of the work force he's in. Andy joins them. Spencer says Andy is a handsome man, I can see why a lot of dudes would want to bang you! Meanwhile in the downstairs bedroom – McCrae, Judd, Amanda and Elissa talk about people doing it in the big brother house. Amanda says that she isn't going to do it because it will be on the internet forever. They start talking about the changes in the house this week, getting the beach balls, ducks and picture frames. Elissa asks do you guys still want Kaitlin out? McCrae says yeah. Amanda brings up how Candice is throwing her name under the bus. They talk about the house guests that have cried. McCrae says that he think he will if he gets a HOH letter. Judd says he never cries – the only emotion he shows is anger.

2:40pm – 3pm
Gina is curled up in the bed with Nicks hat over her face. She says she doesn't feel like talking. Aaryn says she isn't until tomorrow. Meanwhile up in the HOH room – Andy tells them about his wet dream. Spencer asks him if he cares to share. Andy says no I don't remember it. Spencer talks about his first wet dream. They discuss how Kaitlin has been kicking Aaryn's a$$ in competitions. Jessie says that Aaryn is social dynamite though. Spencer jokes lets just vote out Ginamarie then. Andy says tonight is going to be boring unless there is a fight. Andy crosses his fingers. Andy says I can't wait till I am on the block, I am going to have freak out. Jessie says well Andy said he can't wait lets put him up. Andy takes it back. Spencer comments that they should just let the girls drink all the alcohol to see what happens.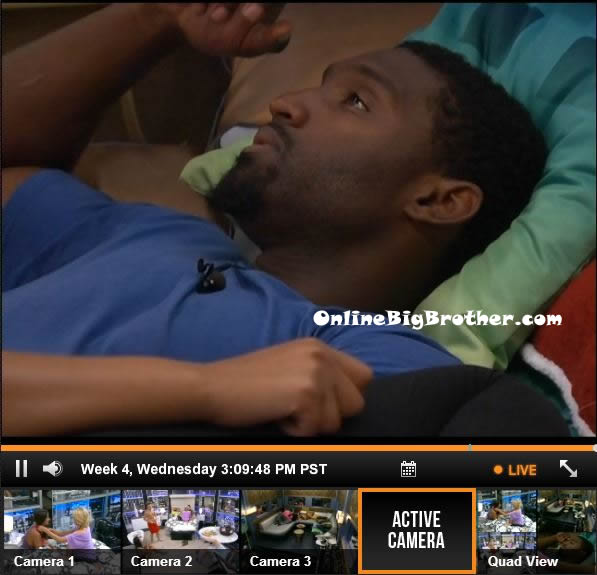 3:05pm In the lounge room –
Candice and Howard are talking alone. Candice tells him about how she had a conversation with Amanda. She tells him about how her and Amanda both agreed not to fu*k with each other until after Jury.
3:20pm Up in the HOH – Helen, Spencer, Jessie, Aaryn, Kaitlin, Andy, Amanda and Judd are talking. Helen says that she talked to production and they said we would be let back out into the backyard in a couple hours. They wonder if they will have another memory competition with something in the backyard. Judd has a blazer on and shorts. Kaitlin asks him if he can wear that all day long. Judd says of course, it's Spring Break! Amanda says party on the top, Spring Break on the bottom. Judd heads down stairs. Meanwhile in the bedroom. Elissa and Amanda are talking about Candice.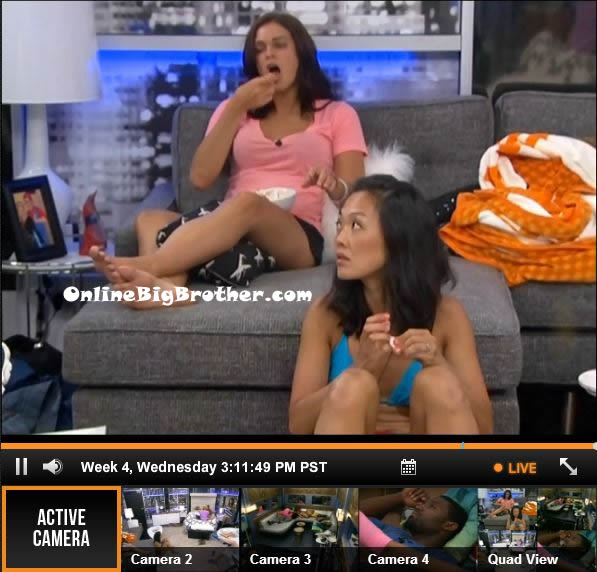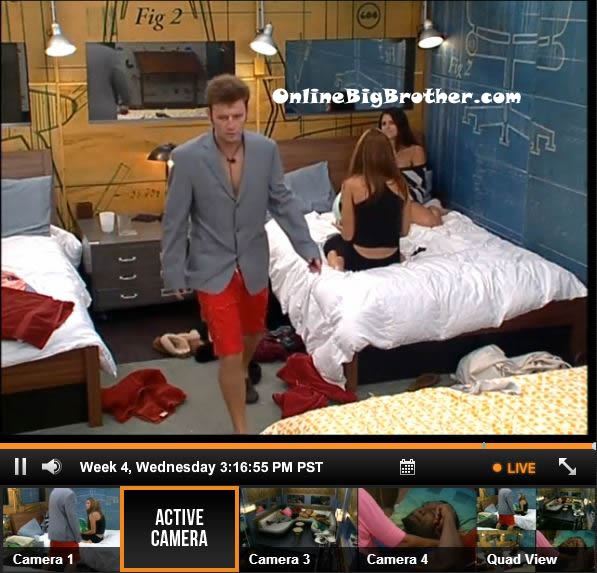 3:25pm – 3:35pm Amanda and McCrae are in the bedroom talking. Amanda says that she told them in the diary room that we are in love. McCrae says that he doesn't say that, he says we are in a strategic alliance. Amanda says well now I look like an idiot. McCrae brings up how she flipped out on him the last time he said something in there. Amanda says that was before we said we were in love. Amanda says well I look like an idiot I came in here with a boyfriend met you and fell in love..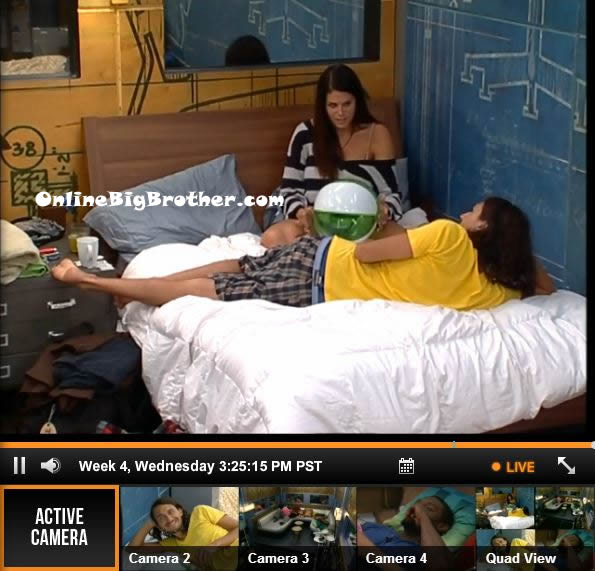 3:35pm Andy joins McCrae and Amanda. Amanda tells Andy about her truce that she made with Candice about not going after each other until after jury. Below is Amanda's facial expression when she tells Andy that she isn't going to keep the truce. Amanda and Andy talk about how they woud rather keep Aaryn here over Elissa. The discuss how big brother is building something in the backyard but that Candice says she was told they would be let back out there. They wonder if they will get to practice something for the upcoming HOH competition.
AMANDA's Facial Expression when she tells Andy she isn't going to keep the TRUCE with Candice – @bigbspoilers #BB15 pic.twitter.com/1K8O7ojqaX

— Dawg (@DawgsBigBrother) July 24, 2013
3:50pm – 4:10pm In the bedroom – Amanda, McCrae and Elissa are talking. Elissa is worried that she will go up on the block. McCrae says that she won't he is more worried about Amanda going up. Elissa says she thinks Aaryn will put her up. McCrae and Amanda assure her that Aaryn won't put her up. Judd joins them. Amanda comments that Judd's shirt is a little tight. Judd tells them that its Nicks shirt. Judd starts stretching it out. Judd leaves. Amanda tells Elissa I have a plan if they (Howard, Spencer, Candice) get HOH that will keep, you, me, McCrae, Andy and Judd safe where they will nominate Aaryn. Amanda says then we will get MVP and decide who goes. Elissa says maybe America was MVP and they just saw my name and voted. Amanda wonders why she is always the target. She says I am the Yoko Ono of the Moving Company, I split it up, and they think I control McCrae. Amanda tells Elissa that she never should have confronted Kaitlin because you aren`t aligned with her so she had no reason to be honest with you. Amanda says tells Elissa that she put Judd in a bad position because he was the one that told Helen. Elissa continues to say that she didn't compromise their alliance.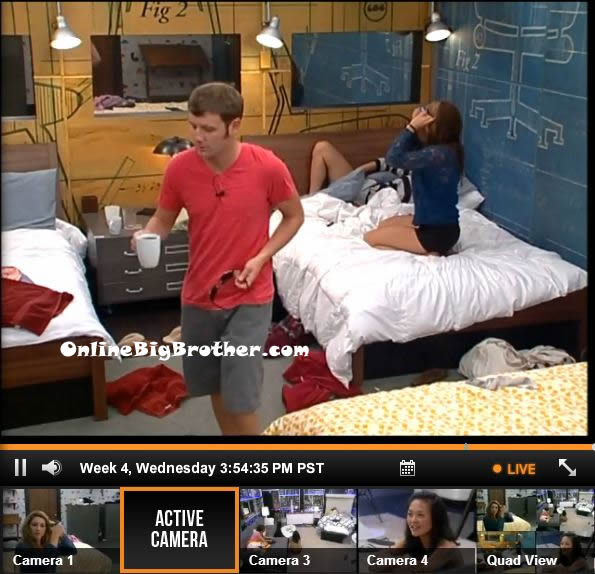 4:20pm Up in the HOH room – Spencer, Andy, Gina, Judd, Kaitlin, Helen, and Aaryn are talking and joking around. Judd puts conditioner in Andy's hair. (Earlier today Judd put Vaseline in his hair.) Spencer says that he asked his brother in a restaurant if he masturbated. He says his dad told him to go get in the car. Andy says that he was at his grandmas and she didn't want to play with him because she was tired. Andy says that he told him grandma to get off her a$$ and play with him.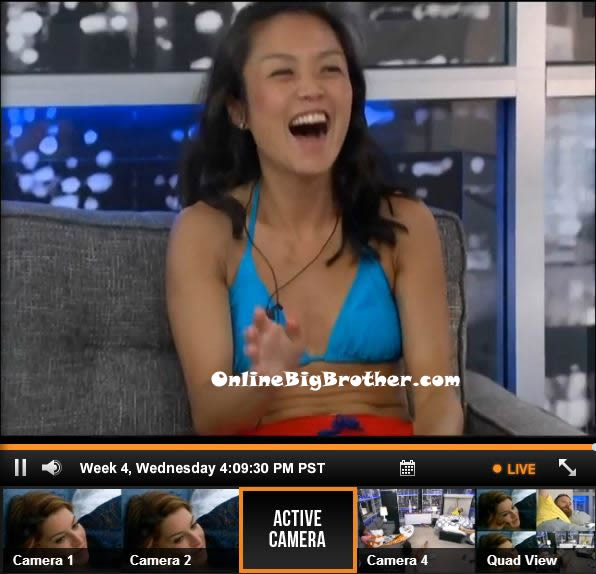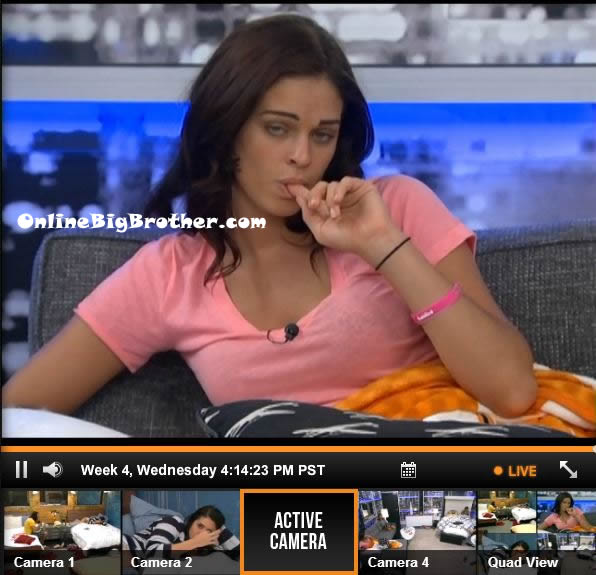 [polldaddy poll=7268963]