POV Holder:
Elissa
Next POV
July 27th
POV Used
YES
POV Ceremony
July 29
HOH Winner:
JUDD
Next HOH:
July 25
MVP:
AMERICA
Original Nominations:
Aaryn, Kaitlin, ELISSA (MVP – America)
Current Nominations:
Aaryn, Kaitlin, GINAMARIE (MVP – America)
Last Evicted Houseguest
David, Nick, Jeremy
Have Nots
Jessie, Candice, Andy, Spencer
4:28pm Elissa, McCrae and Amanda Bedroom
Talking about endurance competition. Elissa asks them if there is any pointers. McCrae goes over a couple tactics. Talks about last year's Boat endurance comp and how positioning your body is important.
McCrae to AManda: "You're in danger next week.. I feel like I am in Danger.. we need to win it"
They are in lockdown and are trying to figure out why. McCrea says he's going to assume that it's a major endurance competition until the doors to the backyard open up and there is a crapshoot competition for them to practice.
McCrea thinks there are too many people in the house to do a crapshoot.
Amanda says that both of them are in trouble if it's a spinning competition. Amanda doesn't plan on taking her Adderall before the HOH competition. McCrea says he'll puke all over himself and hopefully the smell will get other people to drop.
A bunch more houseguests join them in the bedroom. Just random chit chat as they wait for the lockdown to be over.
Amanda talking about one of her girlfriends that pees the bed "Every Time she gets drunk she pees the bed"
Andy Says he came home one night wasted and was facebooking and peed all over his computer chair.
Amanda one ups him. "My ex had this friend that would get drunk and sh!t.. he was notorious for it" She shares a story about this friend that came to her house wasted sat on the patio chair that had holes on the seat and sh!t through the holes like playdough.
Spencer says he doesn't like the little person (Peter Dinklage) on Game of Thrones. (Spencer should be instant evicted for that 😉 )
Amanda thinks he's sexy. McCrae says in the Game of Thrones Tyrion Lannister is the coolest.
5:10pm Kitchen Ginamarie, Kaitlin and Aaryn
Aaryn is making cookies, GM is eating and Kaitlin is hanging out
GM says they are outcasts, "Everyone hates the pretty ones"
Kaitlin cannot understand why America likes Elissa so much she's such a vile person.
Aaryn thinks that America doesn't like Elissa that is why she went up this week.
Kaitlin doesn't think so because GM was put up
Gm says her diary rooms are funny as sh!t she's like Enzo America likes her.
Aaryn says if it's double eviction it'll be Kaitlin and her going home
Kaitlin doesn't care anymore "good I already have my sh!t packed"
Aaryn: "Yeah, I don't want someone else packing my stuff"
Kaitlin: "regardless if I don't go home this week it'll be a constant battle" Kaitlin thinks she'll end up going up every week at this point she doesn't care anymore.
They agree that Elissa thinks she is better than everyone in the house that is why she acts the way. The belief is she because she's so wealthy compared to the other players she looks down on them all.
Kaitlin: "I grew up just as wealthy as she is now.. I have everything I ever wanted my whole life .. my father was a CEO of a company .. does not make me below her in anyway"
Aaryn: 'Me to"
Kaitlin and Aaryn say they hope Helen wins Big Brother 15 if them three all get knocked out of the game.
5:34pm Bathroom Candice, Kaitlin and Andy
Talking about how America is probably getting bored of the MVP going to the same person every week. Candice says if she was a viewer she would start getting sick of seeing the same person winning. Andy and Kaitlin agree. Candice goes to take a nap, they both tell her "Goodnight"
Kaitlin and Andy start talking about how is it possible that Elissa wins so many MVP's . Andy says for every person that likes rachel there are 2-3 people that hate her. He thinks the other votes are diluted among some of the other favorites in the house.
Andy explains that the brenchel army voted Aaryn to be on the block because they didn't know she was going to be nominated that left the remaining votes to got on Elissa. Kaitlin wonders why Ginamarie was nominated as the replacement then.
Kaitlin: "Elissa was so rude to me in the kitchen.,. I asked her a question she just looked at me and walked away.. in front of everybody.. like what have i done to you"
Kaitlin asks him where everyone's head is at.
Andy: "I haven't heard one speck of game talk today.. everyone has been in close quarters"
Kaitlin says that Helen promised her safety last week and if she ends up voting to evict Kaitlin she was wrong about Helen being a honest person.
Kailtin: "Amanda is very much against me and I don't understand why"
Andy: "A lot happened yesterday and I don't know why" Andy hopes that the backyard gets opened up soon so people can talk.
K: 'I'm going to pull Helen aside and ask her"
Kaitin says that Aaryn has a deal with McCrae and Amanda. Helen would be better off keeping Kaitlin around. Andy says he feel much more comfortable with Kaitlin in the house than Aaryn.
Kaitlin: 'Aaryn and Elissa will never work together.. I'll work with you and Helen I won't be targeting Elissa like Aaryn"
Andy: "I don't really give a sh!t about Elissa… like yesterday her behaviour was so weird"
K: 'She's been acting weird all week"
Andy says Helen voting to keep Aaryn doesn't make sense to him.
Kaitlin says she feels like Aaryn is going to end up staying this week.
Andy doesn't think so but he plans on talking to people tonight to figure it out.
5:52pm JUDD and Jessie
Jessie whispering I think she's talking about Ginamarie eating all the slop balls. She's pissed because GM isn't even on slop why doesn't see just eat a pizza or something.
Jessie giggles: "I want to beat her up.. should I beat her up"
JUDD: "No"
JUDD tells her to talk to GM and say that the slop balls take a long time to make. Jessie says they've done that already you would think she would stop. Jessie told Amanda and she wants them to start something about it so that Amanda isn't the last person to yell in the house.
Jessie kisses JUDD on the shoulder and he kisses her on the cheek. (Jessie has a smile on her face finally she has the showmance she always wanted)
Jessie goes to the chess board where Helen and Elissa are playing. She tells them about the slop balls being eaten. Helen offers to make more. Jerssie just cannot understand why she's doing that when GM can go eat whatever she wants.
You can re-watch ever second on the feeds using their flashback feature.. It's just like a DVR and is super easy to use. click this link for a Free Trial —> Subscribe to the Big Brother Live Feeds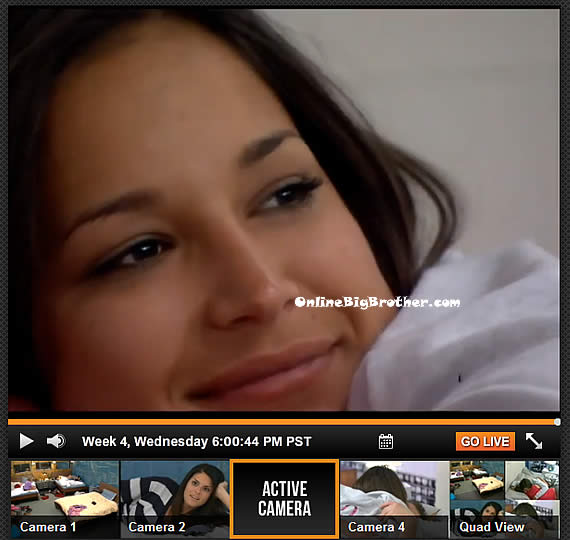 [polldaddy poll=7268963]