POV Holder:
Elissa
Next POV
July 20th
POV Used
YES
POV Ceremony
July 22
HOH Winner:
JUDD
Next HOH:
July 25
MVP:
AMERICA
Original Nominations:
Aaryn, Kaitlin, ELISSA (MVP – America)
Current Nominations:
Aaryn, Kaitlin,
Last Evicted Houseguest
David, Nick, Jeremy
Have Nots
Jessie, Candice, Andy, Spencer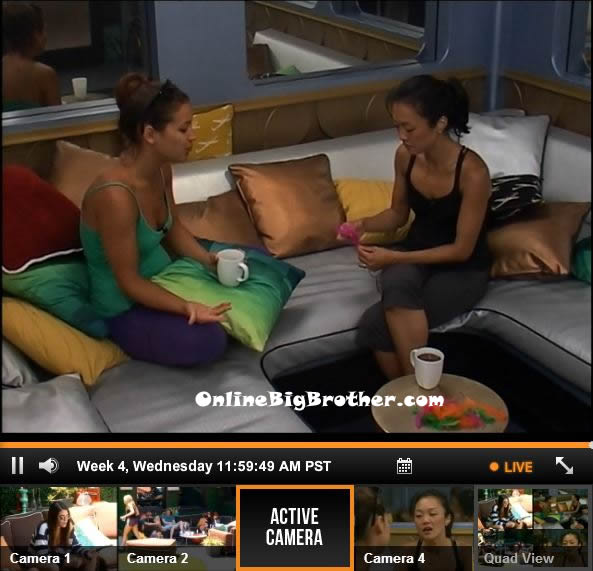 11:55am – 12:10pm Jessie and Helen head into the lounge room. Helen says you went to bed last night and everything got pinned on Amanda. Helen explains to Jessie what happened last night and what she told Elissa after she called people out. Helen tells Jessie about how she threatened Elissa that she needs to shape up or ship out! Helen comments that even though people say the alliance is a lie, I think that it is true. Jessie comments that she wishes it had remained the way it was before because bringing in Aaryn scares me. Helen says after Kaitlin goes, Aaryn is out next after Howard. She is leaving the second we are done using her. She is out the door before jury. If she makes it to jury I will shoot myself. Even if Howard takes himself of the block then we will back door Aaryn. Helen says I want Aaryn out before I want Amanda out. Jessie says that Helen got Elissa this far in the game. Helen agrees, I did everything to bring the target down off of her. Jessie wonders what if Aaryn wins HOH. Helen says that she isn't sure why Elissa didn't get MVP but once she gets it again people will be kissing her butt again. Helen says that she equally wants Howard and Spencer out. Jessie is worried about Aaryn turning their group "the breakfast club" – evil. Helen explains that if it ever comes down to it – it would be me, you, Elissa, Judd against Amanda, McCrae and Aaryn. Helen says she just needs to get Elissa under control and that Aaryn will never make it to jury. They end their conversation and leave the room.
Big Brother 15 Live Feeds: FREE 2 DAY TRIAL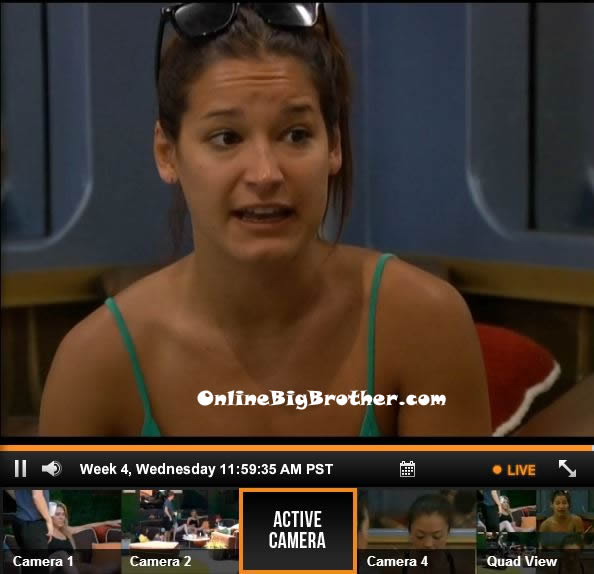 12:10pm Out in the backyard – Judd, McCrae, Andy and Jessie talk about how it is day 35 in the house. They comment that day 45 is half way and talk about how strange it is that only 3 people have left and its almost half way. McCrae believes this week will be a double eviction. Andy says that there are two extra weeks but says that Spencer says there isn't. They talk about if it is a double eviction they would want to put up Spencer and Howard. McCrae thinks it should be Spencer and Candice, so that Howard can't compete in the POV competition.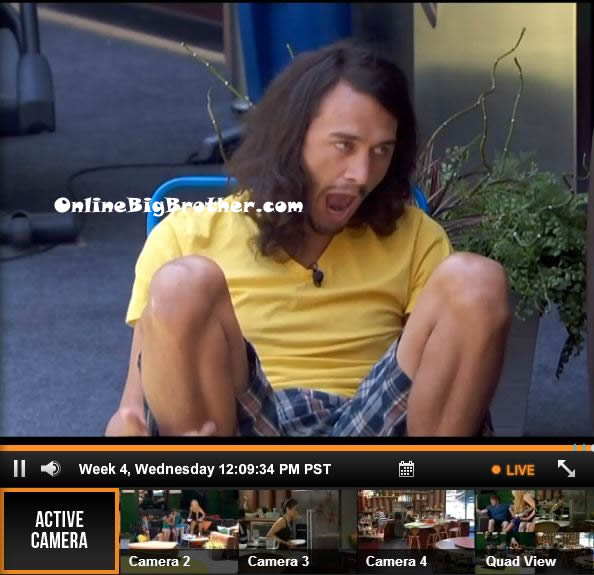 12:15pm Helen talks to Amanda in the lounge room about the events of last night and how she has done everything to help Elissa and she ruined it for herself and me. Helen says Elissa felt bad after I explained to her how she went against our alliance and started to call people out. Amanda says we can't tell Elissa anything. Helen agrees. Amanda brings up how can Elissa want to keep Kaitlin when Kaitlin wants you out. Helen agrees and says I helped her get out people that were after her. Helen talks about how Elissa wants Aaryn out because of the racial slurs she said. Helen says I get it, but we will get her out when the opportunity arises. Amanda says I am just not going to talk today. Can you just stick up for me if my name comes out of Candice's mouth. Helen says she will.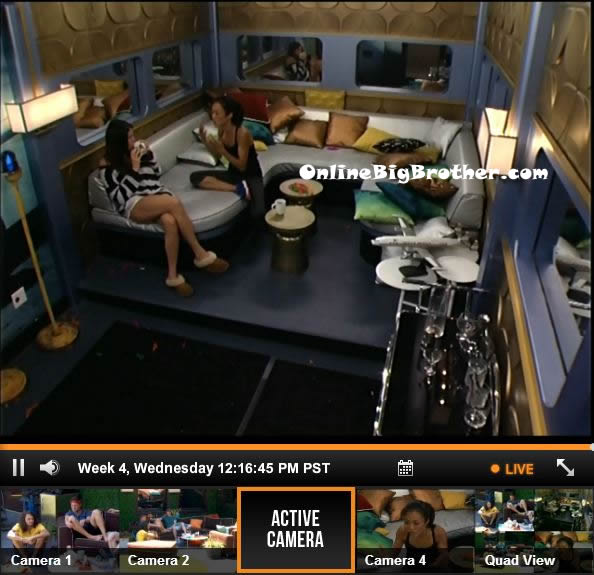 12:25pm Out in the backyard – Judd, McCrae, Amanda and Jessie are talking about Elissa and how she isn't really working with us. Amanda says if anyone asks McCrae and I are voting with the house. Andy jokes that he is voting out Ginamarie. Andy says I just don't want Elissa to get HOH because I don't want to have to kiss her a$$. Judd says I won't kiss her a$$ no matter what. Amanda tells Jessie that her job is to stay close to Candice and to get her to target Elissa. Amanda tells Jessie to tell Candice that Elissa is targeting Howard. When in doubt blame Elissa. Judd says yeah!
12:34pm – 12:50pm Judd comes out and puts Vaseline in Andy's hair. Andy stands up and asks what did you put in my hair!! I can only shower every 2 days!! Andy heads inside to wash it out. Judd tells the others that he put Vaseline in Andy's hair. Amanda says that the first few days Howard was all over me and touching me – it was gross. McCrae tells Amanda to get over herself. Judd agrees Howard was all over Amanda. Andy says that Nick was all over me. Judd says Nick treated you like a red headed sl*t! JUDD puts Vaseline in Andy's hair. Andy asks what did you put in my hair? Jessie says she hasn't been called to the Diary Rom in a week. She says the last visit was when Judd won HOH. I doubt I am even in the show.
JUDD puts Vaseline in Andy's hair. Andy asks what did you put in my hair? @bigbspoilers #BB15 #CBSBigBrother pic.twitter.com/r4RInEMGPN

— Dawg (@DawgsBigBrother) July 24, 2013
12:50pm – 1pm Up in the HOH room – Andy talks to McCrae about how he wonders if the whole fake alliance was concocted by Judd. Andy says either way it worked out the best for us the only thing is that it puts a target on Amanda a bit. Andy says the only way to test is to go up to Ginamarie and say I know the truth but that's too risky. Judd comes up to the HOH and says I heard every word you just said. He then laughs. Andy tells Judd how they were just talking about what Elissa did might get Amanda put up on the block. Judd says it doesn't matter either way we have the numbers. He then jokes then we vote her out. Andy and McCrae head downstairs.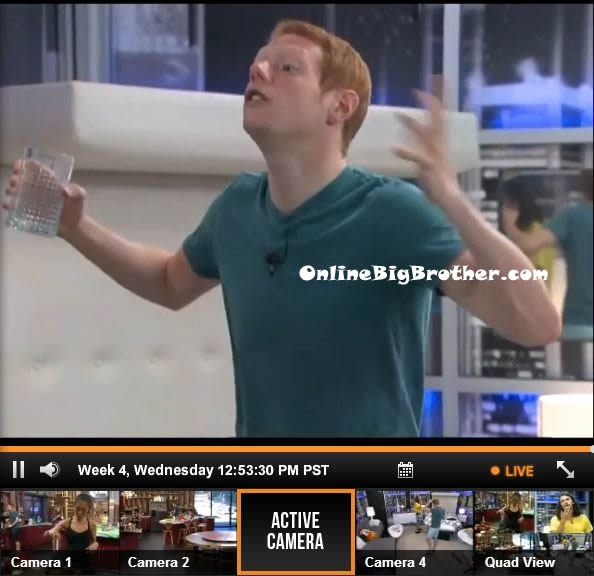 1pm In the kitchen – Elissa is now up eating. Andy is talking to her about random things. Meanwhile out in the backyard – Spencer talks about how last night Elissa was acting flipping crazy and that anything she said was validated by her lunacy. McCrae says I don't know it sounds like moving company 2.0. Were they all talking about her (Amanda) to make her the scapegoat or what. Andy joins them. Spencer starts talking about a girl he was dating back in 2002 – She was hot, her face wasn't all that but I just wanted to fu*ker anyways. Big Brother cuts the feeds. When the feeds come back, Andy wonders when Gina or Kaitlin will get up. Spencer says or Candice. Andy says crab shop is already open for business.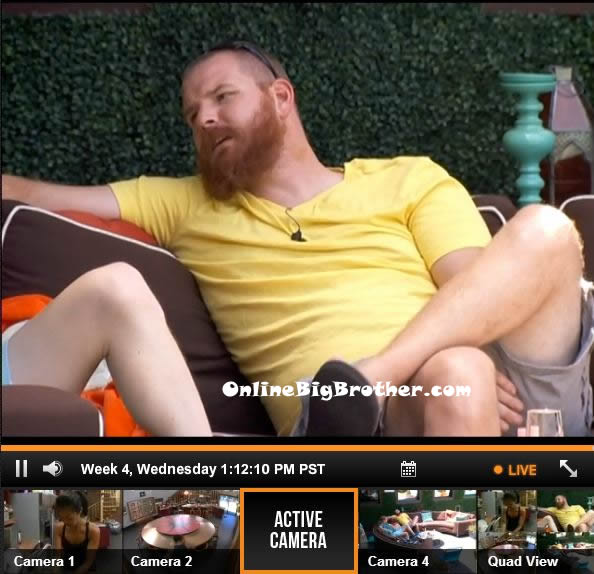 1:20pm – 1:35pm In the lounge room – Amanda talks to Candice about how she swears she had nothing to do with what was said last night. I am sorry for blowing up on you. I should have pulled you aside to talk to you. Candice says I know that you guys want Howard out. Amanda says Howard's name only came up when we had an alliance of 7 and he voted us against us. Candice says if my name is in your mouth then I have a right to have your name in my mouth. Candice says that she is very protective of Howie. I know people make fun of him for the bible and for praying. Amanda says who makes fun of him, no one does that! Candice says I know people do that. I am just sticking up for him just like you would for McCrae. Candice says that Amanda does sly things. Like telling Howie good luck in the veto and asking about Aaryn right before she walked in the door so that I would be talking about her when she walked in. Amanda says why would I even say good luck Howie when he wasn't even playing in the veto. Candice says maybe because you knew Elissa would win and come off so you could back door Howie. Amanda says why would I make myself look guilty like that. Candice says if you leave us the fu*k alone, then we will leave you the fu*k alone. Candice says if we just call a truce then we can make it past the next two weeks till we all make it to jury. Amanda asks if they would put her up if they won HOH. Candice says no! Amanda says I will keep you here until it is necessary to not. Candice asks and Howie? Amanda says yeah. Amanda says I wouldn't purposely say anything sly against you, I am not stupid like the comments Aaryn makes. If we call a truce to keep each other safe till after jury then I will uphold that. They shake on it and leave the room. Amanda heads out to the backyard and tells McCrae, Andy and Spencer about her conversation with Candice.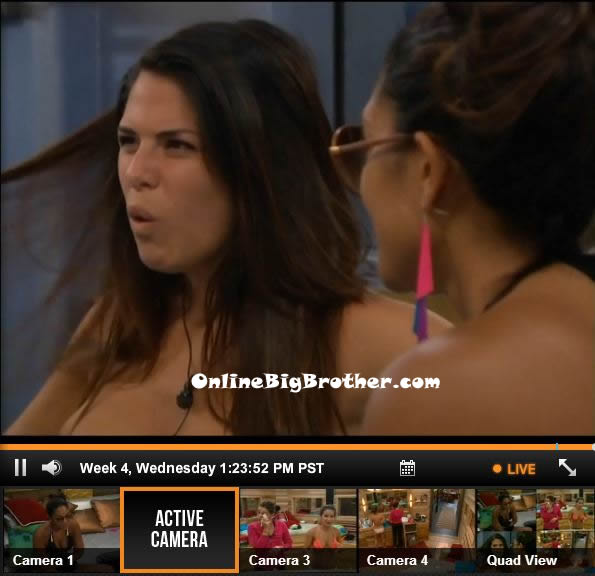 1:40pm – 2pm Amanda is smoking while she has the nicotine patch on. Judd asks why are you doing that! It says not to! Amanda gets up and says she doesn't feel well. She heads into the bathroom and throws up. Jessie asks her if she is okay. Amanda says it's just the adderall, nicotine patch, coffee and smoking.
Amanda goes into the bathroom and THROWS UP from the COFFEE, ADDERALL MEDICATION & NICOTINE PATCH #bb15 @bigbspoilers pic.twitter.com/sOh1xhnlDZ

— Dawg (@DawgsBigBrother) July 24, 2013
[polldaddy poll=7268963]