POV Holder:
Donny
Next POV
?
POV Used
?
POV Ceremony
?
HOH Winner Team 1:
Frankie
HOH Winner Team 2:
Caleb (current HOH)
Battle of the Block Winner
Brittany, Victoria
Next HOH/ Next BOB
?
Original Nominations:
Caleb noms (Donny, Paola) Frankie noms (Brittany, Victoria)
Current Nominations:
?
Have Nots
Cody, Hayden, Joey, Brittany
POV Players
Donny, Paola, Cody, Zach, Caleb, Victoria (HOST = Jocasta)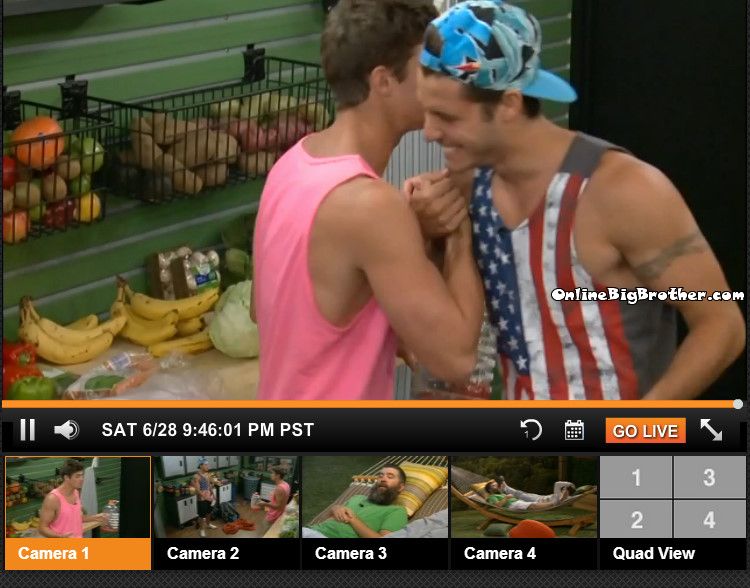 9:44pm storage room Cody and Zach
Cody love show everyone plays their cards to them.
Cody – Dude you me derrick are we going to take care of each other"
Zach says Derrick and Cody till the end
Zach is certain the bomb squad is going to get exposed, "People are already on to us I would love to see Devin go this week.. is that stupid"
Cody no he played way too hard way to fast
Cody – If it wasn't for frankie bomb squad would blow up.. how dumb is he he said victoria isn't a target and one day after victoria is a target"
Cody – "This kid is not a good player.. ."
Cody wants a name for their 3 person alliance. Zach says he's working Frankie on the side.
Codu – Good frankie is a huge player to have on our side"
They agree Devin is going to blow up their games.
Cody – "Caleb will never put Devin up.. "
Zach – "It's not going to happen "
They agree Devin is not going anywhere this week but first chance they get they have to get rid of him.
Cody – "I'm pumped"
Zach – "we're sitting pretty for the next 5 weeks"
Zach – "This game you play it week to week I'm going to keep taking my naps you are going to keep flirting with all the girls"
Zach – "Joey's little plan is genius it's going to expose them.. Everyone thinks it's Devin, caleb amber
Cody – "f devine is on the block I won't use the POV on him"
They talk about Derrick being a solid guy.
Caleb – he tried to get me into the bomb squad and Devin and Caleb said no they didn't like how I was playing the game.. It was f***ing day one"
Frankie rolls in, "Everyone is telling us everything"
They start laughing
Frankie – "It's 6 Vs two .. you guys"
Cody thinks Amber will run back to Devin and Caleb. they agree Amber is "dead" to them.
Zach – "us three Derrick and Christine"
Frankie – "it's going to take us 5 to take them down" (
Frankie says Joey is a mess she's a liability she's going home
Can't stand can't swing can't spell
Frankie leaves cody say POW POW will be this years pawn.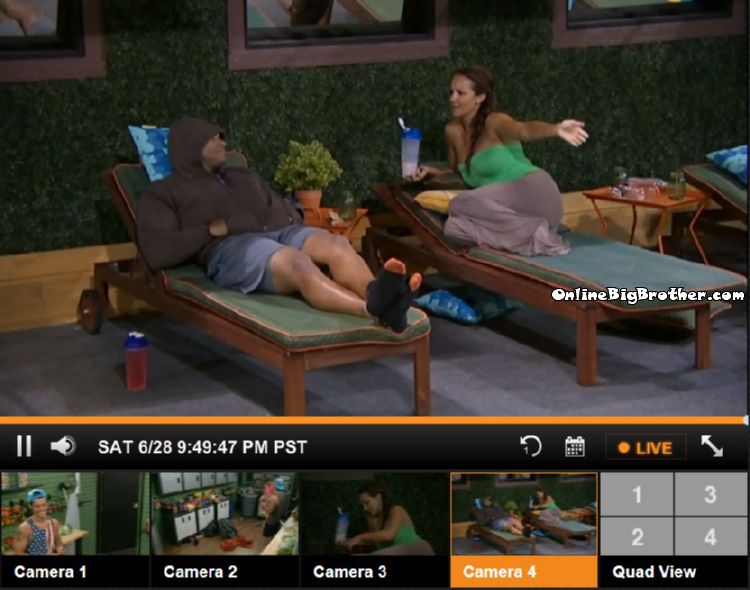 9:48pm Poolside Devin and Brittany
They are questioning each others loyalties. There's some tension in this conversation
Devin says when she was nominated he came to her told her everything was fine. He rallied th guys to protect her this week. Devin – "Now I know where you stand.. "
Brittany – "What do you mean Now I know where you stand"
Devin – "I just wanted to know if you had my back"
Brittany says it's hard to read him
Devin – It's part of the game. I know where you stand it's alright
Brit – you don't need to be like that Devin.
Brit question him when one day he's talking bad about Donny the next days he's talking about saving him
Devin says he was trying to protect them that all that should matter to her.
Brittany asks him if he really had her back because she doesn't think so. Devin say he cheered her on during the battle of the block' I would have made sure all these guys had your back.
Devin – "Only time will tell"
Brittany – "Well everything everything surfaces.. good luck
Devin – "Ya you to"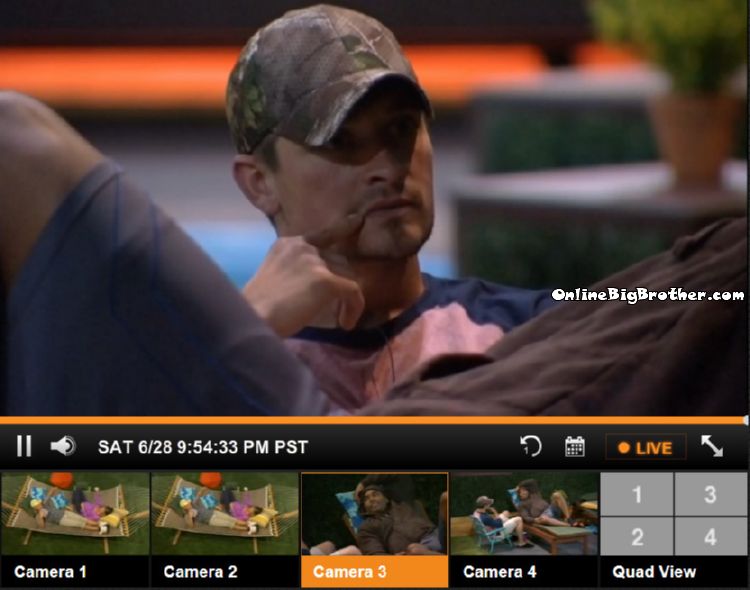 10:00pm Backyard poolside Devin and Caleb
Devin says if Joey comes to him again he should make her comfortable and make her feel like he wants to put Devin up.
Devin is pissed at Joey to do all this on his daughter birthday. Devin is also pissed at Brittany because they all had her back. Devin says he's going to win HOH next week and nominate Brittany.
Devin – ""I'm sharpening my blade for things like this this is when this game get cutthroat": Devin only cares about their alliance and maybe Donny.
Caleb tells him he does get mad they will never see him made unless maybe they all turned on him out of the blue.
Devin tell him he has his back until the end.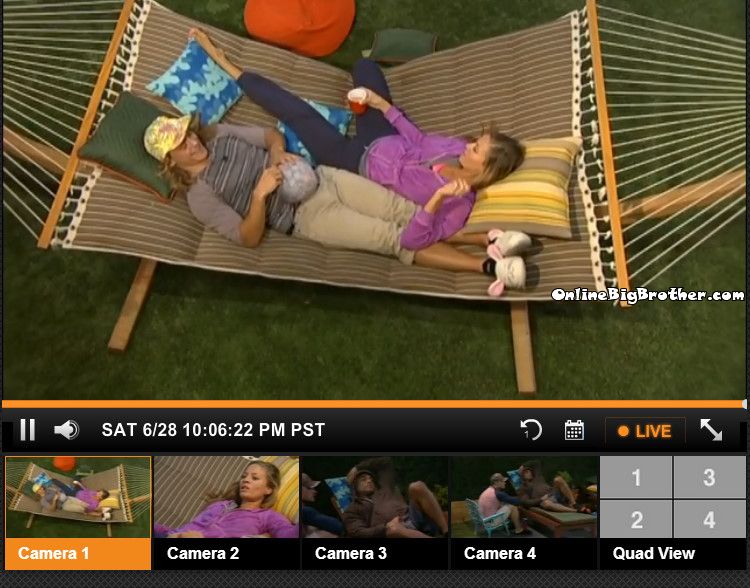 10:05pm Hammock Hayden and Amber
Amber and Hayden both say they are voting with the house majority. (AKA Joey) Hayden asks where Brittany lies, "I feel like she's kinda in the same boat" (With Joey in a girls alliance)
Amber doesn't know where she sits but has heard it from other people. Amber doubts there will be a showmance but if there was it will be Hayden and nicole. Hayden says he never came on Big Brother for a showmance. Hayden says he really likes Nicole thinks she's great.
Amber asks him where he sits in the game. hayden just say he's trying to figure it out he came here to play an honest game.
Hayden "I'm trying to find the people that are honest as well the people I can trust.. I like working with Caleb.."
Hayden adds he will never backdoor someone in the game and he wants to work with people who feel the same way.
Amber – "the hardest thing for me right now is…"
hayden – "Controller your feeling for Caleb"
Amber – "Oh god.. why is everyone honestly we're really close friends.. "
Amber says Caleb is a good guy and they are from the same place like Donny, "I have a soft spot for them"
hayden – "I'm just happy to be here I love it it's so awesome I just want to play with people that want to be here.. My thought process is prepare for the worst and hope for the best"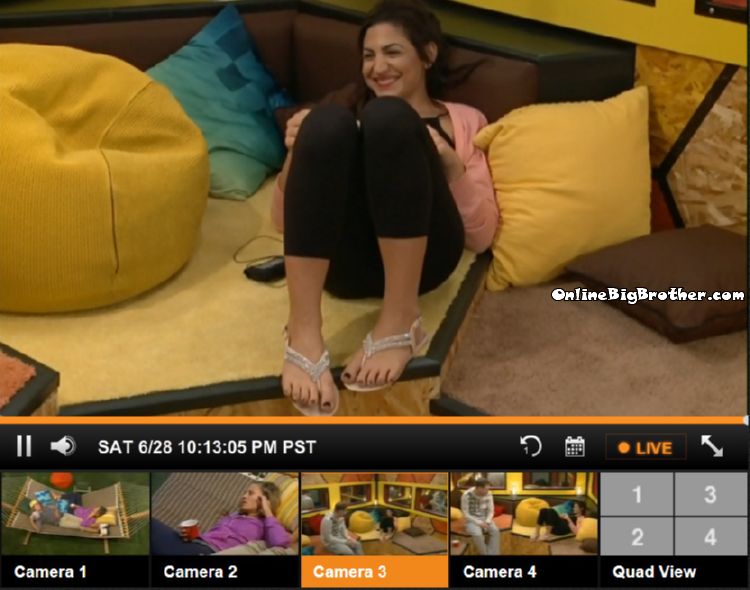 10:13pm Victoria and Derrick Hive
Derrick says Joey is making herself a target
Victoria – "she literally told Caleb to put up his best friend"
Derrick – "it's not going to work out too well for her"
Victoria – "I'm nervous"
Derrick – "just lay low relax and enjoy it.. we don't want to stay here too long" (To arouse suspicion)
Victoria gets up and leaves.