POV Holder:
Shane
Next POV:
July 28 (Saturday)
POV Used
Yes
POV Ceremony
July 30 (Monday)
HOH Winner:
SHANE
Next HOH:
Aug 2nd
Original Nominations:
Ashley And Joe
Current Nominations:
Joe And Frank
Have Nots (Cereal & Salmon)
Joe, Ian
Coach Competition Winner
Janelle (Wil SAFE)
Next Coaches Competition
August 3(Friday)
Last Evicted Houseguest
JOJO
8am – 10am Joe gets up and heads into the kitchen and then into the arcade room. Joe is eating froot loops. Not long after he falls asleep. (He's not supposed to sleep anywhere but the have-not room. 9:40am Big Brother switches the feeds to TRIVIA. When the live feeds come back, Ashley is up and sits in the living room. Frank, Wil, Jenn, and Danielle are in the kitchen taking and joking around. Ashley asks what time it is? Frank says 7:50am. Ashley says thank you. They all laugh. Frank says no we're joking its 9:50am. Wil shows the camera his sculpture of Jodi's face. Joe and Ian are still sleeping in the have-not room.
Watch what happens, AS it happens: Big Brother 14 Live Feeds!
Subscribe today for your FREE 3 DAY TRIAL!
10:10am – 10:25am Frank and Danielle are talking in the bathroom. He says that him being put up on the block is fine if he stay because that shows he can trust them. Frank says he trusts Dan more than Britney. He explains that he realizes him being put up on the block was more Britney's doing than Shanes. He talks about how he liked how Dan played the game before because he was an honest player. He tells Danielle that he is confident in her vote and that he likes that she is an honest player too. Frank talks about how Janelle is running around the house making up lies. He says people lied and said I had a final 2 deal with Wil and then a few days late there was the lie about me wanting to get Wil out and back door him. Make up your minds, which is it. Danielle is just lying there not saying much of anything. He talks about when people burn bridges in this game it is impossible to regain that trust. Frank leave to go make breakfast. Danielle and Janelle are in the bathroom. Joe comes in to the bathroom. Janelle and Danielle pinky swear. Joe says we're good, we're good!
11:40am Britney and Janelle are up in the HOH bathroom. Britney says that Danielle is 100% with them. Janelle says that she talked to Wil and he said he is voting out Frank and says that he said they will hate me. They start talking about Frank and how much he stinks. Janelle says imagine sleeping in bed with him let alone fu*k him. Eww Gross! Britney says that she has never had sex with anyone who stunk. Janelle says yeah that's a deal breaker. They talk about how co*ky Boogie and Frank are, they think Frank is staying. Shane joins them. They tell him that Frank was up all night trying to get to Danielle and Wil. Joe joins them. They tell him that Boogie and Frank are so co*ky down there. They actually think Frank is staying.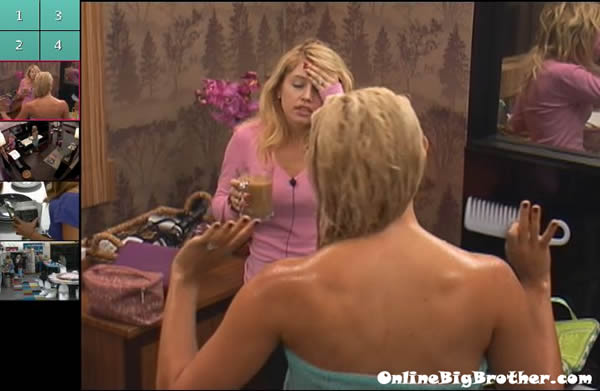 Dan, Wil and Danielle head up to the HOH room in anticipation of being on an HOH lock down. Britney and Wil climb into the coaches bed. Birtney starts mocking Joe says that she has a vital piece of information to tell him. They both laugh. Britney talks about saving a member of your team for a week gives you the exact same odds as bringing back a player. Janelle joins them. She tells them that she isn't wearing a bra. Britney says yeah I can tell. Janelle says of course you can tell. They start talking about breast milk and Janelle asks Britney if she wants to try it. Britney says no. Wil asks Janelle if she has. She says no. They he says he would if he had breasts. Janelle says okay fine I tried it.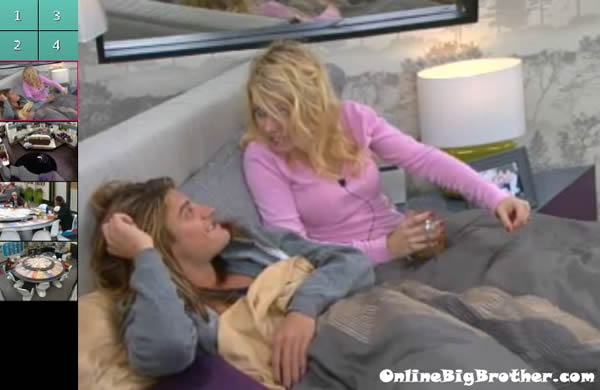 11:10am – 11:25am Frank and Mike are in the arcade room talking. Mike asks what happens if I can't trade for Wil, like if he was the HOH for the week. Who would he put up. Frank says he thinks Ian and Jenn and if we had a chance to back door Shane he would. Mike says he hates to do it to Dan but he wants to put up Danielle for what she is doing this morning. This morning Danielle told Frank that moving forward she could work with him. Mike says what the fu*k do you mean moving forward, you need us bit*h. Both Mike and Frank call Danielle a bitc*h. Mike says that we can bully Ian to vote anyway we want. Frank and Mike talk about how stupid Danielle is. Mike says that he wants to ask the producers why they picked her. Frank says that Danielle was confident about winning the HOH tonight. Mike says she won't win. He says that he can't stand her. They talk about how glad they are that Shane's reign is over today and that he will be sweating tonight. They say that Shane is a pu$$y. Mike says that he will be out there trying to get Ashley to jump out of the endurance competition with cookies and ice cream saying come on Trixie, everybody loves you, you're safe.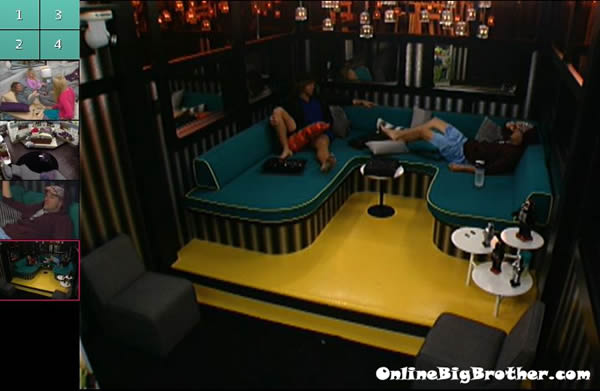 11:50am Britney heads down stairs and goes into the arcade room. She says that she just came downstairs to break up some convos. See who's scheming. Boogie and Frank invite her in. They ask her if everyone is upstairs. Britney says yeah except for Dan. She tells them that she was up there talking about teen mom. The others in the HOH room were all asleep. She starts telling Mike all about The Real Housewives of Orange County. Frank asks Britney who Janelle's players would put up? Britney says that they aren't really playing together so you need to give me a specific name. Britney says that all the numbers are off next week, you will have three, Janelle will have two, Dan will have one. Mike says that he hopes he won't have to rely on Danielle next week. Frank says that he hopes everyone at home is able to see how bad Janelle is playing with running around lying to everyone. Britney leaves. Mike says that he thinks Britney owns Danielle as much as Dan does, we need to keep Britney on our good side. Frank says that he has been thinking about laying the mack down on Danielle. Mike tells Frank to keep tickling and spinning her. Frank says that if we are able to get Shane out next week, Danielle will suck to us like glue. Mike says that he can't wait for the day when we line up for a contest with Danielle, Ashley and Jenn.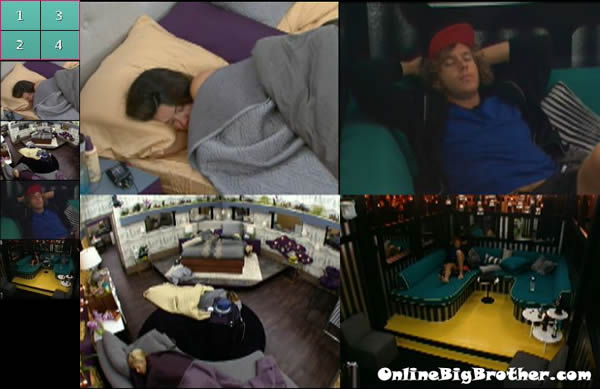 12:10pm Big Brother calls for an HOH room lock down. Mike and Frank head upstairs.
1pm Still on an HOH lock down. None of the house guests are talking.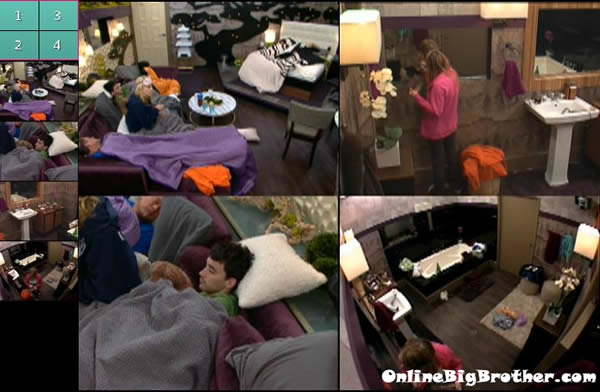 Share it YO!!
Tweet