POV Holder:
Spencer
Next POV
Aug 3rd
POV Used
?
POV Ceremony
July 29
HOH Winner:
Aaryn
Next HOH:
Aug 1
MVP:
AMERICA
Original Nominations:
Spencer, Howard, AMANDA (MVP nom)
Current Nominations:
Last Evicted Houseguest
David, Nick, Jeremy, Kaitlin
Have Nots
Judd, Amanda, Candice, GinaMarie
9:07pm HOH Nail party Howard brign sthem cookies
Before this Amanda was talking about spooning McCrae is like spooning a little girl…
The guys are having a pool tournament
9:10pm Have nots Candice and Andy
Candice telling him she's having a bad day and her energy levels are really low from being on slop. She starts to cry..
She says everyone will have their moment when they are up against someone they care about.
Andy tells her she's not going home if she goes up. Andy thinks he will be going up as the pawn and people are being honest with her about that.
Andy thinks Howard is a good guy but thinks the game didn't go his way. Candice is worried that Spence will try to cut some deals and get her out. She knows that Spencer has stabbed her in the back a couple times in the past. Andy doubts there will be any deal made up
9:30pm Andy and McCrae Cockpit
Andy says that he just talked to Candice and it was Spencer that was telling her to start campaigning for Howard to Helen. Candice thinks that Spencer is trying to set her up
Andy: "I just want you to know"
McCrea: "Thanks… thats super good information"
Andy adds that Candice is very upset she even got him tearing up
9:43pm Backyard Al bundy and Spencer chatting about Elisabeth shue
9:55pm Pool table Howard and Spencer
Spencer says it's upsetting for him that they are in this situation that Candice has to tank her game for Howard to thrive.
Howard: 'I don't think people understand the anger and emotion that goes on in this game"
Howard isn't use to dealing with blatant lies in his regular life.
Howard says Kaitlin was going to stay up until the very end so who knows this may happen again.
Howard: "Who is going to win is already pre ordained.. "
Howard says the game is getting boring as hell he hopes someone wins HOH next week and shakes this up.
Spencer: "We're playing with a bunch of chicken sh!ts.. they're good people though"
Howard: "There's 6 grown people in there the rest are scared"
Howard says this season was suppose to be a season for non floaters but in retrospect with this cast it become advantageous to be a floater
Spencer asks him if he stayed and won HOH who would he put up. Howard doesn't know he would have to think about it, "Of course I wouldn't put up you"
They start talking about everyone doing what the house wants. Howard: "Whos the house.. 4 people that are controlling all the floaters"
Spencer says he would like GM to get HOH, he just needs to get to her first before Amanda and McCrae. Spencer says he can't fault them for what they are doing it's solid game play.
Spencer: "If McCrea hadn't decided to have fallen in love we would be set Elissa would have gone home seek two.. "
10:12pm Amanda and Candice Have nots
Amanda says she knows what Candice is going through because she has someone she cares about in the house to.
Amanda tells her to not sacrifice herself, "Fight to be here for yourself"
Candice says Amanda would feel the same way as her if there was another jewish person in the house and they came to her to support her when people were saying racial things about them. Candice says she had friends and allies in this house and they are supporting the person that said racial, hurtful and nasty things against her. She's all alone and now she has to fight against the one person that was on her side the on person she cares about.
Candice doesn't understand why she has to be up on the block against Howard why doesn't Aaryn put someone else up as the pawn. if it's true that Howard is going home then it shouldn't matter. Amanda explains that Aaryn thought Candice was targeting her. Candice: "You don't have to put me on the block against him.. that is fu**ed up that person said fu** up racial sh!t.. that's horrible to put me up against him" Candice says she never thought people would leave Aaryn in the game over Kaitlin so she never considered her a target. She's shocked that Aaryn is now still in the game making deals after all that she said and did.
Candice: "If a deal was made to keep her a$$ in the house than a deal could be made to keep me off the block.. ". Helen and Elissa are listening in on the conversation after a bit they join the conversation (See image)
Amanda says Candice was never her target but Amanda knows Candice has targeting her. Helen chimes in says Howard is against them.
Candice goes on about all the racial things that were said to her. Candice mentions when the mattress was flipped Aaryn was talking to her like a "Black" person calling Candice Shaniqua. She asks Helen how would she like it if they did that to her impersonating an Asian person.
Amanda: "I wish you would stop targeting me.. I'm not after you"
Helen chimes in and says they want to play game with Candice but as she got closer to Howard they started to back off. Helen reminds her that Howard was lying to her since day one.
Amanda reminds her this is nothing personal against Candice Howard was targeting her that is how the game works.
They start listing all the alliance Howard has tried to make in the game. Helen points out that none of them included Candice. Candice: 'Hanging with him was comfort for me.. we never talked game"
Helen says Candice kept going around saying she's playing a independent game but then last night she was pushing Helen and threatening her to save Howard.. "How is that playing a independent game"
Amanda: "Me getting rid of Howard was not to weaken you it's to make you stronger"
Candice: "I knew about the boys alliance before all of you.. I told Helen" She ads that she didn't know the full extent of the boys alliance but she knew some of it
Amanda asks her why she was campaigning to keep Howard she needs to campaign for yourself.
Candice: "clearly if McCrae was on the block you would campaign to keep him.. C'mon Amanda" Candice adds that she isn't even on the block yet.
Helen saying Candice should be angry at Howard right now. She's going on the block because of him and she is still protecting Howard. "You should be bitter at him not us"
Helen: "you are not listening to us and we would never lie to you"
You can re-watch ever second on the feeds using their flashback feature.. It's just like a DVR and is super easy to use. click this link for a Free Trial —> Subscribe to the Big Brother Live Feeds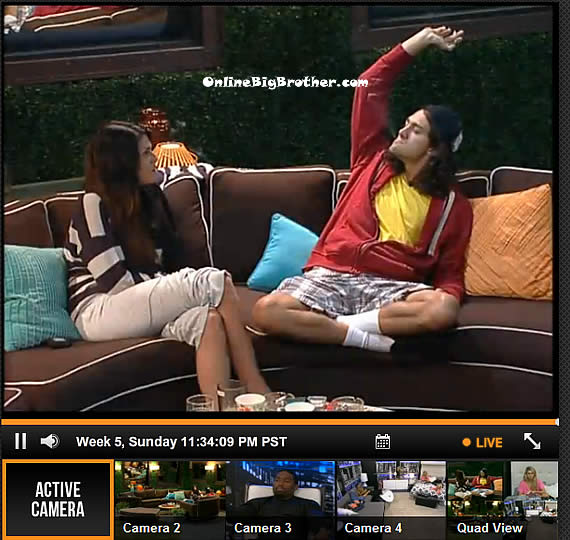 11:35pm Backyard couch Amanda and McCrae
Amanda is relaying the conversation she just had with Candice. McCrae says that Spencer is really worried now. JUDD, Howard, Jessie and Spencer join them..
11:41pm HOH Amanda, GM and Aaryn
Amanda is saying that Spencer is trying to get Candice to campaign for Howard to try and make her a bigger target than him.
Amanda: "Spencer is the next target he's manipulative as f***"
Amanda adds that Spencer has powers over Candice and may have powers over Helen. She doesn't like Candice one bit put thinks Spencer should go first followed by Candice. Aaryn doesn't want them to play down what Cadnice did last night because she's going on the block tomorrow and she needs good reasons to do that. Amanda insists they make Spencer out as the biggest target.
Amanda says Spencer is f***ing shaking right now. Amanda tells Aaryn to not worry they are in better shape if Candice wins HOH Spencer is going up. Aaryn thinks she'll go up to.
Amanda: "Seriously Aaryn you want Spencer to be the next target"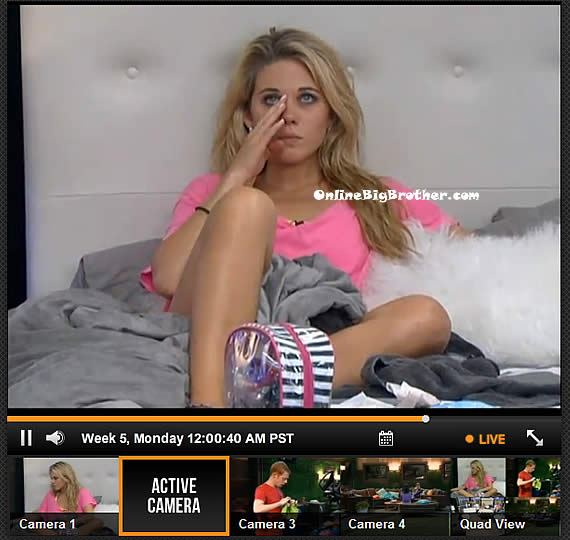 12:02AM HOH Aaryn and Spencer Aaryn is worried she's the target next week. Spencer knows he's the Target. Aaryn tells him not to tell anybody this but she really doesn't want Howard to go she thinks he's a good guy. Aaryn saying she's exhausted and stressed start to get emotional and tears up. She's pissed off at Candice says she disgusts her for the things she's does, "For someone to have won a state MS USA pageant". Aaryn mentions how Candice will do whatever it takes to stay in the game, Lie and throw anybody under the buys"
Spencer: "That's what she does.. she makes up sh!t and she's a liar"
12:26AM backyard howard, GM, Andy, JEJU, Spencer and McCrae random chit chat.
Aaryn is taking a bubble bath in the HOH