POV Holder:
Spencer
Next POV
July 27th
POV Used
?
POV Ceremony
July 29
HOH Winner:
Aaryn
Next HOH:
Aug 1
MVP:
AMERICA
Original Nominations:
Spencer, Howard, AMANDA (MVP nom)
Current Nominations:
Last Evicted Houseguest
David, Nick, Jeremy, Kaitlin
Have Nots
Judd, Amanda, Candice, GinaMarie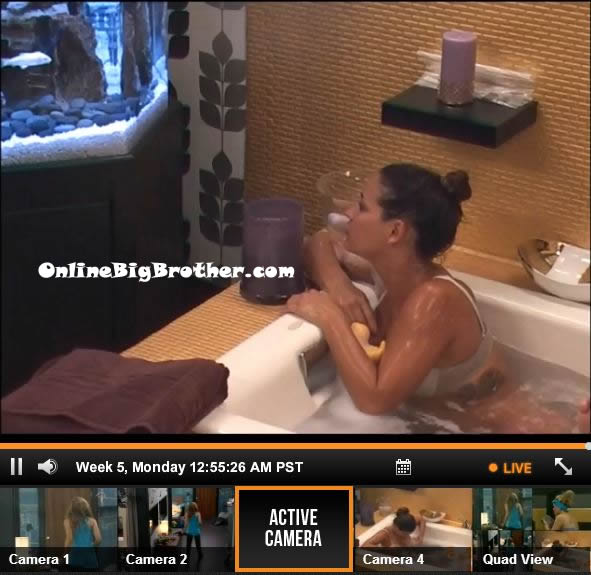 12:50am Up in the HOH room – Jessie and Aaryn are taking a bath together with the baby ducks. They notice that one of the black fish is dying on the bottom of the tank. Jessie notices that the other fish are eating the fish that is dying. Jessie freaks out when she sees the other fish eating him and says oh my god! They ate at him! They're eating at him!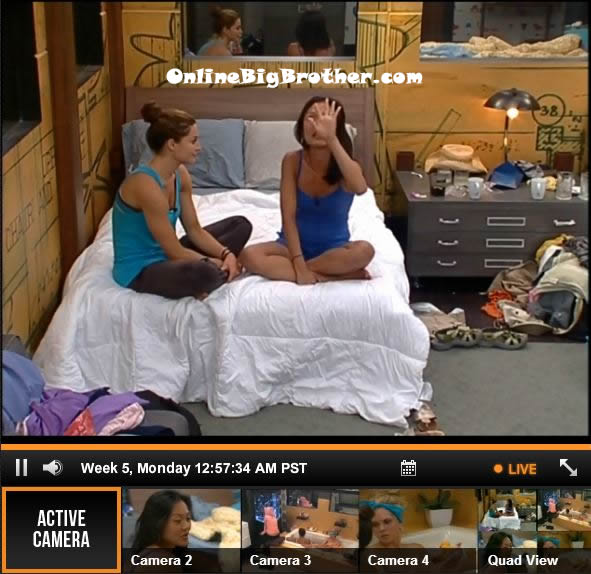 12:55am In the storage room – Elissa and Helen are talking. Helen is coming up with their plan to make it look like they are getting really close to Aaryn so that Jessie will want to evict Aaryn. Helen tells Elissa to say Oh my god, I love Aaryn when Jessie is around in the next few days. Helen and Elissa head into the bedroom. Helen tells Elissa that she really is starting to like Aaryn but the point is to get Jessie to want to evict Aaryn instead of Jessie getting too tight with Aaryn. Helen says that she sees what Jessie is doing. Helen says that she doesn't want it look like she or Elissa are the ones taking out Aaryn. Helen suggests that Elissa do yoga with Aaryn tomorrow. We will both do yoga with her. It will drive Jessie insane!! Helen wants Jessie to think that we are getting super close to Aaryn so that Jessie wants Aaryn out. Helen says Jessie will want us to get out Jessie but we want her to do it. Helen and Elissa go to leave the bedroom and run into Amanda. Helen is smiling and Amanda won't stop asking Helen why she is smiling. What's up? What are you guys up to? Helen lies and says that they were just talking about Candice. Amanda tells Helen and Elissa that she thinks that America liking Howard is starting to change because of how he is treating Candice by throwing her under the bus.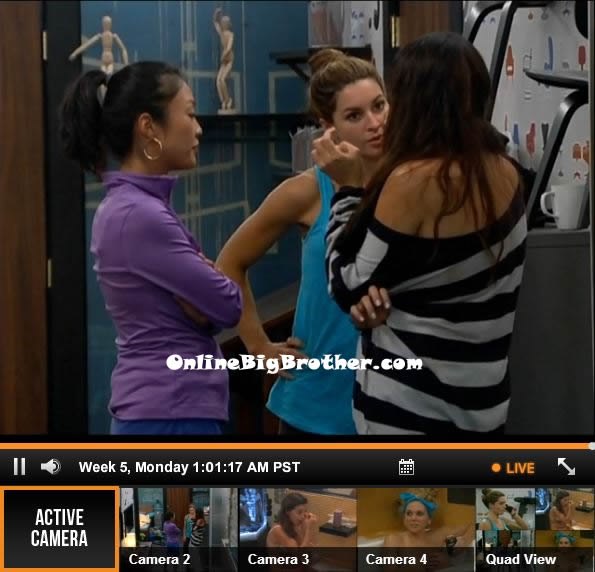 1:10am In the lounge – Amanda is talking to McCrae and Andy. Andy tells them that he doesn't think he needs to or should win HOH next. Amanda tells Andy that if he doesn't win HOH soon people are going to consider him a floater. Amanda says that would be such an easy HOH because everyone wants Candice out any ways. She tells him he could nominate Spencer and Candice. Andy says that the next couple weeks are just really crucial for me because I need to make jury. Amanda talks about how she explained to Candice while Helen was there backing her up that Candice / Howard were basically an elevated version of Ginamarie and Nick. That Nick could do anything to her and she would just take it. Amanda said that she made it look like she was trying to help Candice. Andy tells McCrae and Amanda that if they don't want any more blood on their hands he will step up and do it. He says that he likes that he is able to get information from both sides though. McCrae agrees that it's great the information he gets from them. Jessie and Judd join them. Amanda talks about how Spencer is trying to save Howard when he is a sinking ship. Amanda tells Jessie to stay clear of Candice and of Howard.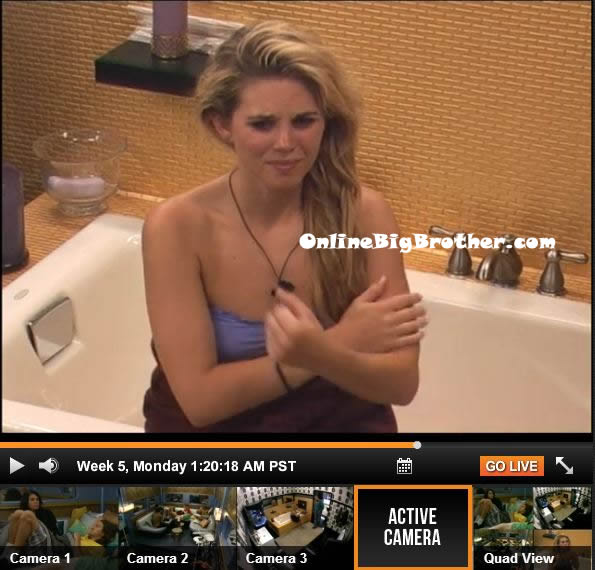 1:15am – 1:25am Up in the HOH bathroom – Spencer and Aaryn are talking. Aaryn tells Spencer think about this I didn't even choose my nominations and now that Howard is going home – I made a deal with Elissa so I can't put her up. I made a deal with Ginamarie and she is my good friend so I can't put her up, so I have to put Candice up. Do you know how that looks?! Think about it! The only time they have gone up is because of me and you know what they have been saying about me, so it looks like it is validating what it because I put both of them up. Spencer says oh I knew when you were thinking about Candice and Howard – I knew you were going to look like the biggest bigot in the world now. Aaryn says yup! Spencer says because one of them are going to go home under your watch. Aaryn says exactly. EXACTLY! I mean I can't control that because I came here to play a game and I want to be here as long as I can and If I have to look like that, then I have to look like that. I know who I am and my family knows who I am and that's all that matters. Spencer says true. Aaryn says I already look like one and at this point put it on my tab! Because everyone already thinks I am one, so it doesn't matter any more. Do you feel what I am saying? Spencer says I know dude! Aaryn says you know you've already taken that dignity from me so why not through with it then if you are going to put that on me. Spencer says still with Candice going up it is a better opportunity for Howard to stay. Aaryn says please vote for her to go home! I want her to go home! Aaryn says Howard is a good man. Spencer says he is a good man, he's a very good man. Why is Helen out for him so much. Aaryn says I don't even know if it is Helen, I don't know who it is. Spencer asks why is Howard on the block? Aaryn says why has everyone been on the block but McCrae, Andy and Judd? Spencer asks how told Aaryn to put him up? Aaryn asks are you going to fu*k me over if I tell you? Spencer says you know I won't. Aaryn tells Spencer it was Amanda. Aaryn says if I go up on the block against Amanda, I will go home. If I go up against Ginamarie, she will go home, so if you win HOH next week you can put me up against her and I'll be okay. Spencer tells Aaryn that he was told the very best he can hope for is first member of the jury. (Jessie told him) She says if he is up next to her, Gina, Elissa, or Candice he has a potential to stay. Aaryn says that Candice is trying to play a victim card right now and it is pissing my off! Spencer says she is such a C**T! Aaryn says it was looking like Candice was going home next week and now she's not. She was literally going to go home next week and now she's not! I am so pissed! She will ruin any body's life to stay here. REALLY? She was miss Louisiana twice? FU*K HER! Spencer says fuck her. Aaryn says I fu*king hate her, Hate her! And tomorrow when I put her up on the block I am going to look like the biggest bit*h in the entire world. And you know what I don't even care any more. Spencer says well maybe she will have another melt down. Aaryn says lets just pray! I feel like we should make her have a melt down. She's already a havenot, she's going to be on the block and her boyfriend is on the block. If she doesn't have a melt down then she has been faking being crazy this entire time. I hate her, I hate her, I don't even know why she is here. I bet she was an alternate. I bet she knew someone, she didn't even go through the same process that we went through. I went through a seven month ordeal. I wont tell any one that we've had any conversations now because if people think we are we will be the next two up. Aaryn says Candice isn't even a target now. Spencer asks who said that? Aaryn smiles when Spencer asks if it was Amanda. Spencer then heads down stairs.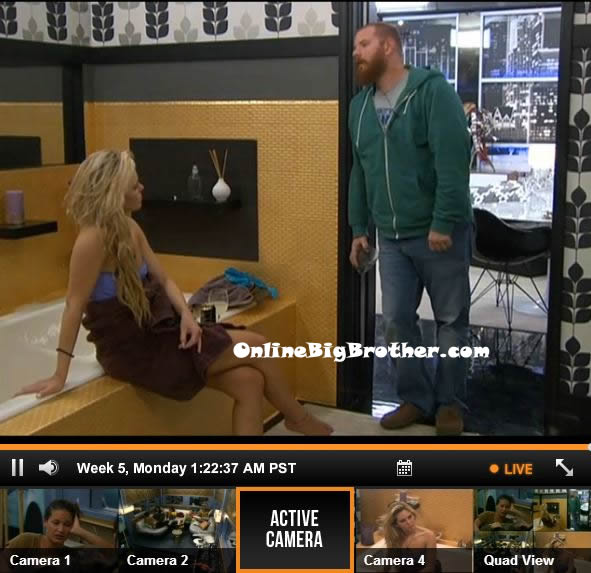 1:45am Aaryn comes into the lounge room and asks Judd if he wants to come out to the hammock with her. The start to head out and Aaryn says come on Judd maybe we can scissor. Out on the backyard couch Aaryn tells Amanda and Judd that Spencer is suspicious that people leave the room when he enters. Aaryn tells them that she told Spencer she feels she's on the bottom of the totem pole. Aaryn said that Jessie said Helen told her that they want me out before jury because I won't be a vote for Elissa. Amanda says Helen and Elissa will be out before you. Aaryn says that Helen thinks for sure she's going to win the game, she talks about making it to the end all the time. Aaryn says that Spencer asked if he nominated me and Gina, if I would stay. Aaryn says that Spencer told me that people have told him I am a bigger target than him. Aaryn says that Spencer told me he was putting me and Gina up if he wins HOH. (Which is a lie, she told him if he wins he should put her and Gina up.) Why would you tell someone that?! Amanda said of course that's what we want him to think, we don't want him to thinking he is the biggest target in the house. Aaryn says that Spencer is freaking out because he used to think that Candice was the biggest target but he doesn't think that anymore. Aaryn says Spencer thinks I have his back but I don't. Judd and Aaryn head to the hammock. Judd says that Spencer is copying Adam Poch's (BB13) game. Aaryn says she's scared of Spencer. Aaryn says it bothers her that Helen thinks she's going to win. Aaryn says that she thinks Jessie, Gina, Elissa, Andy and Judd have a good chance at winning HOH this week if its endurance. Judd says that McCrae will do good since he's small. Aaryn says that she has a feeling she won't win America's Favorite because of all the racist bullsh*t I have been put through. Aaryn says I feel like I have been fighting for my life. Judd and Aaryn both say they trust each other.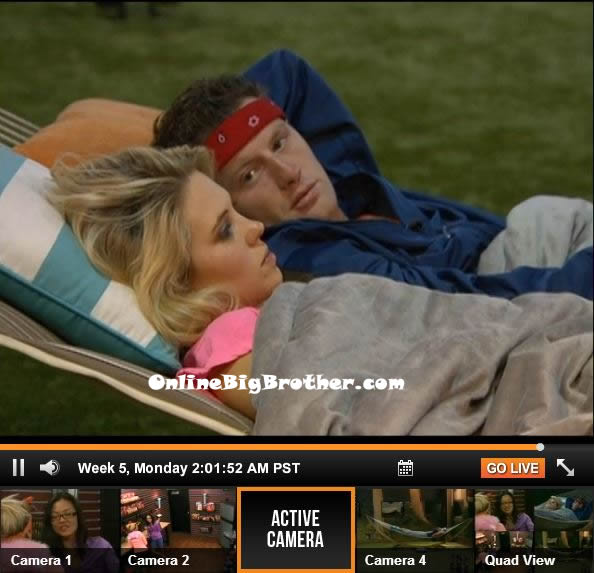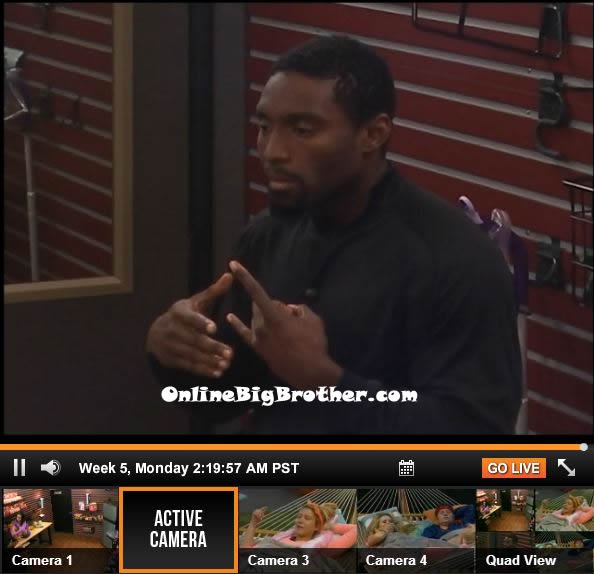 2:20am In the storage room – Howard tells Helen that if Candice goes up on the block with him. He would rather be voted out to be able to leave with his head held high. Howard says me as a man and morally unless it behoves you I would rather you send me home so that I can sleep at night. I would feel better and much richer because that woman is the only one that stuck up for me. I am ready to go if people are going to keep playing these games and puppets. I cannot stay here knowing that woman stuck up for me and had her heart taken advantage of. I can't stay here unless someone else goes up instead of her. It's a simple decision, I cant look at myself in the mirror or talk my conscience if that is going to happen. If that's what is happening, I respect the game. Helen says I want you to know something – any puppeteering that is going on, it is not just me. Even if I can switch a few people I don't know if its enough. Howard says that is fine. If people are too scared to put up Amanda then that's fine. This is my gift to Candice for all the standing up she has done for me. Helen says even if I wanted to take out Amanda right now I don't have the votes. Howard says of the 16 people in here, there are really only 6 adults the rest are children. Howard pleas to Helen to protect Candice at all costs. Howard says please make sure I go if she goes up. Helen says that she will try. Howard says I will piss people off to make sure they vote me out. Helen says I don't want you to do that. Howard leaves. Helen heads to the lounge and tells Andy her conversation with Howard. Helen says that she is worried that although Judd and Jessie might be on board to split up Amanda and McCrae in jury, it's possible they could team up with Amanda and McCrae. Helen says if that happens then we're fu*ked! They talk about the different scenarios to break up Amanda and McCrae.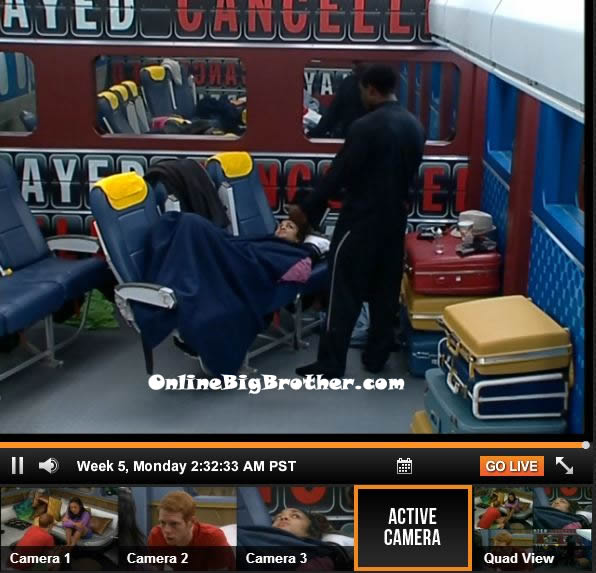 2:25am – 2:30am Howard goes and tells Candice in the havenot room that he fixed it. Candice asks what he did? Howard says I can't say but I you are staying. I want you to go out and get that HOH. Go get your bed. Candice tells Howard that she is still hurt by him that he's lied to her. Howard tells her that he sincerely likes her and is glad that we met. Howard asks her to not keep holding it over his head all the time. He says he heard it all last night yesterday, all day today. I just told you I fixed it, I parted the red sea, you're staying and I am still hearing that you are hurt. Do I need to keep hearing it from you. Howard say I promise you that you are not going anywhere even if you go on the block. Howard says if someone else says anything about you they are going to get it! Candice says I just wanted you to stand up for me. Howard says you were in the mix way more than me, I wasn't in those same situations with you. Candice says I don't want to hold it over your head. Howard tells her to get her head right and win the HOH. She tells him that her only request if for him to go tell Spencer to keep her name out of his mouth. Howard says okay and leave the room.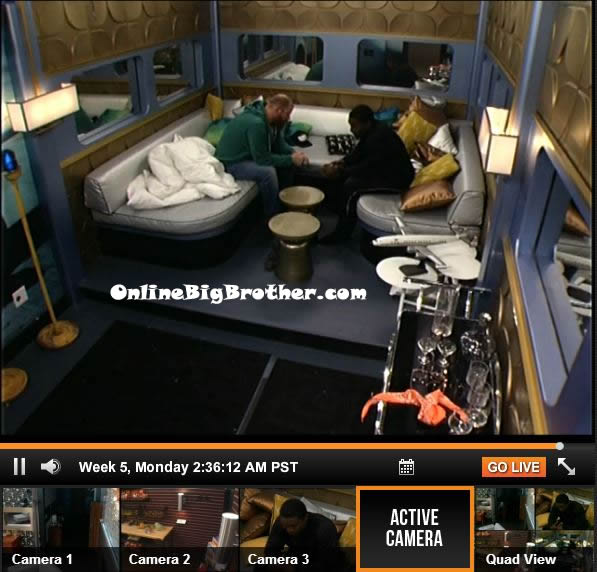 2:45am Howard then asks Spencer to talk in the lounge room. Howard asks Spencer not to campaign for me. Howard tells Spencer the conversation he had with Helen about voting him out if they can't get Aaryn to put up a third party member. Howard tells Spencer that Candice is really hurt that I didn't stand up for her more when people slandered her name. Spencer tells Howard that Candice went about it wrong when she talked to Helen. She went in there demanding things when she should have talked as friends with her. Spencer asks Howard if he does go to not throw him under the bus. Howard says I can do that.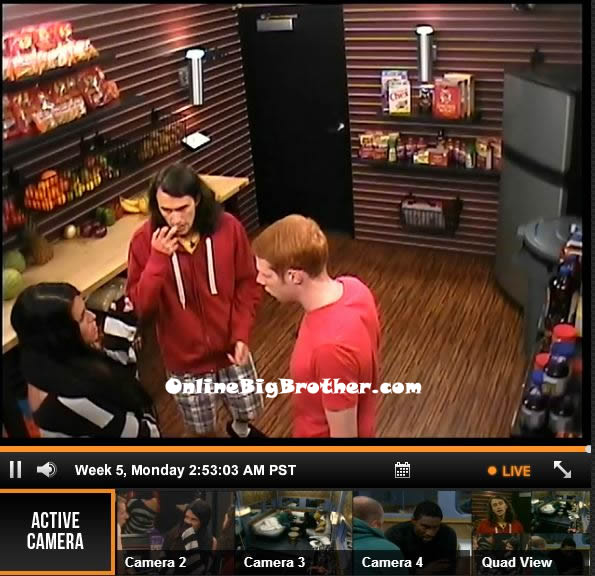 Meanwhile in the storage room – Andy talks with Amanda and McCrae. Andy tells them about his conversation with Helen. Andy tells Amanda and McCrae that Helen wants them out and that she has been afraid that Judd and Jessie might team up with them. Andy says that Helen is worried that Amanda and McCrae will pick off her, Elissa and Andy. They talk about a plan to get Helen trusts them. McCrae and Andy decide to talk with Helen to make a final four deal with her. They say that they will bring Amanda in after. McCrae says that he will tell Helen that he is protecting Amanda. Andy says that he will plant seeds with Helen in the next couple days that he wants him and Helen to go with McCrae and Amanda over Judd and Jessie.

3:10am – 3:20am Andy, Judd, Spencer and Howard are in the lounge room talking. Judd tells Howard that he brings his heart into the game too much. Howard says that he can't help it. Howard tells Andy that Candice just calls people out on the truth. Howard says that his bond with Candice is real. Andy says he can see that. Howard says that he doesn't want to stay if it means that Candice leaves. Andy starts counting the votes and tells Howard that he wants both Howard and Candice to stay. Andy says that he isn't sure if he trusts Helen any more. Andy tells them that he was told by Helen that he would be safe this week. Spencer says he has been told he will go up every week and the best I can be is the first member in jury. Howard says that he has to apologize because he can't be a part of Candice leaving. Spencer says there's a possibility that if Gina goes up because that was the original plan. Spencer says that Aaryn was crying to him in the HOH earlier because she didn't want to put us up but she was forced to do it. Judd questions what Candice can do for my game. Spencer says that if both Howard and Candice stay it's numbers and loyalty because Candice is 100% loyal to Howard. Spencer tells Howard, Andy, Judd that he will have their backs and says that he will be the loudest most obnoxious mother fu*ker. He will make sure Andy and Judd make it to jury because Howard and Spencer will go before them so it helps their game. Howard explains that if you are going to do something now is the time before you start losing more numbers. Spencer says I was treated like I had leprosy until I won the veto and now people talk to me. Andy says he will think about and say he might be ready to make that move. Judd says me too. Judd and Andy both say they need sleep on it.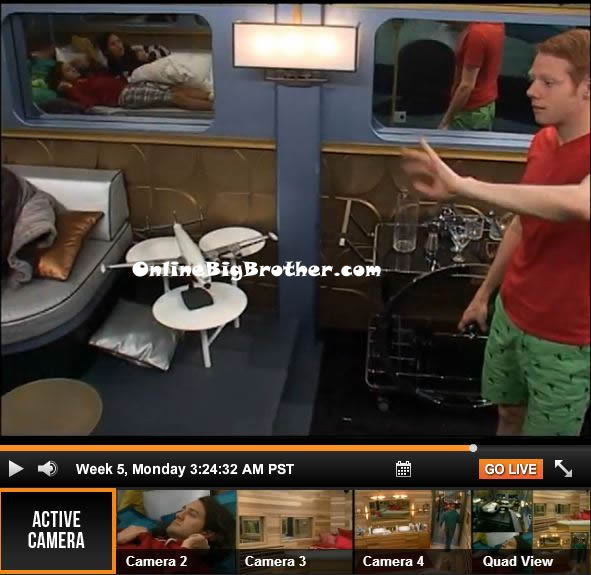 3:30am – 4:55am Amanda gets Andy come into the lounge room. Amanda asks Andy what they were just talking about? Andy says that he going to bed and says he will tell them later. McCrae questions why Andy wouldn't talk about right now. McCrae is annoyed with Amanda for confronting Andy because it looks shaddy. Amanda says that everything she does today is upsetting him. McCrae says that people should be on a need to know basis but Amanda tells people everything and calls people into rooms right away when something happens. Amanda gets pissed off and tells him that he is making a mountain out of a mole hill. Amanda leaves and lay in the hammock by herself. Amanda heads inside and finds McCrae in the lounge and asks him what's wrong with him. She tells him that he is acting weird. McCrae says that she stormed off. Amanda says that he gets upset over the littlest thing because she didn't think it was a big deal for Andy to know too. McCrae says he doesn't want to talk about it. McCrae asks Amanda why she asked him what other secrets he has? He says that by her own logic she said that people only question others when they're hiding something. Amanda starts crying and says she's sorry. She says she trusts him and says she doesn't know why she asked him that. McCrae says he just wants her to trust him. Amanda says she does, it's just scary! Amanda asks do you love me? McCrae says yes. Amanda says don't not trust me because I questioned you. Amanda says I care more about you, than I care about myself in this game. I want you to get to final two with me so that you can win some money to move to Florida with me and we can start a life together. Amanda keeps questioning McCrae and thinks he won't trust her now. McCrae says everything is fine but she won't drop it. She says that she doesn't even care about the game right now, she cares about him. They head to bed.
Use the Big Brother Live Feeds to FLASHBACK to SEE what they can't show you on TV: BB15 N!p Sl!ps / N*des