POV Holder:
Spencer
Next POV
Aug 3rd
POV Used
?
POV Ceremony
July 29
HOH Winner:
Aaryn
Next HOH:
Aug 1
MVP:
AMERICA
Original Nominations:
Spencer, Howard, AMANDA (MVP nom)
Current Nominations:
Last Evicted Houseguest
David, Nick, Jeremy, Kaitlin
Have Nots
Judd, Amanda, Candice, GinaMarie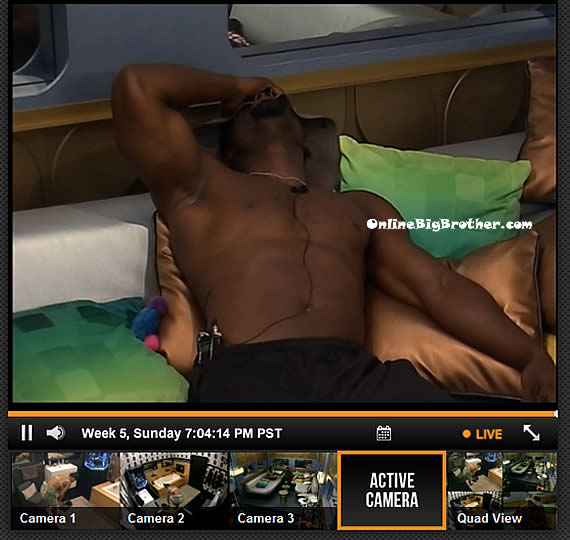 7:04pm Cockpit Helen and Howard
He is apologizing for Candice says him and her getting close was not a game thing it was personal. Once they started spending time together they hit it off.
Helen interrupts him says she wants to go put on some makeup.
Helen: "on a personal level you are my favorite people I love you.. You Andy and Spencer will be my guy friends in the house.. I have heard a ton of things from people.. I always put that aside because I like you I like spending time with you"
Howard says him being quiet has hurt his game but, "Just because I am quiet it doesn't mean I'm plotting against you"
Howard says she's hearing it from his mouth he was never coming after her, Elissa and Andy. When she gets out of this house she'll know the truth he was never once targeting those three people.
Helen: 'Are you telling me you and Kaitlin were never allied"
Howard says no he explains how they were hanging out one night and Kaitlin approached them. He wouldn't allie with people on the block.
Helen: 'Well you know.. thank you for that.. from a personal standpoint"
Helen goes on about how Candice attacked her and threatened her last night, "Is she really my friend if she talks to me like that"
Helen says she doesn't hold grudges against people so she's not mad at Candice anymore. "I'm sorry Candice feels bad but she's probably realising that was a ugly conversation. " (the oncveration late last night)
Helen tells him if he can find out who the MVP is it will help him because right now everyone thinks it's him.
Helen: 'i love you dearly I hope you stay and if you stay win a compeition and put up who needs to be put up"
Helen: "OK.. I'm voting with the house.. OK and if the house wants to keep you OK then i'll vote to keep you OK" (When helen lies she says OK OK OK OK it's crazy obvious)
7:16pm Andy and Amanda bedroom
Andy fills her in on his conversation with Spencer. Spencer knows he's a target but when he gets put up depends on who wins HOH. Andy: "he said if he won HOH he would put up Aaryn and Gm to appease everyone"
Andy brings up that Spencer is upset because he can't wash the stink of the moving company off of him and he just wants to stick around until he can be part of something again.
Andy says he just sat there and lied to Spencer "I'll do whatever it takes to keep you.. etc etc"
Amanda tells him something he cannot tell anybody even inside the goof troop. Last night JUDD admitted to making up the entire Kaitlin thing. He made up hearing Kaitlin say she was going after Helen when he was in solitary confinement.
JUDD: "I knew it"
Amanda: "he doesn't want anyone to know because it will ruin his game"
She's worried that JUDD is thinking really far ahead. Andy agrees says that JUDD is preparing the jury to be against him and for JUDD.
Amanda: "Against me to"
Andy saying JUDD wants Helen out and he wants Helen to stay. Amanda agrees.
Amanda: 'He's going to get me out to"
Andy: "I am all for going to the end with JUDD.. I'm loyal.. but i'm not going to give him everything he wants along the way.
Andy wants Spencer and Helen in jury.
Amanda says they have to keep Jessie for awhile but not too long so that she will knock one of them out.
Amanda: "We need to keep Aaryn here longer than Jessie"
Andy: 'ya"
Amanda: "I haven't even told McCrae that.. I think it's too early to talk about final 2"
Andy says he will look at final four with the strategy of going against someone he can beat and that is who he will want to take.
Amanda is worried that Jessie is making JUDD stronger, she suspects that JUDD will try to break up the couples.
Andy: "Out of all of us he's playing the most selfish game"
Amanda is a bit worried after hearing about JUDD's lie because even when she does a shady move she tells the goof troop. Andy thinks JUDD is playing a smart game but not as smart as he thinks he is.
Amanda says JUDD confines in McCrae & McCrae confines in her and she confines to Andy.
Andy says if JUDD turns on them he'll rat JUDD out in a second.. Amanda agrees adds that she doesn't feel that solid about JUDD.
Amanda: "He's a lot smarter than he makes himself out to be"
Andy: "We're smarter"
Andy brings up that Helen is getting worried about Aaryn and Jessie getting close. Helen plan to try and keep Aaryn as close as possible
Andy brings up the possibility that Aaryn, Jessie and JUDD will get together and do something. Amanda doesn't think so Aaryn is closer to her than she is to anyone else in the house.
Amanda: 'If I told her to put up you and Jessie she would have done it"
Andy and Amanda agree JUDD will be the first one to cut if they have to choose between someone in the goof troop.
Amanda brings up that JUDD told her flat out he wouldn't want to be in the final 2 with her.
Amanda says she likes Jessie but she's the type of person that makes it to final 3 and does nothing.
Jessie comes in.. tells them that Elissa was going off in the hammock saying how if Aaryn makes it to Jury she will flip out. Jessie: 'Ginamarie was right there"
Amanda: 'What the hell is wrong with her.. she kept her off the block.. she f**** hates Aaryn"
Andy: "I'm telling you she's a robot and she's programmed to hate Aaryn"
8:22pm Storage room Howard and Spencer
Spencer is saying that Candice is going up tomorrow and everyone thinks she is going to have a melt down.
Howard says she already is.
Spencer wants to make sure Howard doesn't think he's being rude because he's been doing his own thing today. Spencer keeps telling him he thinks Howard is good this week. Wednesday he should start trying to make some deals.
8:10pm- 8:40pm Nail Party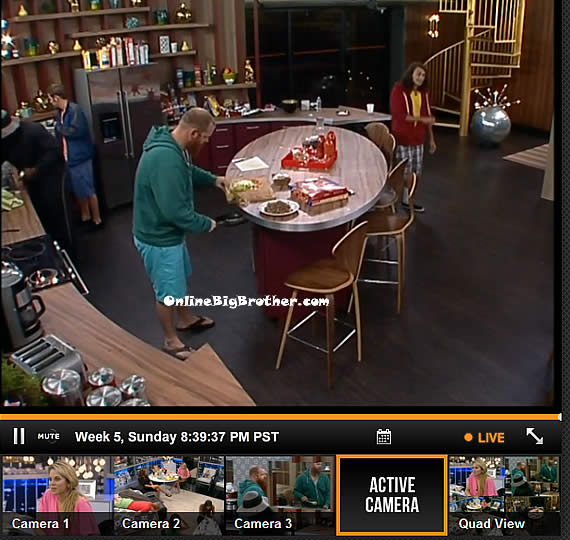 8:40pm Last few guys in teh house milling around making food. Howard had offered to make the girls cookies