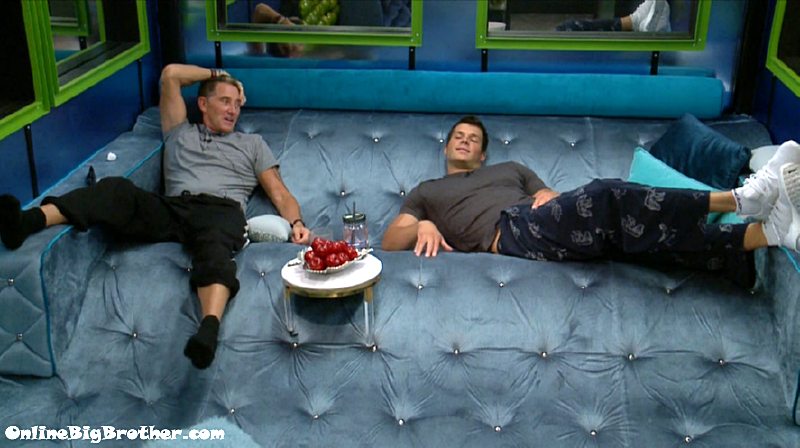 New competition? HoH-yeah! Watch it play out LIVE Thursday, July 13th around 10PM ET on CBS All Access with a FREE trial.

3:43pm Mark and Kevin
Mark wonders what Jessica is going to be like after COdy leaves.
Kevin – Maybe I'll get lucky
They laugh.
Kevin – it's like throwing anchor to someone drowning..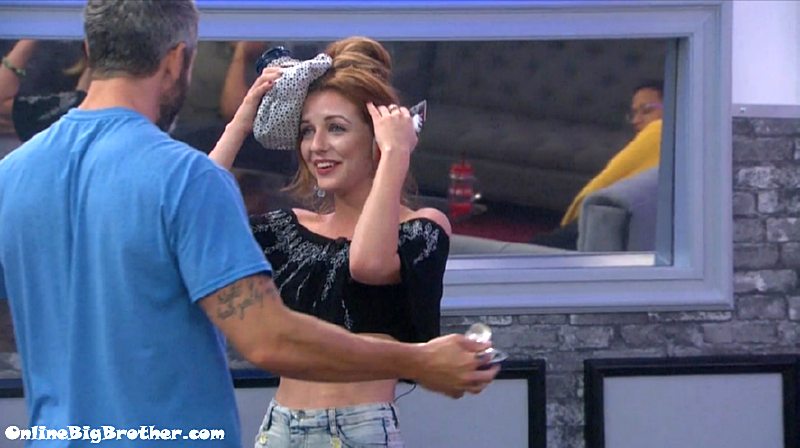 3:46pm Raven comes back
Raven – I need to get stitches
Raven – they're doing it here.. Doctor is coming later.
Raven – My toe split on the railing
Raven says they have to clean the blood on the stairs so they want everyone up in the HOH room.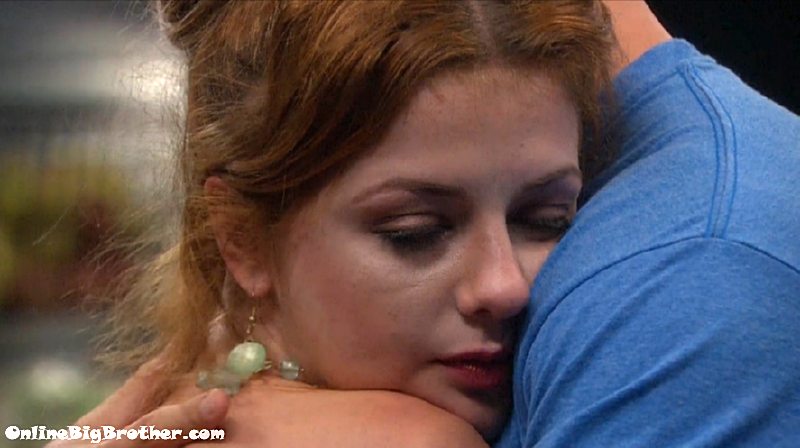 3:48pm Storage room Matt and Raven
Matt – so what happened.
Raven says she misstepped and fell down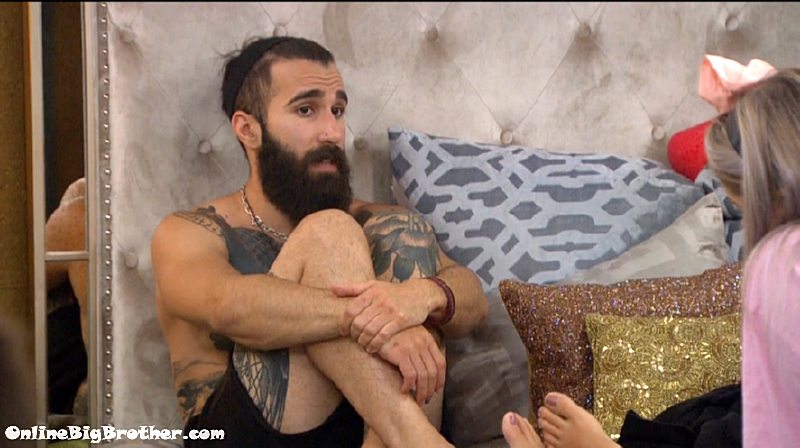 4:18pm Paul in the HOH talking about church and religion. Saying when he was 13 he would question his religion teacher soo much the priest called his dad and said "your son has asked me questions that question my own faith.. I think he should go somewhere else.. He is very intelligent.. like he has questioned my own faith.. he wanted me to go in front of a panel of Armenian priests and start to pose some of the questions I've been asking in class.. " Feeds flip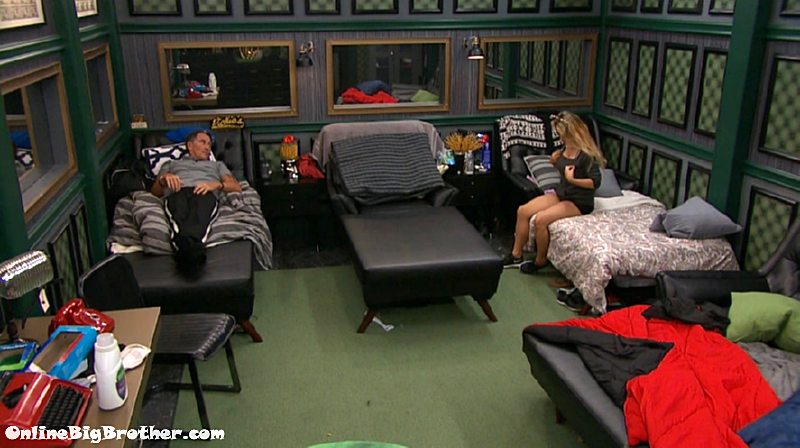 4:19pm Alex and Kevin
Kevin – we all know who's going out these next 3 or 4
Alex – yup.. Yup
Kevin – I ain't got no power in the house..
Alex – yup yup
4:20pm Don't fall…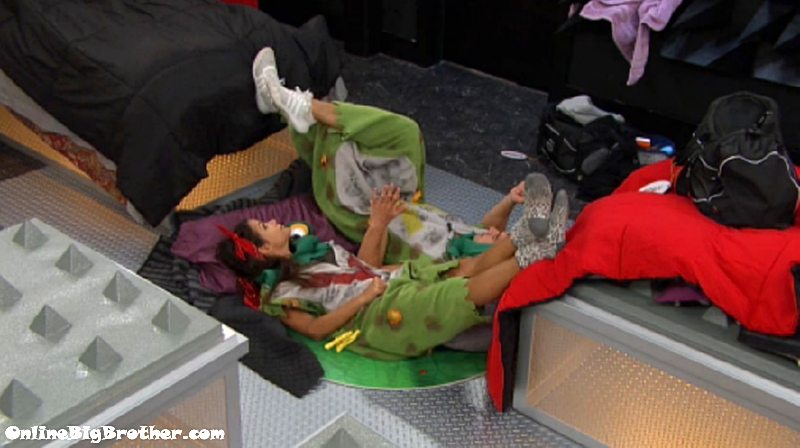 4:23pm Jessica and Cody
Jessica – Do you think Kali (ex wife who has had some 'mean' tweets to Jess) will be cool with me meeting Paisley (Cody's daughter)
Cody says there's no problem on that side. Says every guy she dates Paisley see.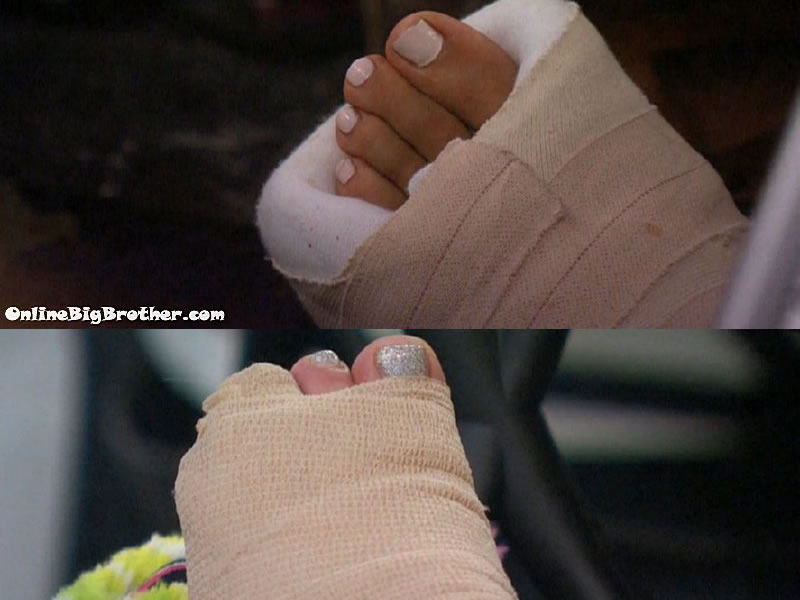 one is Christmas one is Raven.. can you tell?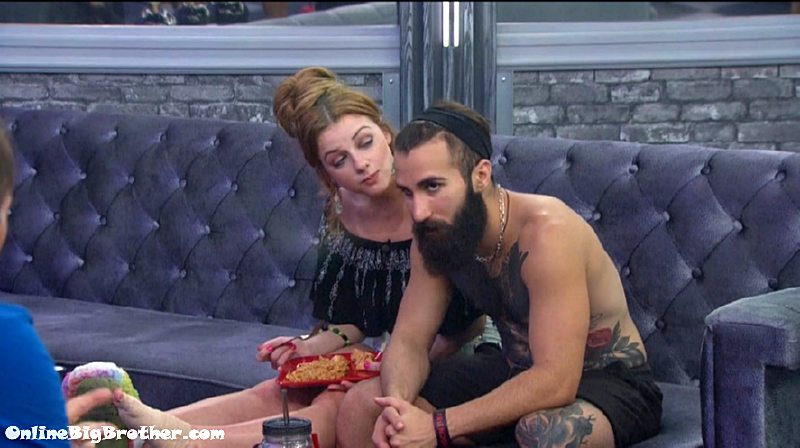 5:38pm Paul makes Raven some rice. She loves it.
Kevin joins them. Paul and Kevin get into a debate on how Houdini died. Kevin says his Pancreas burst. Paul says that's how Mussolini died, Houdini died in a magic trick he drowned. Kevin says Mussolini was hung upside down, skinned alive in the streets of Rome with his wife in 45. Houdini got punched during a magic trick it ruptured his pancreas. Raven chimes in that his Grace Paul is right.
DANCE! #BB19 @DawgsBigBrother pic.twitter.com/N7FlEZ2LS6

— OnlineBigBrother.com (@bigbspoilers) July 13, 2017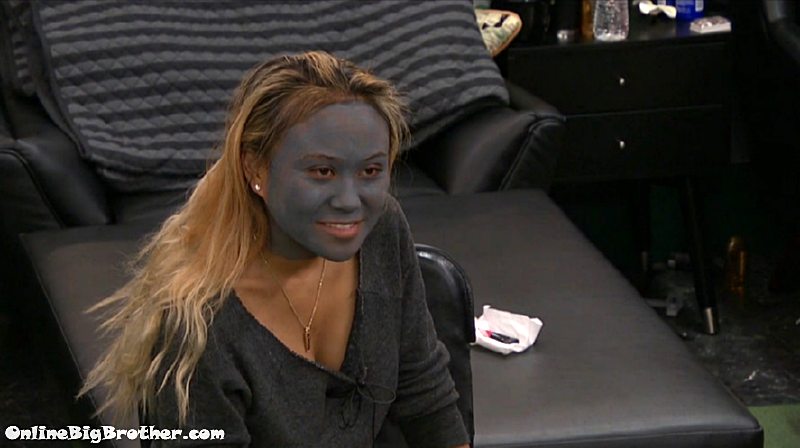 7:27pm Alex and Jason Alex says they need to come up with a game plan.
Jason says they should just let one "of those mother F*ers win" they are going to take Ramses out.
Jason – If I win they are going to be like "What the f* he's doing
Alex – we need a plan the second they get rid of everyone else (Like Josh, Ramses, Jessica) they'll come after us.. They're pu$$ies
Alex – we're f*ing screwed
Jason saying he would put up Dom and Matt.
Jason says they should let Ramses win
Alex – he could put us up to get back good with them (Paul's side)
Alex says they'll both go up if they don't do what the other side wants.
Ramses comes by they asks him who he's putting up if he wins HOH.
(Can't hear what he says)
Ramses mentions that Jessica is good to keep around because if any of the girls win HOH they'll target her.
Ramses – they hate her more than we hate her
Alex – that's true
Jason proposing they take a shot now against the showmances.
Ramses – yeah that's what I'm saying
Jason – then we're the strong ones
Alex says then they will have a whole house of people pissed at you.
Ramses – there has a be a smart way we can do it.. There is..
Ramses leaves..
Jason – listen if two of them are on the block they can't vote.
Jason – you, me, Kevin, Jessica, Ramses, JOsh..
Alex reminds him of last week when they thought they had all those people.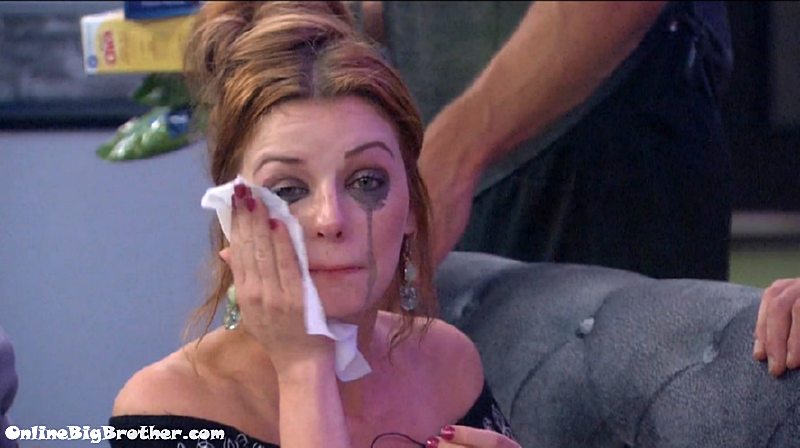 7:41pm Back from the stitches.
She got 5 stitches and it can't get wet for 7 days.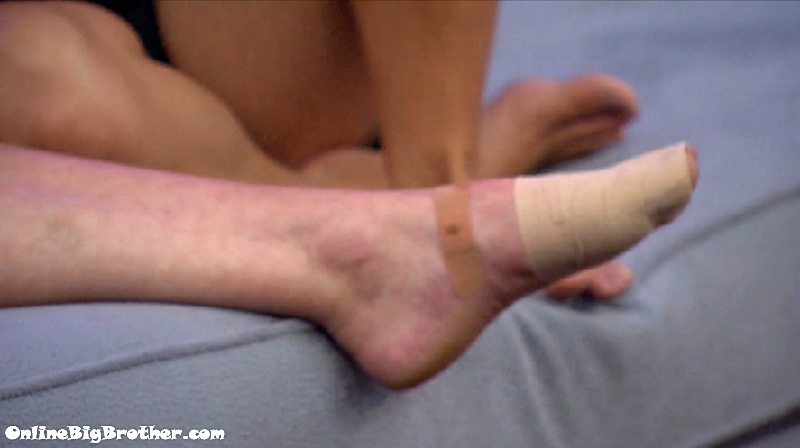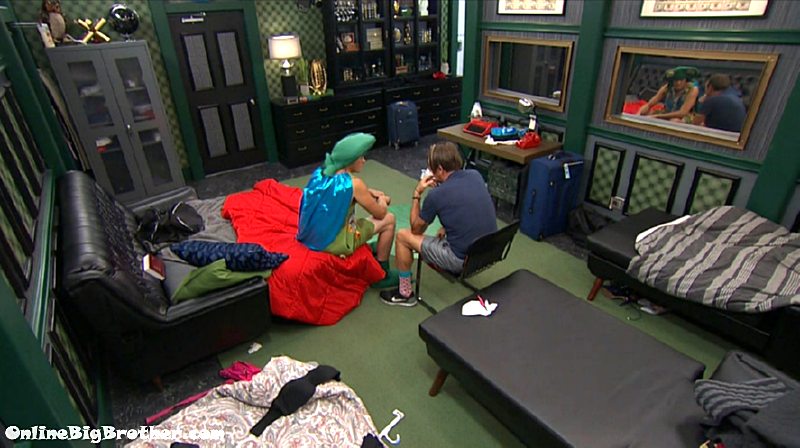 8:06pm Kevin and Jason
Jason asks if Ramses is trustworthy
Kevin – when he knows his life is on the line
Jason asks what should they do if they win HOH, Kick Jessica out or split up a showmance.
Kevin – I think if you are me win we start up with putting her up.. she's a pain in the a$$ anyways
Kevin – we make her thinks we're on their side..
Kevin – I don't understand why these other girls.. they don't get talked about
Kevin – Elena gets up at 2.. they're not really playing the game.. it's not a game it's friendship. (100% correct)
Kevin – I think that's jive.. I'm going to call them out.. you mother f*ers aren't playing a game
Jason says that is why you win HOH put two of them up.
Kevin says Jessica, Josh and Ramses could go any time.
Kevin says how knows he might consider that if he wins. (he won't win HOH and he won't be taking a shot at the showmances… )
Kevin says they will shit if Jason puts Raven and Matt up. Matt wins Veto he uses it on himself.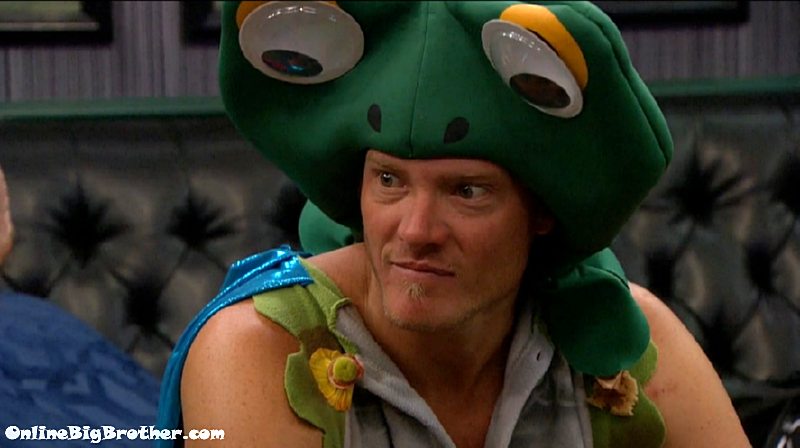 Jason – they would lose their sh1t
Kevin going on about all the things the showmances do to bother him. He's really getting annoyed at them.
Kevin says he's not going to throw the HOH.
Kevin and Jason start to question why some people are allowed to sleep in while others get called out by Big Brother.
Kevin warns Jason they will take him out before Kevin .
Kevin – Cody told me he was going to carry me to the jury..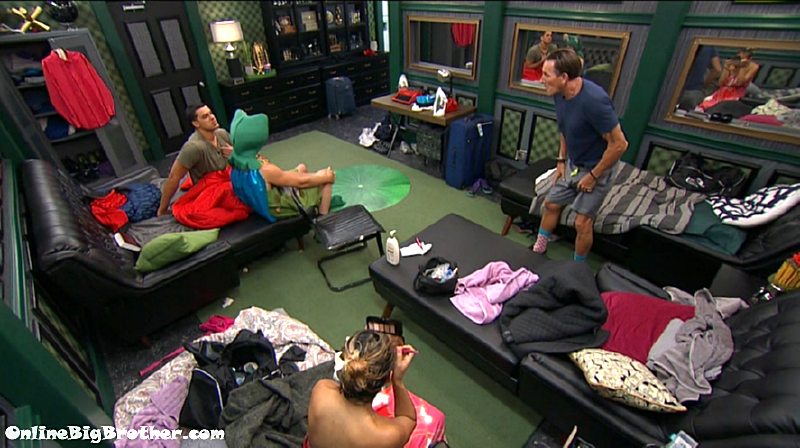 8:47pm Nothing going on.
If you plan on buying anything from Amazon. Use this link Amazon home
Doesn't cost you anything and we get a small cut.
Links to the ranking system
Rank your house guests here
For those of you that like Statistics here are some expanded reports.