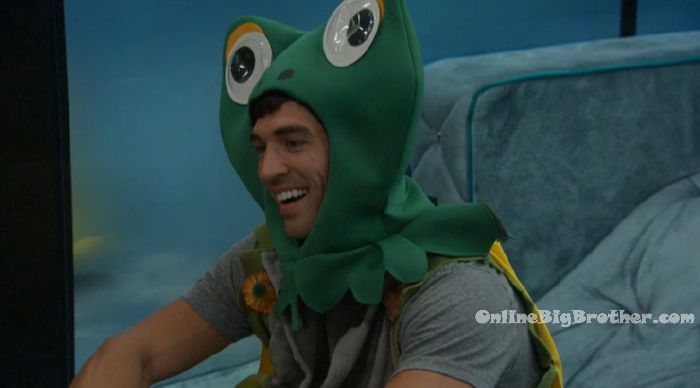 Check out our BB19 Ranking Grid. . rank your houseguests here
9:05pm Lounge room. Paul & Cody.

Cody tells Paul that he talked with Christmas. Paul – Good talk? Cody – we talked for a long time. Paul – she was cooperative to talk? Cody _ I was finally able to tell her exactly what… Paul – what you wanted to tell her? Cody – the truth. I had still be hiding certain pieces of the puzzle that I didn't have anything to gain by giving away. Now I have nothing to lose. Might as well shake it up. Might as well say what everyone has f**king told me. This wasn't blindly me. I'm not saying Jess was involved but it wasn't blindly me. I literally kept Jess out of the loop on purpose. Paul – alright then, interested to hear. We'll see if its even asked (during Dom's talk show), if not if you want to talk afterwards we can have a conversation. Paul – I'm into it, maybe tomorrow we could have a conversation. Paul – I don't think she will ask that question. Paul – but there's audience questions. Cody – ask anything you want, even about the air force. Cody talks about how he was in the air force for 6 years and then the Marines for another 4 years. He says he only signed up to kill Taliban.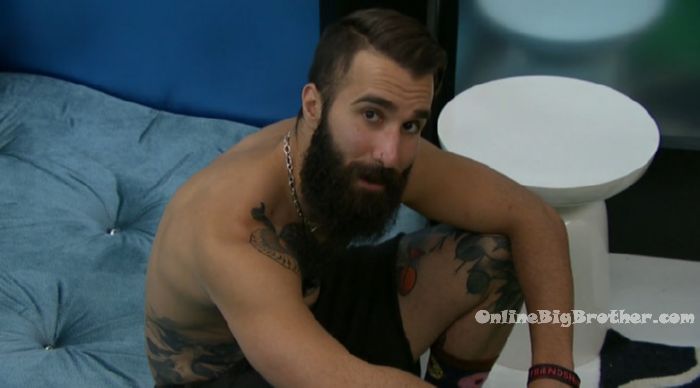 9:48pm Bathroom – Jessica & Elena.
Jessica – I hope this doesn't turn into world war 3 again. Elena – what? Jessica – This interview. Whenever I give Cody the freedom to do something it always backfires. Like every time .. so I'm a little nervous. Elena – maybe cross your fingers. Say a prayer and your toes. Jessica – we'll see how this goes. Elena – I'm interested. Jessica – I'm very nervous and about to s**t my pants. Elena – I wouldn't recommend it. Jessica – I find it quite enjoyable, its like a facial for you butt. He's going to have to clean it if I do. That seems fair.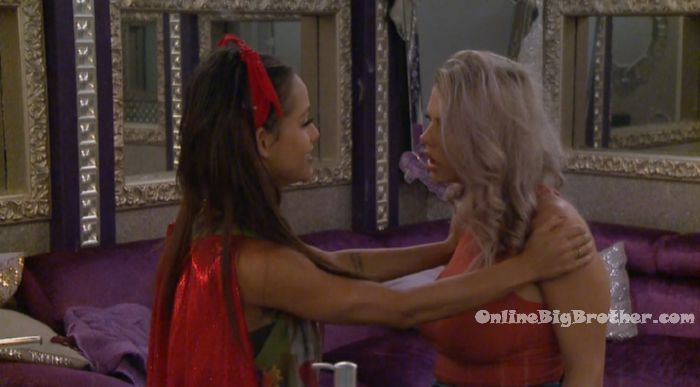 See what they can't show you on TV Try the live feeds for FREE!
10pm – 10:30pm Dominique's talk show starts with Alex as the first guest. She talks about her clothing line and her thoughts on being inside the house. Ramses is up next and he talks about his schooling and being on the block. He talks about how he recently came out about being gay and how he isn't dating anyone.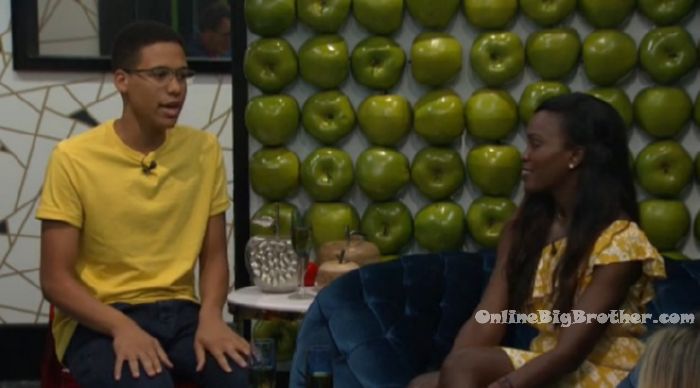 10:35pm Cody is Dom's next guest. He brags that he can get out of any pair of handcuff with just a bobby pin. He says that he knew he wanted to stay away from Jessica because he knew she would be trouble. Cody – I didn't want to get into any kind of showmance … not that this is a showmance. I even told Jeff (Schroeder) that showmances are dumb before I knew (that Jeff met Jordan on his season). Dom – any not so great first impressions. Cody – I didn't like Paul from his season. From getting to know the guy I don't mind him now. Dom – so you were the first HOH, how was that? Cody – fine. Cody talks about his "hate" for Megan. He then changes it to dislike for her. Cody comments on how he knows he is going this week. Dom asks him if he has campaigned at all? Cody – I would never campaign against Alex. There are 3 people that I want to go far in this game. Alex, Jess and Raven. Dom – is there a reason why those people? Cody – Deserving, respect, I care about them. Cody says he kept Jess in the dark about what he was doing. He says that now she is being shunned when she did nothing wrong than be loyal. People kicked her to the side like she is trash. Paul asks about Cody making decisions on his own and leaving Jess out of it. Cody – I never made a decision without one or two people involved. mark – meaning what?! You told them or just one or two people involved? Cody – One or two people always knew about the decision I was going to make. Mark – which decision is that? Cody – All I'm saying. Mark – no I'm asking which decision is that? Which decision is that?! Cody – all I'm saying. For what?! One or two people in what decision? Cody – that's all I'm saying Mark.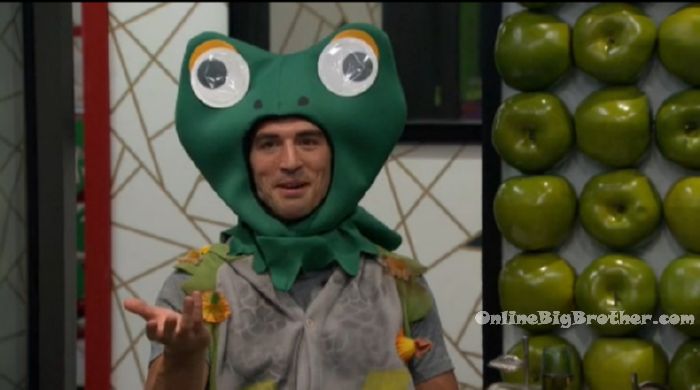 Dom – one more question? Josh – If you weren't intimidated by Paul as a player or as a man do you think you would have lasted longer in this game? Cody – is that supposed to be a dig at me Josh? Josh – no its a serious question. Cody – Josh you don't exist in my book! I'm not going to give you any more air time than you deserve. I'm not taking any more questions from Josh. Dom asks Cody about the "possibility" of his showmance ending when he leaves. Cody – all discussions between me and her are going to be kept private. Mark – I've got a question. The one or two people that knew about every decision you made .. that statement right there is going to help Jess's game? Cody – are you implying .. putting out a general statement that you're going to go after Jess now? Mark – no I'm just saying. Just like you made a general statement. Cody – why would you mention Jess then when I just said that? Mark – well because you said that Jess wasn't involved. Cody – she was not. Mark – but one or two people were? Cody – yeah. Paul – would you like to say who? Cody – nope. Mark – so putting out a general statement like that .. do you think that is going to help people with you in the house right now? Cody – Mark, I'm going home! It doesn't matter. I'm being asked questions, so I'm answering them. Mark – right, so I'm asking you do you think its going to help the people associated with you in this game? Cody – and all you're saying is that you're going to be coming after Jess now because I said that? Mark – I'm just making a statement. Dom – thank you Mark for your question. Dom brings up how Cody lied about his age and came clean about it yesterday. Did it help your game? Cody – it didn't matter. Kevin – Cody, do you think I should have said I was 40 or something. Cody – you could have pulled it off.
FLASHBACK and watch all the drama:
Test out the live feeds FREE for 1 week!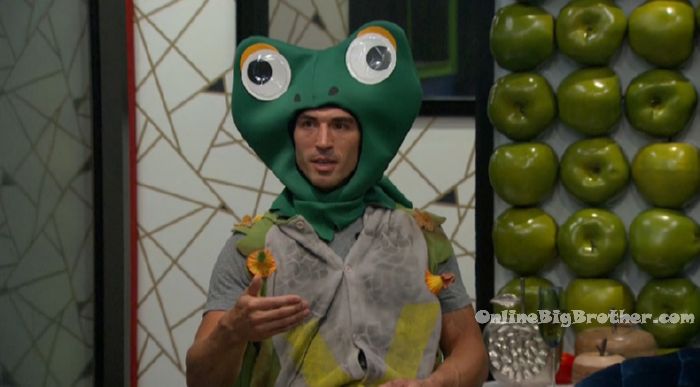 11:05pm Lounge room. The show ends and Cody and Jess leave the room. Mark – I'm good. I just asked a question. Alex – was he saying he had accomplices now or he did? Mark – I knew exactly where he was trying to go. Mark – I was trying to get to the bottom of his smart a$$ comment. Dom – I knew what he was saying. I was well aware. He was saying two individuals and its easy to figure out who those two are. He was trying to throw Mark and Matt under the bus. Elena – yup that's what I thought! Just clarifying. Just making sure that's what I was hearing as well. Alex – I didn't know but now I know. Kevin – he was saying Mark and Matt knew. She (Jess) is sunk.. I feel bad for her but she knew .. she's sleeping with him. Don't tell me you didn't know.
11:07pm Bedroom – Matt, Paul, Raven.
Paul is mad about Dom's show and what she was saying – people have assumed or should I say it is easy to… Dude?! WTF?! Organic groups. WTF?! What the f**k are you doing?! Matt – she (Dom) literally called them the outsiders. Did you catch that too? Raven – Yeah I caught it. Paul – and your sales job? I'm not questioning you but I was ready to get up and leave. Matt – I said I was about to throw up. Raven – I felt nauseous. Paul – that was not… that was very backhanded. And I am absolutely not doing that (Dom's show) on Saturday. Raven – no, I don't blame you. Matt – I love Dom but that was not.. Paul – chill. Raven – no, not at all. Paul – I'm not concerned about his one to two people. I am pretty sure he is insinuating Christmas because he (Cody) was like me and Christmas had a big talk today. Raven – I don't appreciate the line of questions .. why are you asking if someone is gay!? Paul – yeah what the f**K?! Paul – I am exponentially more upset with Dom than I am with Cody. Asking Ramses… WHOA dude how do you know he is open to being grilled about his sexu@lity? Matt – I felt bad for him. Raven – that was uncomfortable. That was stupid. They talk about how they really don't like Dom's questions. Paul leaves and says he's not going to be on Saturday's show and he's not watching. Matt asks Raven – how are we supposed to trust her? Raven – we don't trust her. Don't put your game in her hands. Matt – that was completely unnecessary. Raven – this is her way of stirring up the drama.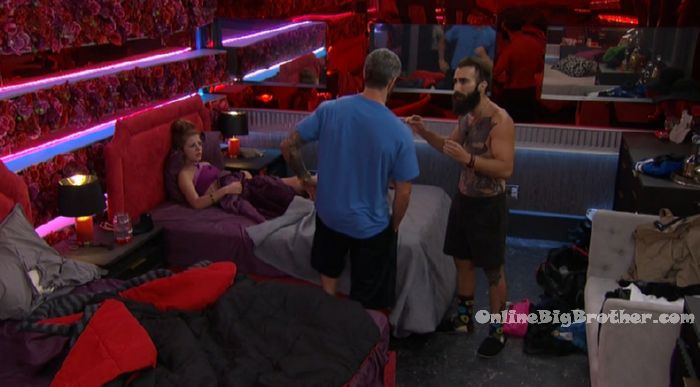 Lounge room – Jess and Mark.
Mark tells Jess about how she said to him regardless of how the votes come down on Thursday, the line was going to be drawn. Jess – I felt like I had leprosy. I didn't talk to anybody because what was I supposed to do. I was in a corner all week. I as bullied by people that can't even look at me. I've been literally in hell all week. Mark – I am very frustrated with him because I was the only one that stuck out my next for him. I was the only one that stated with him for a long as I could. I have a very hard time believing that you didn't know he was going to do that. He threw one or two of us under the bus. Jess – I get blamed for everything when I haven't done anything. Mark – then why are you talking to me right now? Jess – because I"m trying to figure out where you're coming from. Jess – you believe I knew this was going to happen? Mark – yea. Mark – why did he do that? Jess – because he is leaving tomorrow and he doesn't care. Mark – If he cares about you he will clear the air before he leaves. Jess – or you're going to evict me. Mark – I don't know. I find it hard to believe you didn't know (about what Cody said during Dom's show). Jess – do you think I like being in a house where people don't talk to me? What do you think I'm gaining gaining that? Mark – did you know he was going to do that? Jess – no. Can you stop blaming me for his actions. I had nothing to gain from this. Jess starts crying. Mark – hopefully tomorrow we can start getting back on the same page.
11:20pm HOH room Cody and Paul.
Cody talks to Paul alone about the
Paul – so Dom never knew about the idea of backdooring me? Cody – no, no. I don't know why Mark would implicated himself like that. Paul – I know. Paul – so let me ask you something… Did you see that banner? Cody – I saw Mark at the end.
See what they can't show you on TV Try the live feeds for FREE!
11:35pm Havenot room. Cody and Jessica.
Jess – this is just a nightmare. It was a bad idea for Mark to react the way he did. Cody – Paul agrees. Jess – why was he the one to jump up the way he did. Cody – I don't know. Jason joins them. If I win HOH what should I do? Cody – well always protect Jess. jason if I flip this motterf**ker. Jess -after everything I went through this week .. 1000%. You know how bad I want to see their safely blankets ripped from their bodies. Jason – if I win HOH, I was going to put up Matt and Dominique. Cody – I would put up Mark and Dominique. Mark and Elena. Something like that.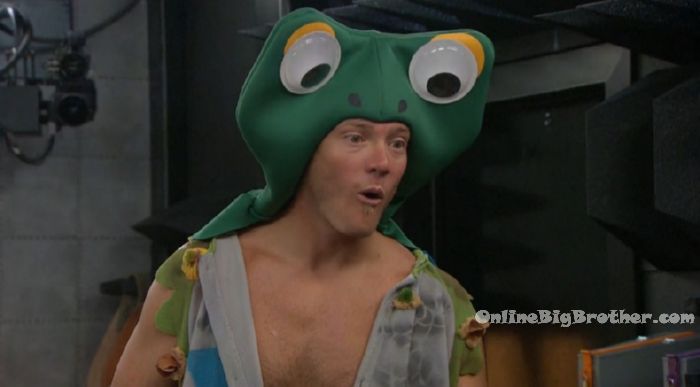 11:50pm – 1:10am HOH room – Paul, Elena, Matt and Dominique.
Paul tells Dom – that was a little odd.. the questions. Paul what I am now concerned about is what was talked about between Cody and Christmas. Elena – so Cody you f**king blew up my game when you did that and now you just did it again!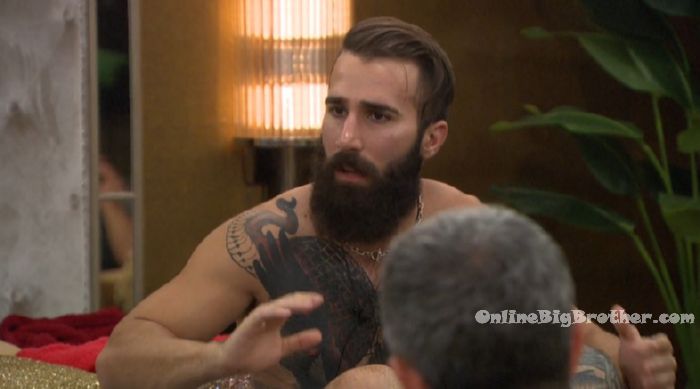 1:15am HOH room – Paul, Mark, Matt, Elena, Raven.
Paul – fantastic move by Cody but he is still going home. Mark – no, its flipped now with Alex which is really cool, like she is being honest. I just popped in on her and Dominique. And she said Mark I want you to know it wasn't me. She thought I was attacking him to get her name. Paul – but I can't say the same about everybody else. They were all a little weirded out. Elena – we were all weirded out. Mark – Alex and Jason were weirded out by the way I was attacking Cody. Paul – I am concerned that names were being dropped and the people that were loose … are maybe a little looser. Can we all just collectively tell Dom that her questions were weird so that she doesn't think that Matt and I were berating her. Raven – the next live show (Dom show) can we just not talk about game? That's really awkward. Matt – with the understanding that this is something really important for her…something that she would like to pursue outside of the show… just be really tactful in your words. Paul – one of us has to win HOH… but what I'm concerned about is her foot (Raven), your (Mark) finger and Christmas's leg.
Dom comes up to the HOH room. Dom – had Mark not said something Alex and Jason thought Cody was talking about them. Alex got so heated that she almost spoke up. When Mark responded, they were like wait, something's off. Matt – At the end of the day all we want to know is if Jason or Alex win HOH that they want to send either Ramses or Jessica home. Beyond that I don't give a bakers f**k. Dom – Alex already said she was ready to send Ramses or Jess home.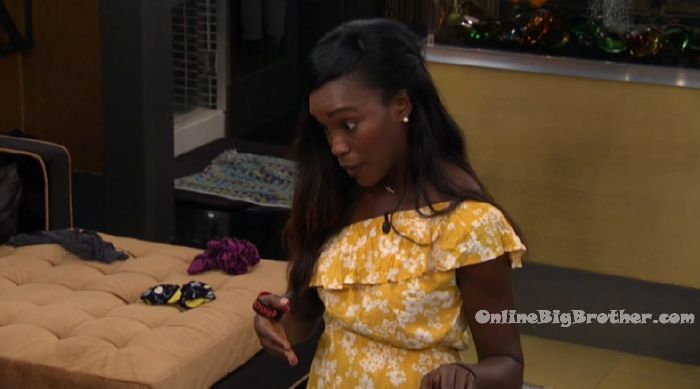 1:20pm Lounge room – Paul and Alex.
Paul – this is f**king perfect. Everybody has their brains jumbled up. Alex – I didn't know what he was talking about . I thought he was trying to say he had an alliance in here and was trying to implicate me. Paul – no, no, no. Its Mark and Dom. Who are the ones. Alex – that's why she pulled me aside. Paul – that's why she (Dom) pulled you aside to do damage control. And that's why Mark was pissed at the question. Now, I'm going to wait until Cody is out of this f**king house and then I'm going to let them know it was Mark and Dom. So what that's going to do is .. they're all just going to f**King… (go at each other). And now Josh and Jason are probably sketched out as F**K. Alex – I always trusted you. If there is an event where it is down to you and Jason in the HOH …toss it to f**king Jason and let him make a crazy a$$ move. And then the following week they're going to try and do the same thing to Jason. Paul – Matt, Raven and even Elena are starting to question Mark. We just have to let that happen. I still think we need to get out Ramses but we need to let this boil.
1:55am HOH room. Paul, Matt and Raven.
Matt – I'm not sure what I think of Dom right now. In terms of who I trust to make good game decisions, they're both in this room right now. Raven – I agree with that. Paul – she needs to know not to do that sh*t. Raven – no game talk during those. Elena joins them. They laugh about how Alex thought Matt had thrown the veto to her because he did so bad.
2:10am HOH room. Paul and Dom.
Dom – I am trying to figure out why Cody was throwing my name out like that. Paul – swallow it until Cody is out of the house. Jason chooses to be in that room laughing and joking with them. If that f**king vote is not 10 – 1 tomorrow I am taking this ugly piece of art work and bashing it over Jason's head.
See what they can't show you on TV Try the live feeds for FREE!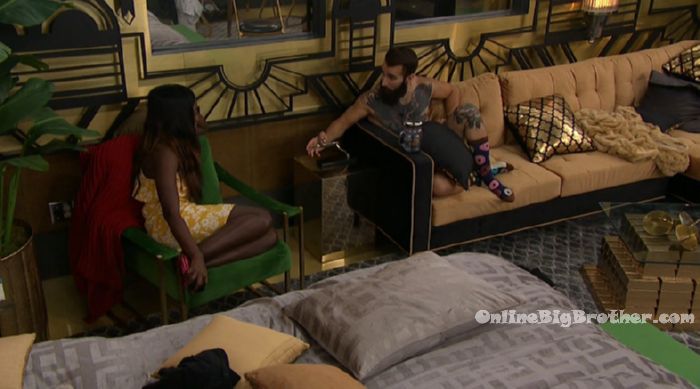 3:20am All the house guests are sleeping.. except for Elena and Mark who are doing some heavy petting under the sheets.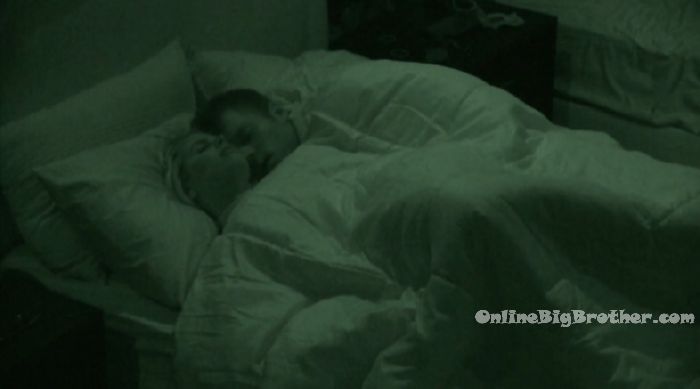 Links to the ranking system
Rank your house guests here
For those of you that like Statistics here are some expanded reports.