| | | | |
| --- | --- | --- | --- |
| POV: | Scottie | Next POV: | July 21st |
| POV Used | NO | POV Ceremony | July 23rd |
| HOH: | Scottie | Next HOH: | July 19th |
| Noms: | Brett & Winston | Have Nots | Angela, Sam, Tyler, Brett |
Big Brother Spoilers lockdown for Thursday's show starts tomorrow between 5 and 6 . This usually means that the Head of Household competition will be endurance. EVERYBODY seems to be targeting Kailtyn.. lol..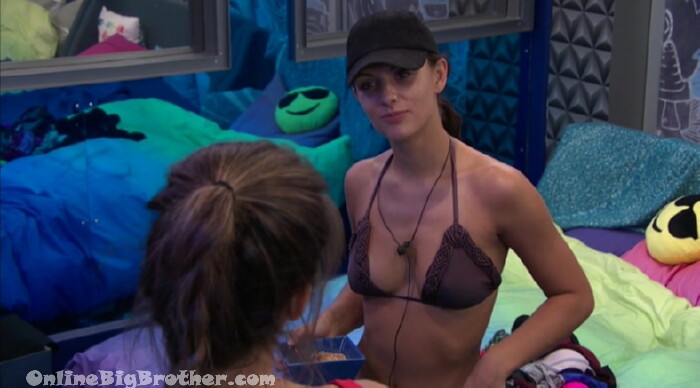 4:17pm Angela and Rachel
Rachel says they need to start telling Kaitlyn they are voting for Brett to stay, She'll start going to Kaycee and JC, they still go I dunno I dunno I dunnno
RAchel – JC and them won't give her a clear answer .. it'll be a flip vote again
Rachel is going to start tomorrow making it known she's voting for Brett to stay
Angela says she is already saying that.
Angela – I'm voting for personal reason I enjoy Brett's company more than Winston's
Rachel says they need to figure out when to tell Winston it's a done deal.
Angela – you know the saying a chain is only as strong at it's weakest link, he's the weakest link and he's proven that over and over and over again
They agree he's a liability
Rachel – me, you Kacyee, Tyler and Brett all need to get together and have a plan for Thursday. Nobody can throw this I understand we all have personal games but nobody ..
Angela agrees
Rachel – Winston admitted to me he threw the HOH competition, I said WHAT..
Rachel – I think he's dumb.. your life was on the line the week before
Angela – ok congratulations you just got out.
Rachel – Tyler thought he had Scottie in his back pocket.. Clearly he didn't and that's why we're in this position
Rachle – no one else can leave.. I think we were ok with Winston leaving
Angela – I think it's actually a good thing. Once Winston leaves they are not going to suspect the four anymore because we haven't been hanging out
Rachel says she is going to start talking shit about BRett and Angela.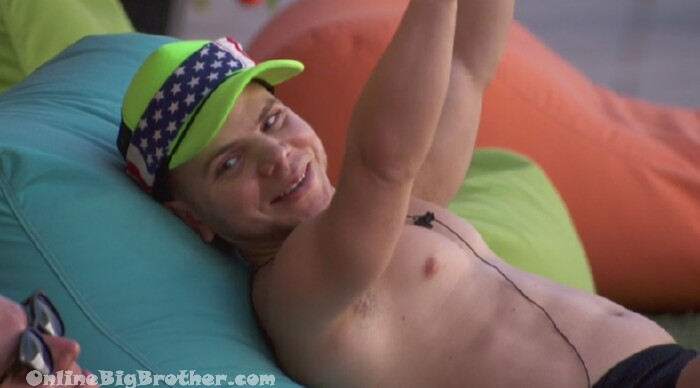 4:39pm JC and Tyler
JC – (Rachel) she told me she really really really really really really wants to f*** Brett. that's what she wants to do
JC – but Brett really really wants Angela
JC – this is going to be so interesting..
JC thinks they should get Brett to win the HOH to take the next shot.
JC says Rachel told him Fess needs to go up in the next 2 weeks the other night Fes was saying to him
JC – Kaitlyn can't get it again.. if I get it I feel like she is the one I will take out
JC – we don't need her any more
T – she's bad for my game
JC – Fes doesn't like her.. I told her don't talk game.
JC adds that Fess said he controls Kaitlyn.
Jc – At this point she has the whole house against her.
JC – The only one that is still licking her A$$ IS ROCKSTAR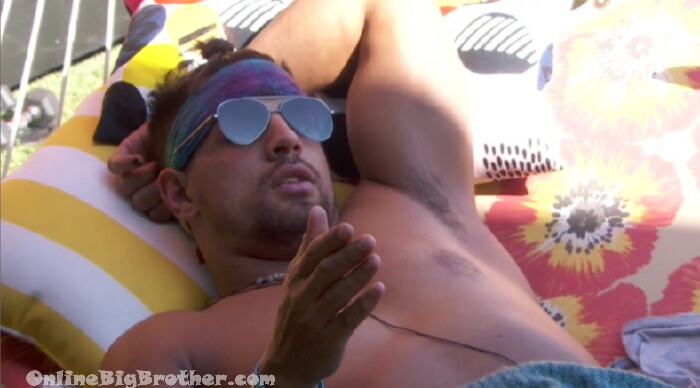 4:59pm Fes and Rockstar
Talking about the bros not really separating yet. They both are feeling confident in their chances in winning the HOH compared to the other side.
Fes says just on odds they have 50% chance..
Rockstar says KAitlyn told her today that she flipped on the Steve vote. Rockstar claims she already knew that she just didn't know why
Fes – I don't know this game that well.. It's not important so I'm not going to bring it up
RS – I feel the same way about Scottie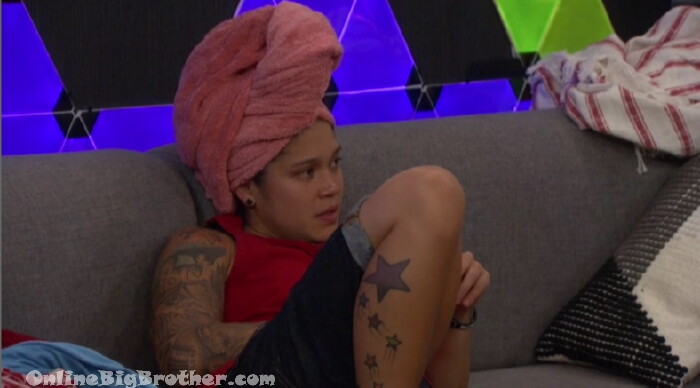 5:16pm Scottie and KAycee
Scottie says people are convinced she Sam has the power app.
KAycee doesn't know
Scottie – does anybody talk game to yo u
Kaycee – did they try and make a deal with you BRett and Winston
KAycee – no
Scottie wonders why Kaycee went to the other side . Kaycee says she was excluded from his side.. Swaggy made the alliance and pulled the people he wanted to pull those people had meetings.
Kaycee – what else am I supposed to do you know what I'm saying… by default I was with the other side..
Scottie says the same thing for him but once Steve left he was brought in..
SCottie – I like you I trust you
Kaycee – I trust you as well
Scottie – this is what I'm hearing about Sam.. she had a power app if she were to get evicted she can switch someone off the block.
Sscottie says this is how the flip happened.
Kaycee – interesting.. I haven't heard that at all
Scottie is worried that SAm's app can protect a bro, "apparently this is the last week she can use her power"
KAycee – I haven't heard anything about that app and how it works
Scottie is pissed about the apps wishes they didn't have them it would make being HOH easier.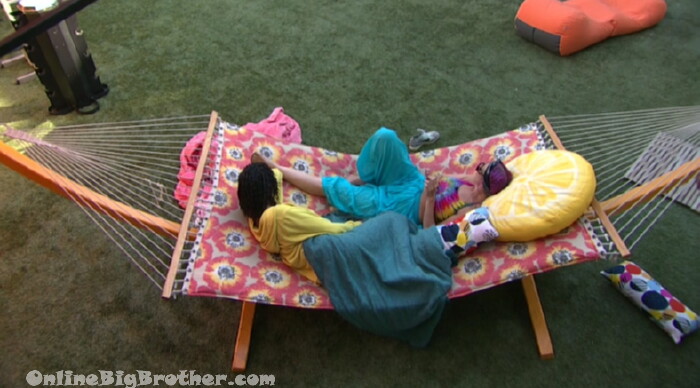 5:40pm Hammock Bayleigh and ROCKSTAR
Bayleigh mentions telling Scottie that Kaitlyn and Tyler were the first two to know about Sam's power
Bay – he goes.. what.. I'm like WHAT .. he's just like when I asked Tyler if he knew about it he asked all surprised
RS – that's cool because Tyler is a fierce competitor so if he's other people's target that's great
Bay – I doubt it.. I don't think Scottie would target him
6:20pm Girls..
Damn… #BB20 @DawgsBigBrother pic.twitter.com/Y4MIhhwUyp

— OnlineBigBrother.com (@bigbspoilers) July 17, 2018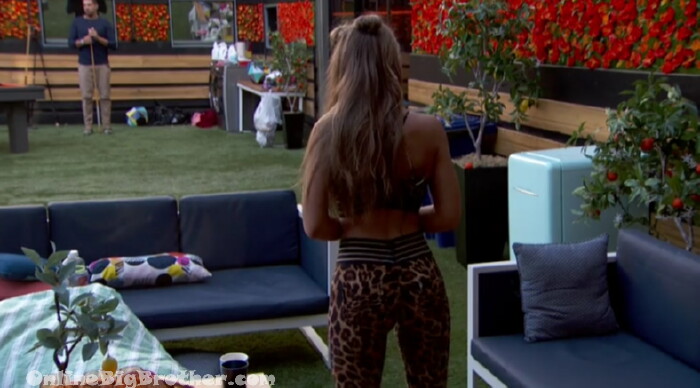 Rachel is letting the girls try on her pants from https://cutebooty.com/
Rockstar – you look so cute.. Everyone is going to be able to clap their ass https://t.co/556MPrJbJ6@cutebootylounge pic.twitter.com/C241OaMmfR

— OnlineBigBrother.com (@bigbspoilers) July 17, 2018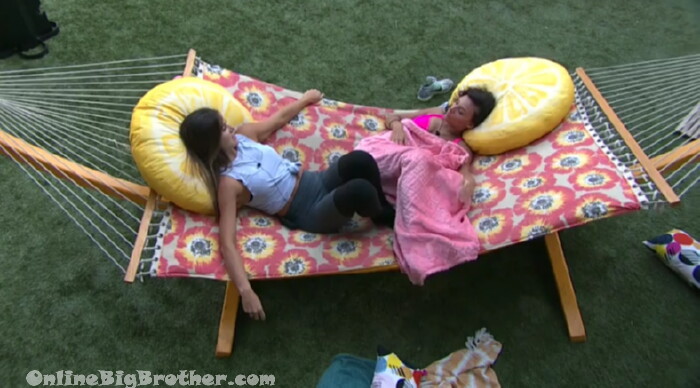 6:52pm Angela and Rachel
talking about things they can say to the other houseguests to keep up the ruse that they are not friends anymore. They don't want to give people reasons to get the other one out they just want to make it a point they are really annoyed at each other.
Rachel is going to work on SCottie and KAitlyn some more to make sure they don't think she's mad at them for their HOH moves.
Rachel asks her if anyone has approached her about the all girls.
Angela says nobody has.
Rachel suggests Angela go sit with Bayleigh. Angela doesn't want to say anything until she's approached.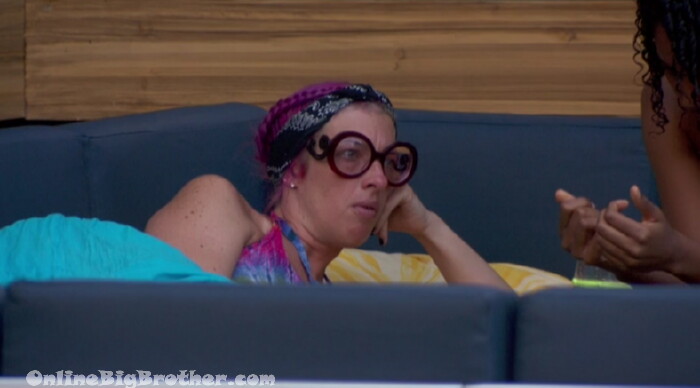 6:57pm Rockstar and BAyleigh
Bayleigh – did you tell Kailtyn about your evil plan
RS – which one
Bay – the one where you backdoor Tyler
RS – F**** NO I didn't tell her that (LOL)
Rockstar going on about hos she's never done anything wrong to Brett.
RS – between you and me and America.. our girl Kailtyn is erratic.. to say the least..
Bay – what do we do about that..
RS – nothing immediate..
Bay – we just wait..
RS – amazing backdoor television move.. you should backdoor her
Bay – you do Tyler I'll do Kailtyn
RS – I've been thinking about what Scottie said that backdooring is sleezy
Bay – why is that sleezy.. kaitlyn did that to swaggy ..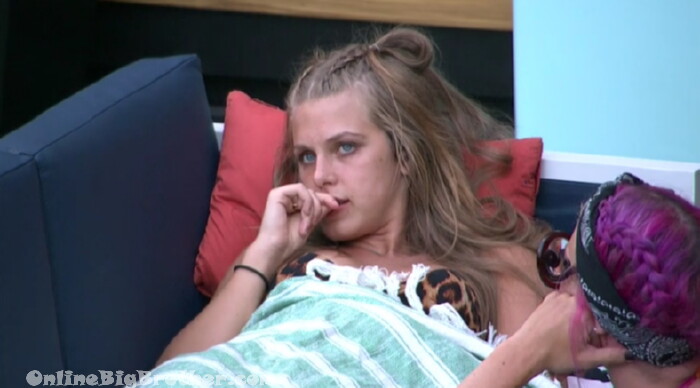 7:01pm Rocksalt and Haleigh 
A plane flies overhead..
Haleigh says she wants to see one crash but without anybody in it "Obviously"
RS – you're such a noodle head
Haleigh – whats your thoughts on 9-11
Rockstar – totally an inside job
Haleigh – good, I knew that would be your answer but I had to see..
RS – Obviously
Haleigh – you never know about a person
H – me and my mom got in an argument over it when I left
RS – like why would the government do that to us. Yeah parents..
Agreeing Brett needs to go this week. They really question Sam's power how it's been described to them.
Hayleigh tells her that Sam will never get over them voting against her week 1.
Rockstar jokes if they take Fes to final 3 and convince him Haleigh is in loves so he throws the final HOH.
Haleigh told her Scottie said in front of 6 people that she was playing Brett.
7:17pm
Angela and Fez have been chit chatting…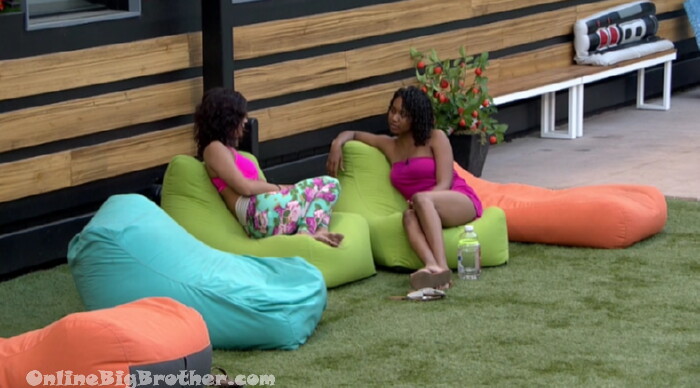 7:42pm Rachel and Bayleigh
Bayueligh says the house is confused, America is confused and even though she says her boyfriend will be fine with it he is confused
bayeligh – that is why I'm confused..
Bay – I would like your words to line up with your actions..
For all you folks that need a VPN I use this one
Rank the houseguests!
Easiest way to Rank the house guests use link below