| | | | |
| --- | --- | --- | --- |
| POV: | Scottie | Next POV: | July 21st |
| POV Used | NO | POV Ceremony | July 23rd |
| HOH: | Scottie | Next HOH: | July 19th |
| Noms: | Brett & Winston | Have Nots | Angela, Sam, Tyler, Brett |
Big Brother Spoilers Still smelling like Winston leaving.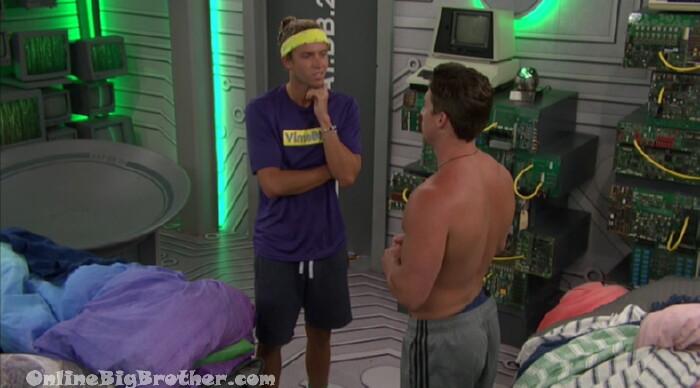 10:22am a Bro and Tyler
Brett says Scottie came up to him and said "So I found out about week one people were voting to keep same because she had a power and threatened to flip the vote"
Tyler says he told Kaitlyn to flip I said if you don't vote for Sam you go up, "that's one of the ways I got her to flip"
Tyler says Sam told Kaitlyn the specifics and now Kaitlyn is telling everyone, "everyone thought you had the power week one.. "
Tyler – Sam told me yesterday Kaitlyn told everyone
Brett – I think she's just covering her own a$$.. moving forward she thinks she's the target.
Brett wonders why Sam won't use the power if it's the last week.
Tyler says he needs to talk to Same. He suspects Sam's scared because Kialtyn's gone around the house and told everyone.
Brett – right now it saves numbers of the people who kept you here
Tyler – I know .. I'm going to talk to her today then I will talk to you
Tyler says Scottie is scared as F&** that the bros are going to stay and go against him
Brett – he should be .. we gotta try get Sam to use it because if she does that will be HUGE..
Tyler says Sam is still voting for him to stay.
Brett – dude we need the numbers
Tyler – I know .. right now it's 6
11:45am CAm 3-4 meditation in the HOH
Kaitlyn's meditation bends space and time @DawgsBigBrother #BB20 pic.twitter.com/HN1MpCaxCI

— OnlineBigBrother.com (@bigbspoilers) July 17, 2018
11:45am CAm 1-2 Rachel rubbing Brett's butth***? (close enough)
12:04pm Rachel is actually using the climbing wall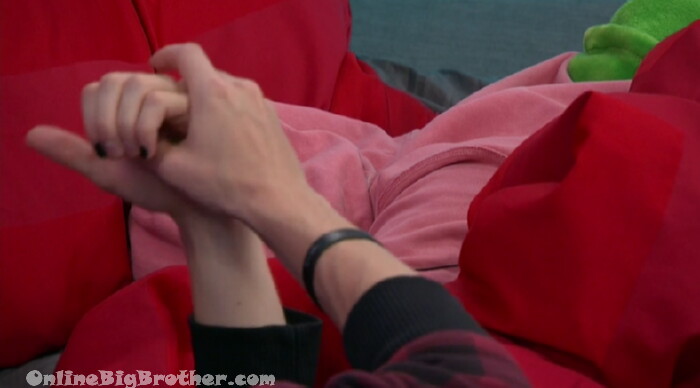 12:15pm Scottie and Kaitlyn HOH
Scottie says his left hand feels funny.. "it's beyond numb and my right hand is completely normal"
Kaitlyn – your left hand is the more dominate to receiving energy.. I've been told that so many times when doing guided mediation with someone or something..
Kaitlyn – is means you received it well You are intuitive you are acknowledging it.. If you were completely closed off you wouldn't feel a thing
Scottie – when you touch my thumb it's beyond pins and needles
K – I'm sorry .. don't worry it'll come back.. just put it down
Scottie – if I put it down will it close it off to energy..
Kaitlyn- it comes back.. you are coming out of the state you are OK.. I do this every day
Scottie – your hand gets like that every day
K – yeah .. especially when I get the hits.. I feel it on my left hand when I get a hit.. when I feel like I can't share it this is how I release the energy ..
Scottie – the only thing that concerns me is that meeting between Sam and Brett.. it was after I won Veto because Sam was worried I would put her up as a replacement.. no clue why
Scottie when did you tell Tyler about it after me
KAiltyn – I told him after I told you.. he didn't seem surprised. maybe he was just speculating
Scottie says he told Tyler and he seems super surpsied
Kaitlyn says she talked to Tyler after Scottie because he didn't seem super surprised ..
Kailtyn – maybe that's how he knows you told him
Scottie – OK
Kaitlyn about Sam – she's going to float her way to the end..
S – that seems to be the plan..
Scottie says the day Sam got the power america would be aware she got a punishment but they wouldn't have seen it so why is she trending.
Kaitlyn thinks that's Sam does understands the game and is playing them.
Kaitlyn says she's pissed asks casting why they would cast someone that knows the game.. Feeds cut.. (PSSSSTT energy source.. Tyler and Scottie? )
Kaitlyn – what are your thoughts on JC
Scottie thinks JC is looking after himself and now that he has the power he'll safe it for himself. Scottie thinks JC wants to float to Jutry then team up with Fes or something.
Kaitlyn doesn't thin Fes will do it
K – I think the best thing for Fes is Swaggy went home
Scottie says Fes lost Swaggy and he lost Steve so they came together.
Scottie says him and Fes are similar.. how they communicate and how they are playing the game.
K – I really wonder who is going to make it to Jury
Scottie says everyone here minus one person and Brett/Winston
K asks if RS wins HOH she'll put up Angela and Winston but she won't want Winston to do home.. She wants to f* with Winston and put him on the block week after week.
Scottie doesn't see RS putting Rachel up.
Scottie – I think Rachel threw that Veto.. She didn't want to be in a position where she had to make a move
Kailtyn says she thinks HOH will go to Tyler, Herself or Fes she doesn't think Angela will try and win the HOH.. feeds cut because of rockstar.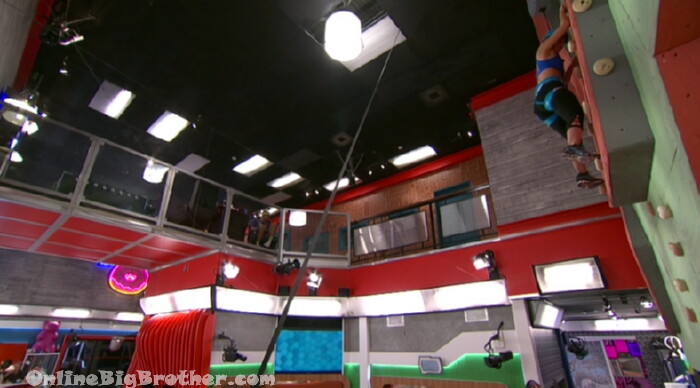 12:39 RockStar is stuck on the climbing wall
They cut the feeds as they pull out the scissor lift to healp Rockpile out.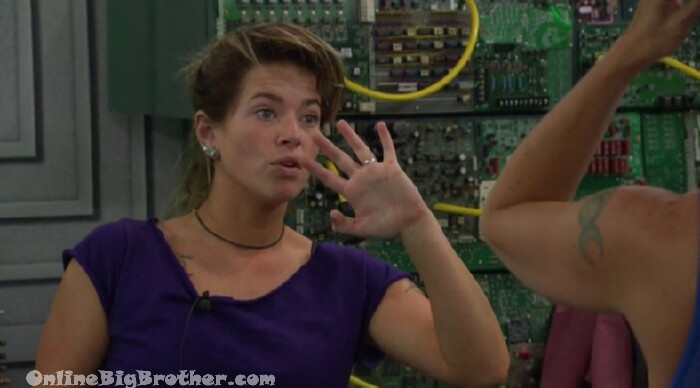 12:20pm Rockstar and Sam
RS – I found out who has one of the powers.. JC
Sam – for sure
RS – no i'm sure
sam – how you find out
RS – I was f*ing around and I was like JC you are going to use your power this week and he was like no I'm not using my power.. he was half a sleep
Rockstop is convinced that JC has the power.
Sam tells her that her power is over this week.
Sam says she wishes the power didn't even exist she's not using it.
Rockstar says she didn't know Sam had a power..
Sam – I could have come in here and told everyone to f*** off and could have been a total jerk but I didn't
Sam says she didn't even want to use it, she doesn't want and it's just expiring naturally. (LOL she's worried about them using the power to flip Kaitlyn will come out and she'll be a target with ol blue eyes)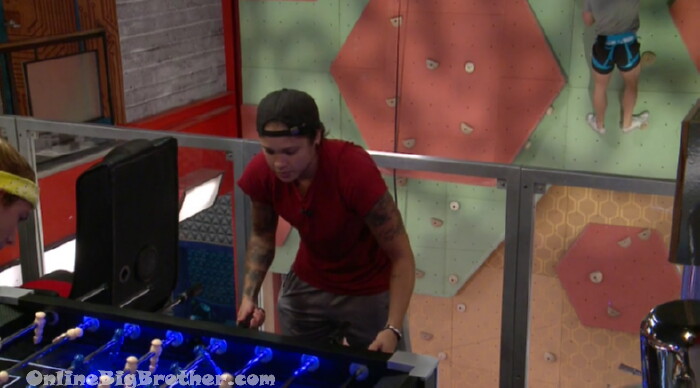 1:36pm Rockstar was able to get down on her own.. Tyler and Kaycee playing some Foozball While a common bro climbs the wall.

For all you folks that need a VPN I use this one
Rank the houseguests!
Easiest way to Rank the house guests use link below