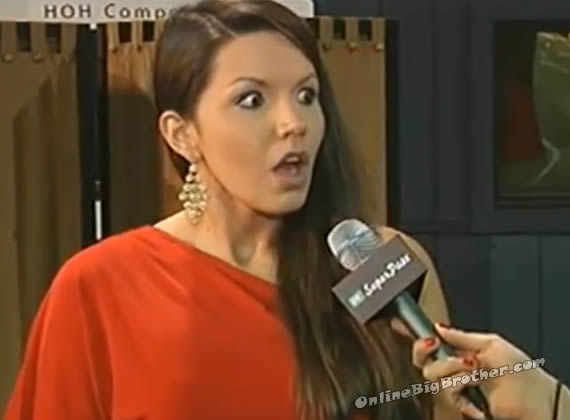 Big Brother 14 finally comes to a end. It was a great season with some of the better Players we've seen in a while. Ian Terry finally defeats the DAn Gheesling and the fabled Dan "Mist" is gone. The Vote was a shocking 6-1 with Danielle being the only vote for Dan. The image above was taken from the superpass interviews where Danielle was told Dan said said to Shane right before Shane left that Danielle was playing him from the beginning. It's sad to say that for the most part these interviews are filled with fluff and really do not get to some core questions. We'll need to wait for Evel Dick's interviews for that.
Here's a couple questions I have for you all (I'll add my answers below in the comments)
Does everyone still think Dan is the best player ever?
Did Dan throw the final HOH?
Would Dan have won Vs Danielle?
On a scale of 1-10 how much does Ian winning rock?
Ian's finale speech 1-10
Dan's finale speech 1-10 (10 being the best)
Subscribe to Superpass 3 Day TRial Watch Season 13 and 14 PLUS the interviews
Here is a collection of links to interview from various sources around the internets. You can also see the backyard interviews with a live feed subscription. we'll continue to add interviews to this post as they become available.
CBS Interviews with Jeff (Canada Friendly)
JoJo Doll
Kara
Ashley Iocco
Britney Haynes
Joe the power house
Jodi the real favorite
Dan Gheesling
Danielle Murphree
Shane being stalked Meanie
Carrot Top
Ian BB14 winner Terry
Janelle
???????
Global TV Canada
Janelle
JoJo Doll
Kara monaco And Jodi rollins
?????????
Shane Meany
Wil Heuser
Britney Haynes
Dan the Mist
Carrot Boy
Ashley Iocco
Danielle Murphree
Ian BB14 Winner Terry
Big BRother 14 Winner Ian Terry

America's Fvorite Frank the Carrot top Eudy

Big Brother 14 Runner up Dan Gheesling
Global TV LInk

CBS Interviews Done By Jeff Schroeder(US only, if you are Canadian you will need to use a VPN or wait until someone posts them onto youtube. I'm Canadian I use a service called strong VPN)
Jeff and Janelle

Jeff and Dan

Jeff and Wil

Jeff and Mike Boogie Malin

Jeff and Ian Terry

Jeff and Danielle

Jeff and Shane

Jeff and a Mo** f*** powerhouse

Jeff and Britney

After the Finale the final 3 house guests: Ian, Dan, and Danielle were interviewed by The Talk
– Julie Chen got Ian to explain his strategy that he had written on a piece of paper prior to entering the house, which the producers took from him.

Jeff Schroeder sits down with Dan Gheesling, to take your questions.

Jeff Schroeder talks with Danielle: