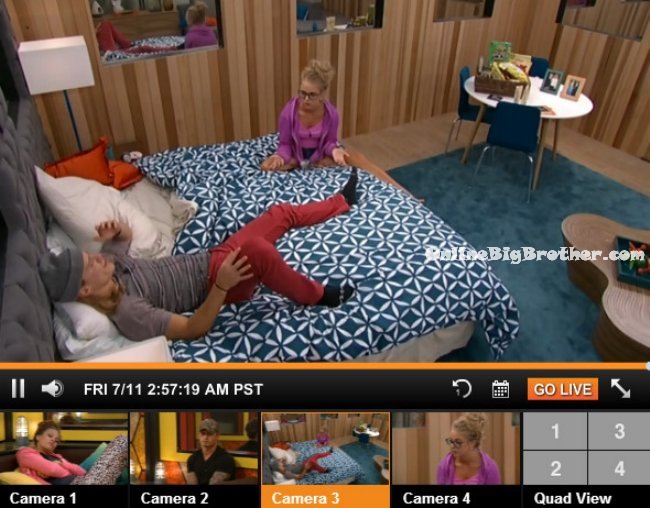 2:50am Up in the HOH room – Nicole talks to Hayden and tells him about the plan for her to nominate Amber and someone with Derrick nominating Caleb and probably Jocasta. Nicole tells Hayden about she made a final 2 deal with Derrick. She doesn't plan to keep it. Hayden tells Nicole that a good way to get out Derrick later in the game would be to expose how many 2 and 3 final deals he has with everyone. Nicole isn't sure who to put up with Amber. Hayden suggests she talk to Donny. Hayden says we can trust Christine but she is the girl version of Derrick. Nicole says shoot. Hayden says that Christine is all over the house. Hayden suggests she puts up Christine. If I had to pick anyone in the house is in the best spot I would pick Christine. Hayden says that I should go because I've been up here a while. Hayden asks to snuggle first. Hayden says so we're a flirtmance until we kiss right.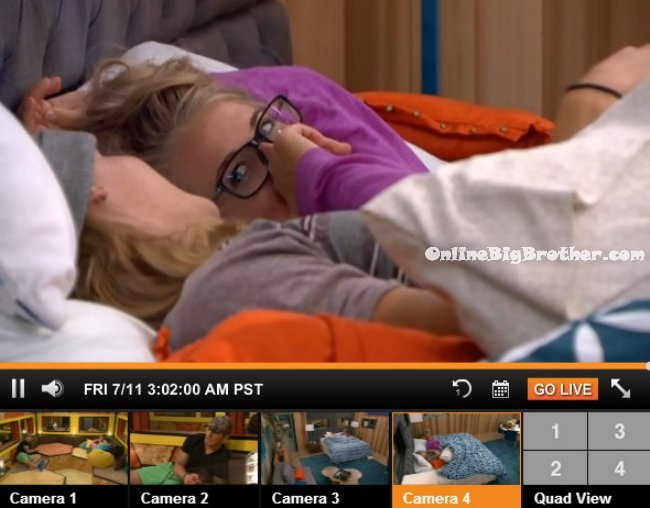 3am In the kitchen Derrick talks to Jocasta. Derrick asks her if she voted to keep Pow. Jocasta says that she did. I couldn't vote for Zach after what he's said about women. I am the minister of a women's group. Derrick tells Jocasta that he is going to talk to everyone to find out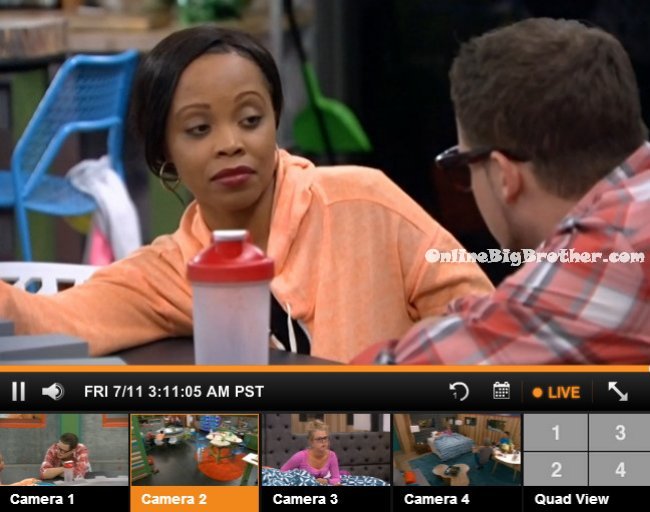 3am – 3:40am Zach comes up to talk to Nicole. Zach says I don't care if Hayden stays. Nicole asks who do you think I should put up? Zach says the plan is to get out Devin right? Nicole says yes. Zach says I would put up people that you don't care who goes home. Nicole says I only have one person that I want to go. Zach says I would put up Amber. Clearly Devin is the target to go home unless he wins veto. Hayden and Zach tell Nicole that no one would care if Amber goes up. Zach says that there are 2 people that went against the house – Jocasta and Donny. Nicole says the two people I am thinking about are Jocasta and Victoria. Nicole says but Victoria is one of my best friends. Zach says Victoria isn't going to matter because she is going to go in the next couple weeks any ways. Hayden and Zach both comment how Brittany can't be trusted. Nicole says that she thinks she can trust Brittany. Hayden heads down stairs. Nicole asks Zach if you win HOH next week you wouldn't put me up? Zach says no, you are my last target. You're not on my radar. Zach says I can't speak for the whole house but the whole house wants Devin out. Zach tells Nicole I think you should put up Victoria with Amber. Zach says don't stress or worry about it because only one person is going home and that's Devin. I just know if you put up Donny he is going to be blindsided. Zach says if you put up Victoria and she wanted to come after you .. she has no one. Zach says its easier to ask for forgiveness than to ask for permission. SO put her up and then ask for forgiveness after. Zach says Victoria has no ammo if she wanted revenge on you for nominating her, while Donny has Jocasta and Brittany on his side.

3:34am The house guests are in the living room playing Truth or Dare. Hayden dared to lick the coffee table from end to end. Caleb dared to bite Hayden's big toe. Amber dared to lick the dusty table from end to end. Hayden dared to pull down his shorts in front of the camera and booty pop his butt.
CALEB puts HAYDEN's BIG TOE IN HIS MOUTH – @bigbspoilers #bb16 #footfetish pic.twitter.com/Q3jlXK0xms

— Dawg (@DawgsBigBrother) July 11, 2014
4am In the hive room – Derrick and Caleb revisit the conversation about him volunteering to go up on the block. Derrick tells him, I am telling you right now I wouldn't do it. I have a wife and family and if I volunteered she would kill me.
They call Amber in to the room to discuss the nominations. Derrick says that Nicole was as little blood on her hands as possible. She will probably put up a Victoria or Jocasta. The other person is you because you put her up. Derrick explains that Caleb is willing to go on the block and not give his best effort to win the Battle of the Block so that you and whoever wins. Derrick says the whole house wants Devin gone. Derrick says I am going to do whatever it takes to make Devin think he is safe and not the target. Derrick says I didn't suggest it. It was Caleb's idea to volunteer to go up. Amber says I think its best for you to stay HOH as well. Derrick says I am pretty sure Caleb is the strongest person to ever play this game and if he plays in the POV.. someone is going to get hurt and its not going to be him. They finish up their conversation and Derrick leaves.
Caleb tells Amber that you and I distancing ourselves and not talking game is done. If we pull this off that would be amazing if we don't I will look like a Dumbo on TV and I'll still be on the block. Caleb says for me I think its kind of cool, I want to do something that's never been done before. That and helping the whole house out. Amber says I'll sleep on it and let you guys know tomorrow. Caleb says either way I think we'll be fine. I'm not a dummy any competition I could win it, doesn't matter if its a mental or physical competition. Its not anything to stress about.. Big Brother switches the camera and then back later. Caleb tells Amber that basically she doesn't have a choice if wants to volunteer to go up or not. They decide to talk tomorrow.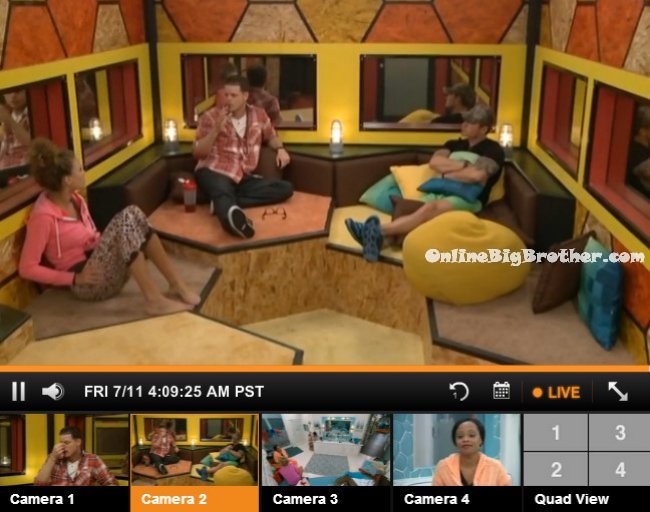 4:35am Up in the HOH room – Nicole and Christine get ready to go to bed in the HOH bed. Nicole tells Christine that Derrick took Jocasta to put up. Christine says darn. Nicole says I only have Victoria to put up now. Nicole says at home I cry all the time but in here I don't at all. I am beast mode in here. Christine says she is too. Nicole says I didn't even cry during my letter.
4:50am Nicole goes to get Cody to talk to him. They head up to the HOH room to talk. Nicole says that she heard that Derrick said that I am questioning you. He asks me who are the people that I wouldn't put up and I said you were the first person I named. Cody says that Derrick said you trusted me, he just said that you wanted to talk to me. Cody says he said it in front of Caleb and other people. Nicole says he can't be saying that to people. Cody asks what are you thinking for nominations? Nicole says Amber because she put me up. Cody says yeah I would do that too. Nicole says I don't know who my other nomination would be though. The conversation turns to the Amber/Caleb/Cody triangle. Derrick joins them.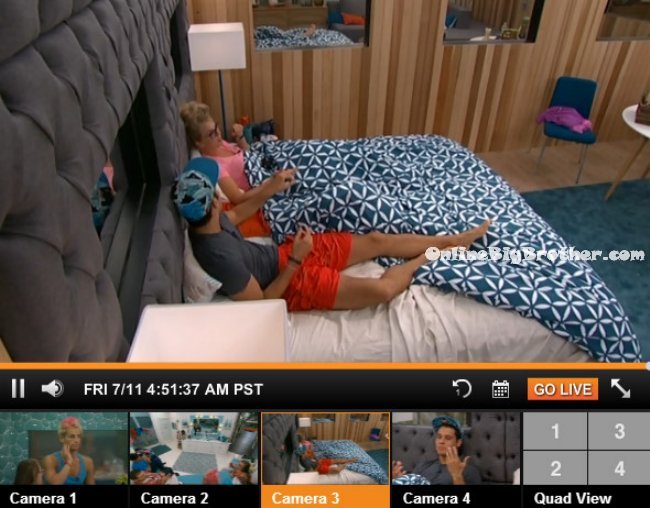 5:10am – 5:30am Derrick and Nicole talk. Nicole tells Derrick that she thinks Amber is mad and doesn't know why I am putting her up. She says that Christine just told me. Derrick says no she isn't I was just in the bathroom with her and she is fine with it. Derrick tells her that he talked with Amber and Caleb. He says they're going to talk about it and get back to us tomorrow. Nicole is worried that Derrick could have made a deal with Amber and Caleb. Derrick says no we haven't and I will do anything to show you that you can trust me. Derrick goes to grab Caleb and Amber to talk in the HOH room. Nicole says this sucks .. we all have the common goal is to get out Devin. We have to put up 4 pawns. Nicole tells Amber obviously you put me up so I have reason to put you up. Caleb interrupts and says that I am not a pawn, I am a superstar! Nicole says basically I don't want blood on my hands. Amber says if I win HOH then you personally are safe with me. Nicole says thank you. Nicole says people haven't really come to talk to me. She says no one has volunteered to go up. Caleb says yeah that would be stupid to volunteer. Nicole says well if someone volunteers I could offer safety for so many weeks. Nicole asks so if I put you up you would be okay with it? Amber says yes, I really want Devin out. Nicole says if you did have to play in the veto or you (Caleb) then I am confident you would win it. Derrick says I'm not saying it would even come to this but either one of you would have the votes to stay if it came down to it. They decide to talk more tomorrow. Caleb and Amber leave.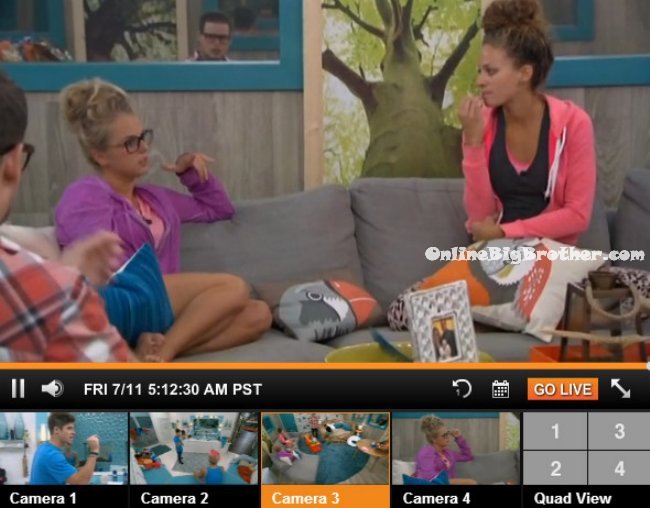 5:35am Christine comes up to sleep in Nicole's bed with her. Nicole is worried that they might have broken the nomination rules. Nicole reads the rules and says we can't say who is going up. We have to be more careful. Derrick asks what Nicole's opinion is on it all. Nicole says she thinks its good. Nicole can't believe how late it is. Nicole tells Christine that Amber is okay with going up. She was so okay with it that it made me respect her. Christine says that's a good thing. Nicole says I think I am telling people too much about what I think .. I just hope I can go back to being in the fog.. Nicole and Christine are freaking out about the noises in the room. She goes to ask if she and Derrick and switch beds. Derrick says its cool with him. Caleb jokes and says don't switch beds just switch rooms. Nicole and Christine get into the bird bed. Nicole comments on how the first girls alliance was called El Cuatro and now two of the girls are gone and then next is my target. Nicole says I am thinking of putting up Victoria as my second nomination. Nicole and Christine go to sleep.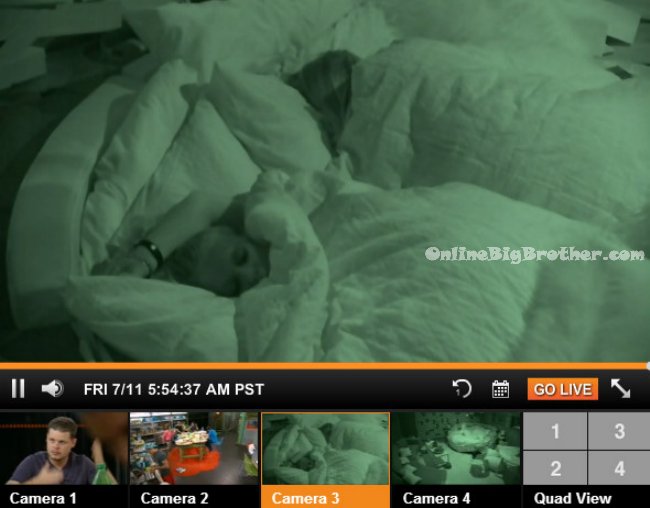 5:50am In the kitchen –
Amber, Zach, Caleb and Cody are still talking and eating. Derrick says if I pick havenots I will pick Devin and Frankie because they already said they would. The other two I would tell the girls to figure it out. Amber says I will volunteer. If Frankie is in there I would volunteer to be in there with him. Amber heads to bed. Derrick heads to the HOH room. Caleb tells Cody I might get to do something that's never been done before in BB history. Cody asks what's that? Caleb says when you're a beast nothing matters. Cody says that is classic. Caleb tells Cody not to say anything to anyone about it and says that Derrick will explain if I do. Cody says that is beastly! You're a f**king beast if you do! Caleb says there's a few of them in here. Cody heads to bed. Caleb heads to the HOH room to sleep in Derricks bed with him.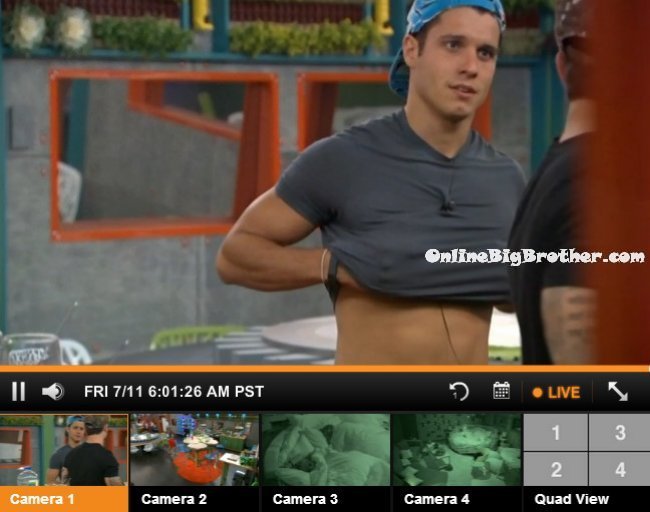 6am – 6:40am In HOH bed Caleb and Derrick talk. Caleb says there's a 99% chance that I'm okay. Caleb tells Derrick about the conversation that he had with Amber in the hive room earlier. Derrick brings up how Brendon was on the block and saved Rachel with the veto and then he ended up going home. But they're married now. Caleb says yeah right. Derrick tells Caleb I am not putting you up unless you want me to. If I put someone else up and she goes home .. you have to think about how you would react. Caleb says if she goes home, then she goes home. I would be okay about it. Derrick says it could make your game a bit easier because people will see that you're willing to do anything for this girl, so they would be worried about putting you up. Derrick says you could end up doing it and end up marrying this girl and be like a Brendon. Derrick says I think Nicole is thinking of putting up Victoria. Caleb says I am telling Amber if I go ahead with all this she better go on a date with me. Derrick says are you kidding me you better get a lot more than that. Derrick says we'll look like geniuses pulling this off ..getting Devin out. Caleb asks Derrick to tell Amber he should get major brownie points for doing this. Derrick says I'll tell her that she better be real with you because you're risking your game and putting everything on the line for her. Derrick says 90% of the male population wouldn't do this! Caleb asks 90%? Derrick says okay 99%! Derrick says if Amber does you wrong she is going to look like an a$$hole! Caleb laughs. They decide to sleep on it.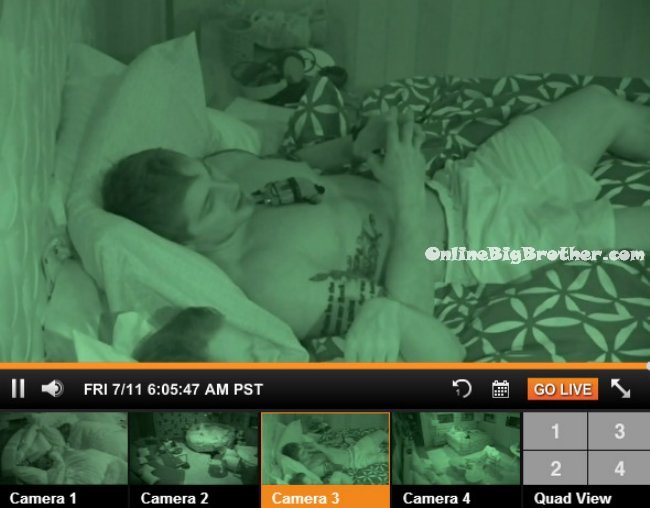 6:10am – 6:40am In the fire room – Amber, Frankie, Jocasta, Frankie and Cody are laughing and joking around. Amber thought Victoria was crying so she checked on her but ended up scaring her. Brittany is the only one trying to sleep in the room. She gets annoyed and leaves the room. Victoria is laughing hysterically. Jocasta asks what Victoria is on because I want some! What did you smuggle in here!? Amber leaves and finds Brittany in the bathroom showering. Brittany says that its a bit over done. Back in the fire room – Zach sneaks in crawling on the floor and starts throwing things at Victoria trying to get her to freak out. They quiet down and go to sleep. Brittany finishes her shower, brushes her teeth and then heads to bed.
6:42am – 6:50am Brittany gets up from bed again and goes up to the HOH room and rings the door bell. Nicole doesn't answer so Brittany heads back downstairs and goes back to bed in the earth room. Zach was in the bathroom and jumps back into bed in the earth room. He grabs the blanket and it scares him that Brittany is sleeping there. He says holy sh*t! They laugh about it and go to sleep..
6:50am All the house guests are now sleep…
[polldaddy poll=8179403]