POV Holder:
?
Next POV
July 12th
POV Used
YES
POV Ceremony
July 14th
HOH Winner 1:
 Nicole
HOH Winner 2:
 Derrick
Battle of the Block Winner
?
Next HOH/ Next BOB
July 17/July 11
Original Nominations:
Final Nominations:
Have Nots
POV Players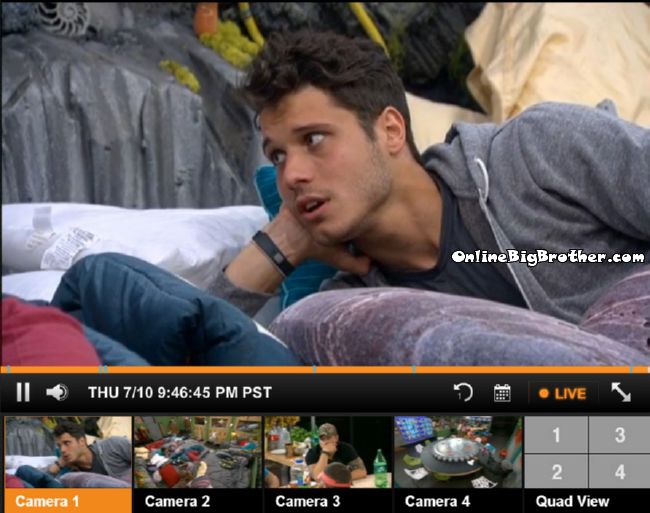 9:46pm Rockroom Cody, Nicole Hayden
Nicole saying winning HOH totally screwed up her game strategy, "going to have blood on my hands dripping"
Derrick and Nicole get called into the Diary room to get their HOH room keys.
Hayden says Nicole and Christine were straight up with their votes.
Cody says POWPOW thought she was staying.
Hayden knows why Donny voted to keep her but why did Jocasta it makes no sense.
Hayden would love to see Nicole pout up Caleb it's good for them
Cody says Nicole should put up Amber and Caleb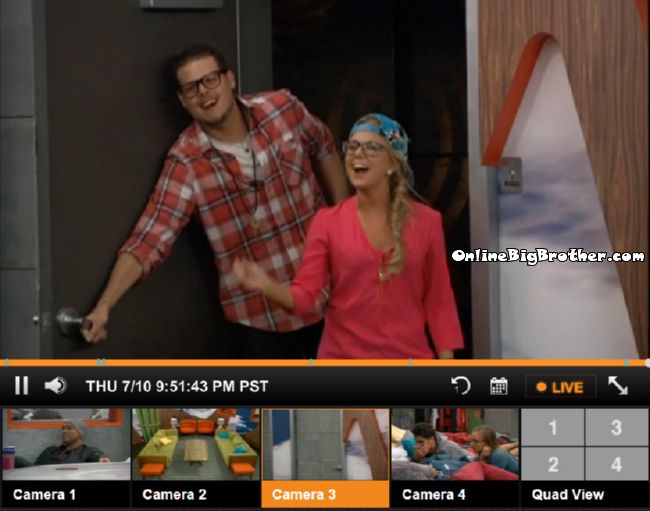 9:50pm who wants to see my HOH room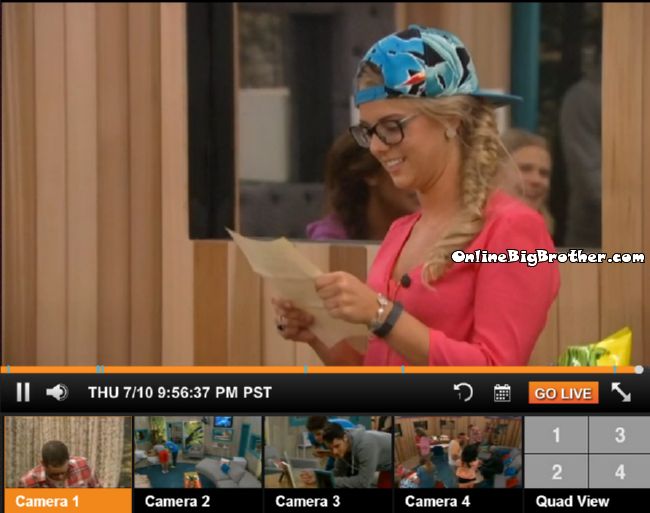 Nicole's HOH letter
My little coco bear,
If you are getting to read this letter than that means you are sleeping in the HOH room. We are all so proud of you but that is nothing new, we have been proud of you since the day you were born. We are happy to see you how strong you are being… just like your dad taught you and how sweet and loveable like I taught you and Jessie says to make sure you are street smart like he is.. Keep being the beautiful person that you are inside and out. Paris and Beyonce miss you like crazy but enjoy listening too your voice "ohh" on the TV and Jessie is happy with the extra cuddle time he is getting with them. All your friends and family and about the whole dang town sends their love to you. Make sure you are getting plenty of rest, eating good and taking care of yourself.. as we are all doing the same here. Remember to breath and enjoy every minute. I spent your birthday looking through old Birthday pictures and thinking "I'm sorry i'm out of breath I'm so nervous" Thinking of all the fun birthday parties you had through the years. And I opened the letter you wrote me before you left and I cried, but it was good, I need to cry. Mom is being strong, just like you want me to be. We love and miss you just as much.
Love Mom



Derrick's HOH Letter
Derrick – "This is from my wife"
Hi Babe
Hope you are doing good, I showed Tinley the video of you and her playing together on the bed, eating her hands toes all the time and she smiles and says DADA. I want you to know that we are very very proud of you. I know this is not easy being away from us, but it will all be over before you know it" Not really"  Love and miss you more than anything see you in September when they announce you are the winner of Big Brother 16.
I love you babe, Jana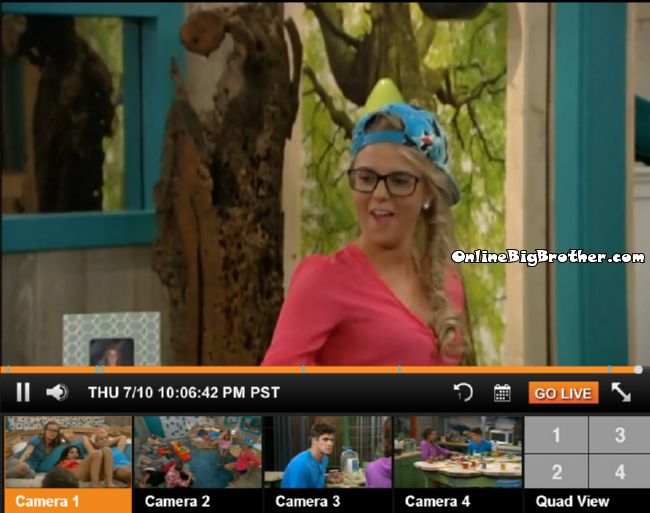 Nicole enjoying her HOH room
Mostly chit chat going on in the HOH room. Derrick got Sushi and Nicole's picture of her brother is from when he was 13. ( She really played up how good looking her brother is) Christine says he has a attractive face, "is that weird to saw about a 13 year old"
Try the feeds for free.. help out OBB and get them using one of the links on this site. You can go back and watch everything we showed on this site. A live feed subscription comes with access to the Big Brother Archive letting you rewatch from day one. It's a pretty sweet setup!
FREE 2 Day TRIAL! watch the ENTIRE Season of Big Brother 16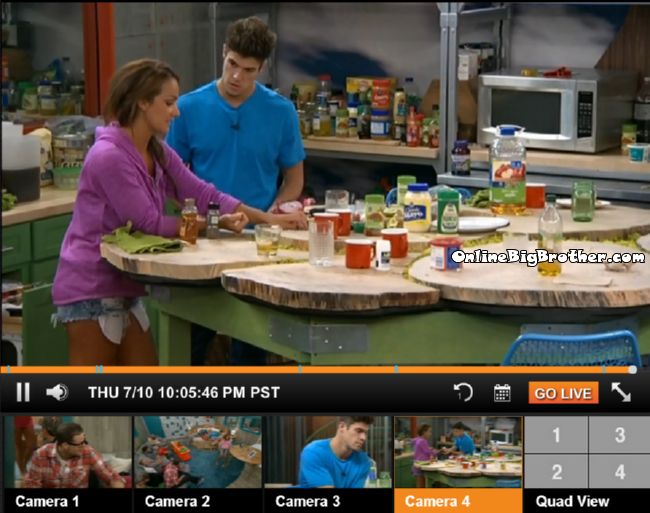 10:05pm
Downstairs Brittany and Zach are making all sorts of food to eat at midnight when there Have nots status expires. Brittany has a talk about her ex husband. THey're settling out of court she still has a working relationship they are still friends he's a great guy they just drifted apart, "He's not a douchebag we sat down and went over it". He's gone from the house 6 days a week and she wasn't the person she wanted to be. He's older than her and had some assets before they got married that she didn't want to take whatever he had before her was hit, Says he took the boat and the car.
"I knew being with that person I lost my identity.. I was in a marriage I was alone.. you're alone raising your kids"
a href="https://click.linksynergy.com/fs-bin/click?id=ZBPvjRdH9tw&offerid=339808.426&subid=0&type=4″>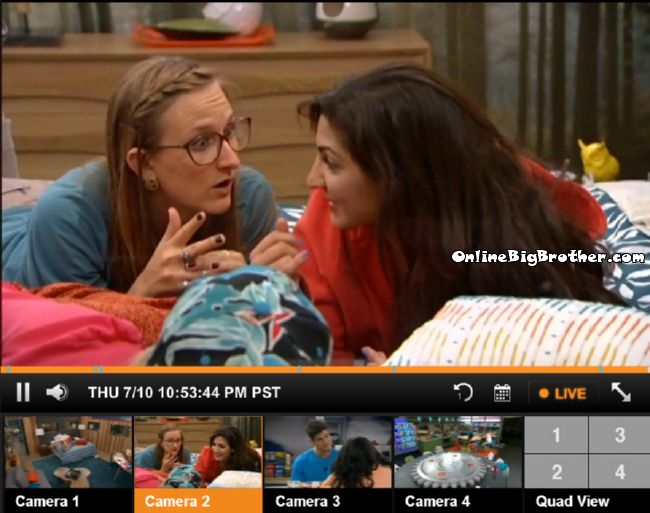 10:58pm
Nicole's HOH room Victoria , Christine, Nicole, HAyden
Victoria jokes about Devin's mental state says her heads going to get chopped off while she sleeps
Victoria is telling them how freaked out she is about Devin says during the HOH competition she was terrified to go sit beside him. She points out how Devin's whole attitude has changed since HOH.
Victoria walked in on Zach and Devin in the Storage room. Devin told Zach he prays to god that zach leaves tonight.
Christine mentions how Devin just stares at everyone. Nicole lets them know Devin was never her main target before but now…. she's never going to have him compete in a competition.
Nicole is pissed this HOH screws up her game plan , "It was pure luck I couldn't throw it if I wanted to.. hopefully my BB fans are tweeting about it" .
Christine and Victoria tell her Amber is driving them insane "She's so fake.. She takes things out of my makeup bag.. she grabbed it"
Nicole – She's so fake
They start talking about things Amber does that annoys them. She uses their stuff and wears their clothes all the time.
Victoria – "She's a f&***g bitch I'm sorry she doesn't respect people stuff.. it's rude I would never be able to do that in my life"
Vic – "I want to smash her face"
Victoria and Christine keep trashing Amber. Nicole thinks Amber's being portrayed as the sweetest nicest perfect thing. Christine thinks they will portray her as fake. Victoria says it'll show on the live feeds.
Derrick rolls in.
11:05pm
Derrick asks her if anyone tried to get her to flip the votes jocasta brittany Victoria says nobody did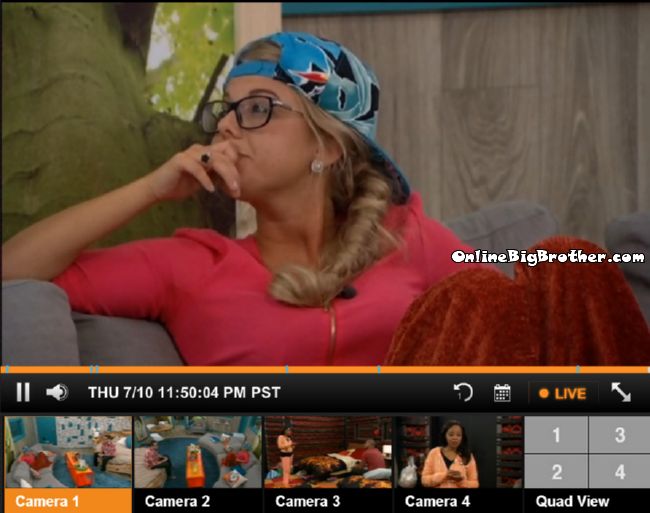 11:08pm HOh Nicole and Derrick HOH
They 100% agree they will not backd**r each other.
He explains how Devin came up to him and offered him a 1 week deal basically downplaying the bombsquad big time. Talks about the vote flipping of last week and how Zach was nominated. Derrick actually says he didn't know who the members of the alliance were he knew Caleb, Amber and Devin were in it.
Derrick – There was a bombsquad but I wasn't a member.. it wasn't an alliance.. what is an alliance
Derrick denies that the bombsquad was a real alliance they never got together decided on votres and such that is what he defines as an alliance. .
Derrick – "Time will tell I'm not a fan of Devin at all since day one'
Derrick explains an alliance is 2,3 or 4 people he trusts and they meet regularly and plan their game its' not 8 people that don't know each other.
Derrick says he wants Devin out of the game because he tried to blow up his game by embellishing there was a 8 team alliance. Nicole agrees with Devin being the target.
Derrick tells her personally he thinks there was more than 8 people in the bombsquad.. "PoW was in it to but pows name was never brought up. "
Derrick – what's your take
Nicole – Devine Is obviously the target this week… it sucks putting up two people and I don't know.."
Nicole says it's easier to put Devin up right away because it's one less person that will be p!ssed off at them. Derrick thinks if Devin plays in the COmpetition he's going to win it.
Derrick asks her if there are any people not going on the block 100%
Cody , Donny, Christine. Derrick agrees about Christine and Cody.
Derrick says somebody tried to flip the house today and he thinks it was Donny. "i didn't hear anything.. Donny was trying to vote for POWPOW to stay"
Nicole says she heard Amber was trying to flip the house
Derick wonder about Brittany
Nicole – Brittany wanted POW out 100%
She tells him he's a good game player and he definitely knows what he's doing. Derrick warns that Zach lets things go when he talks he gets excited and says the wrong thing. Nicole feels the same way
Nicole wants to be in a potential alliance with Derrick but wants to bring other people in. Derick says he's not in any alliance right now. Derrick suggests if she puts up Amber and he puts up Caleb.. they start talking about an alliance, Derrick wants her to figure out a name and if they want to add members along the way they will. Derrick says he's close to Caleb but he doesn't plan on keeping Caleb around . Nicole points out that Caleb will live the game
Derrick – "I rather get him out before Jury to be honest with you"
They go through potential nominees
Nicole won't put up Donny, Hayden, Christine, Cody, Zach, Brittany, Victoria
Derrick may potentially put up Donny.
Derick – "you put up Amber"
Nicole _ She put me up on the block.. Caleb is going to flip"
Derrick – "I'll put up Caleb.. he might not go for but I think he will if Amber is on the other side"
Derrick – "I might put up Jocasta"
Nicole – 'Give her a chance to compete and have some fun"
Nicole – "What about Frankie.. I'm not putting up Brittnay and you shouldn't"
Derick – 'We're not putting up Frankie because he's in with everybody"
Derrick wonders if they can get Caleb to throw the competition. Nicole doesn't know they could ask him that.
Nicole – "Which one would you be more upset about Devin, Amber, Caleb"
Derrick – Dein for personal reason"
Nicole – What if he wins POV
Derrick doesn't thinks the odds are so remote. Nicole is nervous about putting
Derrick – "I'll put up Caleb and Jocasta . You can put up Amber and.. you make the decision"
Nicole – I can't put up Donny… Let me put up Devin and Amber.. then they win and we're screwed.
Derrick – If Devin goes up he'll win the battle on the block
Derrick asks her if she would put brittnay up
Nicole won't do it she needs someone to volunteer.
Derrick says he'll put up Jocasta and Caleb, Caleb will throw the competition meaning he's HOH. If Devin gets picked for POV and he wins it they will send out Caleb if Devin doesn't win the POV they backdoor Devin. Nicole thinks if they have jocasta and Devin on the block they might not get the votes to evict Devin.