POV Holder:
Elissa
Next POV
July 27th
POV Used
YES
POV Ceremony
July 29
HOH Winner:
JUDD
Next HOH:
July 25
MVP:
AMERICA
Original Nominations:
Aaryn, Kaitlin, ELISSA (MVP – America)
Current Nominations:
Aaryn, Kaitlin, GINAMARIE (MVP – America)
Last Evicted Houseguest
David, Nick, Jeremy
Have Nots
Jessie, Candice, Andy, Spencer
9:00pm Backyard Everyone but JUDD is practicing. You can get a decent idea about the comp from the images. They have Bocci balls they roll down a ramp trying to get it to land in a buckets. The buckets are on a platform that rotates. Lots of comments about how hard it is. Spencer: "It's all about timing"
McCrea tells them they will most likely get one ball and there will be slots with points.
You can hear Howard "I just don't want to go first"
9:13pm Amanda and JUDD in the Kitchen
Amanda: "I feel like this is such a crapshoot"
JUDD explains the turnstile will have slots it won't be like it is now with buckets.
9:15pm Couch JUDD and Jessie
JUDD tells her the centre is where the buckets are
Jessie: 'I think it's a game of luck doesn't matter how much you practice"
Jessie says Andy, Aaryn Spencer are doing very good.
Jessie thinks it's a big deal that he told Kaitlin she might be going home. JUDD doesn't think is is wants her to stop freaking out.
9:30pm Jessie and Amanda Kitchen
Jessie tells her JUDD went to Kaitlin and said she had a 50/50 chance because Helen and Andy are not locked in their votes. Jessie seems to be the most upset about this.
9:34pm Bedroom Kaitlin and Gina
Kaitlin: "I'm 100% positive I'm going home"
Candice joins them
Kaitlin : "I don't have the votes to stay"
Kaitlin says she's heard she doesn't have Andy, Helen or Elissa. "This means everyone is lying to me"
Kaitlin says if she goes home it's because of a rumor about her having a secret 5 person alliance that's not true.
Candice: "I don't know I've been taking a nap"
Kaitlin says Amanda came up to them and said she swears on her life, dogs life and nieces life that she didn't start the rumour about the secret alliance.
Candice heard the same thing from her earlier today. "I was like.. I hear the words coming out of you mouth but I don't believe the words coming out of your mouth"
Candice: 'Let me talk to Elissa.. She's going to do my hair"
K: "Thank you"
9:44pm HOH Superfriends (Aaryn is part of the superfriends)
They're A bit worried that Spencer and Howard might win it they were good at the competition practice. McCrea says it's a crapshoot anyone has a chance to win.
Aaryn: "Kaitlin won't even talk to me"
jessie thinks it's because of what JUDD said.
Andy: "Wait what happened"
McCrea explains that JUDD told Kaitlin that Andy and Helen might vote for Kaitlin to leave. Andy: "What"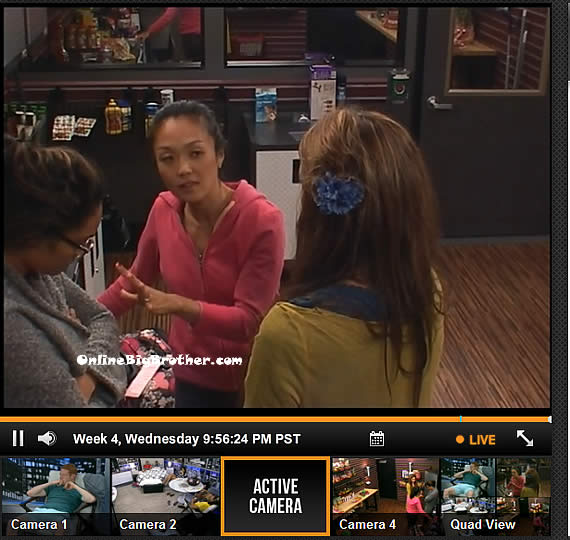 9:47pm Storage room Elissa and Helen
Helen tells her if Spencer and Howard win HOH they will try to take out aaryn instead of them. She points out Kaitlin is well liked and is a beast in competitions. Elissa is back on board to vote Kaitlin out.
Candice comes in
C: "Kaitlin keeps asking me about votes"
Helen: "You got to talk to JUDD"
Candice: "you would rather Aaryn over Kaitlin"
Helen says they are safer that Aaryn stays. Candice knows Kaitlin is going she understand their reasons she just dislikes Aaryn so much she doesn't feel right have that person in the house.
Helen: 'She never talked to us until Jeremy left.. Look how rude she was to me on my HOH night.. what if she won HOH and her head got big" (nice one helen)
Candice says that Aaryn is working with Amanda and McCrea. Amanda is targeting Candice so leaving aaryn means there's two girls in the house gunning for her. Candice says for her personal game keeping Kaitlin in the house for one more week is better than Aaryn. Candice thinks if Aaryn wins HOH she will put her up.
Elissa says Aaryn yelled at her for 10 minutes during the meeting last night. Helen points out that Candice wasn't there and didn't see it.
Helen is worried that Kaitlin is so likable if she wins HOH people will kiss her a$$ but making lasting alliances with. She adds if Aaryn stays noone will work with her.
Helen "Aaryn, Gina and Spencer are the next to go as long as we stick to the plan" (Superfriends)
Helen says that Kailtin is coming after her and Howard and she is scared to be on the block up against Howard. She brings up that Kaitlin told her last week when she was on the block she was targeting Candice and Howard.
Candice: 'Yes I know she was honest and told me"
Helen mentions the good thing about keeping Aaryn on the block is she can go on the block every week. Even GM will nominated her.
Candice: 'do you guys have a final 4 deal with McCrea and Amanda"
they deny it
Elissa: "Did Howard says that"
Candice: "A million people said that.. Aaryn said it on the chair the other day"
They talk around in circles about the benefits of keeping Aaryn. Elissa and Helen deny over and over they do not have final 4 with McCrea and Amanda.
Candice says she feels left out with Helen and Elissa. Now she has her Snugglemance with Howie she feels stuck in the middle. pleads with them to make sure her and Howie make it to Jury. Helen says he wants Jessie, Elissa and Candice to all go far in the game and she'll have their back. Helen: 'You guys are going to be my girlfriends in this house.. If Amanda and McCrea come after you we'll do whatever we can to protect you"
Candice pleads with them to help her and Howie make it to Juty. She knows he's a big physical threat, she points to Elissa "If your man was in the house she would understand" Candice says she feels bad for Kaitlin would rather Aaryn go but she understands their reasoning. Elissa would rather Aaryn goes to but is onboard to get the larger threat out. Helen says they can just get Aaryn out next week.
You can re-watch ever second on the feeds using their flashback feature.. It's just like a DVR and is super easy to use. click this link for a Free Trial —> Subscribe to the Big Brother Live Feeds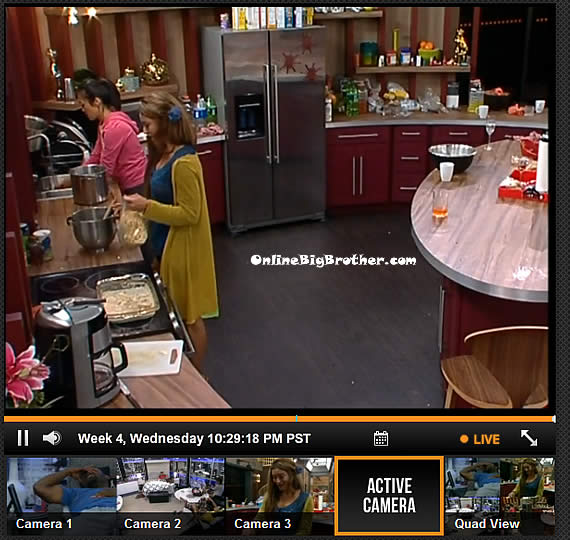 10:30pm Kitchen Helen and Elissa chatting about their familes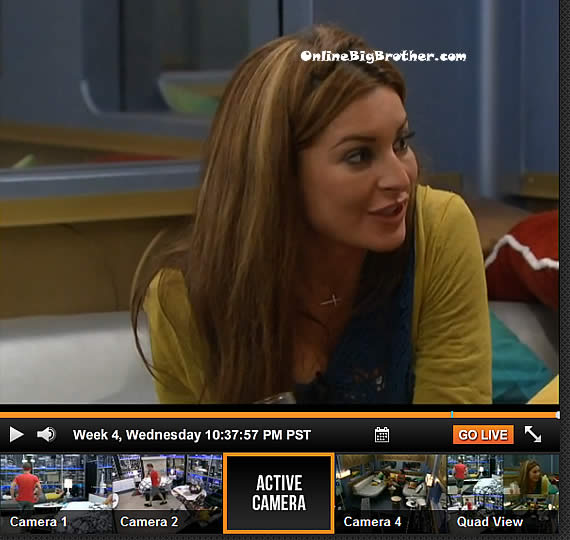 10:37pm Cockpit Elissa and Helen Elissa talking about Aaryn. She brings up the meeting last night. Helen tells her she handled herself well considering there was two girl;s attacking her.
10:40pm Andy, Elissa and Helen
Talking about worst case scenarios for HOH, Howard, Spencer or Candice. Helen thinks if Spencer wins the HOH she's going up. Elissa thinks if Aaryn wins she will go up. Helen says Aaryn hasn't mentioned Elissa's name in a long time last time she talked to her she was nominating Howard. Andy brings up how bad he feels about lying to Kaitlin. He tells them about the conversation he had with Kaitlin in the have nots where he lied right to her face. Helen says she feels horrible about voting out Kaitlin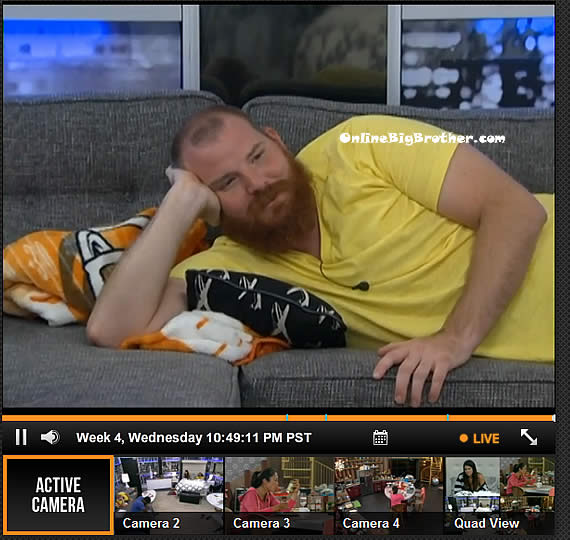 10:50pm HOH Spencer, Andy, Amanda, McCrea, Howie
random j*** *ff conversations Spencer holds the record out of the group in HOH. The most time he's ever did it was 10 times., "I was bored" (this wasn't 10 times in the house)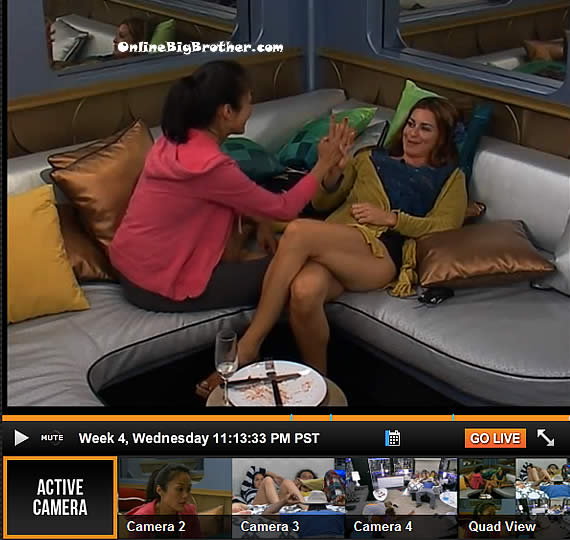 10:52pm Cockpit Elissa and Helen
Elissa is worried that Aaryn has no loyalty to them she is Allied with McCrea and Amanda. Elissa warns her that once Spencer and Howard are gone Amanda will have the numbers against them.
Elissa: "There is no way Kaitlin would say she was targeting us"
Feeds cut..
Elisa: "They (Amanda and McCrea) just run this house and they are going to win this game. "
Helen doesn't think so they won't win this, Spencer, Howard, Jessie and Candice all want Amanda out.
Elissa thinks that Amanda and McCrea will target her.
Helen says she will sh!t a brick if Amanda and McCrea put Elissa up. Helen: "Their target is Howard"
Helen warns her that everything they tell Candice goes to Howard. Helen just goes through all the reason to get rid of Kaitlin. Elissa agrees with them.
Helen: "I don't think Candice will let Howard put you on the block"
Big Brother comes up over the speakers calls spencer into the DR
Helen: 'WHy is he getting called in again" (he must have the DPOV)
Elissa: "Probably for his goodbyes"
Helen tells her Spencer will be going after Amanda he's been trying since day one. She keeps reminding Elissa that they cannot play by themselves yet they have to stick with the numbers because it's that voting block that will keep them safe if they end up on the block.
Helen proposes and Final 3 with Elissa and Andy. Elsisa agrees says that Helen is totally going to win the 500 thousands
11:40pm HOH Everyone but Candice, Jessie and Kaitlin
Spencer asks them what the most western state is. Helen guesses Hawaii. Spencer says Alaska. He then asks whats the most eastern state and McCrea answers Alaska. Spencer says correct so so far over it's in the eastern hemisphere.
Helen tells them about Big Brother Canada and how Glitter Gary had the most epic freak outs. She starts to do it on the ground (image) Helen then starts telling them about Topaz and screwing up the final vote. Helen says Glitter Gary was amazing. McCrea: "Yeah I liked him alot"
(Note that McCrea and Amanda take over the HOH bed again. They've spent more time int here than JUDD)
11:57pm Elissa and JUDD JUDD tells her he knows she doesn't like Aaryn but getting rid of Kaitlin is the right thing. Elissa says she has no personal feeling about Aaryn. She then starts talking about Aaryn lying about not campaigning against Gm and Kaitlin. Elissa points out that Aaryn has tried to make deals with every single person in this house to keep her safe.
[polldaddy poll=7268963]