POV Holder:
Elissa
Next POV
July 27th
POV Used
YES
POV Ceremony
July 29
HOH Winner:
JUDD
Next HOH:
July 25
MVP:
AMERICA
Original Nominations:
Aaryn, Kaitlin, ELISSA (MVP – America)
Current Nominations:
Aaryn, Kaitlin, GINAMARIE (MVP – America)
Last Evicted Houseguest
David, Nick, Jeremy
Have Nots
Jessie, Candice, Andy, Spencer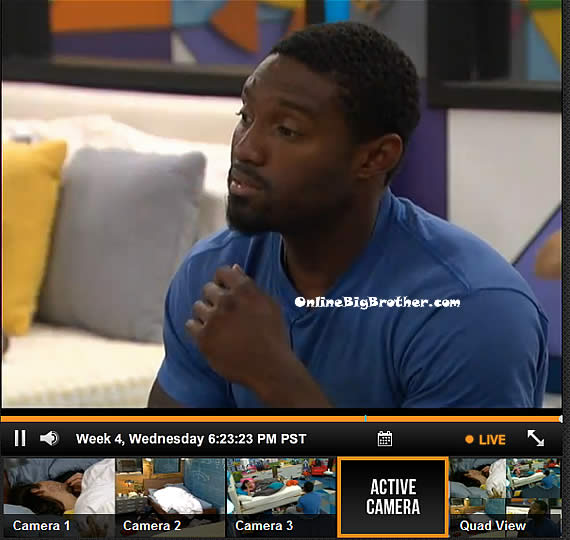 6:16pm Bedroom Howard and Kaitlin
Howard is talking about the 4 that everybody knows are working together. (Helen, Amanda, McCrea and Elissa)
H: "You can be loyal to them or you can be loyal to the house.. Like the house is figuring out what's up"
Howard isn't sure there are many people in the house brave enough to go against them.
Howard saying that he's not talking to nobody right now the more you talk the more things get concocted. He just tells people enough information then he sits back and watches where they take it. He adds that Candice is doing the same thing. Candice is a lot like Amanda she has the same fire. "she doesn't use her intellects for evil.. She's very real that is why I like her.. she stood up for me when they wanted to get me out of the house".
Howard was whoever stays Kaitlin and Aaryn he wants to make a big bold move break or dismember one of those four. Kaitlin points out that Aaryn has a deal with Amanda and McCrea, 'She's not going to put them up" .
K: 'If I win HOH i'm putting both them on the f******* block"
Howard says anybody can say that.
Kaitlin tells him that Amanda is campaigning hard for Aaryn to stay over her. "She's campaigning for me to leave why the f**** would I leave her here"
H: "I got my own fish to fry but it ain't got nothing to do with you gm or Aaryn.. the next HOH is very important"
Howard isn't caring about the people that scumm bagged him because thats the game. He is really surprised how personal the game has become. Howard says that there is that group of four people in the house that are going to make it to the end unless they do something about it.
Howard says him and Candice are campaigning for her. He knows if he doesn't win HOH and mcCrea, Amanda or Helen win the HOH he's going up so he's got to win it.
Howard about Helen: "She has a good heart but if she gets a little power it goes straight to her head"
Howard says he's been chilling and watching people the entire time he has a good idea where everyone is at just by how they interact with each other. One person gets up then a few minutes later another gets up and he finds them whispering. He plants a bit of information on one person a day later it comes back and he knows who is talking.
Howard: 'I have a good feeling you are going to stay.. I encourage you to keep talking to JUDD"
Kaitlin asks if Spencer Is voting for her
Howard says yes if that is what the house wants
Kaitlin thinks she has Jessie, JUDD, Andy, Candice Howard and Spencer
Howard says even if she doesn't have spencer Elissa will vote to keep her, "If it comes down to 5/5 JUDD has the final vote"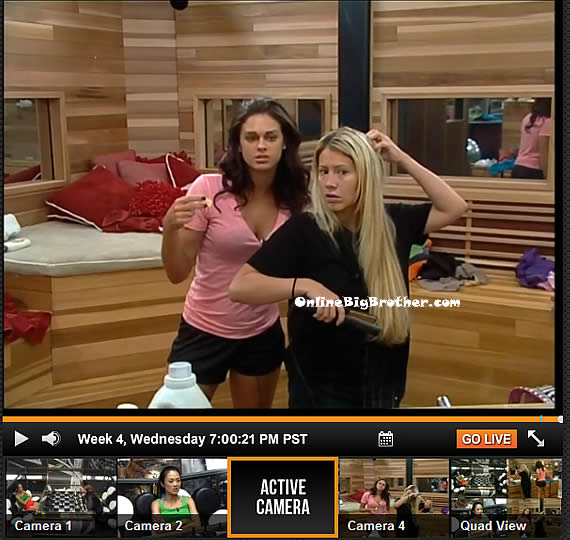 6:35pm bathroom Kaitlin and Gina
Kaitlin tells her to start being nice to Candice because she's going to be on their side. GM: "She's a f***** rat bro"
Kaitlin says Candice is so far up Howards a$$
Kaitlin adds that Helen and Elissa told her that they don't trust Candice anymore because they think Howard has gotten to her.
7:14pm Have Nots Andy and Candice
Candice is saying she likes Kaitlin everyone says she's so big and beastly in the competitions but Candice thinks Aaryn is more dangerous.
Andy: "She's big as hell"
Feeds cut.. when they come back they are chatting about the HOH competition being physical this week.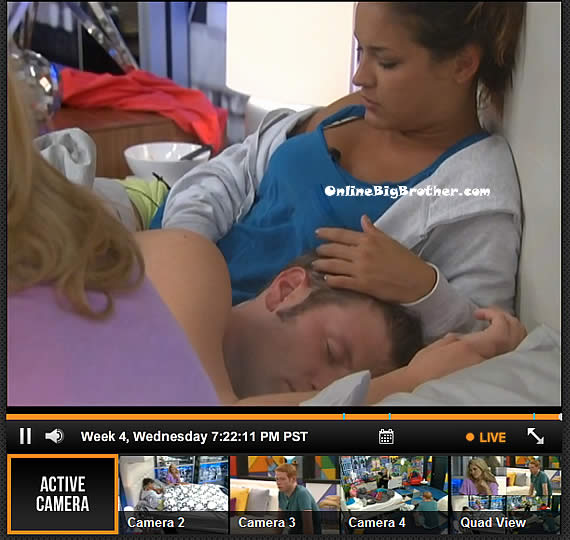 7:21pm HOH JUDD, Aaryn and Jessie
Aaryn tells JUDD the Diary told Amanda they will be let outside soon so he better wake up. She adds that KAiltin and Howard were talking in the bedroom earlier today and when she walked in they acted funny like they were talking game. Aaryn mentions that Kaitlin is going around saying that Helen deserves to win. JUDD wakes up "KJHKJHADKJF Khkjad sdkfhkjsahd fasfklahsf" (huh)
They start to count the votes Aaryn says there is no way Kaitlin is staying. They start talking about how much they dislike Candice.
Jessie leaves. JUDD tells Aaryn that as it stands now Kaitlin is going home at the most she can get is 3 votes against. (Spencer, Howard and Candice) Aaryn warns him about Helen says she's easily influenced. Last week she almost saved Jeremy because he offered her some crazy deal.
Aaryn leaves Helen comes in to listen to music.
Helen: "Has anyone told Howard, Spencer and Candice what to vote yet?"
JUDD: "I was going to do it tonight… "

7:40pm Bedroom GM and Kaitlin
Kaitlin reallys thinking she has the votes. Kaitlin explains what happened with the MVP. The lovely Brenchel army all voted Aaryn and/or Kaitlin to be nominated because they didn't know the nominations at that point. Since those two were already on the block the remaining votes went to Elissa. Gm was fourth because of her association with Aary.
They start talking about their dislike for Amanda. Kaitlin: "McCrea is such a baby b!tch.. she has him wrapped around her little finger"
JUDD joins them.. He says it's not going to be a tie but a lot of people are saying "It's up to the HOH" He adds that sometimes this is a cope out people use when they want to hide their vote. JUDD says he heard Andy and Helen say that. Kaitlin is worried she's going home. She doesn't understand Helen and Andy promised her protection for what she did last week and now nobody is coming through with their side of the deal. Gm asks about Jessie, JUDD doesn't know where Jessie's head is at she's been talking to Aaryn a lot in the HOH. Kaitlin wants to go talk to Andy right now about his vote. GM suggest she does it later tonight. Tells her that Nick and her would do all their talking at night so it's fresh in peoples heads the next day.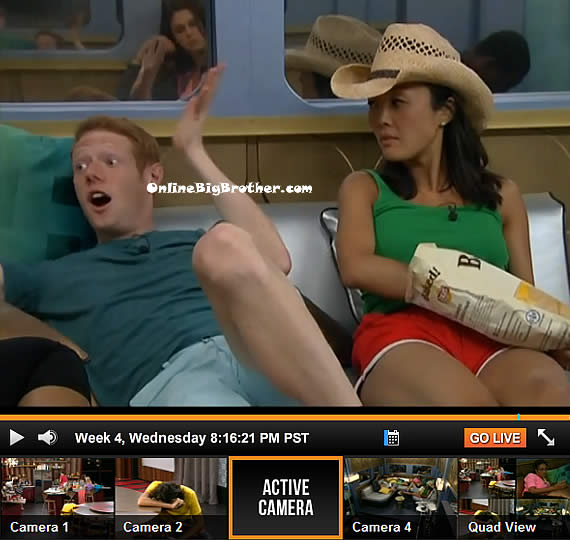 7:51pm Cockpit Howard, Andy, Spencer, Helen, Candice
Just Chit Chat
Howard says he once ate so many gummy worms he gained 2.2lbs
Andy says if he gets Have nots again he's going to have a "Gary Glitteresque freak out"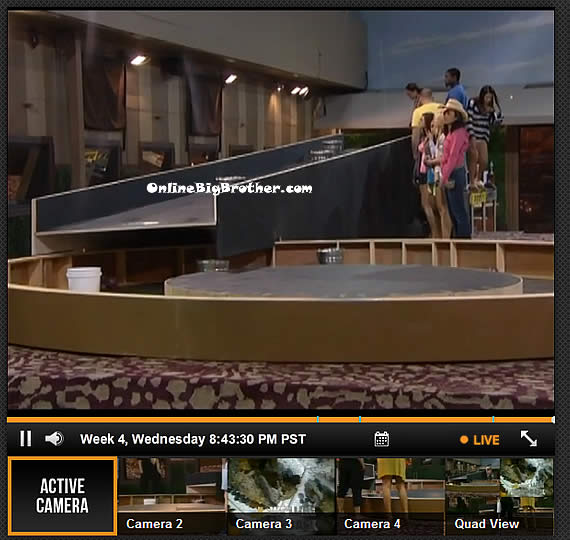 8:45pm Competition to practice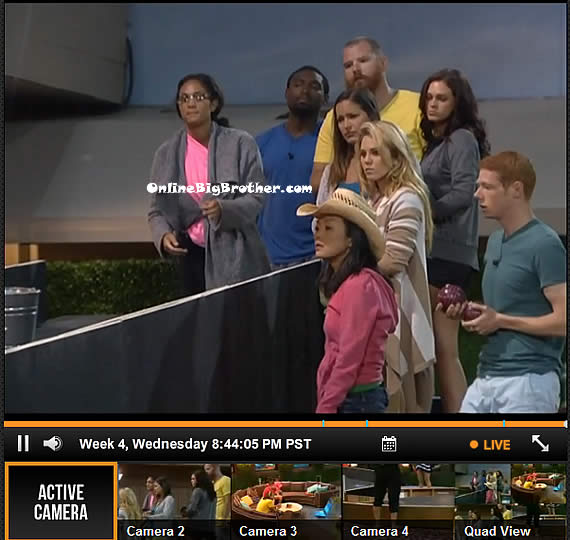 [polldaddy poll=7268963]