| | | | |
| --- | --- | --- | --- |
| POV: | Tyler | Next POV: | Aug 4th |
| POV Used | NO | POV Ceremony | July 30th |
| HOH: | Bayleigh | Next HOH: | Aug 2nd |
| Noms: | Brett & Rachel | Have Nots | Fes, Tyler, Scottie |
Big Brother Spoilers It's still super early but it's not looking good for Rachel.
1:05pm pool time..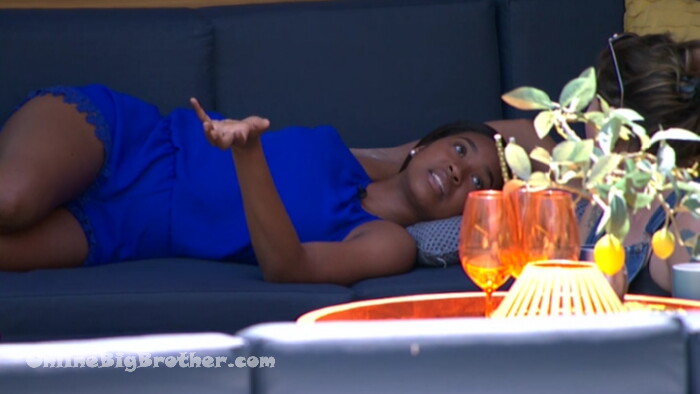 1:03pm Sam and Bayleigh
Bayleigh thinks the house is going to keep Rachel she wants everyone to vote their own way. Sam says it comes down to who makes a better roommate.
Bayleigh – if Brett stays in this house he might come after me.. since I put him up he hasn't spoken one word to me. Not even so much as a high ..
Bay – even at the ceremony when everyone was Bless you i was like are you going to say bless you to me
Sam – I never said bless you
bay – everyone was saying Bless you I was like say Bless me I was joking.. but he has not spoken to me (ZOMG)
Sam – maybe that is him trying to respect you because he knows that Rachel was straight up your a$$
Sam recommends she goes to Brett and tries to make peace.
1:35pm
Sam has made a counter for the backyard. 31 pieces of cardboard attached to dental floss. to the wall and back 31 times makes a mile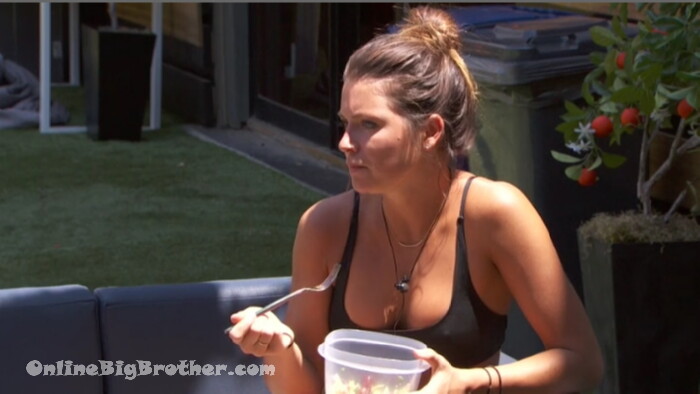 1:41pm Kaycee and Angela
Angela asks if she's talked to Rachel today. Kaycee hasn't. Angela says she's not doing well.
Angela – doesn't make any sense.. I'm like ok Chill the F* out.. she says the same thing every time why was it me .. did you ever think this was going to be fair and even
Kaycee – I didn't, I though it would be diplomatic for awhile..
1:48pm Suntanning
Rachel's game #BB20 @DawgsBigBrother pic.twitter.com/tDHdqFrO5c

— OnlineBigBrother.com (@bigbspoilers) July 30, 2018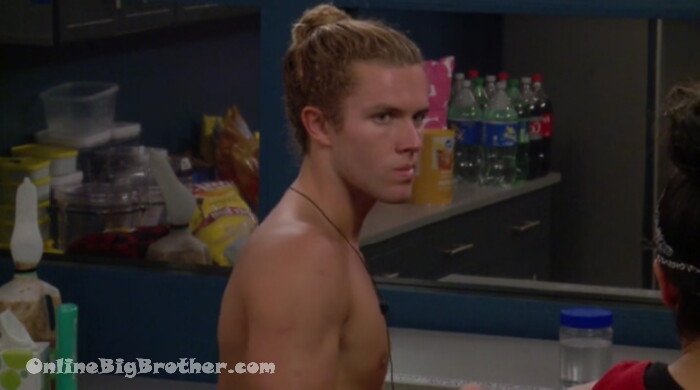 1:51pm Kaycee Tyler
talking about getting rid of Rachel is what's best for them.
Tyler says Sam is always saying she has their back
T – I know you and Rachel is close and sh1t
kaycee – it is what it is.. .
Kaycee says Brett is more level headed than Rachel.
T – if it's you and Brett on the block you're good if it's me and Brett on the block I have a better chance to stay
T – Rachel did it all to herself
T – Rachel threw your name out did Bayleigh tell you that..
Kaycee – yeah.. should I say something before or after..
T – maybe the night before.. JC is solid..
Kaycee – for sure for sure..
T – I told Brett to keep hanging out on Scottie, I told JC that I told BRett that we can pin the vote on Scottie.. and JC won't freak out
T – did Angela tell you that bayleigh has the power..
Tyler says that Rachel found out from bayleigh she has the power to change the nominations next week..
Kaycee – I thought Bayleigh had it..
Tyler – if one of us win HOH then she'll change the nominations.. Maybe it would be good to put her up so she changes the nominations..
T – it would also be good if Angela or Brett win HOH but then hopefully you and me don't go up
Tyler – it's going to get real tricky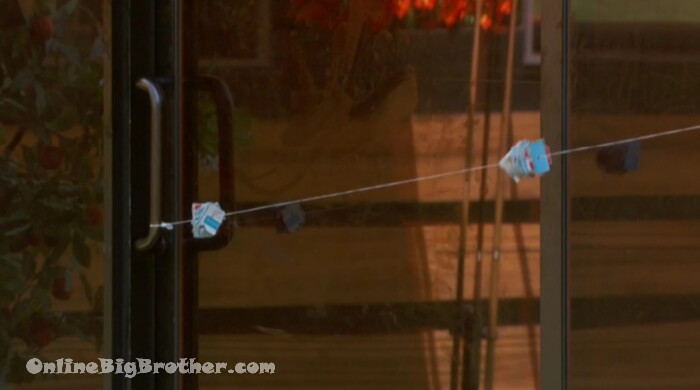 2:04pm The counter in action…
2:00am-3:00am Sam also made a corn hole game..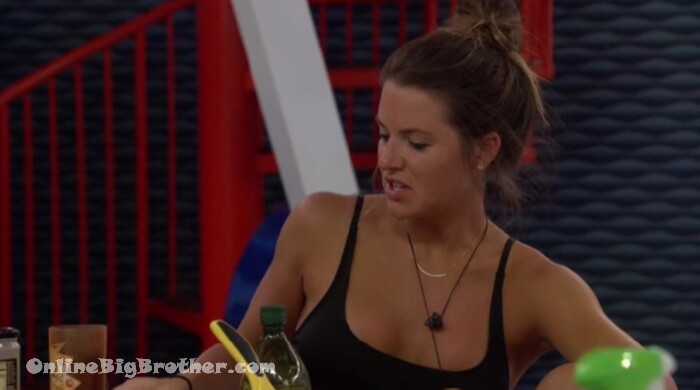 3:14pm Angela, Brett and Kaycee
Kaycee about Rachel "she's struggling"
Angela – dude, she comes at me she's like .. basically it's not fair
Angela snorts – "nobody said this was going to be fair
Kaycee – the sh1t already happened there's no going back
Angela – she's like Am I supposed to be OK with this
A – do you think Brett's ok with this .. do you anyone that's been on the block is ok with it
Angela laughs..
A – she's like (snarky voice) I'm not ok with it
A – I'm like i don't even know how to respond to that comment (LOL you had a final 2 deal with Rachel and a elaborate plan to fool the house into thinking you two ere enemies.. )
A – that's literally what I said like I don't know what to say
Kaycee – we just need to figure out what we need to tell Bayleigh
A – I say we ask for forgiveness and permission
Brett – 100%
Angela – so Rachel can't defend herself I am going to tell Bayleigh Rachel had a final 2 with you and me
Kaycee – right before not after.. by 10 minutes
Angela – she's going to be shocked..
Brett – honestly it's not a good environment to live in she asks like a crazy person running around..
Angela says Bayleigh thinks it's unanimous and Rachel is staying .
Angela – sh1ts going to hit the fan..
Kaycee – we have to tell her right before..
Angela – He'll have to go to her and be like Rachel did this, this and this, I Don't trust her.. Throw her under the bus hardcore ..
Kaycee – she threw our names up there..
Rank the houseguests!
Easiest way to Rank the house guests use link below