| | | | |
| --- | --- | --- | --- |
| POV: | Tyler | Next POV: | Aug 4th |
| POV Used | NO | POV Ceremony | July 30th |
| HOH: | Bayleigh | Next HOH: | Aug 2nd |
| Noms: | Brett & Rachel | Have Nots | Fes, Tyler, Scottie |
Big Brother Spoilers Nothing has changed.. Rachel is going, Rocks is all about the girls alliance, Bayleigh needs to slow down it's Monday..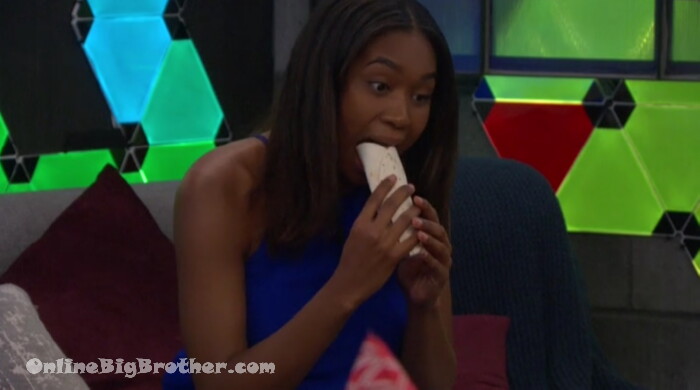 3:53pm Bayleigh and fes
Fes says using the veto put him in a bad position
Bay says haleigh did not act the way she supposed to, "All her loyalty should be with us.. you shouldn't be defending Brett you shouldn't be .,.. but whatever.. "
Bay – Everyone forgotten abotu it now because Kailtyn ended up going home
Bay – Haleigh doesn't understand the magnitude of you doing that
Bay – Even now.. and this stays between me and you Haleigh is kinda back to her own little ways. She was being all over Tyler today (poor wounded bird) and kidna flirt around with him.. I don't know what that's about I guess Kailtyn's gone
Bay – I'm like.. I need you to focus.. you know what i'm saying .. stick to the play..
Bay says Rachel will put Scottie and Rockstar up
Fes agrees..
Fes says if Brett survives this week that means he's survived "2 block.. you won't be able to compete against him that will be part of his speech.. you can't let someone survive the block twice" (fes is talking final 2 )
Fes says he's voting to keep Rachel. Bayleigh says Rockstar, KAycee and Angela are as well.
Fes – we need 5
Bay asks about haleigh "she's acting weird"
Fes – ask her if I talk to her she says she's being attacked.
They agree JC is a wildcard.
Bay says there's no other side not "just three of them"
Fes is saying JC, Tyler and Scottie are trying to get with their side (RS, Bayleigh and Fes)
Fes – they want to hope on board but on the bottom of their list..
Fes adds that once they take out everyone else they can turn on Scottie, Tyler and JC.
Bay – Scottie and Tyler are a dynamic duo..
She warns him that they will target Fes.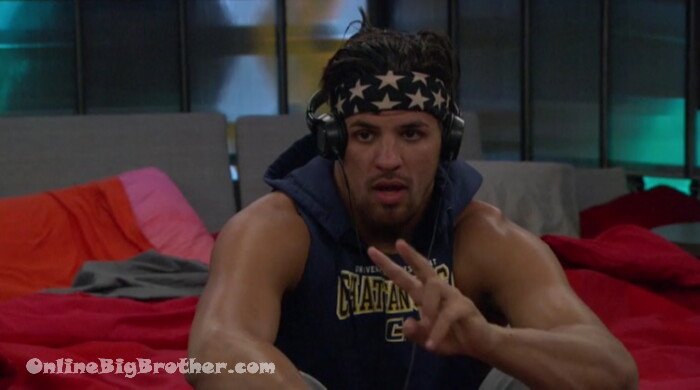 Bay – I love love Haleigh .. she's young and i just don't know if she's the person I want to take to the end
FEs – if she starts pulling her weight.. we got a long way to go and a lot of people to get out..
Bay – I want to keep her forever that's my little baby
Bay – Rockstar offered herself as a pawn to the other side.. so everyone on the other side was like we'll throw her up if I get HOH
Fes – what a idiot.. what is she doing..
Bay – I can't put my name on that.. I'm not offering myself up as a pawn..
Bay says they are good if Tyler, Scottie and Sam win HOH.
Fes – who would Sam put up
Bay – I don't know it wouldn't be us
Fes says Keeping Rachel puts the guys in a minority.
They talk about scenario for Bayleighs power.. (but everyone knows she has the power.. LOL )
Fes says If Kaycee and Angela win teh HOH they might put him up if she uses her power they won't think it's him because I got least trending.
Fes – they would probably think it's scottie, JC or Rockstar which means the replacement nominee would be Scottie, JC or Rockstar..
Bay – or Tyler
Fes – say Angela wins it.. put up Kaycee..
Bay – if that happens
FEs is suggesting she puts up Rachel again
Bay says Rachel thinks she has the power..
Bay – The only reason I don't want to touch Rachel she literally confronted me and was like I know you have a power so if I do that and she figures out it was me I will look like an a$$hole because I put her up as a pawn and I threw her right back up again
Fes – yeah but there's not way she can figure it out..
Bay – if someone is HOH we put up the two people closest to them..
(Bay needs to keep a burrito in her mouth until Thursday)

JC tells Brett he can count on his vote to keep the BRO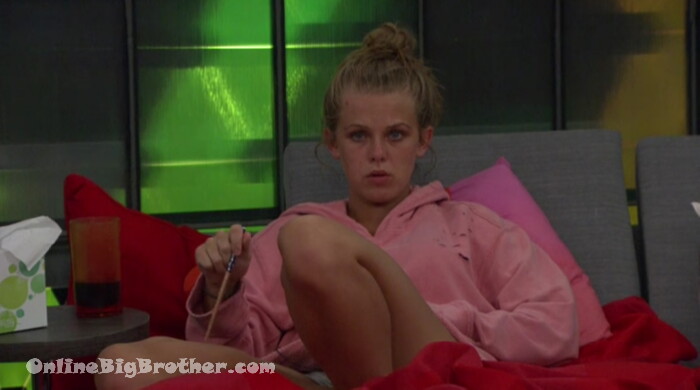 4:14pm Haleigh and Bayleigh
Bayleigh wants it to be unanimous for Rachel to stay
Haleigh thinks it will be . They talk about Brett's whole demeanor having changed..
Bayleigh – Brett doesn't need this Brett is here for fun
Haleigh – his family has 3 vacation homes
Bayleigh – not only does his family have money but he has money.. he said he is owed 10 grande..
(here we go gain
They agree Kaitlyn acted pretty sh1tty for someone that is a life coach
Bay – she really thought she was doing good and she was living her truth..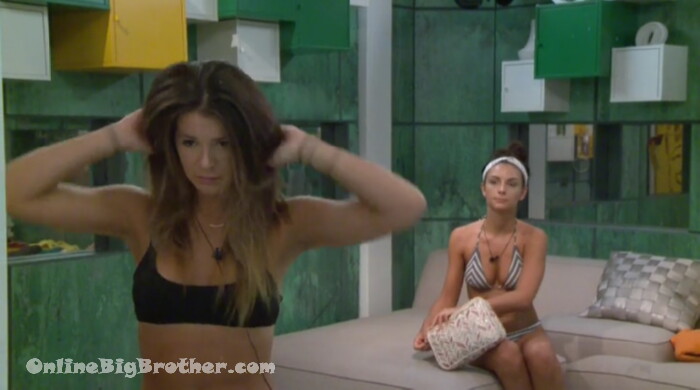 4:36pm Angela and Rachel
Rachel – I was crying
Angela – WHY? what are you worried about..
Rachel – it wasn't out here.. it's not that
Rachel – your hair looks good
Angela – thanks..
5:07pm Haleigh and Bayleigh
Haleigh mentions how rachel has been pissey today
Bayleigh – she better turn that frown upside down or we'll send her little booty home
Haleigh says Rachel snapped at Angela
BAyeligh says Rachel can go next week but they will have to backdoor her
Haleigh – A lot of people will have to go out the backdoor.. Tyler will ahve to go out the backdoor.. JC..
Haleigh wonders who she should up.. "I feel like Sam could go after my but then again would she"
Bayeligh suggests she puts Sam up because she'll be justified for that
Haleigh asks who goes up next to Sam
Bayleigh – Angela, Rachel or KAycee
Bayleigh says if she puts up Angela as a pawn she might get voted out..
5:12pm Rocks joins them
Rocks – so Scottie came up with our name
Haleigh – The Hives..
Rock – and I got stung by a bee last night
Bayleigh – that is like perfect oh my god..
Rocks – it rhymes with 5
Rock – we are are all on the same goal.. like a hive mind..
Haleigh – the hives all go for one goal
Bay – we all serve the queen just happens to be me right now.. I'm the queen bee..
Bay – I'm the queen bee of the hive
Bay – next week you guys can be queen bee
Rocks – I want Fes to be Queen Bee next week
5:23pm Rocks and Bayleigh
Rocks is saying she will put Angeala and SAm on the block and try to backdoor Tyler. Rocks keeps going on about the all girls alliance.
Rocks says Tyler is a beast and he's low Key, he hasn't given anyone his loyalty
Rocks claims she tried to work with Tyler early on but he made it clear he wasn't up for it and then Tyler started saying to put you up (first HOH)
Tocks says she thinks it was Tyler and Kaitlyn that flipped for Brett to Stay
BAyleigh agrees
Bayleigh starts complaining about having to deal with Fes all day..
ROCKS – I think it's time we take some shots at some girls.. (without the intention of them going home)
Rocks – every night that's what I think about … what combination would work who has the power..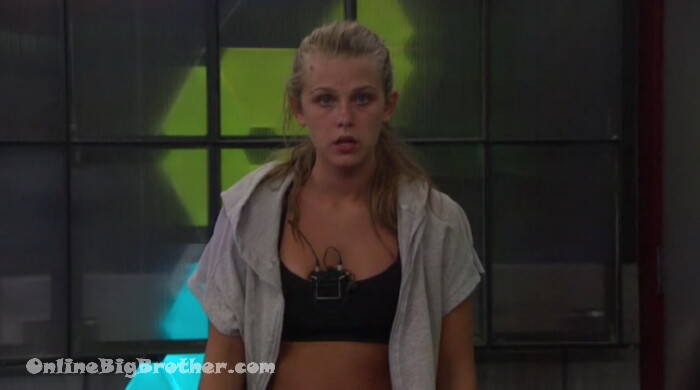 Haligh storms in.. she's pissed that Kailtyn took her pants..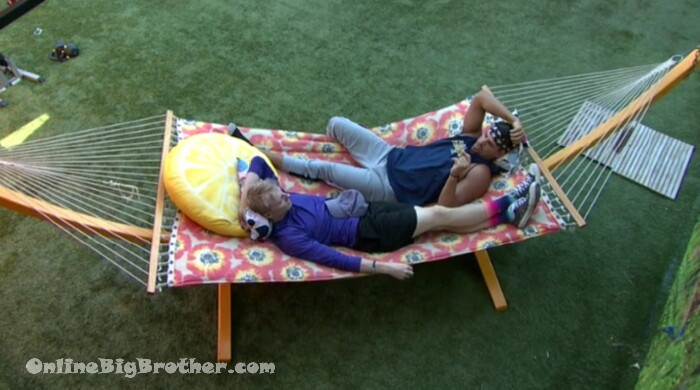 5:37pm Fes and Scottie hammock time
Fes is talking about moving to LA says it costs more to live here than Florida but there's more opportunities..
Fes says he teaches kids part time is real money makeing job is working at margaritaville.
Fes – my gig at margaritaville was F8ing dope.. there's universal studios..
Fes – now that Noms are locked where do you think the house is leaning to
Scottie – I think Brett is going
Fes – do yo think it'll be unanimous
Scottie sighs…
Fes – it's still really early
SCottie – unless something comes up I don't see why it wouldn't be
Scottie says he's 75% sure Rachel was the one that gave kaitlyn the vote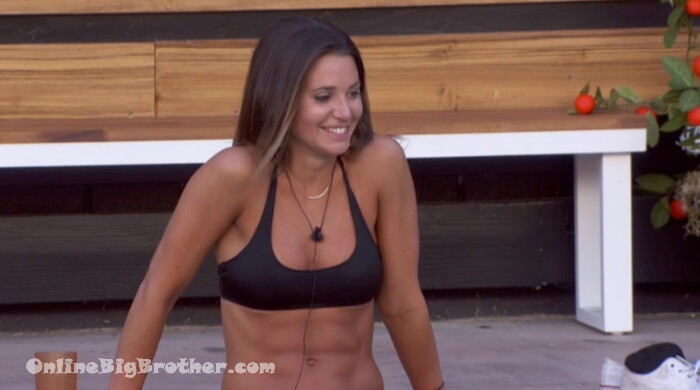 6:02pm Chit chat..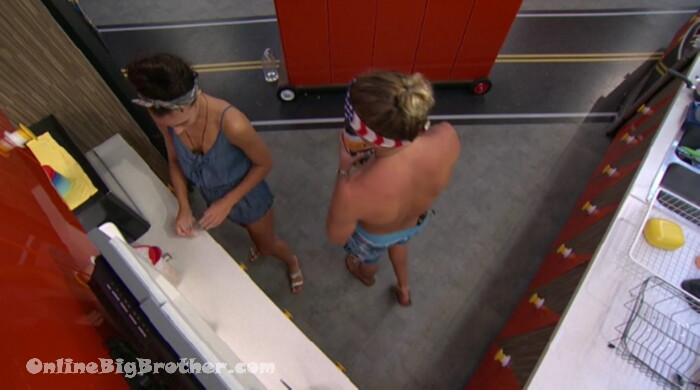 6:06pm Tyler and Rachel
Tyler says the whole girls alliance was bullsh1t they were telling their guys to target you girls.
Rachel says she got thrown for a loop this week.
Tyler- a lot of bullsh1t ..
Rachel – there something I need to talk to you about.. it's not earth shattering it would make you understand why I was trusting what she didn't.. theirs something she told me..
Tyler – yeah… does it have ot deal with the little place up there that's not pert of the HOH room
Rachel- I Was really believing it.. so.. when the time is right I will let you know
They comment about Rockstar and Sam walking around the backyard like two old ladies.. powerwalking with their weights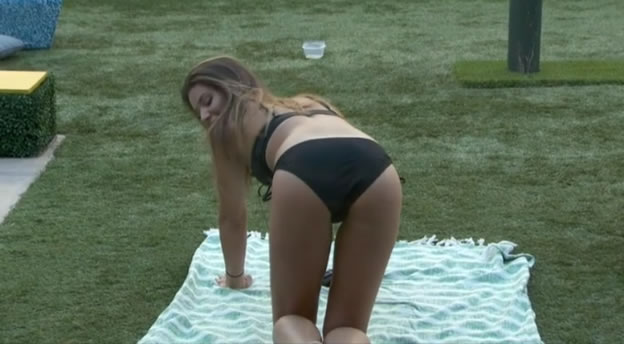 Workouts..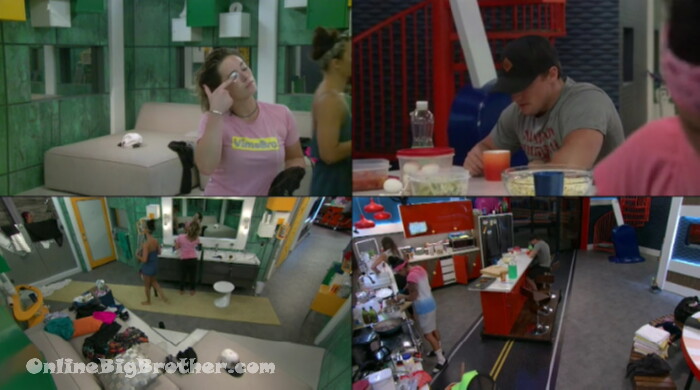 7:11pm Showers and food prep…..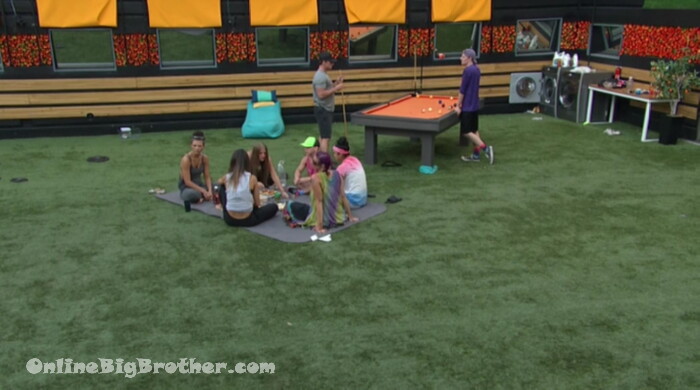 7:30pm Picnic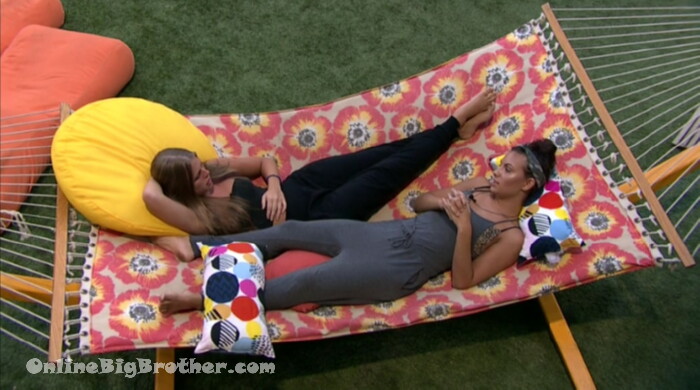 7:45pm Rachel and Haleigh
Haleigh talking about how Kailtyn thought the vote was going to 9-1 to keep her.
8pm Scottie and Brett are playing a game of pool. Fes and Rockstar are chatting about random things on the backyard couches. Meanwhile on the hammock – Haleigh and Rachel talk about Haleigh's schooling.
8:55pm Hammock – Haleigh and Rockstar. Rockstar – me and Fes were just talking about whether or not people like us. Haleigh – its crazy that 60,000 people tired out for this. Rockstar – Fes said that the biggest stadiums hold like 100,000 people and then like 6 million people watch this.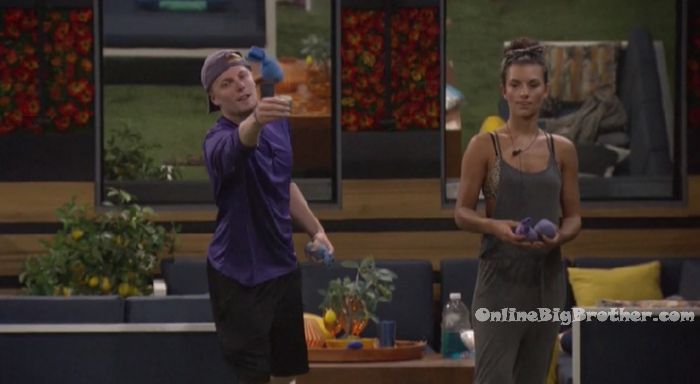 Rachel and Scottie play corn hole.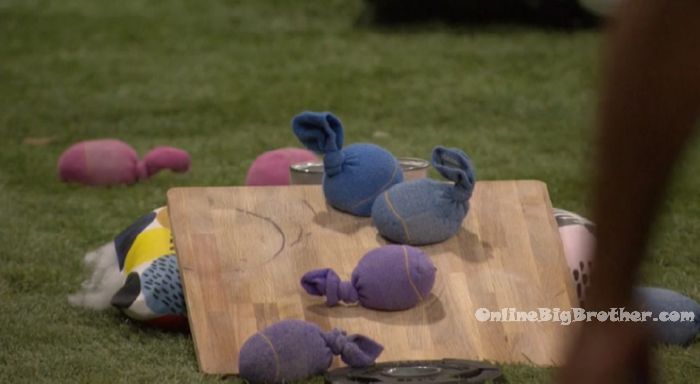 Rank the houseguests!
Easiest way to Rank the house guests use link below