| | | | |
| --- | --- | --- | --- |
| POV: | Tyler | Next POV: | Aug 4th |
| POV Used | NO | POV Ceremony | July 30th |
| HOH: | Bayleigh | Next HOH: | Aug 2nd |
| Noms: | Brett & Rachel | Have Nots | Fes, Tyler, Scottie |
Big Brother Spoilers Tyler did not use the power of Veto. The nominations stay the same with Brett and Rachel eligible for eviction on Thursday.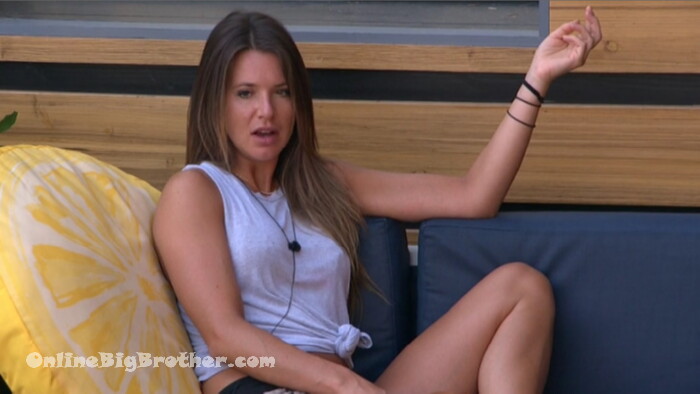 10:06am Angela and Sam
Sam – you had a talk with Bayleigh
Angela – me and bayleigh have so much in common it just sucks that whole Swaggy thing happened we would have been BFF I think she realizes that now..
Angela and Sam agree Bayleigh could never have branched out with Swaggy in the house.
Sam brings up the Bee that stung ROCKS last night.
Angela – quick update the girls alliance is all bullsh1t
Sam – ohh.. OKay..
Angela – surprise surprise
Angela – I don't trust anyone again.. I thought I could trust everyone that is with us.
Angela says there's one person that is behind it and she thought she was closest to her in the house.
Angela lists off all the things Rachel has done
1_ talked herself onto the block "told Bayleigh put me up .. .Basically"
2_ Told Bayleigh to put Angela and Kaycee instead.. said "they are skating by" added that she's a bigger target than them and could go home
Angela – She said put Angela and Kaycee up.. basically throwing me and Kaycee under the bus after Bayleigh was NO.. I have a good relationship with them .
3_ went through every single person to go up on the block over her.. Throwing everyone under the bus
Angela – Shes pissed Bayleigh off so Bayleigh is made at rachel I'm not going to talk Rachel out of this one..
Angela – Rachel starts getting paranoid and starts freaking out..
Angela says Bayleigh told Rachel that SCottie was the replacement..
Angela says she was forced to get involved because Rachel started crying Angela says she was able to talk Rachel off the ledge..
10:38am Scottie and Bay
Scottie says he talked a little bit of Game with Angela.
Scottie asks ed her where her head is at. She told him that Sam and her had a conversation about how Rachel is losing her mind.
Scottie – and then they talked about.. how.. She didn't feel left out with the whole yoga thing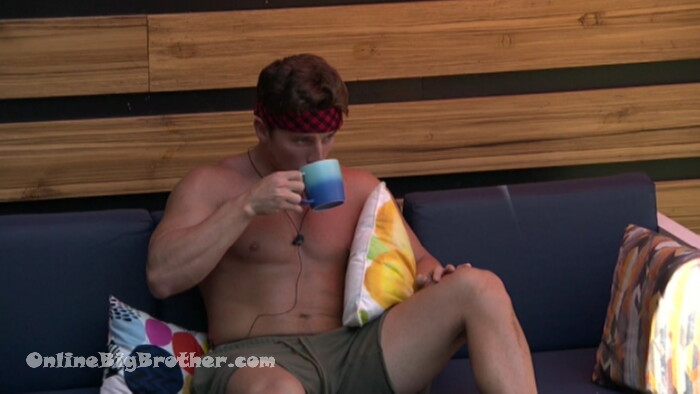 12:01pm Bro
Bro on the block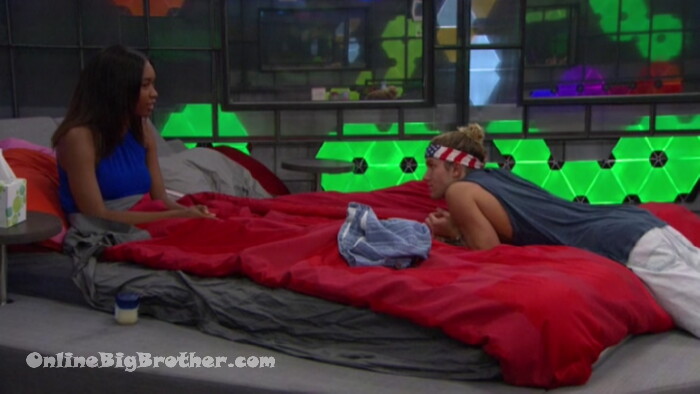 12:03pm Tyler and Bayleigh
Bay – thank you
T – I told you bay…
Bay – how do you feel
T – I feel good.. I told you that's what I want to do
Bay – and you did and now I have no doubt in my mind no questions about Tyler I trust you completely like we're so good.. you have no idea.. . it's done now we can chill for 4 days
B – now you have to win HOH
Tyler says whoever stays this week will be coming for him
B – if Rachel stays she can try to cvom for you is it really going to work
T – no.. probably not
B – and with BRett .. if Brett stays he's got a lot of people to go for he doesn't like ROCKS he probably doesn't like me now
B – hopefully nobody hates me this is a game..
T – it's fair Brett is obvious and Rachel talked herself onto it..
B – exactly.. and IO feel bad because Brett was like why Am I the Target..
Bayleigh goes on about never really talking to BRett and never talking Game with him.
Bayleigh says next week they have moves to do "You know what I'm saying"
Bayleigh tells Tyler he'll be sticking around don't worry "I'm telling you you have no idea I am so ready it's about to get so real.. "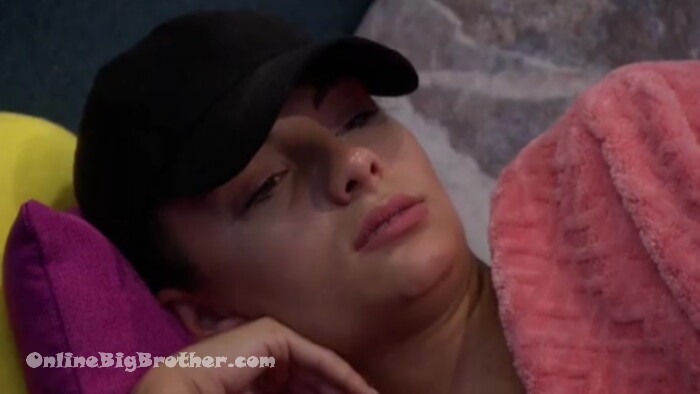 SAD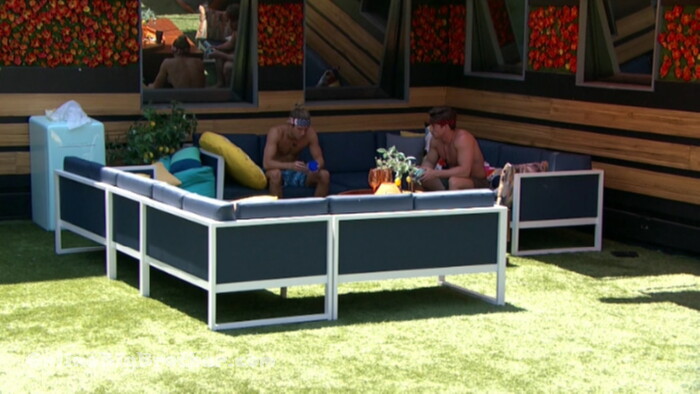 12:19pm Tyler and Brett
Brett says Rachel was with him earlier wanting to talk to him and he was like get the f* away from me she created they are in this situation because of something she created.
Tyler says before the meeting he told Rachel that he thought Angela would be the replacement and Rachel has a better chance to stay over her.
Brett – Those were fake tears when you said you weren't using the veto
t – pretty much.. just gotta keep her calm.
B – whats up with Kaycee
T – she'll vote with me .. with us, why?
B – I talked to her this morning she seemed kinda weird and Rachel was mouthing something to her on the couch.,.
B – any update with the Scottie convo?
T – I didn't talk to FEs but Scottie pretty much says he doesn't think the votes are there to keep you he really didn't say either way
T – just keep doing your thing with them.. I'll talk to Kaycee
Brett – you think she has an idea..
T – I dunno..
Tyler says Rachel doesn't deserve to stay if someone on the other side talked her into going up.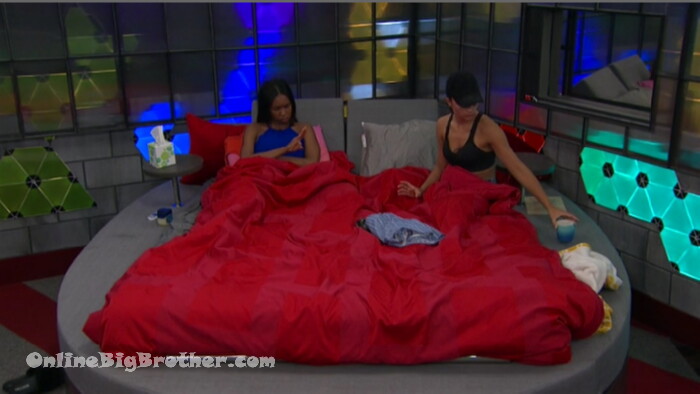 12:19pm HOH bay and Rachel
Bayleigh – Tyler is a very sweet sweet baby I think he always usually likes to do what the HOH wants
(Bayleigh continues to tell Rachel the person probably going home the details of her power)
Rachel – say Kaycee wins HOH and she put up Fes would you change the nominations
B – probably
Rachel – do you change it after
bay – no
Rachel – you change it before
Bay – mmmhmmm
R – like if somebody wins like I'm worried about who they would put up
B – yeah, Like if somebody I question their loyalty at all
Rachel – you don't wait until after they place their nominations..
Bay no
Bay – they place their nominations and they think they going to get them and I just change them
Rachel – so what would they do would they show their nominations
Bay – STOP ASKING QUESTIONS .. even though I trust you I don't want to put you in a position where you know too much.
A real easy way to support the site if you are an amazon shopper is to make your purchases through our link. You pay the exact same thing but we get a small % commission. It doesn't cost you anything and helps us out.
Amazon Canada
Amazon USA
Rank the houseguests!
Easiest way to Rank the house guests use link below