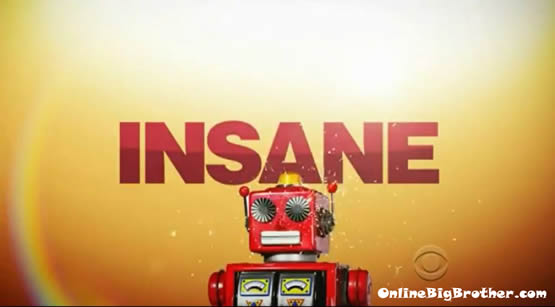 CBS has released another Big Brother 14 Promotional Commercial for the new season which will première on July 12th, 2012. The commercial features a number of Big Brother Alumni such as Lawon Exum, Keith Anderson, Rachel Reilly, Adam Poch, Brendon Villegas, Jordan Lloyd, Daniele Donato, Enzo Palumbo, Dr. Will Kirby, Lane Elenburg, Eric Stein, Hayden Moss, Amber Siyavus, Jeff Schroeder, Shelly Moore, Porsche Briggs, and "Evel" Dick Donato.

In the commercial the Big Brother Alumni say a few lines about what to expect in the new season:
Crazy Freaky Sexy – INSANE

Drama Crying Backstabbing Lying Cheating

Anything Can Happen – Expect the Unexpected – POW!

Big Brother 14 Season Premiere Thursday July 12th, 2012 ONLY ON CBS

This is going to be GOOD!

With a lot of past Big Brother House Guests in the commercial it makes us wonder if this season really could be an ALL-Stars or half alumni / half newbies! Interestingly enough, there are 17 Big Brother Alumni featured in the commercial and as CBS stated in the last commercial this season is going to have more house guests than ever. Previously the most house guests ever, was back on Big Brother 9 with 16 house guests. So will Big Brother 14 have 17 returning Big Brother Alumni house guests or maybe 17 newbies?! Only time will tell, as more information about the specific details of Big Brother 14 will be released shortly as we get closer to the première date. Take a look at our recent post about the Big Brother 2012 Dates, for specific dates to pay attention to prior to the première.
https://www.youtube.com/watch?v=OqdIF5m4vWc&feature=youtube_gdata
Why get your Live Feeds from Onlinebigbrother.com
Every Big Brother website selling the live feeds offers the same deal, so why not support the site that you enjoy by purchasing your live feeds with them.
Simon and I work 24/7 to keep you updated  the entire season so that you know exactly what's happening as it happens. It makes it so much easier for you to then use the Flashback feature and re-watch all the drama.  If you like our Big Brother content buy your feeds from us and help support this blogs.
Sign up by clicking the Big Brother Early Bird Limited Time Offer below:

Also, don't forget to download our FREE OnlineBigBrother.com Big Brother iPhone and Android apps. They are 100% free, all the best spoilers right away on your phone. Notifications, Thousands of screen captures, HOH, POV, Nominations everything that is on this site now on your phone.
Share it YO!!
Tweet