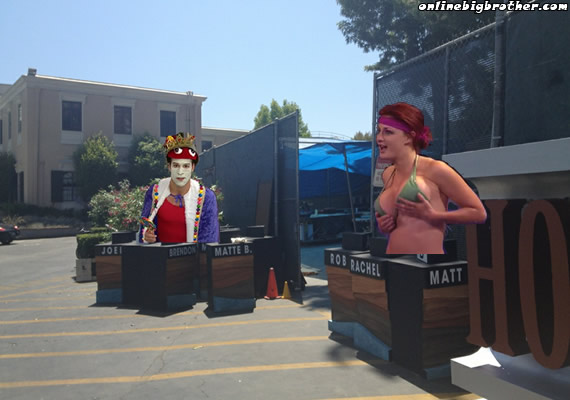 A timetable of what to expect for BB14. These dates are not mostly unconfirmed but are extrapolated from what has happened for the past 3 years. The only confirmation we have is that Media day was June 22 and The Season start date is July 12. Unless CBS has changed the Format of Big Brother I think these dates will be a pretty close estimate of what's to come for us BB fans.
June 22 Media Day
CBS invites the press to spend a day in the BB14 House where they take part in competitions, nominations, evictions the entire condensed Big Brother experience. This year from a leaked photo we get to speculate who has participated in this event. Last year Official Media day pictures were revealed on June 27th along with pictures of the BB house.
Here a list of names that could of participated from the media day event
Matte B – Matte Babel @thisisbabel
Brendon – speculated to be Brendon Villegas BB12 and BB13
Joe** – Unknown
Rob – Rob Moynihan @TVGMRob
Rachel – speculated to be Rachel Reilly BB12 and BB13
Matt – This must be matt from @wlbb He tweeted that he is participating in the Media Day event
M???? – Matt Whitfield @lifeontheMlist
This list was compiled with the help of info @dogdave's site
July 1 – House guests are Sequestered
BB14 Cast is placed in a Hotel and forced to watch old season of BB. At this point they are isolated from outside news/media sources.
July 2 – House Images released
Matt Whitfield who participated in Media Day tweeted that he's gagged about Media Day until July 2.


On June 22 Global TV's John Powell posted that July 2 will be the date we find out about the Cast and Twist, 11 Days before the start of BB14. Shortly after it was posted this information was removed from Global's website. Last year the House pictures were released on June 27, 11 days before the season premiere. It's safe to say something is going down on the 2nd and it's going to have House pics in it.

July 2-6 – "The Talk" Visit the House
Sometime during this week "The Talk" spends a day in the house. According to CBS' Schedule The Talk will not be in the Big Brother House during the Week of June 25 this only leaves the week of July 2nd free.
July 4 Julie Chen on Letterman
*Wednesday, July 4 Julie Chen to be on "LATE SHOW with DAVID LETTERMAN"
July 3-4 – Julie Chen tours the house
Around this time the Big Brother host Julie Chen tours the house and we start to get a few hints about twists.
July 5 – Big Brother 14 Spoilers Tidal Wave
Typically the one week before Big Brother Premieres CBS releases a deluge of information regarding the show.
Superpass interviews available to Live Feed Subscribers
Official House guest bios and promo pictures from CBS
At least one twist gets known with more to be released on the premiere day
July 8 Sunday – Houseguests Move in
last year the houseguests moved in on the July 3rd which was the Sunday before the premiere.
July 12 Show Premiere's
Show starts at 9pm ends at 10pm the live feeds will come on shortly after the show ends.
If Afterdark comes back it will start at 10pm
July 12 10pm
Simon and Dawg begin live blogging the feeds until the season ends in September (we never take a day off 5 years running :) )
If you like this site consider getting the feeds through us. It costs the same as everyone else with the difference being Onlinebigbrother gets some cash. Watch The Live feeds on Superpass