POV Holder:
Shane
Next POV:
July 28 (Saturday)
POV Used
POV Ceremony
July 30 (Monday)
HOH Winner:
SHANE
Next HOH:
Aug 2nd
Original Nominations:
Ashley and Joe
Current Nominations:
Have Nots (Cereal & Salmon)
Joe, Ian
Coach Competition Winner
Janelle (Wil SAFE)
Next Coaches Competition
August 3(Friday)
Last Evicted Houseguest
JOJO
5:15pm Cam 3-4 Boogie, Ian and Danielle Watch with FlashBack FREE TRIAL!
More or less Boogie is trying to sway her onto his side. He tells her that he was planning on leaving Janelle next week but Shane winning the HOH and firing 2 shots at her has changed his plan. Boogie tells her he's worried about Janelle being in the Game because she is so powerful in the coaches competition. He says there is no final long term deal with Shane but they are working together in the short term. He really wants to take out Janelle's players. Danielle says she trusts Boogie's players much more than
Boogie adds that he is 100% on board with Shane, Janelle is campaigning to get Frank backdoored there is no way he's going with them. Boogie: "Frank has won 4 major competitions in a row"
Danielle asks him if his team wins Head of Household next week is she safe. Boogie says yes she is safe they will target Janelle's players.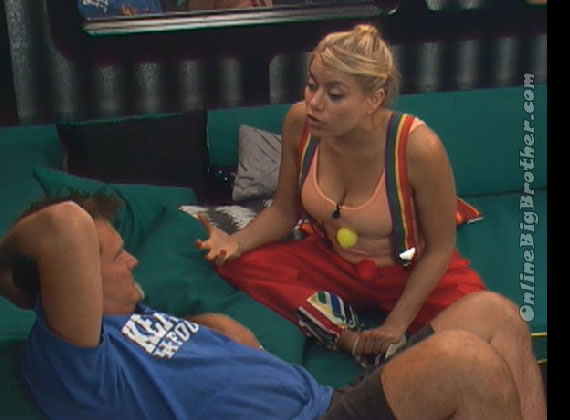 5:20pm Cam 3-4 Arcade room Ashley and Joe
For some messed up reason Ashley thinks that Shane and Britney are very receptive to working with them. She thinks that Joe has to start talking to Shane and making him feel like they can trust him.
5:23pm Cam 1-2 Boogie and Britney Head of Household
Boogie wants to know what is janelle trying to say to persuade them to team up with her.
Britney says she's trying to tell them all the trouble that has happened the past 2 weeks was Frank's fault and Boogie is just a flat out liar. Boogie laughs. Boogie says why would he team up with Wil and Ashley who haven't won anything when he can team up with Shane who is a BEAST. Shane joins them.
Frank joins them. Britney tells them that there is some major FRICTION in Janelle's team. Frank says that Joe is downstairs lying up a storm. He told Frank that the Diary Room asked him to make Britney and Shane a breakfast for a segment of the show. Shane and Britney go over all the crazy conversations they have had with Joe, Wil and Janelle.
Shane says they need to talk to Danielle because he's worried that Janelle will sway her over. Boogie mentions that he had a good conversation with her he thinks they are on decent terms. Frank also is starting to talk to Danielle more. Boogie thinks that Dan is a smart enough player to know that Janelle offers nothing for Danielle's game. Britney mentions again that Janelle's team is breaking apart and there is going to be a blow up soon.
Frank and Boogie bring up a final 4 with Jen, Ian, Shane and Frank.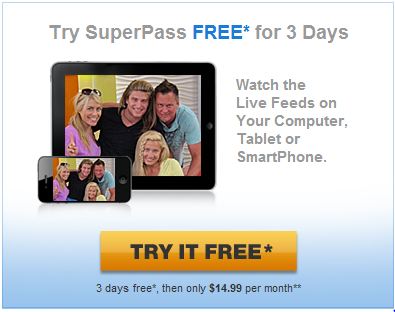 5:34 Cam 3-4 Danielle and Dan
Dan warns her when she talks to Boogie he's trying to read her so she has to be careful and give very clear direct answers. Danielle: "He's talking MAD CRAZY Sh!t about Janelle" Danielle adds that Boogie told him he wants Shane out before final 4 because he doesn't think his players can beat him. Danielle says that Shane wants to take her to the final 2. She wonders if Shane should put Frank up. Dan says if that happens Danielle decides who goes home. Janelle and AShley barge in say they have the sushi tonight.
6:01pm Cam 1-2 HOH Shane, Britney and Frank Watch with FlashBack FREE TRIAL!
Frank is thinking Jenn and Ian want to take each other to the finals. Frank is happy with the 4 of them getting to the end then fighting to win. Shane and Frank both agree they do not want to play a dirty game were they backdoor people.
Danielle joins them
Shane says if Wil wins the HOH it'll be Shane and Frank up on the block. Frank agrees says he'll fight as hard as he can for HOH next week. Britney starts deconstructing all the Sh!t Joe was starting during Willie's HOH.
Frank says he was calling Janelle out for throwing him under the bus and she continues to lie to him right to his face.
Britney leaves to make a coffee. the three of them agree to have a secret alliance.
Frank: "The 3 amigos"
Danielle: "Is this for real right now"
Frank and Shane tell it is but they have to keep it secret.
(I wonder if Dan will agree to this)
Frank says there is 7 players in the house and Frank is confident he can get Ian and Jenn's vote at least for one more week. Danielle is really excited that she is in a secret Big Brother Alliance. (Any of you feed watchers notice that Danielle points out to everyone that she is the smallest person in the house other than Ian, She does this at least once every 30 minutes)
Talk goes into the coaches joining the game. Frank says he will try and take out Boogie and Dan they are by far the biggest threats in the game. Danielle tells him there is no way the coaches coming back into the game she says it's a mathematical impossibility.
6:20pm Arcade Cam 3-4 Britney, Wil and joe
Joe claiming that one of the reason he signed up for Big Brother was because of Britney being on BB12 and "The whole Lane Thing" (He actually said that and she kept a straight face OMG)
They are trying to get a final 4 deal with Shane.. Joe and Wil engage in some Ian bashing saying he's throwing competitions and once there is a mental HOH he'll win it.
6:40pm HOH Britney, Danielle and Shane Britney tells them about the conversation in the arcade room with Wil and Joe. She brings up Joe saying she was the reason he signed up for Big Brother. They all laugh. Britney mentions that Wil is being nice again Janelle must of had a talking to them. Danielle asks her if they are getting to her. Britney says no way, they are trying to guilt her but its not going to work. She points out that perhaps Shane was a bit too cocky with them. Shane agrees says his emotions got the better of him.
Chit Chat starts up they talk about losing their virginity. Britney: "I lost my virginity with my husband"
Danielle says she's had 7 partners, Britney won't tell them how many she's had. Shane makes it should like he hasn't had many.
Britney leaves.. Playful flirting starts.
(I think the Danielle/Shane showmance is starting up. ._ )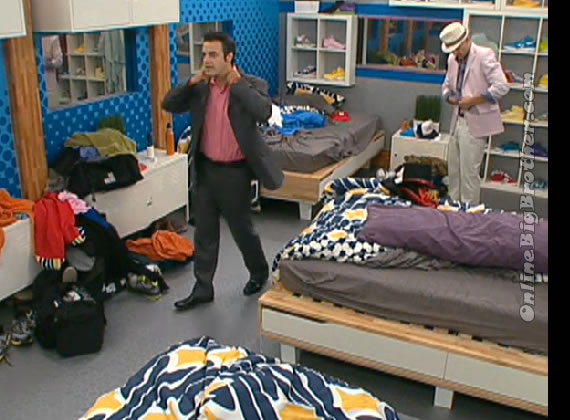 7:06pm Getting ready for the Sushi party tonight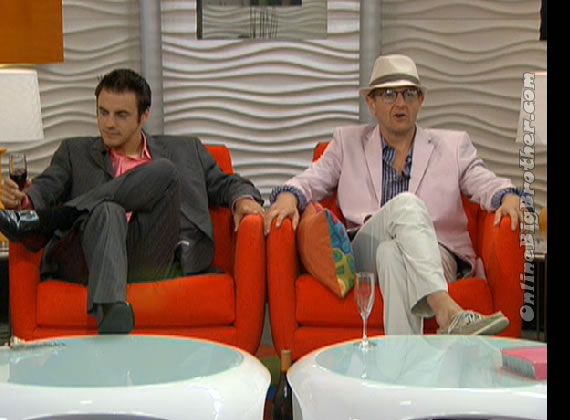 7:40pm people just milling around gettign ready for the sushi dinner.. Boogie, Janelle, Dan, Danielle, Britney, Shane are attending.
7:53pm Sushi party coming up
8:30pm random conversations going around about casting, reality shows.. etc etc.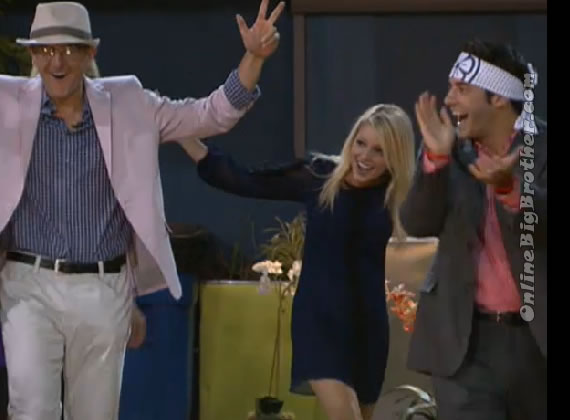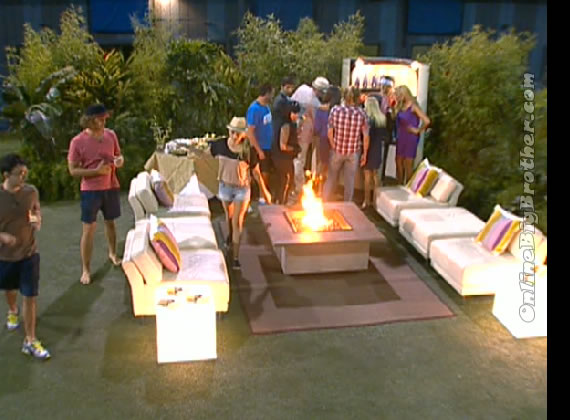 8:51pm Cam 3-4 Sushi Party Starts
Watch what happens, AS it happens: Big Brother 14 Live Feeds!
Subscribe today for your FREE 3 DAY TRIAL!


Share it YO!!
Tweet