POV Holder:
Shane
Next POV:
July 28 (Saturday)
POV Used
POV Ceremony
July 30 (Monday)
HOH Winner:
SHANE
Next HOH:
Aug 2nd
Original Nominations:
Ashley and Joe
Current Nominations:
Have Nots (Cereal & Salmon)
Joe, Ian
Coach Competition Winner
Janelle (Wil SAFE)
Next Coaches Competition
August 3(Friday)
Last Evicted Houseguest
JOJO
10:40pm HOH Cam 1-2 Danielle and Britney Watch with FlashBack FREE TRIAL!
Danielle is going on and on about Shane doesn't want to look at her after their Kiss.. She feels that Shane thinks she's a bad kisser. Britney tells her that it's not like that Shane probably doesn't want to be kissing you in front of everyone. Danielle is getting a bit pissed about Dan pulling her away from the alcohol (Danielle was clearly getting drunk and Dan asked her to come talk with the guys for a bit and let Janelle finish the wine) Britney explains to her that Dan is just looking out for you, he's very protective and in this game thats a good thing to have. Danielle keeps going on and on about the kiss with Shane and how he probably doesn't like how she kisses, Danielle wonders why the kiss was so short and why he never tried to kiss her again. Britney tries to explain that he doesn't think she's a bad kisser he probably doesn't want to be kissing when you are tipsy drunk in front of a bunch of drunk people. Britney changes into something more casual asks Danielle how she looks.. Danielle: "You look hot" Britney: "i don't want to look hot" (I added a picture of what Britney is wearing in the Gallery below) They head downstairs so Danielle can change. While downstairs Danielle tells her she's buzzed right now. Britney doesn't feel the alcohol at all mentions that the drinks they had during the sushi party were gross. Danielle starts to change Britney tells her to really watch out that the camera doesn't see you "Nip Slips last Forever" Danielle knows. Danielle tells Britney she is so glad they met. the girls hug.
11:15pm Cam 1-4 everyone talking it up having a good time with the exception of Joe and Danielle. Danielle is siting on her own near the fire. (She's probably pissed that Shane isn't sitting beside kissing her)
11:45pm Cam 3-4 Shane and Danielle
Shane's joking around saying that at least with Jeff and Jordan. She won a HOH. Danielle brings up the spin the bottle game.
Shane says his hair is getting long he needs to cut it.
Danielle: "your hair looks hot.. .'You were so sweet tonight"
Britney and dan come up.
Dan jokes around asks Shane if every girl he kisses turns into a starry eyed girl like danielle.
Dan and Britney really want to tell them about the dangers of a showmance. Britney explains that a showmance will make them a target. Someone will put them both up on the block. Danielle says that dan told everyone at the sushi party if she was going to have a showmance he would like her to have it with Shane.
Dan: "I was joking"
Britney says no more public affection
Shane: "So what you are saying is it's bad for our game" (What he's thinking is thank god she might leave me alone now)
Britney and Dan are serious though, Dan points out to them there is no point being in a secret alliance if they are having a showmance.
Shane: 'What should I do.. kiss other people?"
Dan: "No say something like kissing Danielle is like kissing my sister"
Britney asks Danielle if she can act tomorrow like kissing Shane was a big mistake. Danielle says she can if it's good for their game.
Shane: "You want me to throw a zinger and ask Wil to sleep up here with me"
Dan heads downstairs and Britney goes to the bathroom. Danielle asks about the kissing. Shane tells her she's not a bad kisser.
Get The Live Feeds for your iPhone or Android Phone! Comes with a regular subscription to the Live Feeds Subscription Link
12:00AM Cam 1-2 Boogie and Frank
Boogie is wondering if Jenn could beat anyone in the final 2.
Boogie: 'My biggest fear next week is if Janelle wins and keeps Wil safe.. Wil's got to go everyone likes him he's like the court jester"
Frank disagrees says that earlier today Wil was burning a lot of bridges.
Frank says Wil was talking mad shit about Britney when they were at the sushi party.
Boogie is thinking if he can trade a player he'll take Shane and give Britney Jenn. Frank thinks Shane will be excited to join them.
Boogie: "I love jenn and all but I don't think she has a 5th gear" (meaning she sucks at this game)
Boogie thinks that Dan knows he has someone that will take him to the end but he knows that Danielle won't win the game unless she's up against a HUGE floater.
Boogie: "He's hoping for the Jordan 2009 strategy"
Boogie says Dan doesn't really care about Danielle making winning because deep down he believes they are coming back into the game. Boogie explain how he's talked to Dan in detail and Dan wants to work with Boogie, Frank, Jenn and Ian. Boogie: "At least in the short term" Boogie does not think the coaches will come back in.
Boogie tells him that this years cast is really weak. If they can get rid of Shane early Frank will have the win. Frank thinks if they can work with Shane next week and get Wil out then hopefully Ian or Jenn will get the HOH and put up Shane. Boogie thinks they can engineer it so Frank votes to keep Shane to secure a jury vote. Boogie foes want to work with Shane for a bit but at the end of the day Frank will not win if Frank is up against him with 6 POV's and 3 HOH wins.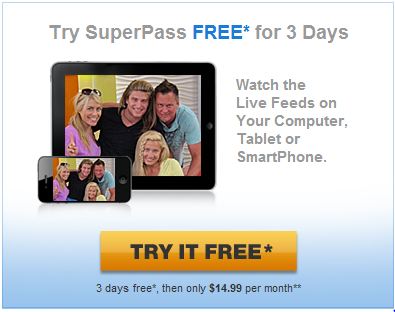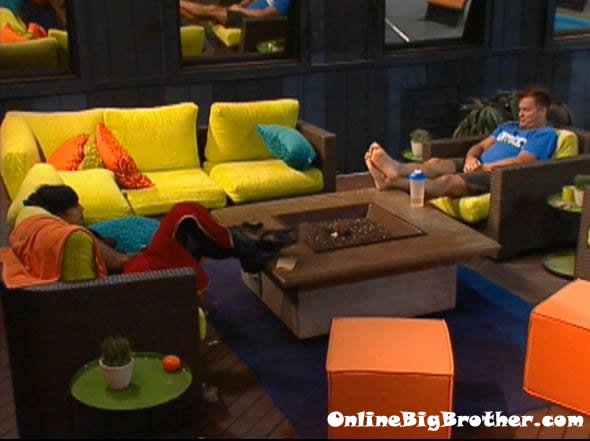 12:45am In the backyard, Joe and Jenn are talking. Jenn tells him the other girls have talked about keeping the big guys in the house fight it out, so that they can stay under the radar. Joe says that's a great idea, a smart way to play it. He says that it's smart for the girls to lay low right now because the guys aren't going to pick them off, they are busy picking each other off. Joe tells her that if he goes to jury he will work on votes to sway towards the girls in the event one of them makes it to final 2. Joe says that he doesn't want one of the guys to win this game. He says that everything he has heard from others leads him to think that Ian will be the next target. He says that Frank and Shane will most likely have a hand in sending him home. Joe says that nobody wants to be up against Ian when it comes down to Q & A memory competition. Joe says that Boogie is trying to sell the power male thing. Jenn says that she has known that since day one. They both comment on how Dan is they best coach and that Danielle is lucky. They say that they both wish they would have been on his team. Jenn says that Dan gives great advice. Joe says that Dan is a really smart guy. Jenn says that she talks to Danielle and Ashley a lot. Joe says that Ashley is going to need you when I'm gone. Joe says that he thinks Wil and Janelle will abandon her. Joe and Jenn decide to head to bed.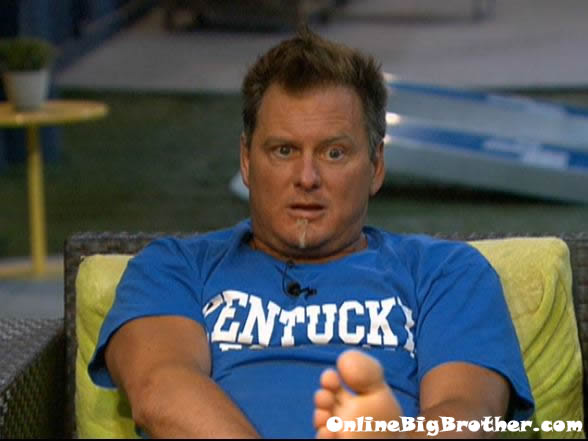 1:10am Ian is the only house guests still awake. He is sitting in the hammock rocking back and forth. He says to himself that next week is kind of a mess. He says that he got himself into a decent position, that's for f*cking sure. Ian says that he can't put Ashley up if he wins HOH. Ian heads inside and gets ready for bed.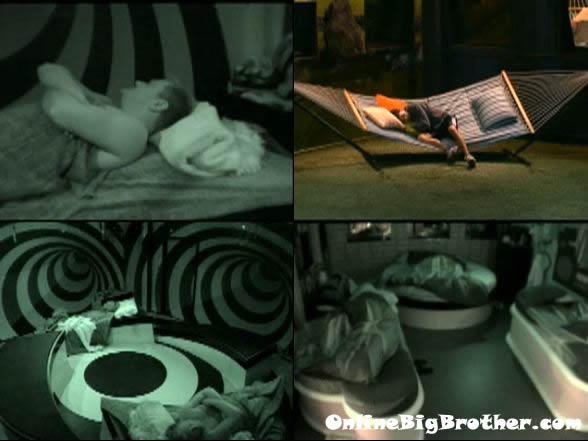 1:25am All the house guests are asleep…
Share it YO!
Tweet