POV Holder:
???
Next POV:
Aug 4 (Saturday)
POV Used
???
POV Ceremony
Aug 6 (Monday)
HOH Winner:
Danielle
Next HOH:
Aug 9
Original Nominations:
Wil and Frank
Current Nominations:
Have Nots (Cereal & Salmon)
Last Evicted Houseguest
8am Mike and Wil are talking in the kitchen. Mike tells Wil that he didn't understand why Wil was still joining all their little meetings. Wil says that he was genuine with his feelings, and that I think I am up on the block because of Janelle. Wil tells Mike that he was told he is a pawn and that they didn't want to put Mike up with Frank because they told me that you would probably go home when they want Frank out. Mike and Wil head into the arcade room. Mike tells Wil that in a matter of hours you could have a necklace around your neck that could save you and change things dramatically for you. Mike explains that it was a good move for Wil to separate himself from Janelle. Wil explains that he felt like he was doing a lot of the dirty work for Janelle. Mike says that if someone does me wrong, you better watch out. Mike explains his conversations with Britney and Janelle about them trying to get Frank out. Mike tells Wil about how right as they were heading out into the backyard for the endurance Dan told Mike that he knew last night that they were voting out Frank. Mike says that he realizes his chances of his name getting drawn for the POV are slim. He says that he hasn't burned the Wil H. bridge yet. Mike tells Wil that actions speak louder than words and if you pick me for house guest choice to play in the power of veto that will go a long way with us.
Sign-up for the Big Brother Live Feeds and get the MOBILE Feeds for FREE!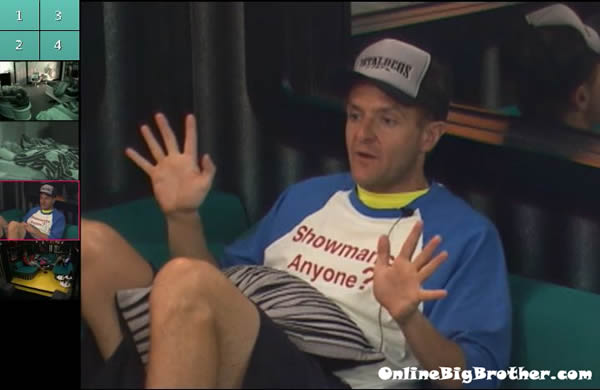 8:35am Big Brother wakes up the house guests. Mike says that it is only 1 out of 10 people that I will win HOH next week so I guess that isn't that threatening to people. Mike tells Wil that he made a big mistake but that he made it early and that Frank and him aren't upset with him. It wasn't just you it was a lot of people. Mike says that he will be gunning for Janelle. Mike says Wil that Janelle wanted to work with just the coaches when they were brought in and he was like why? I don't want to. Mike says that the Power of Veto Meeting players will happen in one hour.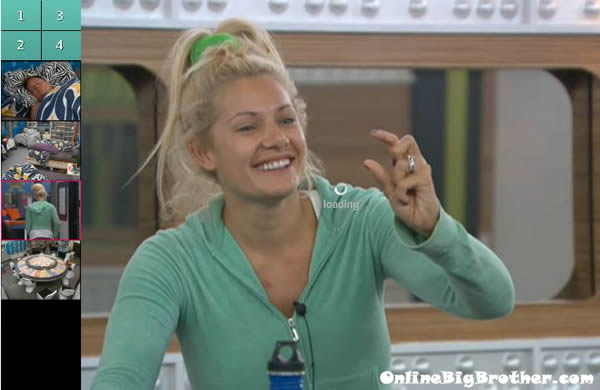 8:45am – 9:25am In the kitchen Janelle whispers to Wil what the votes are and how Wil is safe and doesn't need to worry. Janelle then starts talking about all the long black hairs she found on her soap in the bathroom. Frank joins them in the kitchen and the whispering stops. Mike comes back into the kitchen and whispers to Frank that he had a little convo with Wil that he will tell him about in the arcade after breakfast. Janelle and Wil are in the arcade. Wil tells Janelle that he isn't mad at Danielle and that he didn't get a chance to show his allegiance with the vote. Janelle asks him if he is mad at her. Wil says no. Janelle asks do you still trust Ashley and Joe? Wil says that he trusts Ashley but not Joe. Janelle talks about how all the other teams are sticking together, but ours is falling apart. Wil says that Danielle told her right before he jumped off Danielle told him he was safe and now I am on the block. Janelle says what if I ask Danielle to pick me to play for the power of veto and then if I win it I use it on you. Wil says well if you want too that would be awesome, but don't burn any bridges. Janelle tells Wil that if Boogie wins the POV and saves Frank that would be the worse case scenario.
Meanwhile in the kitchen, Mike tells Frank that Wil admitted that he is the pawn and that Janelle is co-running shit with Dan. Mike says that if we could get you off, I think I could talk Dan into back dooring Janelle. Mike says that we would have me, you, Ashley, Jenn and Ian. Mike says that we will need to start making deals, it will be tough and that we will have less than 48 hours to make it happen. Mike calls Janelle a cu*t. Mike says that he is willing to do whatever it takes and that he thinks he can get Dan.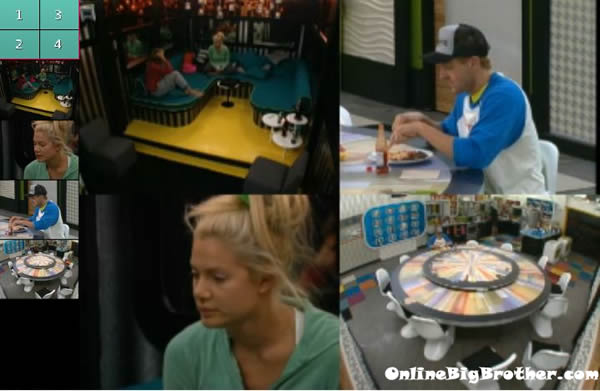 Janelle goes up to the HOH room and tells Danielle that she went to Wil and told him that if he picks me for house guest choice to play in the POV that I would use it on him just so that he would pick me. Danielle says that's good. Janelle comes down and takes Wil into the arcade room and says OH MY GOD! She said yes! She said I could use the power of veto to save you! Wil asks really, that's amazing! They hug and jump up and down.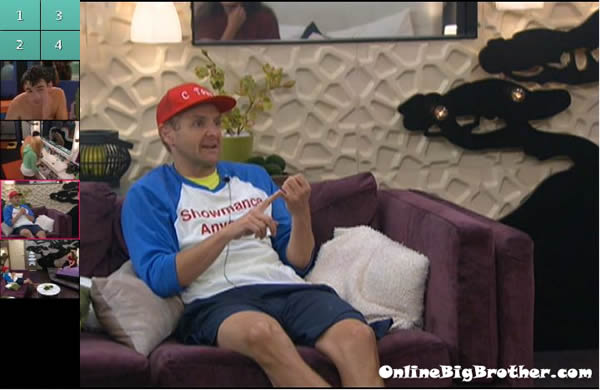 9:40am – 10am Mike goes up to the HOH and explains why he didn't come up and talk to her yesterday. Danielle tells Mike that she doesn't like back dooring people and that she would not do that. Danielle explains that it was not Dan's fault and that it was all her making the decisions. Danielle says that she was upset that no one came to talk to her yesterday and that everyone just assumed I would nominate Frank. Mike says that he wanted to let her know before the veto happens that she does want to work with her. Mike says that when your key comes out last, it was a pretty good chance that you will go up if someone comes down off the block. Danielle says that she didn't make any deals with anyone yesterday. Mike says that he was mad at the world and that is why he didn't come talk to her. Mike says that Dan reaching out to him was good at getting them in a better place. Danielle explains that Dan gives her advice but that she is her own player. Danielle explains that Frank didn't come talk to her and didn't give her enough respect to come talk to me and that if he had he might not have been up on the block. Danielle says that Frank gave her the stink eye too. Mike says that it might be my mistake in why he got nominated. They agree to talk after the power of veto and that a lot can change between now and Thursday. Mike heads back downstairs. Dan comes up and Danielle tells him the entire conversation she just had with Mike. Dan tells Danielle that Mike wants to work with them. Danielle says that if Frank goes home, we may need to consider it. Dan says yeah if Frank gets taken off then there is probably a chance to work with them, but there would be a lot of holes in that parachute. Danielle says that he just wanted open lines of communication. Dan says yeah he just said that so that after the veto he can come up here and make a deal. Danielle says you and Boogie should be fine now. Dan says we will be better if Frank is gone. Dan says pray when you pull you chip out and I will pray you pull mine. Danielle is called to the diary room.


10am Mike tells Frank about the entire conversation he had with Danielle. Frank tells Mike that if you or I win the power of veto and take me down, I almost want to go up there and say FU*K YOU, You should have apologized to me yesterday! Mike and Frank leave the room. Mike tells Frank that he should try and have a conversation with Dan before it happens.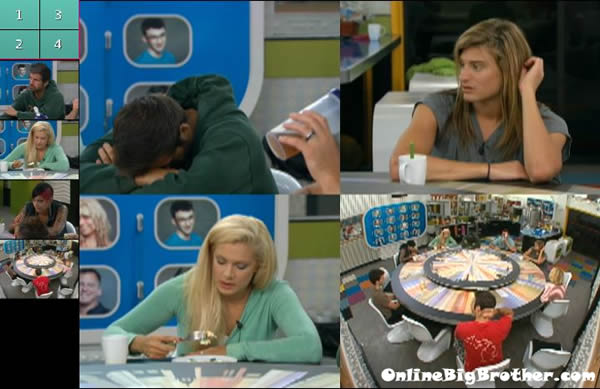 10:10am Big Brother switches the live feeds to TRIVIA for the players to be picked for the Power of Veto Ceremony.
Share it YO!!
Tweet