POV Holder:
???
Next POV:
Aug 4 (Saturday)
POV Used
???
POV Ceremony
Aug 6 (Monday)
HOH Winner:
Danielle
Next HOH:
Aug 9
Original Nominations:
Wil and Frank
Current Nominations:
Have Nots (? & ?)
Last Evicted Houseguest
Power of Veto Players are: Danielle, Frank, Wil, Ian, Jenn, Shane
POV Host: DAN
10:25am When the live feeds come back from TRIVIA, Dan and Shane are in the stereo room talking. Dan asks Shane how he feel? Shane says good. Dan says to Shane that there is a three horse race between you Danielle and Frank. Dan says that he thinks if Ian or Jenn win the power of veto they would probably use it to take Frank off. Shane agrees. Dan says that he thinks this competition will be less physical.
Watch what happens, AS it happens: Big Brother 14 Live Feeds!
Subscribe today for your FREE 3 DAY TRIAL!


10:30am
Britney and Danielle go up to the HOH room to talk. Danielle tells Britney her conversation that she had with Mike. Dan comes up to the HOH room and tells them that he will do whatever they want him to do. Britney asks if he is officially going against Boogie. Ian says yes, he doesn't know it yet, but yeah it is done with us, he doesn't know it and I am kind of afraid to tell him but we are done. Britney says well he will know if you win it and don't use it to save Frank. Britney asks Ian how it feels to be in a relationship with her. Ian says it feels great. Ian says so what are you thinking, you want the nominations to stay the same? They tell him yes. Ian says well that is good because then if I win it I can say that I don't want to use it because then he would go up as the replacement. Britney asks so where is Jenn at? Ian says that Jenn heard that Mike said she was expendable so she is pretty much done with him.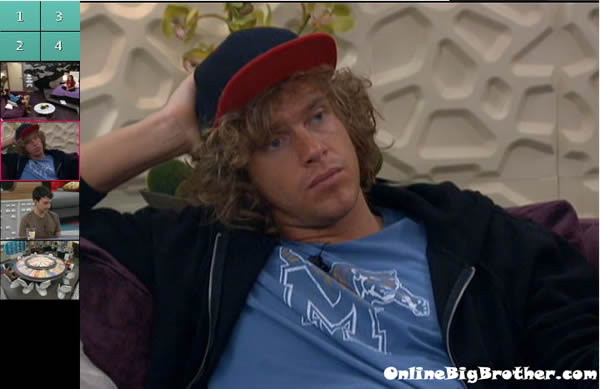 10:40am Frank comes up to the HOH room. Britney and Ian leave. Frank tells Danielle that he didn't talk to her yesterday because he was hurt and figured she would come apologize to him. Danielle says that she wasn't sure, and that she didn't want him to go home. Frank tells Danielle that she had told him that she was not wavering and that you were 100% sure in your decision before the vote and now you say that you didn't know what you were going to do. Frank says that the past is the past and I can let that go. Frank stars to put some of the blame on Dan. Danielle defends him and says that it was all her and not Dan's doing.


Dan joins Danielle and Frank up in the HOH room. Frank tells them that he wants to work with people that can get him further in the game. Dan asks who is off of your list of people you would not work with? Frank says Wil and Joe. Frank says that he can't trust Joe because he was up in the HOH three hours after throwing me under the bus. Frank says that he trust Mike a lot and doesn't want him going up in his place. Danielle tells him that she is glad he came to talk to her and she appreciates it. Frank says that he can move forward without a grudge. Dan says hypothetically if you come down from the block, and since we shot a shot across your nose, how do we know that you won't come back at us next week. Frank says that he wants to work with people he can trust and if I try and come after you next week I would just be in the same boat as I am now. If you guys are willing to work with me, then I am down. Frank says that he would put it on Nana, and says that he really means it. Frank says that when he was asked who his favourite players are, I had two names and you and Mike were my favourite and I was so excited to possible work with both of you. Danielle heads down stairs.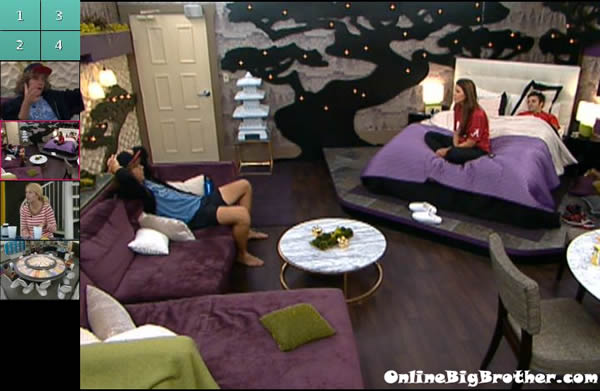 11:10am – 11:25am Dan tells Frank that his is worried that if Frank won HOH next week that he would put the both of us up just to out us. Frank says to be honest yesterday I would have said that I would put you up, but after talking to you I want to put it in the past and work with you. Dan asks do you think Jenn or Ian would take you down if they won? Frank says yeah, but to be honest I don't think Jenn will win unless its a guitar and she has to rock it out. They talk about what they think the competition might be. Dan says say you win veto and you come down, what is your core group of people you would want to role with? Frank says you, me, Danielle, Mike and Shane. Maybe Britney if you guys really want her to be apart of it. Dan explains that him and Danielle aren't really attached to anyone. Dan get Danielle to agree that they aren't working with anyone. Frank asks would Janelle's name be possible if I came off or if Wil came off. Dan says I don't know. Dan says that he doesn't understand why he would tell Janelle he was coming after her. Frank says because he wanted to get it out in the open so that they could move forward. Frank says that even if I don't come off the block but that I get the votes to stay then I know I can work with you because I know I need at least 2 more votes. And if that happens then you will know I am not coming after you. Frank says that even if we want to keep us a secret we could plan a little fight so that people don't think we are working together.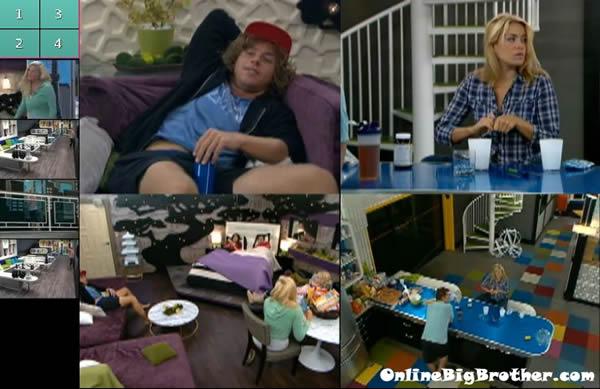 Re-Watch ALL THE DRAMA on FlashBack: Big Brother 14 Live Feeds – 3 Day Trial!
11:35am Dan starts asking Frank why he and Wil had an hour long conversation after the HOH comptittion. Frank explains that it was about the vote. Frank says that Wil was lying to me again. Frank tells Dan that Wil blamed it on Ian. Frank says he called Wil out on it yesterday. Frank says he told Wil it will be a hard road building back trust with him. Dan said he didn't get that because he didn't even need to do that. Frank says that he was surprised by that because Wil was so honest with Kara. Frank says he didn't know what he did to deserve it and doesn't know what he did to deserve all the deception. Britney and Janelle come up to the HOH. Janelle just barges in and doesn't even ask. Britney asks if its okay, or if they need time. Danielle then joins them. Dan says that they can come in they aren't talking about anything. They start talking about random things. Britney describes the worst thing ever is when you are standing in line at a grocery store and you have an inch in you vag and you can't scratch it.
11:50am Britney asks Janelle if she wears fur. Janelle says that she doesn't want to say because the live feeders are listening but if she did she would like Mink fur. Frank asks them if they think todays veto competition will be a puzzle because they are all tight from the HOH endurance competition. Ian comes up to join them. Janelle brings up how someone abused her soap. (Janelle knows it was Ian) Ian says ew that's gross. Janelle heads downstairs.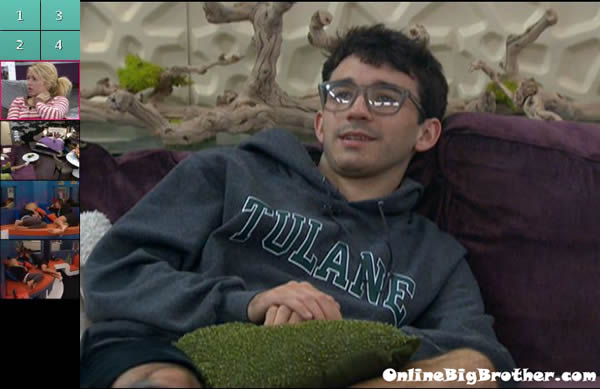 Janelle and Danielle go into the arcade room. Janelle asks what Frank said to her. Danielle just tells her that Frank apologized for not coming up the other day and that he felt the whole house was after him. Janelle tells Danielle that she wishes she was picked to play so that she could help Danielle win it.
Up in the HOH room, Dan, Danielle, Britney and Ian are relaxing. Danielle is listening to her cd. Dan asks Ian why it got so uncomfortable when he came out to the hot tub the other day. Ian says yeah it did get quiet. They ask him what they were talking about. Ian says nothing really just the whole coaches coming into the game.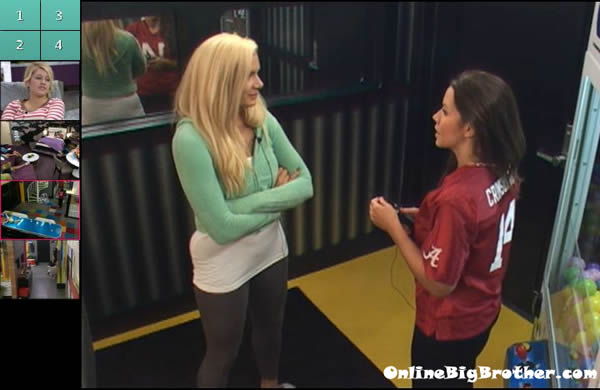 12pm – 12:30pm Janelle and Frank are in the bathroom on the couch talking. They both admit that they are afraid of each other in the game. Janelle confronts Frank about him wanted to get her out. Frank says that it was because he thought it was because the coaches were coming into the game. Janelle says no it was 2 days before Shane's HOH. Frank disagrees. Janelle says yes it was I have a good memory it was day 21! Janelle talks about how she has no one in this game. Frank says he feels like he and Mike are alone. Janelle says at least you have each other. Frank tells Janelle that Mike and him were thinking about who they could work with and you Janelle were the first one on the list. Janelle asks so you don't think Jenn or Ian would save you. Frank says he doesn't think so .. Ian always gives magic 8 ball answers. Frank tells Janelle he hopes he can work with her and that he doesn't hold grudges. Janelle asks Frank why he said he hoped they would show close ups of our faces because we don't look good, and that you hope we cry. Frank say that he didn't say that, I said I hope they show close ups of you face to catch you being shocked at the vote. Frank swears that he said he was going to come after Janelle was a joke. Frank says that he is not going after Mike and asks if she believes that. Janelle says that she doesn't know. Frank says it was a joke he is smart enough not to tell her if he was really thinking that. Frank says he took that as a joking conversation. Frank says he didn't think the coaches were coming into the game. Janelle says you did think that because you and I always talked about it. Ian comes in and takes a seat. Frank tells Ian can you give us a minute I am on the block and I am trying to hustle here right now. Ian leaves. Frank says that Ian is always doing that to him. Frank and Janelle continue to talk. Janelle says that if she has to go then she would rather go before jury. Frank says he is sorry and that he really thought we were friends. Janelle says we were, but I do not tell my friends I am coming after them. Frank says that he was just joking and that he is sorry she took it that way.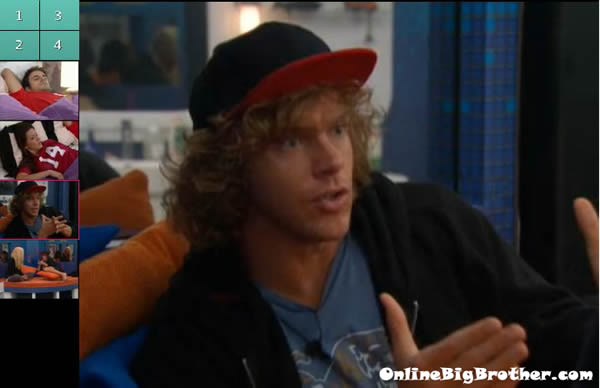 Share it YO!!
Tweet