POV Holder:
Next POV:
Aug 2 (Saturday)
POV Used
???
POV Ceremony
Aug 6 (Monday)
HOH Winner:
Danielle
Next HOH:
Aug 9
Original Nominations:
Current Nominations:
Have Nots (Cereal & Salmon)
Last Evicted Houseguest
12:20am Janelle, Joe and Ashley are in the kicks room talking. Janelle says that there are so many people that are still in the house that they need to get rid of. Ashley says that Dan has been coaching Danielle for this twist the whole time. They talk about how everyone will still be playing in teams. They talk about how mad Wil was that the coaches entered the game. Joe says that he wanted to just leave and go home now. Joe brings up Shane running up and kissing Danielle when she won. Ashley says that she is jealous. Janelle tells Ashley that she needs to win HOH next week so that she can get back rubs from Shane. They talk about how Boogie didn't want to come into the game and is annoyed. Janelle says that all the work they did as coaches has been a waste and they are basically playing for second place. Joe says yeah you just lost $50,000. Ashley says yeah, right.
Re-Watch ALL THE DRAMA on FlashBack: Big Brother 14 Live Feeds – 3 Day Trial!
They're all sitting around the kitchen table trying to figure out the bed situation. Janelle asks if she can sleep up in the HOH room. Danielle says well I guess so, Britney asked too. Britney says well maybe we could just alternate. Janelle decides to sleep with Jenn. Janelle tells them that she just won't sleep with a guy, she is married, duh! Janelle leaves and heads into the bathroom. Britney joins her. Britney asks what is going on in this house. Janelle says we are fu*ked! How are four people going to take on an entire house. Britney says I would have never thought in a million years that we would come in the game and no one would be evicted. Britney says instead I am sleeping 3 men deep. Janelle says so she doesn't want anyone sleeping up there at all? Britney says no. And I don't understand why. Did you hear what Frank yelled when you walked out. Janelle says no. Britney says that when you said you would not sleep in bed with a guy, he yelled you're on big brother. Britney says that she is so down because of all of these. She talks about how Wil and Frank are all buddy buddy now. Janelle says fu*k him, they are both pieces of sh*t. Britney and Janelle agree that they need to win HOH next week or they are fu*ked.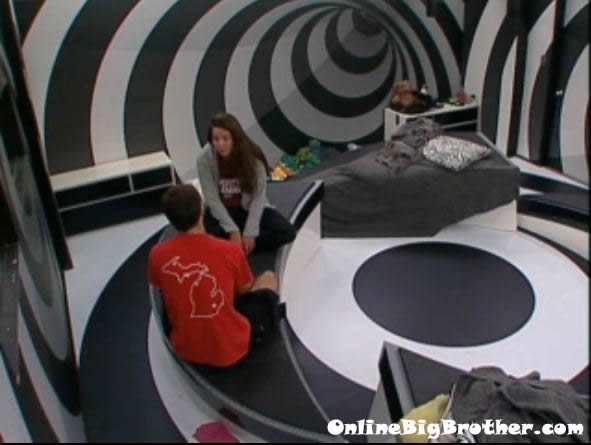 12:50am Dan and Danielle are in the have-not room talking. Dan tells her that he would rather she save herself and throw him under the bus. Danielle says no. Dan says it was my job to get you to the end. Danielle says that Janelle is trying to start a coach's challenge. Danielle says that she has already shown her cards. She says that she hates Janelle, she did not cheer for me, not one time. And she gave attitude about where to sleep. Dan says she wanted to sleep up there with you. Danielle says hell no. Danielle says that she thinks she can work long term with Wil. They talk about how Wil hates Janelle. Danielle says that she would probably put up Janelle. Danielle asks Dan who to put up next to Janelle to make sure she goes. Dan suggests she should put up Ashley. Danielle says that she could do that, see I am not afraid. They talk about how Shane kissed her after. Danielle says that Shane told her if she won he would kiss her. Danielle says this was no crap shoot, this was who wanted it more and I proved I wanted it more. Danielle says that you can trust Britney, she is the reason Ian dropped and when she did she told me you got this, I love you and then dropped. Dan says that he trust Britney almost as much as he trust Danielle.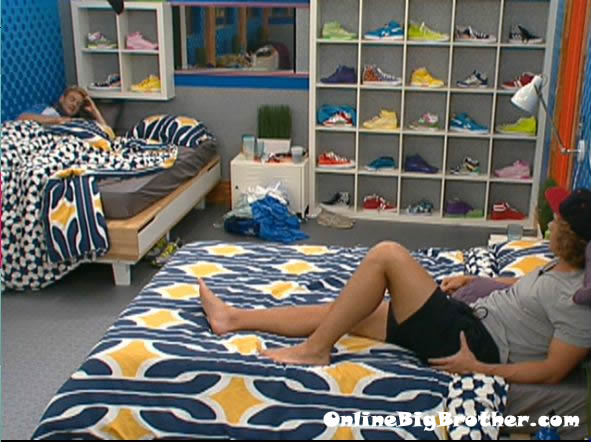 1:20am Frank and Boogie are in the kicks room talking. Boogie says that Shane thinks we should be appreciative. Boogie says that Frank and him will go up to the HOH together to talk. Frank says that they were honest with them, but that they blindsided them and if you want to make it up to us they you can show us now. Boogie says that when he was walking up to the HOH room. Joe came up to him and said you me and Danielle I am rolling with ya'll. He says you could have done that last night. Frank says that if he tries to spin a tail to us this week, we should just pretend to buy, it and then get him out next week. Frank says that Janelle needs to worry about her boy Joe, he is trying to rally the troops. Mike says Ian fu*ked us again. Mike says fu*k Wil he is done with him too. Frank asks can we really just say fu*k everyone and go at this alone. Mike tells Frank to play the newbies and he will stay sort of close to the coaches.
Sign-up for the Big Brother Live Feeds and get the MOBILE Feeds for FREE!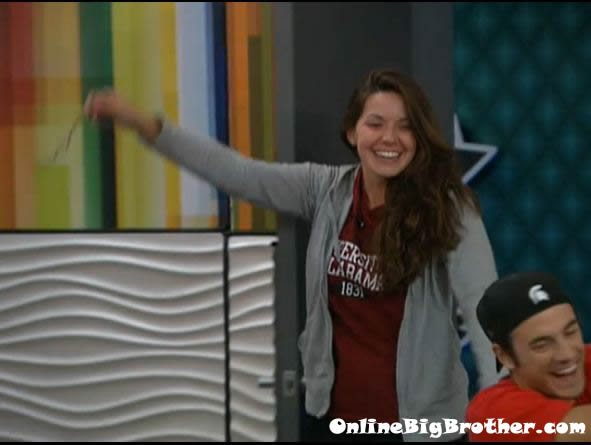 1:25am Danielle comes out of the diary room and asks who wants to see my HOH room! They all head up to the HOH room and go inside. They all look at her photos, country cd, and HOH basket. Danielle then reads her HOH letter written by her mom. She says that he mom didn't know she was coming in here. Slowly some of them head back down stairs. Shane bugs Ian for peeing just 15 minutes into the endurance competition.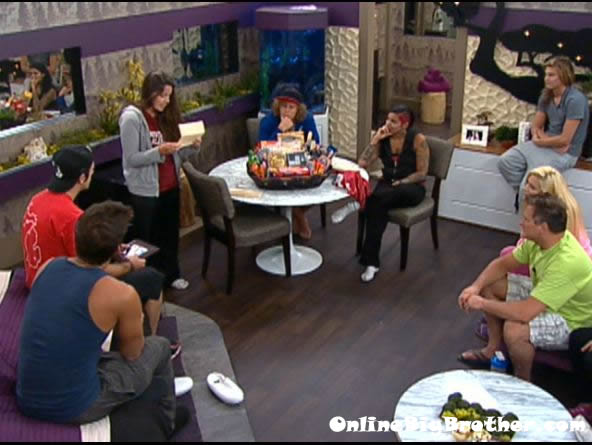 1:50am
Janelle and Mike are talking. Mike is complaining about the coaches entering the game. Janelle tries to encourage Mike to play the game and not just roll down and die. Janelle talks about how pointless Wil's lie was. He says that he doesn't like Danielle at all. He says that he is not happy about what happened. Mike says that he might wake up feeling different. He says that he has seen the finish line before, but that now they are such huge targets. They talk about how it is like week one with 12 people. Janelle says that one of her players didn't want to work with her. Mike says that Ashley is loyal, but she's competition now. Janelle says that it was so much easier being a coach. Mike says that someone bad is going to win. Janelle says that they need to get the leader types out of jury, work at it week after week, their chances are slim but they got a shot. Janelle asks what Mike would do if Danielle won the game. Mike says that the entire house was in on it and lied to him. Mike says that if Danielle wins the game he is not going to the finale. He says that she annoyed him so much last week, how she acted and now he knows why because she was lying to him. Janelle talks about wanting to get all the anti-coaches out first. Mike says that's Wil and Joe. Janelle says that's Frank.
2:30am Shane, Dan, Britney and Danielle are talking up in the HOH room. They talk about bringing Ashley into their alliance. Dan pushes for they to bring Ashley and Janelle into the alliance. Danielle says that she would rather work with Mike or Frank than Janelle. The others want Danielle to put up Frank and Mike. They talk about putting up Wil and Frank. Danielle says that she wants Janelle to play in the Power of Veto says that Frank won't win it. Dan asks Britney and Danielle if they can girl it up with Ashley and Janelle. Dan tells them to bring the girls into an alliance, but tell them that they can't be seen together.
3:30am Janelle and Wil are talking about who they think Danielle might nominate. Janelle says that Danielle is going to want to protect Dan. She says that he is her number one ally. Janelle says that two people who are coming after Dan are going up. Wil asks who are these two people? Janelle says anyone who is saying get the coaches out. Janelle then asks Wil if he has been saying that. Wil lies and says no. Janelle tells him that he should be fine. Wil says that he doesn't trust Ian. Janelle says that she doesn't either. Wil says that Jen will be loyal to Mike. Janelle asks what the fu*k was the point of last week. She says we could have just sat on our a$$es and done nothing! Wil says that it cheated Mike and her out of the $100,000. She says that they had a 40% chance at winning. Wil says that he was loyal to everyone else, and all he has to do is get Frank, Boogie, Ian, and Jenn to trust him. Janelle says the he can always come to her. Janelle says as far as she is concerned, we are still working together. Wil says yeah, you give great advice.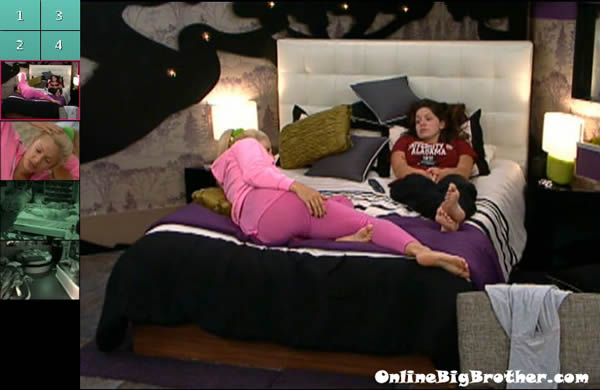 3:45am – 4:30am Dan and Danielle are up in the HOH room talking. Dan says that they have to pull Janelle into work with them because she will carry them a week or two. Danielle agrees. Dan says that Danielle has to secure Joe's vote tomorrow by telling him he can show some loyalty by voting her way. Danielle says that she will use her southern charm. Dan says goodnight and heads downstairs. Danielle heads down too. Janelle, Danielle and Wil are in the bathroom talking about the HOH competition. Janelle then heads up to the HOH room with Danielle. Janelle tells her that she rocked it! Danielle says that she was so scared Mike or someone would win it. Danielle says that she made a deal that she would not put up Ian and she won't go back on it. Danielle says that she doesn't know who to put up. Janelle says that she is in total shock now that she is playing the game. Danielle says that she was doing really well at the coaching thing. They talk about the competition. Danielle says that she thinks everyone underestimated her. Janelle says that she looked strong and that Britney looked pissed. Janelle and Danielle talk about working together. They talk about not wanting just a one week deal. Danielle says that she doesn't even want to make one week deals with others. She says that she isn't going to tell people who she is going to nominate either. She says she won't make a deal with anyone tomorrow. Janelle says that it's so awesome you're the first girl to win HOH. They talk about how Kara and Jojo have been sitting in sequester for a month and now are going to be told to go home. Janelle talks about how depressed Boogie is and how he just wants to go home. Janelle heads downstairs to bed.
6:20am All the house guests are still sleeping..
9am They are all still fast asleep..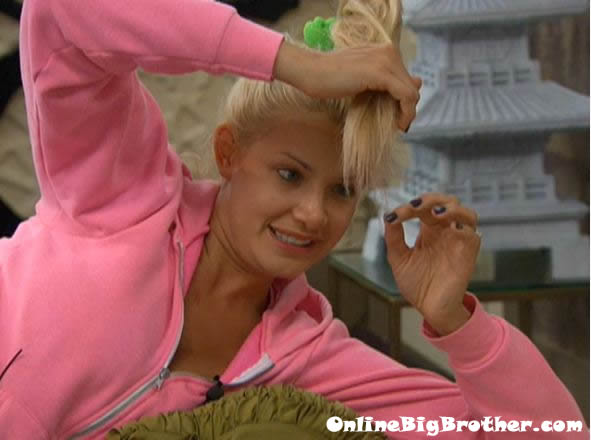 Share it YO!!
Tweet