POV Holder:
Next POV:
Aug 2 (Saturday)
POV Used
???
POV Ceremony
Aug 6 (Monday)
HOH Winner:
Danielle
Next HOH:
Aug 9
Original Nominations:
Current Nominations:
Have Nots (Cereal & Salmon)
Last Evicted Houseguest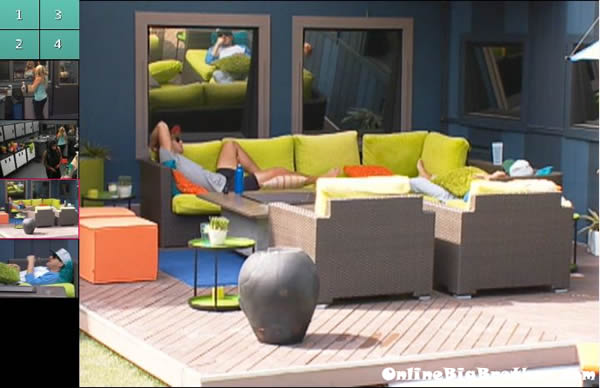 9:45am Big Brother wakes up the house guests. Mike is talking to Frank saying that they were going to scumbag us. I want to go up there and have a serious talk with them. Frank says that he does too. He says that he doesn't trust him anymore. Mike starts talking about Dan saying that he had wanted to work with him and they now he finds out he was trying to screw him. Frank says that he doesn't fully trust Wil anymore either, and what he said about Ian. Mike says now it is fu*king on, if I get a little power it is on! Mike fu*k him, we trust none of ya'll. Mike says P.S. in the back get your editing sh*t out I am fu*king heated! Frank says it's a reset, but it's not a reset. Mike says yeah it's not a reset we were coaches and now we're not. Frank tells Mike that he is the only one he can trust. Mike says that Ian is worthless he is all talk, he hasn't stopped talking about how he will win endurance and memory comps, he isn't that valuable, he is a liability. Frank says that Ian made a deal during the competition and he didn't need too. Mike says yeah he wasn't in jeopardy of going up.
FREE Big Brother 14 Live Feeds: 3 Day Trial!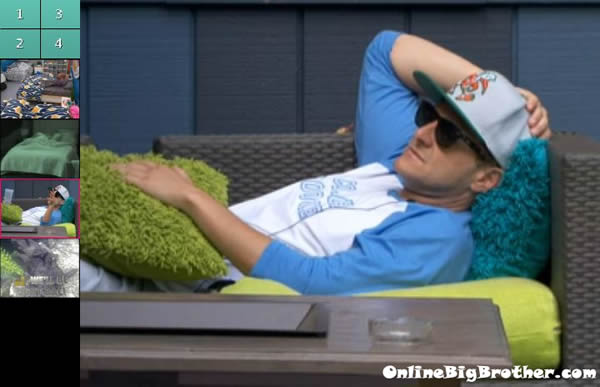 10:20am
Mike says you (Danielle) are a chubby annoying girl from the sticks in Alabama. Go back to where you came from. Mike says that Dan thinks he is winning this again, he thinks he is so much smarter than anyone else. I lost so much respect for him last night. I didn't trust the others but I trusted him. They talk about how they hope Danielle stays up in the HOH room sleeping. She needs to look in the mirror and figure out a new make-up scheme, because that shit ain't working. Mike says and fu*k you Janelle, now you want to suck up to me. Frank says that Janelle was one person he didn't want to win. Mike says that Janelle not wanting to sleep in a bed with Joe because she is married is bullsh*t. She was in a pretty committed relationship when she was up in here with his man Dr. Will. He says that he won't go into it because of his man Dr. Will but she was up in bed in the sequester house with him. Mike complains about being released into the game with 12 people, he says that he gave up so much to be here and not for a 1 in 12 chance. Mike says that he wants to call people out today. He says that he does not want people to come up to him with deals or nothing. Frank complains about being stuck in this house with this stigma on him. Mike and Frank talk about how Wil was the one trying to get them out. Mike says that he is super fu*king pissed and negative right now. They hope Danielle will put up Wil, especially after we tell her everything.
Watch what happens, AS it happens: Big Brother 14 Live Feeds!
Subscribe today for your FREE 3 DAY TRIAL!


10:55am Frank says that he going to stay the same way he was in the beginning, I am a straight shooter. Frank says it looks like everyone was lying to us all and making us look like mooks. Mike talks about how Dan got sh*tty players and he is the one that gets the break. It should have been that two coaches have to hit the buzzer. They think Britney hit it too, but that maybe Janelle didn't. Mike says that he missed all that time with his son for this! Frank says that it is just a hard road to climb at this point. Mike says when our attitudes reset, and they don't get to taken back by our candor and our lack of wanting to make a deal … then if we make it past this week, maybe we just do it on our own. We would obviously be two of the best competitors. Frank says that he really wants to call Wil out in front of everyone. Call a town meeting. Mike says that Wil is the one to lie to your face and be the one that came up with the lie to get you out. They talk about how they miss Willie, because at least you knew where you stood with him. Frank says that he is ready for Wil to wake up and get into it with him, I am ready to put it on blast. Mike says oh yeah me too! Frank gets called to the diary room.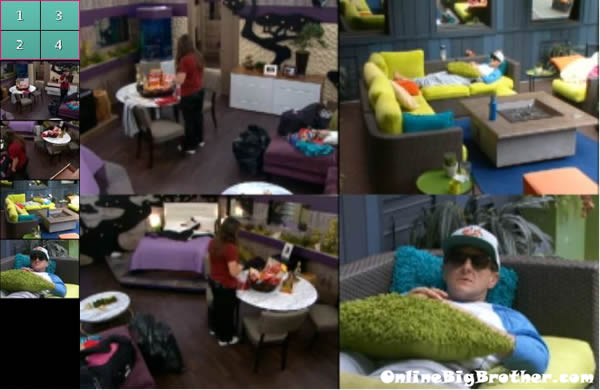 11am Joe joins Frank in the backyard. Frank asks what was up with Joe putting his hand on his butt last night in bed. Joe says that he woke up to Frank saying something and then realized his hand was on his butt and said what the fu*k! Frank laughs. Frank says so Wil was BS'ing me the whole time? Joe just smiles and says I don't want to say anything. Frank says so was he lying to me the whole time or just last minute like he says. Joe says I don't want you to say anything to anyone … but he would be the least person you could trust in here. Joe says that he will not work with Wil at all this entire game, he was told not to play that kind of game and he chose to do that. Frank asks so did you know anything about Danielle's vote. Joe says that he was told he had her vote. Joe says that she was in on it too with Wil. Frank says so Britney too. Joe says probably. Frank says he has only played a straight shooter and has been up on the block twice. Frank asks so what was your vital information you wanted to tell Jenn? Joe say everything about Wil. Frank say oh that makes sense. Joe says that he just didn't want to go out without throwing Wil under the bus. Frank says that Britney is good at lying too. Frank tells Joe that Mike is one of the only people he trusts in the house. Frank says he asked Wil why he lied and that Wil said that Ian made him nervous. Joe says that it boils down to trust and he will go and say anything to anyone.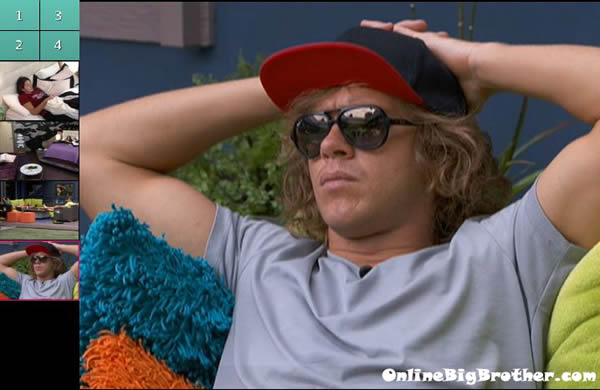 11:20am Danielle is up in the HOH room talking to herself. Danielle says that she really needs to talk to Wil and that she will possibly put Wil up against Frank OR Jenn up against Frank. Dan joins Danielle up in the HOH room. She asks him if he still thinks she should put up Jenn and Wil. She tells Dan about her conversation with Janelle and how she wanted to work with her long term. Danielle says that Janelle said she should put up Frank and a pawn and get Frank out. Dan asks if it will be scary to put up Frank and Wil. Danielle says that she isn't afraid of putting up Frank but a little scared about putting up Wil, because she feels he has been honest with her. They talk about if they tell Wil he is the pawn and he goes to Frank about it, then they know they can't trust him. Dan tells her to talk to Wil and if he tells you the truth, then maybe you can trust him after this week and if he doesn't we will just have to see what he says. Danielle says that she might as well just put Wil on the block. Danielle says I thought we were going to be put on lock down, if not I am going to have a shower.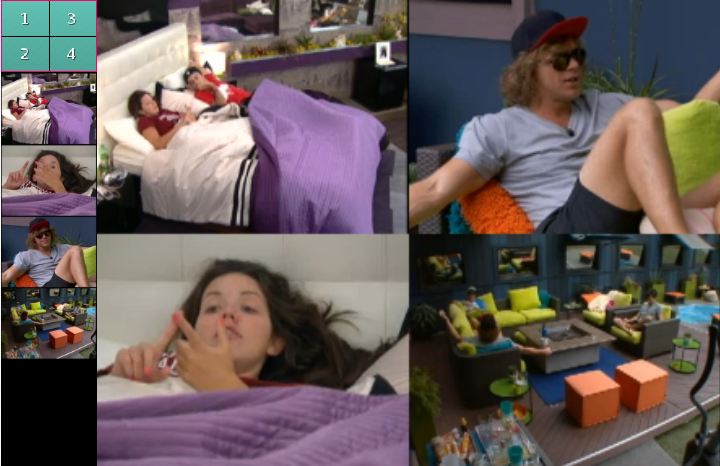 11:35am Big Brother tell them they are on a backyard lock down. All the house guests head outside. Joe tells Janelle that it's a good thing she didn't end up sleeping with him last night because he ended up grabbing Franks a$$! Janelle says oh really! They all sit in silence. Britney comments on how they tore the comp down really fast. They discuss the competition. Wil complains that the bar was low and not made for a tall guy. Britney says that she feels like she was in a car accident.


11:51pm There is a live feed leak where one camera view shows the outside the HOH room. We see a guy walk into the HOH room. Shorly after big brother cuts the live feeds. When they come back all 4 cameras are on the backyard. The house guests continue to talk about the competition and past seasons.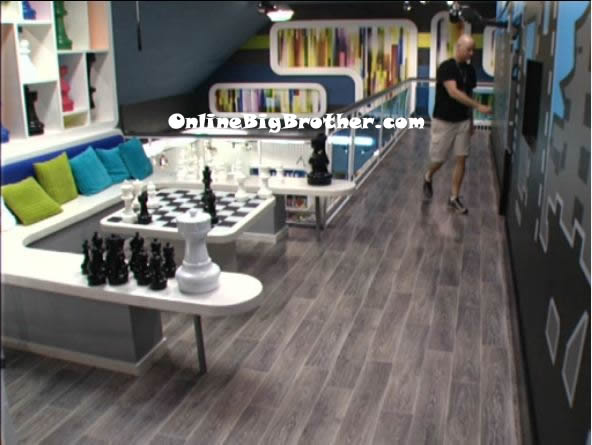 Share it YO!!
Tweet