POV Holder:
Next POV:
Aug 2 (Saturday)
POV Used
???
POV Ceremony
Aug 6 (Monday)
HOH Winner:
Danielle
Next HOH:
Aug 9
Original Nominations:
Current Nominations:
Have Nots (Cereal & Salmon)
Last Evicted Houseguest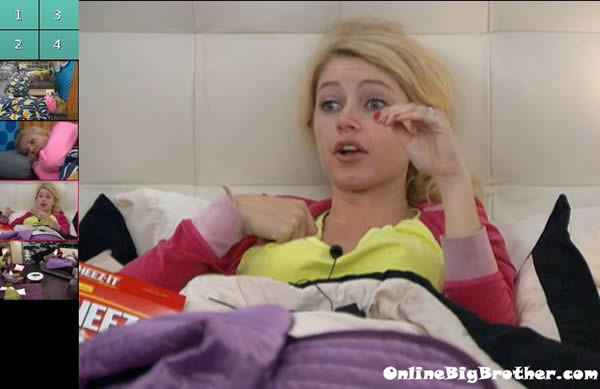 12:20pm Joe asks are we doing anything today? Britney says nominations. Joe says oh that's today. Big Brother ends the outdoor lock down. Ian, Britney and Danielle are up in the HOH room talking about how it's a difficult to be HOH this week because you have to feel out where the lines are drawn. Ian says that his word is gold and that once he gives it they can trust him. He says that he hasn't given his word yet because he didn't want to write a check he could not cash. Danielle tells him that his key will be second coming out of the box after Britney's key. Danielle tells Ian that he is safe. Danielle asks would it matter to Ian who went up as long as it is not him. Ian says no not this week. He hopes he earned not going up. Ian says he has not given his word to anybody, the only thing was this week if he got HOH he would not put Shane up or Britney or Danielle. Dan joins them.
Re-Watch ALL THE DRAMA on FlashBack: Big Brother 14 Live Feeds – 3 Day Trial!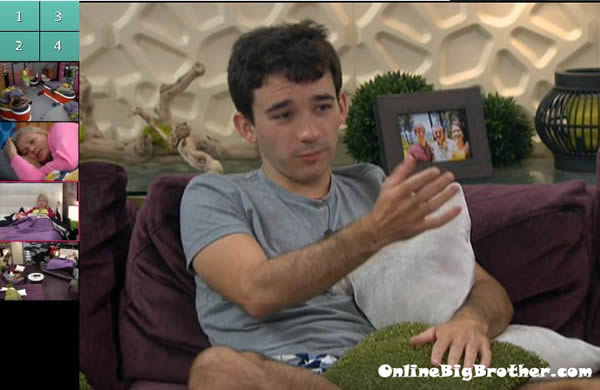 Britney tells Dan that Ian is alone downstairs and is tired of being a free agent. Dan says that he would be willing to join up with Ian. Ian says that Mike's heart just isn't in the game right now and that worries me. Dan says so say he snaps back into it and is fine. Ian says he needs something solid. Britney tells him that he can no longer go whisper with Boogie or Frank. Dan tells Ian that if you give your word to an alliance you need to keep it secret from others, can you do that, I know you are a straight forward guy. Ian says that he kind of has to do that now. Dan asks Ian so if you were up on the block with Frank you know what way Boogie would vote don't you? Ian says well have been in a couple of physical challenges with Frank and I have beat him. They talk about how they think they can get Shane. Ian says that it sucks that we can't get Frank to work with us. Dan says that he trusts Ian but says once you shake 5 people's hands then you need to stay loyal to the end. Ian says that after the reset button was hit everything got reset and that he never gave a definite time frame that he would work with them. Ian says that he is basically alone and is come up here to make a deal out of fear. Dan says that he thinks Mike didn't really coach him, that it was more like he told you to be quiet. Ian agrees.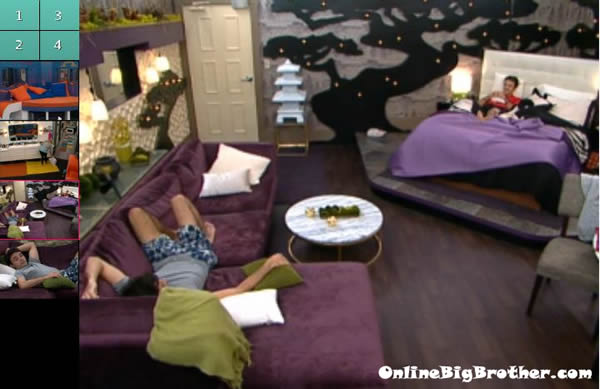 12:45pm Ian says again that he didn't write any checks he could not cash, and that he didn't bounce any checks… no shystie business. Britney tells him that she thinks they can trust him and that they want to work with him. She says that she will talk to Shane to see where he is at. Ian asks so thoughts on names? Dan says I will let you decide that. Ian says I have a few that I have thought of.. Dan tells him to wait until everyone will be up here together.

Watch what happens, AS it happens: Big Brother 14 Live Feeds!
Subscribe today for your FREE 3 DAY TRIAL!
1pm – 1:30pm Frank, Mike, Dan, Ashley and Ian are making lunch. Meanwhile, Dan and Danielle are talking up in the HOH bathroom. Dan tells Danielle that he thinks they will be able to trust Ian and that if they shake his hand he will be good with them. Dan says that Ian said that likes Frank and that they needed a strong guy in their alliance. Britney said that we would get Shane. Danielle says that we will know if we can trust Ian if he votes Frank out. Dan says that Ian wants to make an alliance not a deal. And as long as we catch someone for the first time about making an alliance then they are good. I don't think Ian has it in him to come up here like that and act. Danielle talks about how Ian has been pulling it out and that he beat Frank in a couple things and almost beat me in this one. They talk about what to tell Wil when he comes up here to talk. They discuss nominating Frank and Wil for eviction. Danielle says that she will tell them that she didn't know where either one of them stood.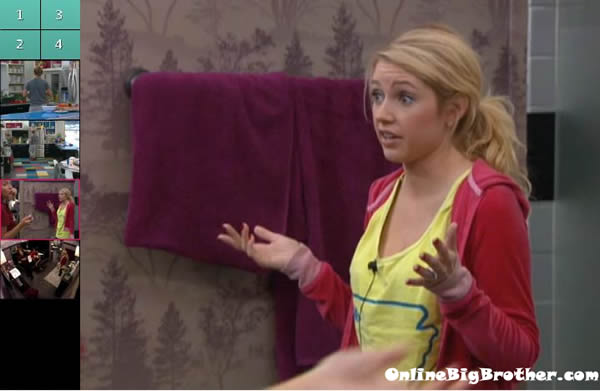 1:50pm Dan tells Danielle to tell Wil that she heard he threw her under the bus after the competition. Dan says that Frank and Wil were talking after for a long time so it would be believable. Dan tells her that she never needs to reveal the source. Danielle says that she can then tell Wil that he is the pawn and not the target. Britney joins them. She says that it is so awkward downstairs; she tells them that Ashley just told her that she was told that Danielle is asking everyone who they would put up. Danielle says that the only people she has talked to are Janelle and Ian. Britney says that Janelle is small beans compared to Wil, he is telling Frank that he wasn't going to vote him out, meanwhile he was my BFF telling me him voting out Frank was going to be the first time he would break his word. Britney says that Wil is outside with Frank and Boogie. Danielle says done, that makes it so much easier! Britney says that they only reason Wil isn't up here is because he thinks he is safe. Dan goes to get Shane to make sure he is on board with being in an alliance with Ian.
2pm – 2:25pm Shane goes up to the HOH room to talk to Britney and Danielle. Britney fills Shane in on what has been going on with Wil. Shane says that Frank has been giving me the cold shoulder ever since he went into the arcade room with Wil. They talk about how there is no point in calling Wil out on what he has been doing. They talk about whether or not they are okay with Ian coming into their alliance. Shane says that he trusts Ian. They talk about how Ashley has a one week deal with Danielle but that is it. They all agree not to let Janelle or Ashley into their group. Danielle says that they need to make sure Ian doesn't tell anyone about their alliance. Dan says that they will get Ian up and do a quick conversation with him so that no one's knows he is up here. They want to see if see if they trust Ian from the way he answers the questions and go from there. Britney says that Ian names the alliance, he can name it the quack shack or duck tails …whatever he wants!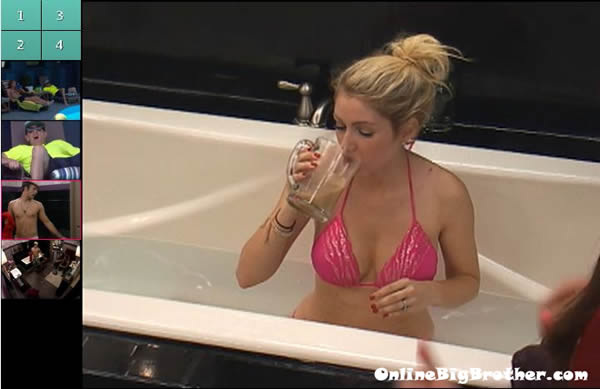 Out by the pool, Ian tells Frank and Boogie that he is sorry he couldn't hold on for them. Mike tells him that they aren't even worried about that. They are pissed about being slim dogged. Mike tells Ian to be careful about being too close with Salsa Ball (Dan). He is a wolf in sheep's clothing. I didn't know god gave you a pass to play in a game. You should not even come here if you are going to play like that. Mike asks if I'am not being too nosey what were you talking about up there with them? Were you just suring up your deal? Ian says yeah just finding out if I was safe. Mike did they tell you who was going up on the block. Ian says no. Dan comes down to try and get Ian but can't because too many people were around.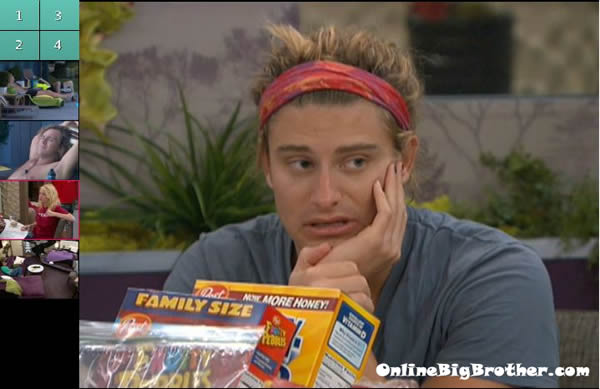 2:35pm – 3pm
Wil comes up to the HOH room to talk to Britney, Shane and Danielle. They talk about how they know Janelle wants to work with Boogie. Britney complains about how Shane's HOH was worthless. Britney brings up how Janelle is trying to work with Boogie. Danielle says that she doesn't know who to trust anymore. Britney starts talk about how a huge appeal with her coming back was that she could go home after she was evicted …and not have to go to the jury house.. and now I have too. Shane confronts Wil and asks him if he threw them under the bus to Frank. Wil says no I didn't throw you under the bus. Wil says that Frank said he could not trust him and that Wil replied well don't, you can't trust me. Britney asks Wil if Frank thinks he can trust Janelle. Wil says that he isn't going to play that game, I am not saying anything. Wil heads downstairs. Once he leaves they all say liar liar! They talk about how Wil was totally lying to them. Dan says sorry buddy you are going up. Britney says that Janelle is going to be happy with these nominations and that makes me sick.
Wil says so nominations are today? Danielle says yup, and I don't know which way I am going. Wil says well I guess we will know which way people are going. Britney and Dan both pretend to go to sleep to try and get Wil to leave. When Wil finally leaves, Britney says what a fu*king liar! Britney rehashes everything that Wil lied about. Britney talks about how Frank and Boogie have been down there scheming and counting people on their hands. Shane joins them. Danielle goes to get Ian to get him to commit to the alliance. Britney starts wondering what Ian will call the alliance like the mongoose or the mayonnaise fountain. Dan tells them that he has Ian's Duck and that they will all swear on it.
Share it YO!!
Tweet