POV Holder:
Elissa
Next POV
July 20th
POV Used
YES
POV Ceremony
July 22
HOH Winner:
JUDD
Next HOH:
July 25
MVP:
AMERICA
Original Nominations:
Aaryn, Kaitlin, ELISSA (MVP – America)
Current Nominations:
Aaryn, Kaitlin,
Last Evicted Houseguest
David, Nick, Jeremy
Have Nots
Jessie, Candice, Andy, Spencer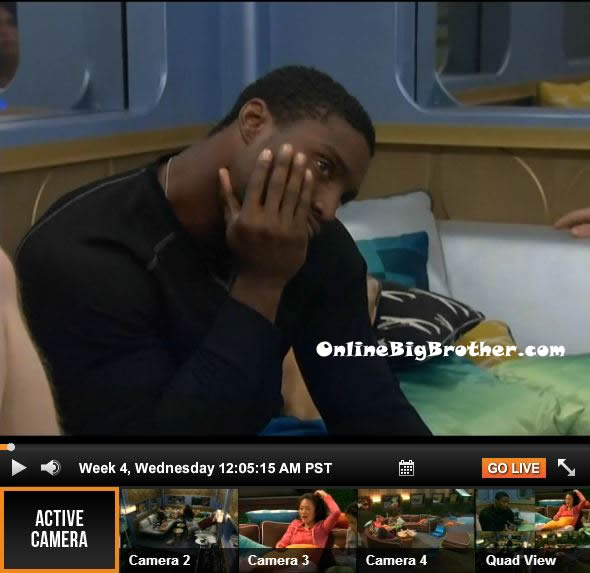 12:10am In the lounge Spencer, Howard and Amanda are talking. Amanda is talking to them about Candice throwing her name out. Amanda says that she never talks about Candice. Amanda asks Howard to make sure her name never comes out of Candice's mouth. Howard says he will tell her to not talk to her. Amanda says you don't have to say that just tell her to keep my name from coming out of her mouth in a negative way. Amanda asks him to talk to her because he is closest to her. Amanda asks Howard if he was protecting her. Howard says that she isn't on the block, so she doesn't need protecting. Howard asks Amanda she was protecting him? Amanda tells Howard that he isn't answering the question. Amanda asks Howard if he knows what an alliance is? Amanda asks am I in the Twilight Zone right now? Amanda says you are beating around the bush. Howard says you don't talk to me. Amanda says you don't talk to me either. Amanda asks him again to ask Candice to keep her name out of her mouth. Howards says okay I will do that. Amanda asks Howard if they are cool with each other. Howard says yeah! Amanda leaves.
Kaitlin then comes in and joins them in the lounge. Kaitlin says that now I may have to go home. She says after I have been so nice to people today. Andy talks about how over the top Elissa was about thinking they were laughing at her. Andy talk about how when Elissa has her mind made up, there is nothing you can do to change it. Spencer said she was creepy in the room tonight. Kaitlin says that Elissa mentally blocks out what she does, she convinces herself that she really isn't lying. Andy says that even if I had a videotape of Elissa talking about Aaryn, she would still deny it. Kaitlin says she is a liar. Howard says that Elissa questioned him last night asking him like he didn't deserve to be here. Howard says that she talks down to him and he doesn't like it.
Big Brother 15 Live Feeds: FREE 2 DAY TRIAL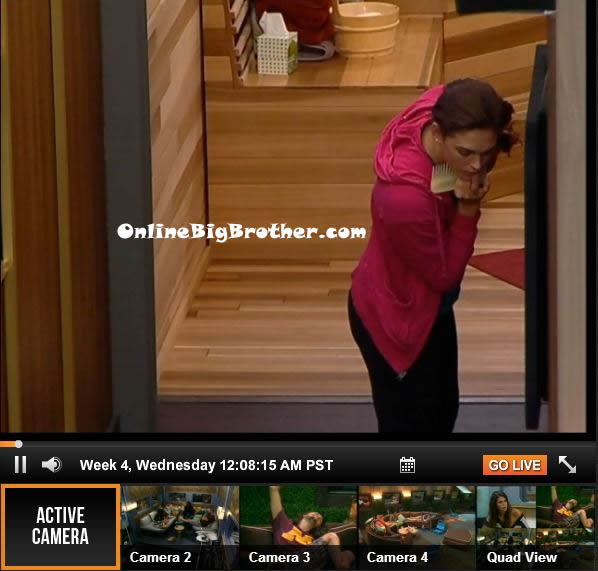 Up in the HOH room – McCrae and Amanda are talking about how they are being used as scapegoats. Amanda says that is why we have to get rid of Kaitlin. McCrae says yup that's a done deal. Amanda complains about how Howard talks to her. McCrae agrees, says he is so pissed off about the entire situation. He says that Amanda is always the scapegoat here. McCrae says that the term scapegoat originated from the 1940's when Hitler rose to power and he scapegoated your people as the problem as to why Germany was a piece of shit. Know what I'm saying? Amanda says yeah. McCrae says its just funny how you are the scapegoat here too. Amanda says just for Howard, Spencer and Candice.
1am – 1:20am Howard is now talking to Candice about his conversation with Amanda. Candice says that she only told 2 people that she felt Amanda stirred up the drama tonight. She says of them was Spencer and the other was Jessie. She says but she didn't think Jessie would tell her. Candice says that it somehow got back to Amanda. Candice says that she thinks it was Spencer that told Amanda. (It was Jessie that told Amanda not Spencer.) Candice says that Jessie wouldn't have told Amanda. Candice says that Elissa feels that Amanda set Elissa up for the fight today because all Amanda does is talk bad about Howard. Candice tells Howard that Spencer knows Howard is the bigger target for the other side now when it used to be Spencer so it works for him. Candice says that Spencer lies. She says that she found out that it was Spencer who said Candice sat on the hat. Candice says that she thinks she can get Kaitlin to be loyal. Howard says that he thinks he can pull Judd and possibly Andy. Candice says that she thinks Elissa and Helen don't really talk to McCrae. Candice tells Howard not to tell Andy about Spencer's betrayal because he won't turn on him. Candice says that Amanda has Aaryn. Candice says that Aaryn is desperate right now but says that Kaitlin isn't. Candice says that Howrd, Candice and Elissa will vote out Aaryn. Howard says that he needs to talk to Judd because Spencer keeps saying they will vote the way Judd wants.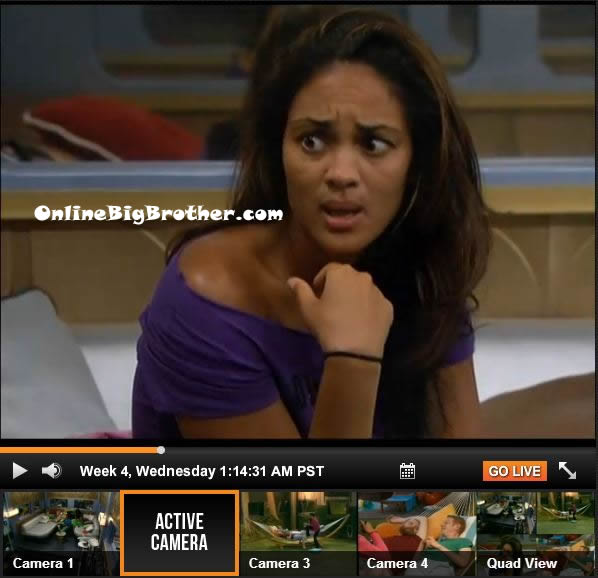 1:30am Out on the backyard couch – Kaitlin, Spencer, Judd and Howard are talking. Kaitlin says that she thinks she needs to campaign now. Kaitlin asks Spencer what he thinks about the night? Spencer says that its craziness, into craziness, into craziness. Spencer says that he feels that if they keep Kaitlin, they will say, see there is an alliance. Spencer says that Amanda wants to get into an argument.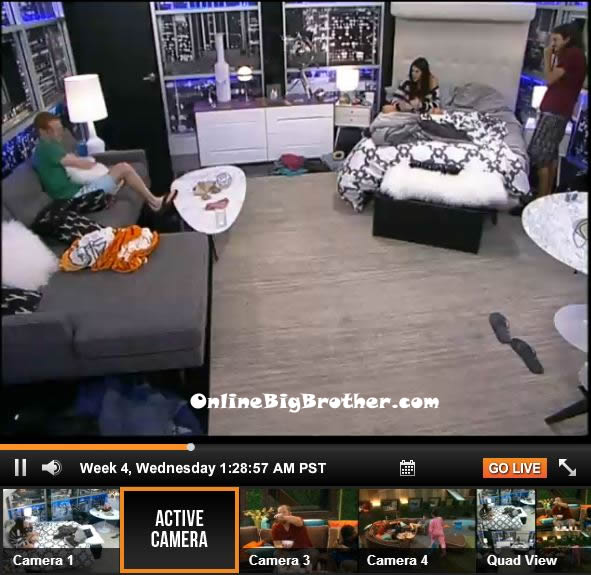 1:30am Meanwhile up in the HOH room – Amanda and McCrae are talking to Andy. Amanda tells them that she thinks she is dumber from that talk in the cockpit. Amanda says that she didn't know what the fu*k Howard talks about. Amanda asks Andy what was happened when she left the room. Andy says that they solidified their alliance. Amanda laughs. Kaitlin joins them and asks to talk to Andy. Andy and Kaitlin head to the hammock to talk. Kaitlin tells Andy after Amanda masterminded the rumor that she was in a secret alliance with Spencer, Howard, Gina and Judd, She says ow none of them can vote for her because it would look like they are in an alliance and voting to keep her. Andy says we need to stay calm. Kaitlin says that if she stays, she will nominate McCrae and Amanda. She says that Howard too. Kaitlin wonders why Amanda wants to keep Aaryn. Kaitlin says that she told Helen that she felt Amanda was campaigning against her so now she's worried Helen will tell Amanda. Kaitlin asks Andy if he has her back. Andy says totally. Andy says you won't know who votes what this week though.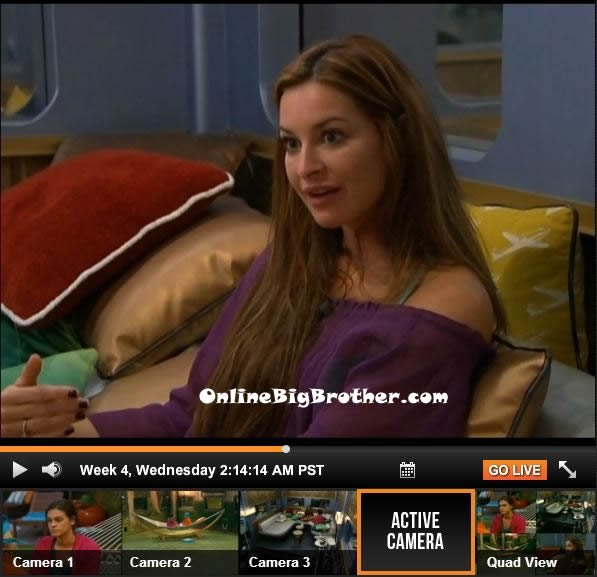 2am Helen is talking to Elissa in the lounge. Helen says Elissa that the reason Aayrn came to her is because Aaryn can't talk to you. Elissa says that she just started yelling at me. Helen says she is sorry. Helen says that she didn't say anything because she was confused. Helen asks if she thinks Judd is lying to her? Elissa says that Howard and Spencer are always coming to her saying they don't lie. Helen tells Elissa that she just want to make sure Elissa was okay with the house so she doesn't get evicted. Helen says we need to do damage control now. Elissa says all I did was ask her a question. Helen says poor Judd, good thing you didn't call him out. Helen tells Elissa that we need to draw attention to someone else in the house, so that they are not mad at her. Elissa says she think it's rude if they're mad at me, I have the right to ask her a question. Elissa says that the bottom line is if people are really this disloyal to me then I am upset. Elissa says that she didn't do anything to call out our alliance. Helen questions Elissa about calling Judd a liar by saying you're all liars. Helen says it hurt his feelings. Elissa says that her feelings were hurt. Helen tells Elissa she can go with an alliance and have the numbers or she can do her own thing.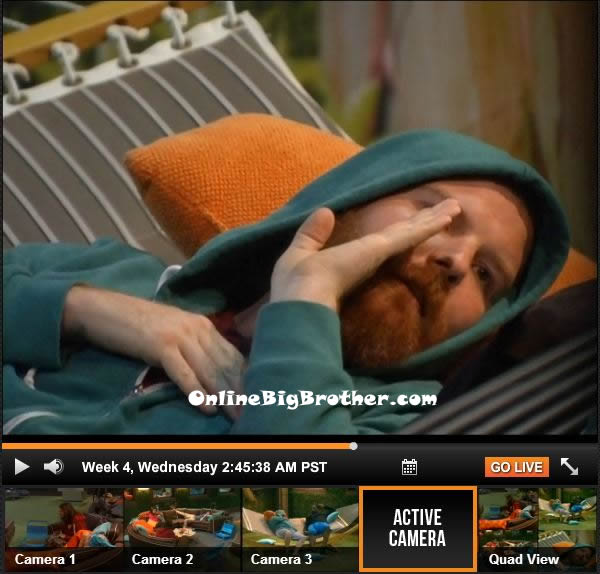 2:48am Spencer is talking to Howard about how he gets his strength in the game. Howard sees Judd coming over and bolts out of the hammock and runs straight for Judd. Judd laughs and says he's was playing chicken with me.

2:50am Up in the HOH room – Andy, Judd, Amanda and McCrae are talking. Andy tells Judd what Kaitlin was saying to him at the hammock. Judd tells them about Spencers plan for Judd to talk to McCrae and Amanda to see who they want to go home. Amanda wonders why Kaitlin thinks that Amanda is making up a true scenario that actually happened. They all laugh. They laugh about how Spencer and Kaitlin were blaming Amanda for making up a rumor about a real alliance. Meanwhile Kaitlin and Gina are talking. Kaitlin tells Gina that Candice will be campaign for her. Kaitlin says that Candice told her she has pull with Elissa so Kaitlin might not have to worry about the MVP nomination. Gina says she wonders why she was the MVP nominee then. Kaitlin says that her and Aaryn are the targets. Kaitlin says that Amanda is the reason Elissa stayed a few weeks. Gina says that she wishes she could have done that with Nick. Spencer joins them. Kaitlin says that she thinks Andy will vote with Helen. Gina says that Andy is a little bit*h about voting. Judd comes out into the backyard. Kaitlin says oh look! It's the secret alliance! Judd wonders how Amanda knew about the alliance. Kaitlin says she thinks it wasn't anyone, it was just her seeing them all together. Judd says that Elissa needs to go. Kaitlin says once McCrae and Amanda are is gone, Elissa will only have Helen and Andy.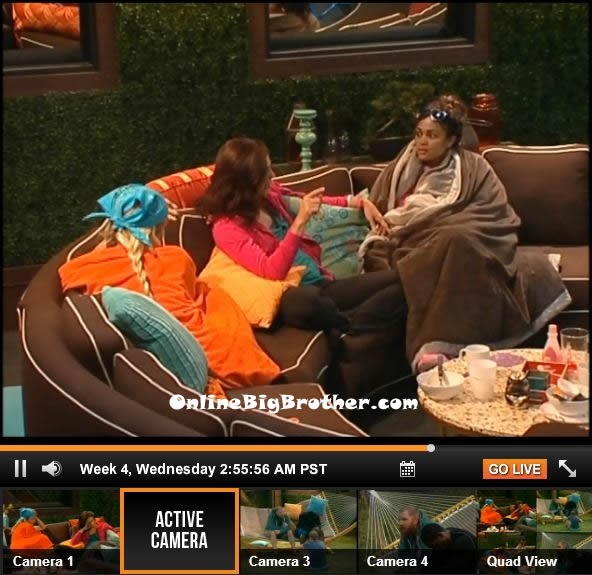 2:50am – 3:30amKaitlin, Candice and Gina are talking on the backyard couch. Kaitlin comment that if they vote to keep her now people will think they really have an alliance. Candice talks about how she knows the plan is to go after Howard. Kaitlin says that Helen and Elissa are going after him. Candice says oh I know, he is a huge black man of course they are going after him. Candice says she went up there and told Amanda and McCrae and said not this week. Gina says that's why I went up. Kaitlin says if Aaryn stays she will be on their side going after Howard. If I stay I will be going after them. Candice says that they lied to me and told me McCrae was the MVP last week when it was really Elissa so that if they put up Howard I wouldn't be mad at Elissa because we're friends. They continue to talk about past events of the house.
3:40am -4am Out in 
the backyard – Kaitlin asks Judd what he was talking to Spencer and them about in the hammock. Judd says nothing just talked about home. Kaitlin says you're lying. Judd says no. Judd says that Spencer was and I was talking about my blog and tweets and stuff. Kaitlin asks what his tweets were. Judd says that he said that she had a good heart. Kaitlin says awe your sweet. Judd laughs that he forgot about doing one for Gina but did a funny one about Nick. (Judd's tweet about Nick was: s/o to Nick, guess I got you before you got me! HAHAHAHAHAHHAHAHAHAHA. U shoulda picked smarter allies than Spencer and Howard.) Kaitlin asks do you think we still have this Judd. Judd says I hope so! I am anxious to talk tomorrow. Kaitlin says be fu*king confident! Kaitlin comments that Candice doesn't believe that there was an alliance (Kaitlin, Judd, Howard, Spencer, Gina) that it was made up. Judd and Kaitlin high five on Candice not believing it. Judd says if she is going he will let her know I don't want you to be surprised. Judd tells her that she better win Thursday. They talk about what the competition might be like. Kaitlin says she is worried of Elissa winning it because she is athletic. Kaitlin laughs that it will be yoga based. Kaitlin and Judd say goodnight and head inside to go to bed. Kaitlin gets ready for bed but goes out to the hot tub by herself and puts her feet in.
5am All the house guests are sleeping..
9:45am – 10am Big Brother wakes up the house guests…
[polldaddy poll=7268963]