POV Holder:
Elissa
Next POV
July 20th
POV Used
YES
POV Ceremony
July 22
HOH Winner:
JUDD
Next HOH:
July 25
MVP:
AMERICA
Original Nominations:
Aaryn, Kaitlin, ELISSA (MVP – America)
Current Nominations:
Aaryn, Kaitlin,
Last Evicted Houseguest
David, Nick, Jeremy
Have Nots
Jessie, Candice, Andy, Spencer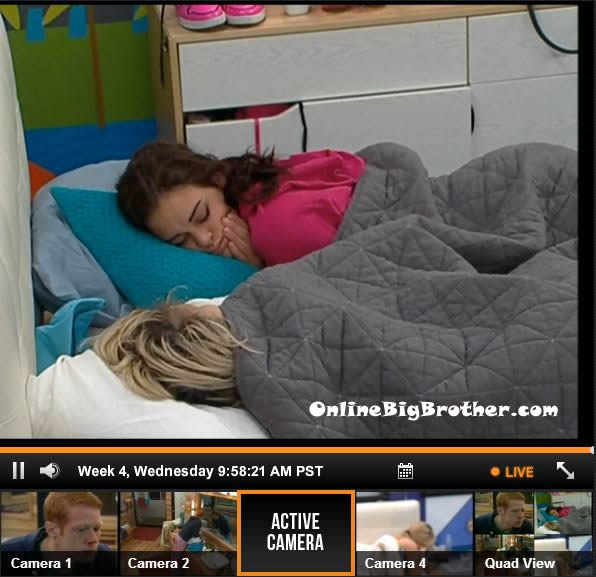 TRY the Live Feeds for FREE: 2 DAY TRIAL!
9:45am Big Brother switches the live feeds to the we'll be right back screen to wake up the house guests. When the feeds return, Aaryn is called to the diary room. Andy is up and heads out into the backyard to lay on the hammock. Helen joins Andy on the hammock. Helen talks about how she talked to Elissa last night and explained to her that Aaryn came out looking good and you didn't. Helen says she told Elissa that when you are in an alliance you talk about things before you go calling people out. Andy says she jsut looked like an idiot. Helen says if you don't shape up the alliance isn't going to want you to be a part of it. She says that Judd was the one that told me about the alliance and I told Elissa. Helen says that she was mad that Judd didn't speak up when she was calling people out. Helen says he didn't because he is in our alliance and there was no need for him to. Helen says that she told Elissa you don't throw members of your alliance under the bus. Helen says she threatened Elissa that if she isn't working with us then you are working against us. You are out of the alliance if you do it again. Helen says I need to detach myself from her and her behaviour. Andy says that she is just really selfish. Even with the MVP nominations she is selfish. Helen says that I am playing the game with her but she is playing Elissa's game. Andy says that Kaitlin thinks Amanda masterminded the whole thing.
Judd joins them. Judd says that it made no sense why she would come up with those names in the secret alliance but figures it was she saw all of us together in the cockpit or in the backyard together. Helen says that Elissa isn't throwing us under the bus. Judd says what's her explanation for doing that, she can't just do thinks like that and then be over it. Helen says that Elissa didn't know that would turn into what it did, she doesn't realize that asking a question like that can turn into a monster. Judd says that he feels horrible for Kaitlin because she is talking about plans for next week. Helen says maybe I should tell her because I told her I would protect her. Judd says I probably should because I put her up on the block and told her she was safe. Judd is worried about telling her. Helen says well we would tell her right before the vote so she has no time and we can explain it to her after the show is over. They talk about how Amanda got blamed for starting it. Andy says when in doubt blame Amanda. Helen says no that's not good to blame Amanda. Andy asks if Elissa is voting out Kaitlin. Helen says yes she is voting out Kaitlin. Judd and Andy agree that ELissa is at the bottom of the totem pole. We can't tell her anything. Helen says we just need to beat Howard, Spencer, Candice and maybe even Elissa in HOH tomorrow.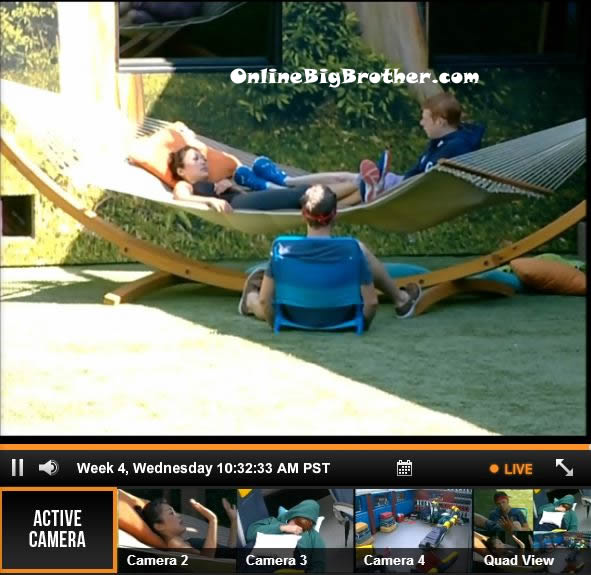 10:40am Helen says that she would love to get America's favourite but knows she will never get that over other people here. I want the $500,000 don't get me wrong but I would rather get the $25,000 than the $50,000. Judd talks about how he is finding it hard to keep track of all the things people tell him as HOH. Helen says we have to be careful with Aayrn on our side because she is going to cause drama with Jessie. We need to make sure Jessie knows Aaryn is going home before Jury. Helen says we need to make sure Amanda doesn't get dragged under the bus for no reason. Judd says Amanda shouldn't have come out here calling Candice out for no reason. They discuss need to win HOH. Judd says every HOH is important from here on out. Judd asks Helen if Elissa got MVP. Helen says no, I think Howard got it. Andy says I still believe America picked the nominees. Judd says I wish I would get MVP, I would feel so cool. I would tell you guys for sure.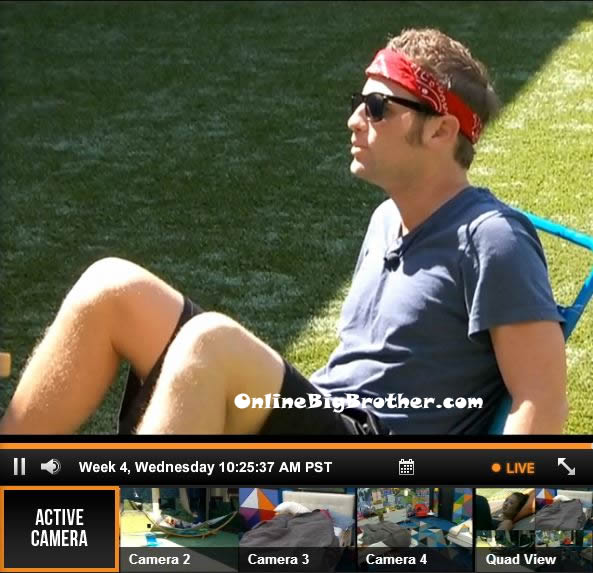 10:50am – 11am Helen and Judd join Aaryn on the backyard couch. Helen tells Aaryn that she handled herself really well last night. Helen tells Aaryn that she is safe this week and that Kaitlin is going home. We are going to make Kaitlin think she is safe but she's leaving. Helen says I wouldn't go back on my word but I've heard Kaitlin is coming after me. Judd jokes with Aaryn telling her to stop calling people out and calling people into rooms. Judd tells Aaryn that it breaks his heart to not tell Kaitlin she is going home. I want to tell her but I can't because we can't have her scramble. It just makes me sick. She is a good girl, kind hearted and stuff. Aaryn says I want to win HOH to prove my loyalty but I don't want to choose have nots. Judd says that Howard says he might volunteer. Judd says I thought about volunteering but naa.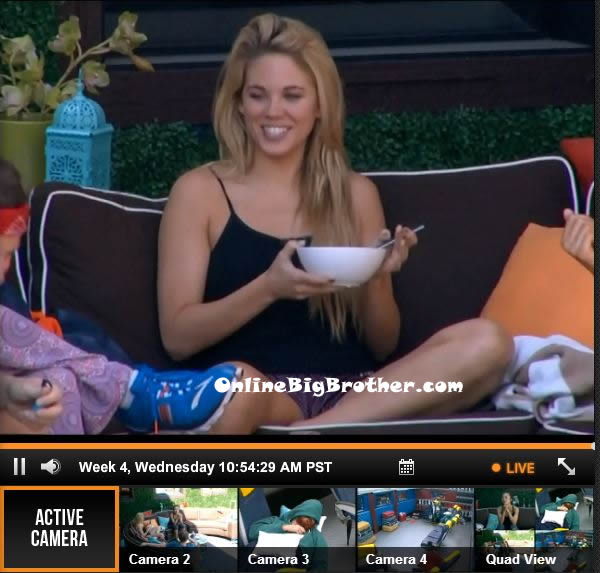 11am – 11:30am On the backyard couch – Aaryn, Jessie, Judd and Andy. Aaryn and Andy tell Judd that Howard washed his sheets after Judd took a 15 minute nap in it. Judd asks why would he wash the sheets because I took a nap in his bed. Judd says I am going to take another nap in his bed again today then. They wonder if Nick would. Judd doesn't think so because he had the personality of a fish. Aaryn says don't talk bad about the fish it will fu*k you up. They think Aaryn might get called back and Amanda. Aaryn comments the more Spencer talks about your breasts and butt and other stuff makes me want to vomit. Jessie asks he talks about that?! EWWW! That makes me really grossed out!! They tell her that Spencer said he bets your pu$$y tastes like butterscotch. Jessie says EEWWWW! Is it possible for someone to go brain jail! Judd says we should call you butterscotch now. Judd says don't tell Spencer we told you that. Judd jokes that Jessie should take a shower because she smells like butterscotch. Jessie says Spencer has a girlfriend, if that was me and he was talking about another girls vagina tasting like butterscotch – I would not be okay with that! They talk about havenots. Aaryn says I would put Howard, Spencer, Gina and Elissa. But if any of you win you can put me on it because I haven't been one yet and would like to loose a couple pounds. Jessie and Andy head inside. Aaryn says that she knows Gina will vote for kaitlin to stay over me. Judd says Gina is supposed to vote how I say because I didn't nominate her. Aaryn says just don't tell her in a way that makes thing change.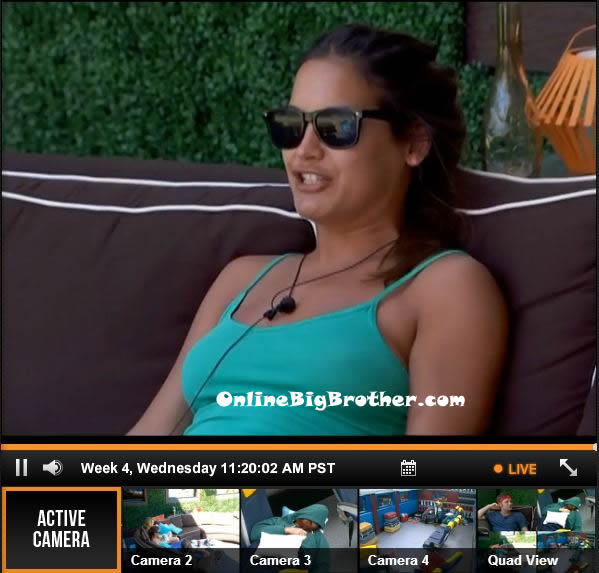 11:30am In the lounge Andy and Amanda are talking about the events of last night. Andy says that even if Kaitlin was telling the complete truth no one would believe her. Andy and Amanda talk about how it makes them trust Aaryn more. They wonder why Judd would have said that but both agree they still fully trust him. Andy leaves and joins the other on the backyard couch. They talk about Elissa. Judd says Elissa is an idiot. Judd heads inside.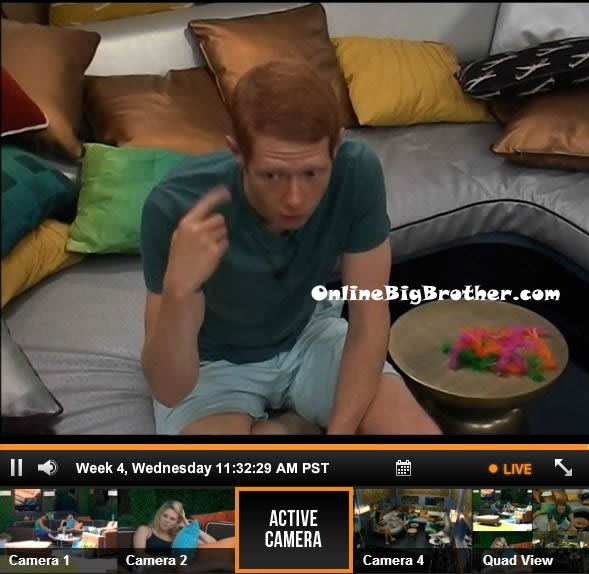 11:35am Judd runs into Amanda in the hall and hugs her. He whispers to her that Elissa is good now. Judd heads back outside. Amanda asks Andy if Elissa is okay now. Andy says he thinks so..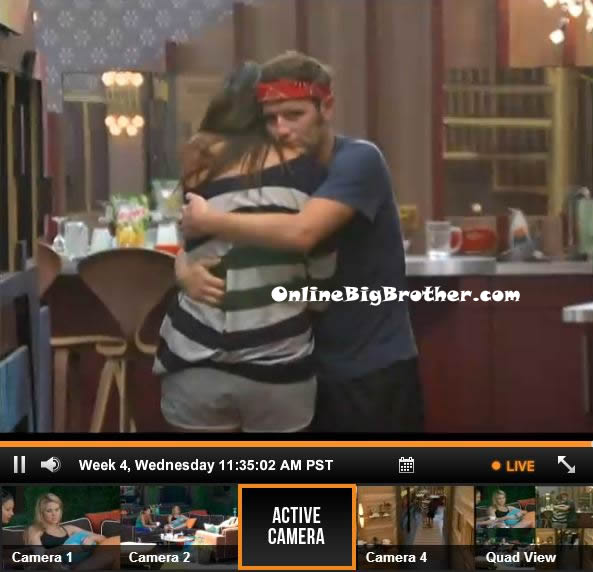 11:45am – 11:50am Amanda joins Judd, Aaryn, Jessie and Andy out on the backyard couch. Jessie tells Amanda about how Spencer said he bets my pu$$y tastes like butterscotch. Amanda says that is so gross, I hate him so much and that make me hate him even more.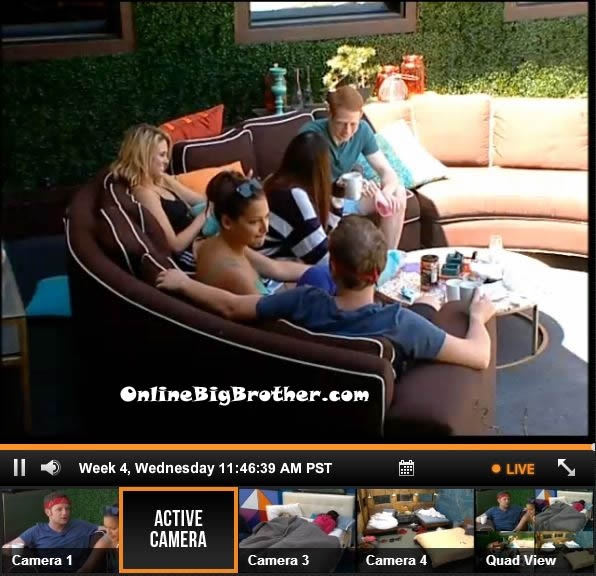 11:50am McCrae joins them outside. Amanda says first off check yourself – you look like a cross between McHammer and Snoop Dog with your underwear pulled up so high and your shorts down so low! Judd tells McCrae to pull his shorts up, I can`t take you seriously!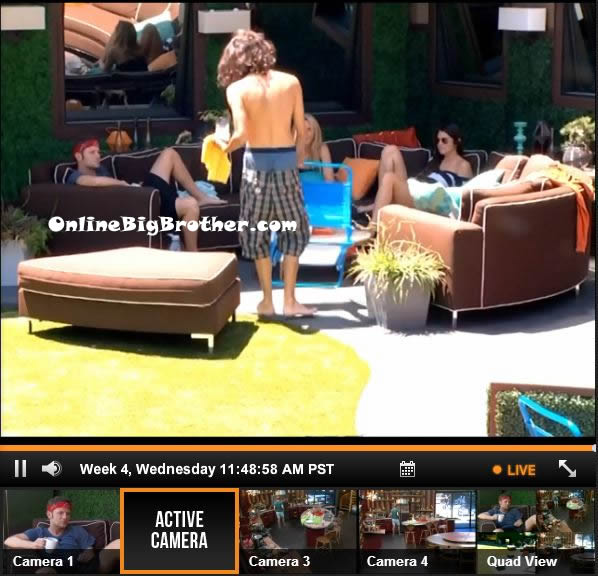 [polldaddy poll=7268963]