POV Holder:
Elissa
Next POV
July 27th
POV Used
YES
POV Ceremony
July 29
HOH Winner:
JUDD
Next HOH:
July 25
MVP:
AMERICA
Original Nominations:
Aaryn, Kaitlin, ELISSA (MVP – America)
Current Nominations:
Aaryn, Kaitlin, GINAMARIE (MVP – America)
Last Evicted Houseguest
David, Nick, Jeremy
Have Nots
Jessie, Candice, Andy, Spencer
7:46 HOH Andy, Amanda and McCrea
Andy saying that Elissa just told Kaitlin that she knows Kaitlin is going home.
Andy adds that Elissa told Kaitlin that Aaryn is going around the house saying Kaitlin is in an alliance with JUDD, Spencer, GM and Howard.
Andy: "Why would Elissa do that.. what is going on with her today"
McCrea: "Pretty much Helen has to do something about this"
Andy: 'Elissa is malfunctioning today and I don't know what to do about it"
Amanda: 'Stay away from her"
Andy : 'I'm telling you the minute we get a few of the bigger targets out of here she's got to go"
They all agree to this
Andy: 'She's f**** nuts.. and I feel that she already has so much money and doesn't even really know what she is doing in this game"
Andy: "I want her f**** out of here.. we can't trust her to keep her goddamn f****** mouth shut"
Amanda asks what is wrong with Elissa she's so f**** stupid, "She can't play for veto next week why is she being so stupid"
Andy: "Oh my god"
7:49pm Aaryn and Kaitlin bedroom
Kaitlin tells Aaryn that Elissa pulled her aside and asked her if she has a deal with Spencer and Howard. Elissa told her that Spencer and Howard are going around making deals with everybody.
Kaitlin: 'She said people are thinking you have a final for alliance with them.. and I think Aaryn is going around saying that"
Kaitlin explains that Elissa told her she would rather Aaryn goes home over Kaitlin but if she has a deal with Howard and Spencer than she is going home.
Elissa wanted Kaitlin to confront Howard, Spencer, and Aaryn in front of the house and find out who is lying about the secret alliance.
K: 'You got to be f***ing kidding me"
Kaitlin: 'I looked Elissa in the face and told her why would I be in an alliance with Spencer and Howard for a second time after they betrayed me two weeks ago"
GM comes in and Kaitlin fills her in what Elissa is going around saying
Kaitlin: "Elissa said I think Aaryn is spreading the rumor"
Aaryn leaves. Kailtin tells GinaMarie that she thinks Candice is spreading the alliance with Howard. She adds that whatever they had with Howard is done.
8:00pm Bedroom Helen, GM and Elissa
Helen: "Elissa what is going on"
GinaMarie: "I'm hearing that I am in a secret alliance with Spencer, JUDD, Aaryn, Howard and Kaitlin"
GM is laughing.
JUDD comes in says they all just stay up late and talk.
Elissa: 'WHAT are you talking about you guys are NUTS .. I'm so tired of being lied to I don't know what is the deal.. stop being so over dramatic"
Elissa looks at Helen "Why did you come in here and say what's going on"
Helen explains that Aaryn just came up to her and said Elissa told Kaitlin that "we" are trying to get Kaitlin out of the house by saying that she's in an alliance with Spencer, JUDD, Howard and Candice.
Helen adds that they are saying Elissa wants Kaitlin to stay so she needs to expose the secret alliance.
Elissa: "I want to know that truth.. I don't believe it Aaryn is lying about everything"
Elissa: "Aaryn just heard me talking to Kaitlin and she made up whatever she wanted to make up.. she's stirring things up after she swore she wasn't going to"..
Elissa: "Aaryn's NUTS.. Aaryn is a pathological liar" Elissa explains why would Kaitlin go to Aaryn when they are both on the block it doesn't make sense.
Elissa points out that Aaryn had asked her to leave when she was talking to Helen, "If she's so confident that I said it.. She's a liar"
Elissa: "Aaryn probably heard me talking to Kaitlin and decided to make up whatever she wanted to make up"
Helen: "I believe you"
Gina is really playing up how she doesn't have any alliance with Spencer and Howard and says that Aaryn is dragging her name through the mud.
Elissa: "Aaryn's got to go"
JUDD tells her she's getting a bit defensive she doesn't need to.
Elissa: "Aaryn is making things up about me and she doesn't have the guts to tell me to my face"
Helen wondering why Aaryn is lying
GM: "if there was a 5 person alliance and we were trying to keep it secret how would Aaryn know"
8:06pm Aaryn comes in
Aaryn: "Should I leave"
Elissa says I want to know why you said Kaitlin told you these things when Kaitlin is on the block with you.
Aaryn: "Pull her in here.. If you don't believe me go get her and ask her in front of me.. I overheard the conversations I was in the bathroom"
Aaryn said Kaitlin told her all about the conversation she had with Elissa and she heard it in the bathroom.
JUDD wants to know what Elissa and Kailtin talked about
Aaryn tried to explain She said Elissa confronted her and asked her if she was in an alliance with Spencer and Howard and you said that you wanted her to stay here and you wanted me to go.
Elissa :"Well someone is going home and someone is going to stay" (Glad we got that cleared up)
Aaryn: "exactly and you said to her she needs to confront them in front of everyone"
Andy joins them
A: "why are you trying to stir things up"
E: "I'm not stirring anything up you just called Helen into a room and were talking about me"
A: 'YA.. go ahead"
E: 'You are the one starting this why don't you go ahead"
Kaitlin now in the room
A: "I don't like that people are spreading things that are coming out of my mouth when they are not"
E: "It had nothing to do with you.. it had to do with Kailtin.. you are just trying to stay in the house this week"
A: 'Kaitlin told me that you said I was bringing this up" (The 5 person alliance)
Kailtin: "you said that she might be starting a rumour about it and I told you no and you didn't believe me".
Elissa tells her to go get Howard and Spencer
Aaryn: "Lets figure out what's true.. what do you want to know"
Elissa :'I don't want to know anything about you.. you were talking about me to Helen"
Aaryn: "Ya I was"
Spencer and Howard roll in
Everyone wants to know who is saying that there is a secret 5 person alliance.
Spencer: 'Elissa why don't you tell us"
Elissa: 'I'm not going to say you said you guys are in an alliance.. is that true"
Spencer: 'Hell no it's not true she's on the block why would I"
Spencer says he's been nothing but honest to Elissa he would like to know the name, "Your whole argument loses validity because you are not telling me the information source"
Elissa: "You lied to me about the Moving Company"
S: Ya I was in a secret alliance that's the name of the game.. i never voted against you"
Elissa: "this has nothing to do with me"
You can re-watch ever second on the feeds using their flashback feature. It's like a DVR and is super easy to use click this link for a free trial —> Subscribe to the Big Brother Live Feeds
Elissa wants to know why Aaryn is bringing this up in front of everybody and not just talking to the people involved.
Aaryn points out that Elissa doesn't talk to her
Elissa: "We don't have a communication grounded"
Elissa "Everytime i've tried to talk to you you've stabbed me in the back"
Aaryn: "Same"
Elissa: "I don't even think about you "
Aaryn: "you talk about me a lot "
Elissa: 'Don't flatter yourself"
Aaryn: "that is what I hear to about everyone in the house"
E: "Of Course you do.. Aaryn I don't want to talk to you .. we don't click this isn't about us this is about Kaitlin "
Aaryn: "well my name got brought up you told kaitlin I was the one starting the rumor.. why are you smiling.. Kaitlin just said I didn't make it up "
Elissa: 'Get a life go start a fight with someone else"
Helen: 'Elissa.. that is what she said"
Elissa to Aaryn: 'All you do is start drama with me.. you're your own problem"
Elissa says she doesn't want to talk to Aaryn anymore.
Aaryn: "If my name came up I deserve to be here"
They all say they agree there is no secret alliance it's just people staying up late to hang out.
Elissa says she wants them all to know this had nothing to do with her
Elissa continues to deny that she said it was Aaryn spreading the rumors. Kaitlin says she did mentions Aaryn as well as other people.
Elissa denies denies denies
Aaryn: "Elissa just stop stop"
Elissa: 'I'm not going to stop"
A: "You are just lying right now.. thats all you are trying to do"
E: "I have no reason to lie"
Aaryn: "Can we be done.. this is my room that is why i'm in here.. i've tried to make amends with you for 10 times"
They try to figure out who was spreading the rumors
Aaryn: "Elissa is the only one that knows"
GM: "Will the real slim shady please stand up"
Aaryn says they have already established that Elissa mentions Aaryn's name to Kaitlin why do they keep going around in circles about his.
Spencer and Howard roll out
8:38pm Bedroom GM, Kaitlin, JUDD and Aaryn
Aaryn: 'What was that.. why did she have to repeat herself 10 times"
JUDD tells them not to worry about it he leaves.
Gina says the person that told about the alliance is Candice
Aaryn says she feels like throwing up, "Why why did I get pulled into that"
Kaitlin whispers says it was the second time they told her Aaryn was spreading things about her
Aaryn: 'Well I hope that just showed you that I don't do that"
Kaitlin: 'I know.. I never believed it"
Aaryn starts to cry. "I'm going to go home because of her"
Kaitlin: "Everyone has gone home because of her"
Aaryn: "It's just one person she's fu**** everything up"
Aaryn says they wanted this to happen they wanted the three of them to go after each other.
Kaitlin: "What did Helen say to you"
A: "She didn't know what I was talking about.. "
aaryn says she is sick of people telling her she's lying and twisting words. Kailtin says that they knew going into the game this would happen. KAiltin apologizes to them for bringing them into this mess she says she doesn't deal with confrontation well.
8:41 Cockpit Andy and Helen
Andy saying that Elissa is a loose cannon and everyday it's freaking me out more
Helen says she's shocked at what just happened.
Andy says that Elissa is still with them so for now she should stay but it's getting dangerous.
Helen: "She almost ruined everything"
Andy says he's going to keep playing dumb and telling people he's out of the loop. Andy points out that this is the reason why Elissa is a terrible alliance member because she wants Aaryn out and she's pushing her own agenda.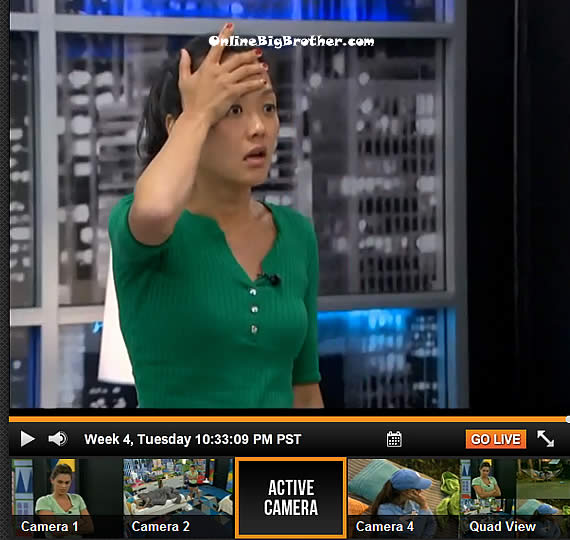 8:46pm HOH Helen, McCrea and AManda
Helen storms in "Elissa's gone nutty"
Amanda and McCrea: 'What happened"
Helen: 'She's nuts.. she's got to go home"
Helen fills them in on what just happened. She ends it with "WHAT THE F****"
Helen brings up when she went to talk to Elissa about it she was told not right now. "Umm like why I always can talk to you"
Helen starts to impersonate Elissa "It's my vote and I can vote any way I want.. if Kaitlin isn't in an alliance with Spencer and Howard I want her to stay"
Amanda says that Elissa has a personal vendetta against Aaryn for some reason.
Amanda says that Kailtin is still going home this week they have the numbers there is nothing they can do
Helen says this is proof that Elissa has gone "MAd" Amanda fills her in about Elissa getting mad adn Andy and McCrea earlier in the day.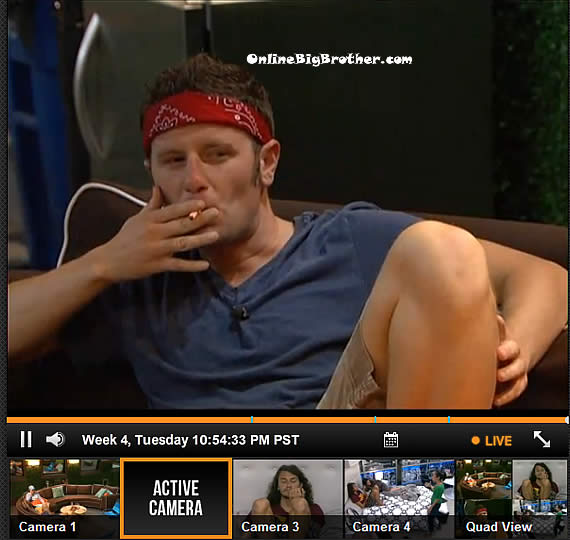 9:00pm Elissa and JUDD
Elissa saying she doesn't appreciate how Aaryn talks to people.
JUDD telling her that Spencer and Howard are coming after him. Elissa: "How are you saying they are coming after you when nobody knows you did anything"
JUDD: "They are going to know I said something.. I'm going home next week" (JUDD is serious)
Elissa starts to laugh.. "You guys are all just ridiculous"
JUDD: "How am I ridiculous"
Elissa: "Because it's just hilarious.. it's such a joke"
JUDD: "I'm a joke"
Elissa: "You're not but you guys know you are the ones that told me that.. about the Alliance and how we need to vote Kaitlin out and not aaryn"
Elissa no denies ever saying Aaryn's name to Kaitlin says that kailtin asked her if it was Aaryn spreading the rumors.
JUDD says he just assumes that anything he said to her was in confidence
Elissa says she has the right to find out if it was true
JUDD: "I out my back on the line to keep you here"
Elissa: "Whatever.. I don't want to hear about it or talk about it anymore.. I just wanted to know if it was true and now I know it's not true"
Elissa does not think it's true that Kaitlin has a secret alliance.
Elissa gets up and leaves tells him they are all liars "Whatever JUDD"
9:05pm Elissa and Kailtin backyard JUDD is still on the couch but leaves after the first 30 seconds
Kaitlin apologizes for the whole thing that just happened. Elissa says she was stupid to go to the person she's on the block against with the information Elissa gave her. Elissa: "If you are not fighting for yourself that was a total waste"
Kaitlin: "I just came to apologize I don't really want to talk about it anymore.. Do you know how to make honey Dijon dressing"
Elissa says that everyone is asking her to vote against Kaitlin. Kaitlin: 'Well then everyone is lying to my face"
Elissa: "Everyone is lying to us because they think we're idiots and we're just their votes until they pick us off"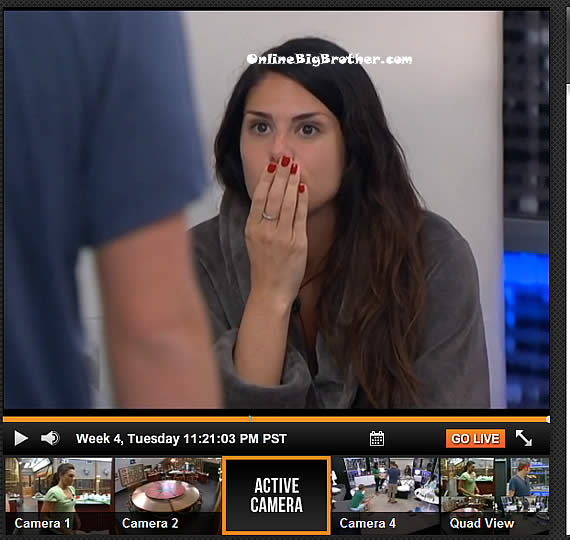 9:15pm HOH McCrea, Amanda, Andy, Helen, Jessie and JUDD
JUDD tells them that Elissa just majorly threw him under the bus, Spencer and Howard are going to know it was him that told about the 5 person alliance.
They are talking about how Elissa screwed them tonight now they have to win HOH. Amanda tells them they still have the numbers to get Kailtin out. Jessie: "She just threw JUDD under teh bus and it pi$$es me off"
McCrea: "this is so f***ed up"
Andy: "Those Reilly women are crazy"
MC: "At this point I would rather Rachel be in here"
Superfriends are scared but they all agree to stick together to get Kaitlin out.
Andy: 'She like a f**** robot that doesn't understand logic"
Superfriends start hating on Elissa (I guess Howard gets a break tonight) McCrea points out that Elissa always points out she never thinks about Aaryn or aaryn means nothing to her yet she constantly brings her up
Andy brings up how Elissa know everything about Season 12 Big Brother but when asked about Brintey she say "I don't know who that blonde girl is who is that"
Jessie: "I think it's her way of being coy"
Jessie calls Elissa the shittiest Big Brother Player ever
Jessie asks them what will they do if she wins MVP next week. Nobody has a answer. Jessie: 'She's really like the least valuable player.. like really"
Andy thinks that America did probably vote to nominate Elissa because she's so bat sh!t crazy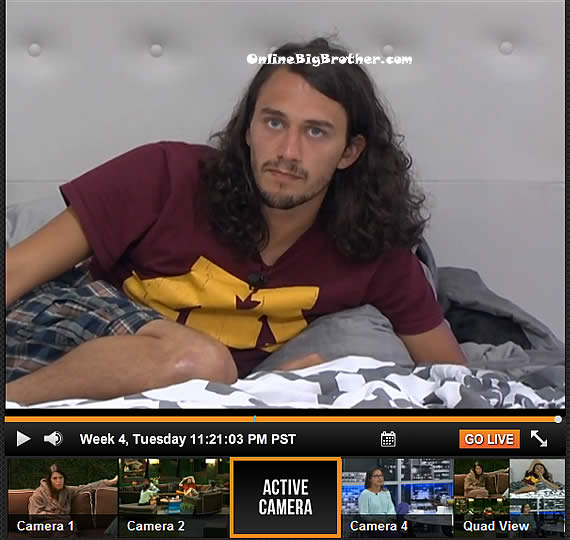 McCrea says that Elissa will now go with the other side 100% "I hope she sinks their ship to.. just going after Aaryn"
Andy: "What a f*** idiot.. if she was a person in real life I wound't give her the time of day"
McCrea: "If this was real life I would dig into her I would Eviscerate her"
Andy: "She's a fu**** mean girl I've seen it.. she bullies and picks on girls"
McCrea: "She's Jeremy 2.0.. argh I want to tear into her so bad.."
11:10pm Hamock Kaitlin, Amanda, Candice and Helen
Amanda says she's been hearing that both Candice and KAiltin are talking sh!t about her. She says she's been hearing that they are pinning the drama with Aaryn, Elissa and Kaitlin on her. Helen says they are talking about the night Amanda was crying. Amanda tells them that it wasn't staged is was real the only fight she's staged in the house was week one.
Amanda: "She really hurt my feelings because i'm body conscious"
Amanda says she's insulted that they would suggest pinning this on her. She's coming to them as a woman and telling her random people in the house are coming up to her saying that Candice is pinning this on her. Candice tells her to call those people out let see who they are.
Amanda tells them to keep her name out of it. Kaitlin and Helen have no idea what Amanda is talking about. Amanda says they are pinning all this on her.
Candice keeps saying she doesn't know what Amanda is talking about
Amanda: 'If you want to be a woman and sit here..say to me. I'm a woman Amanda if you want to sit here and fight with me because you are a woman it doesn't matter who told me I'm telling you I know" (She knows Candice is pinning "this" all on her)
Amanda: 'You have the balls so say I'm saying something when I'm confronting you to your face.. you're not going to admit it"
Candice: "I don't know what you are talking about"
Amada leaves "We all got balls here we can talk to people behind their backs but when they're in our face we got nothing to say"
Amanda: 'Yes it was me I plotted this whole thing.. I told Elissa cmon.. give me a f**** break I got better things to do
After Amanda is gone they head to the where a group of house guests are chit chatting about the crazy drama today
K: "I'm so lost"
JUDD: 'that's the point"
Kalltin: "Self evict I want to smoke some pot"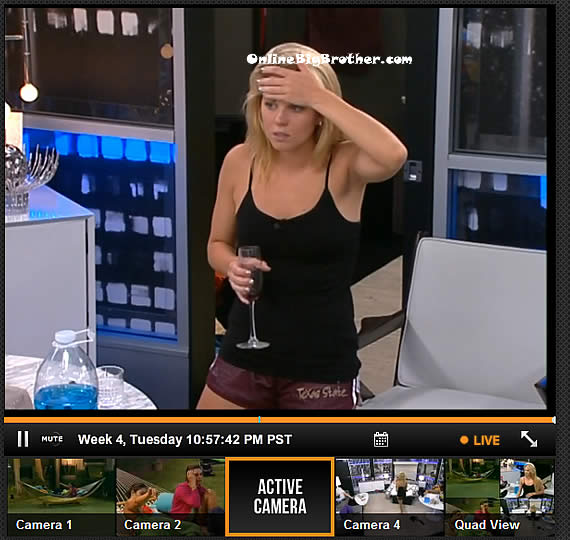 11:00pm HOH Jessie, Amanda, Andy, Aaryn and McCrae
Aaryn says the only people she's with now are the ones in the room. Amanda: "Good because these are the people voting to keep you"
Aaryn says if she gets a power on thursday she's putting Elissa up. Amanda says Howard and Elissa. Aaryn points out that GinaMarie was kinda on Elissa side during the drama. Amanda leaves
11:20pm Helen, JUDD, Amanda, Jessie, Andy, Aaryn HOH (This is the current superfriends alliance. It's down Elissa but has gained Aaryn. Jessie also seems to be closer with them)
Helen tells them Candice thinks that Amanda is the cause of all the drama.
Helen says that Candice is coming after Amanda because she is targeting Howard.
Helen is worried that Elissa is going to spill the beans about their entire superfriends alliance. Andy mentions that they all are going to be Elissa's BFF. Helen says that Elissa won't even look at her right now because she didn't stick up for her in front of Kaitlin and Aaryn. Helen doesn't even know how she could have stuck up for Elissa she was so stupid during her argument with KAiltin and Aaryn.
Helen says that Candice is pretty much under Howards spell she points out how after being told that howard has a final 4 with McCrea, Amanda, and Spencer she denied it. Candice told Helen that she's too close to Howard he would tell her about any alliance, 'Really Candice.. Really"
Andy: "What a idiot.. he's making 5 alliances without her"
THey start talking about how stupid Candice is for falling for Howard..
Helen gets up to head downstairs looks at Aaryn and says "Welcome to the club" (LOL welcome to the superfriends..)
11:40pm HOH Aaryn, Jessie, Amanda and McCrae
The superfriends have been non stop bashing all day and well into the night. Howard, Candice and Elissa have all been torn into by the new superfriends alliance.
Aaryn is quick to point out that the two people she has always had a problem with are Elissa and Candice and she's so glad everyone else is starting to see it. Amanda: 'She better pray I don't win HOH"
Amanda: "I'm going to punch this bitch in the face.. I cannot stand her voice.. I cannot stand her face.. I cannot stand her saying HOWIE.. You're f****ing ugly and you're fat.. he's just using you to spread his gospel word throughout the house hallelujah"
Amanda: "Go f** yourself you ugly bitch you were a dancer really"
Aaryn brings up Candice telling her she's glad she has a muzzle on like aaryn. Amanda: "You can't put a muzzle on a pig.. disgusting pig" McCrea laughs.
Amanda: "I want to harpoon her… f**** her"
[polldaddy poll=7268963]