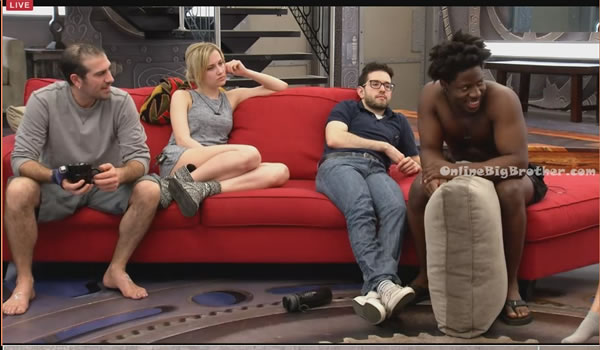 11:30pm Playing would you rather. Godfrey is very animated.
"Says would you rather lick off the whip cream from a anteaters n** $@ck or have whip cream put on your n*t $@ck and the anteater which I might add is untrained from the wild lick…
Johnny tells him that is F*** up and Godfrey is f**** up.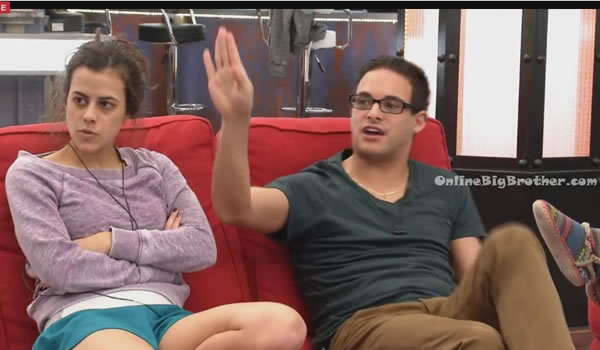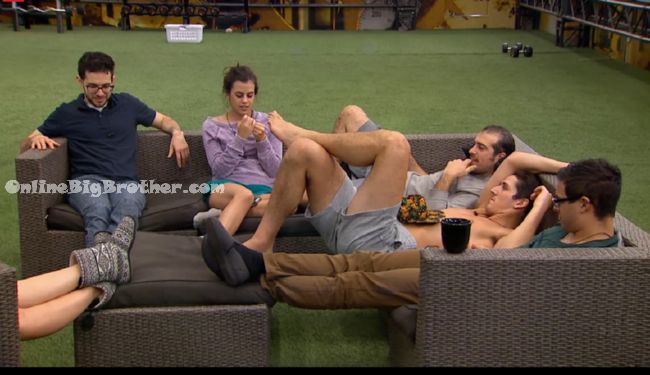 12:00am Backyard TV Chit Chat..
They joke that Godfrey says Yo and bro a thousand times a day.
They chat about their Twitter accounts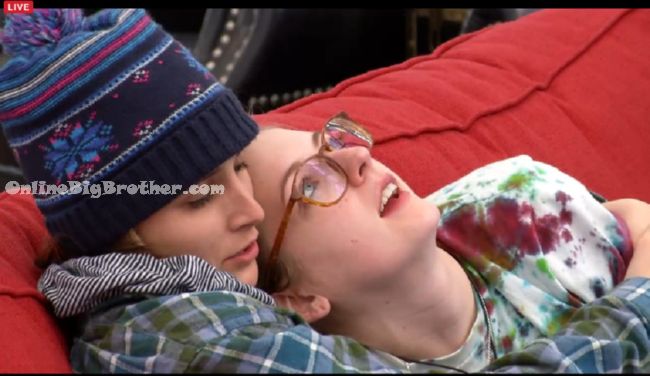 12:17am Living room Willow, Bobby and Sarah
Lots of family talk.. Sarah in tears at one point because she needs to find a real job and contribute more to Scott. Says Scott hates his job.
Willow – I'm so over slop
Willow – Godfrey is our biggest fan he wants us to call him next time when we work out.. He was like YO MAN you look like a hot lesbian couple.
Willow mentions when Godfrey told her she's the man and Sarah is the girl and they are a hot lesbian couple. Willow is dressed like a a man tonight.
Willow – If Risha cam in here calling me a lesbian I would lose it on her
Bobby – she was kinda
Willow – she did straight up said.. It's because I didn't want her.. sorry Risha.. Patricia..
Willow says for the first two weeks she didn't know what to call Pilar.. Pila.. pils…
They head to the backyard..
12:35am Ashleigh and Kevin
Talking about how stressful the POV Ceremony was
Ashleigh – Try being tipsy during that thing .. I was freaked right out..
Pilar joins them.,
Kevin says they are lucky the Diapers didn't get f***d today.
Ashleigh – it could have been really bad for us
Pilar – well duh
talking about how lucky they were with the power going to wau it did. AShleigh mentions if Johnny had won POV Kevin and Who knows would have gone up.
Pilar – who knows
Ashleigh – who knows.. Freaky eh
Pilar leaves.
Kevin – that will thing was pretty crazy eh.. why would she even say stuff like that.
Ashleigh – why would she.. she already asked JP for a final 2 ..
Kevin – we're weeks to week players.. sometimes day to day
Ashleigh laughs when the second night Bobby was talking final 2 "what's your name again"
AShleigh saying the people that went home already where the players that thought way too far ahead and got super paranoid.
Asheligh – In this game with this cast you can't do that you need to chill the fuck out.
Pilar – You're so smart Ash
(LOL)
Kevin – that is why the 5 of us gravitated together.
1:04am Ashleigh and Zach
Asheligh says the one type of Comp she cannot do is the dates But JP will be really good at that. She tells him to study with JP she doesn't 'Know this sh1t"
JP joins them they plan to having a meet in the backyard in a bit to study. just the three of them.
1:11am Kevin and Johnny
Johnny – Looking pretty grim for me eh
Kevin – I mean… ahhh.. have you talk to JP more
Johnny – If I don't have Pili, Ashleigh and or B
Kevin says B is close to Sarah
Johnny – I made my pitch to them.
johnny warns him about this 'Couple thing is getting out of control it's all I hear around here now"
Johnny – Bruno and whoever he's with are gunning for the couples
Kevin – for sure
Johnny says if Sarah was smart she would go with Bruno's side unless you guys win then stays with you, "Thats the smart play"
Kevin says right now it looks really grim, "I wish I could lie to and say.. I just can't"
Johnny – it is what it is..
Kevin – we got off to a shitty start in this game.. anyways I'm going to grab some sleep love ya
1:26am Backyard Zach, Ashleigh and Jordan
Studying. Jordan says anyone that isn't studying is a idiot and he knows for a fact some people are not.
Ashleigh brings up Bobby telling her that Zach Snuggling with Brittnee and Jordan and the rest of the house knows Kevin is the b@ckdoor target next week.
Jordan – Bobby is so stupid
Ashleigh adds Bobby was asking her who she will put up. (She explains her conversation with Kevin it's covered here)
They start talking about who the pawns will be
Zach – Pilar for sure
Jordan – I think Godfrey..
Zach – I could do that.. I'm thinking Sarah
Jordan – if you put up Sarah she'll be so pissed at you…
Jordan asks Ashleigh if they explain what being a pawn will she understand?
Zach says but putting her up they're protecting Kevin becuase the Chop shop wants Kevin gone.
Ashleigh says they have to just repeat Kev's name after everything they say and she'll understand.
They agree when POV is played they take Pilar off the block and put up Bobby.
Jordan says when he backdoors Bobby he'll break down and cry
Zach – it will be so ideal if I put up Sarah and Pilar
Jordan – don't do it
Jordan saying he's super close with Godfrey he can do damage control for Zach.
Jordan says Godfrey is going to sleep all season his this years pawn.
Ashleigh about Godfrey – "He's so easy to manipulate"
They agree they dodged a bullet today if someone other than Bruno won that POV and Sarah/Johnny cam off the block Pilar and Kevin would have been out up and they would have been f***d
(part 2 video uploading it's long)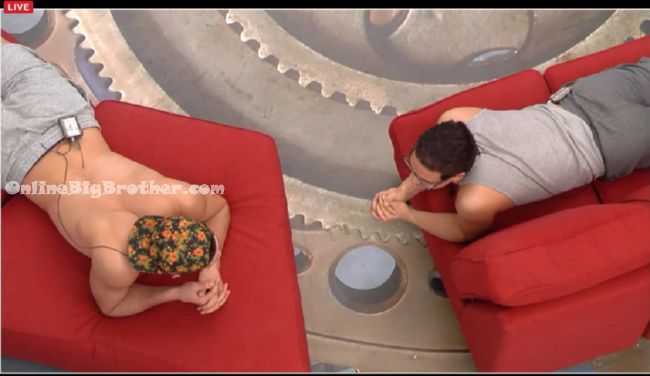 2:11am Johnny and Zach
Johnny tells Zach about his strategy session with Sarah last night and how Sarah's and Brittnee's plan is to flip top the other side if they win power. Johnny says Brittnee's made a deal with Bruno, stresses the girls will not vote another girl out.
Johnny – You gotta watch for the flip cause it's going to happen
Zach – you htink so
Johnny – I know so we were down here last night really late (Read the post here )
Johnny – I know Sarah will flip if they get the power this week.. SHE'S PISSED
Johnny thinks it's super interesting that Bruno talks about a couples alliance and the next day Willow is.
Johnny says Brittnee is SUPER Jealous of Asheligh and Zach, "You can tell".
Zach says Brittnee would be a sitting duck in this game.
johhnny – Float.. Float back and forth
Zach – she'll do that anyways
Johnny – Float like Willow
Zach – I wish we would get them out earlier.. they let the big targets fight it out.
Johnny warns Willow, Brittnee are going to float "That angle works".
Zach says a lot of people have seen through Willow's game, says He does and so does JP.
Johnny says Bruno is sitting pretty none of the girls will put him up.
Johnny thinks the only players ready to make a big move are Bruno and Bobby vs Zach and Kevin.
Johnny – Do you have Ashleigh 100%
Zach – I have her if I need her
They both would "Die" if Godfrey made it to the end.
Zach – I just need some fricking Chicken man
Johnny scoffs.. "Seriously"
Johnny – we spent a hour out there with Gummy bears.. you and Kevin were green Ashleigh and Pilar were red. Bobby, Godfrey and Bruno where white ones.
Stresses all the scenarios Sarah went over were her flipping to the other side.
Johnny thinks Naeha was right Bobby and Willow have something.
Johnny tells him if he wins he'll have fire under his a$$ to taek out Bobby.
Zach – he wants me out so bad right now.. cause he loves Ashleigh.
Johnny says Sarah was thinking of going to Bruno before the veto meeting to take out one of them
Zach – everyone is playing the whole field in here it's a disaster.. I had no idea there was so much flip flopping.
2:56am Everyone sleeping
Before Zach heads to bed a couple paces around the bathroom wondering what to do with what Johnny told him.
[polldaddy poll=8790527]
[polldaddy poll=8794961]
ALLIANCES IN THE HOUSE
Week One there's a lot of Alliance but we've tried to make sense of it all.. Read our alliance help guide
If you are outside Canada and want to watch the FREE Big Brother Canada Live feeds sign up for a VPN service here https://www.hidemyass.com/vpn/r16399/. It's safe to use, easy to set up, and cheap. Need to know more check out this post explaining how to set it up.
Share it YO!!
Tweet