POV Holder:
Bruno
Next POV
April 10
POV Used
NO
POV Ceremony
April 12
HOH Winner
Bruno
Next HOH
April 15th
Nominations:
Johnny and Sarah
Have Nots
Brittnee, Pilar, Willow (Pickled Eggs & Chicken Feet)
POV Players
Bruno, Sarah, Johnny, Bobby, Brittnee and Kevin
Zach is the POV host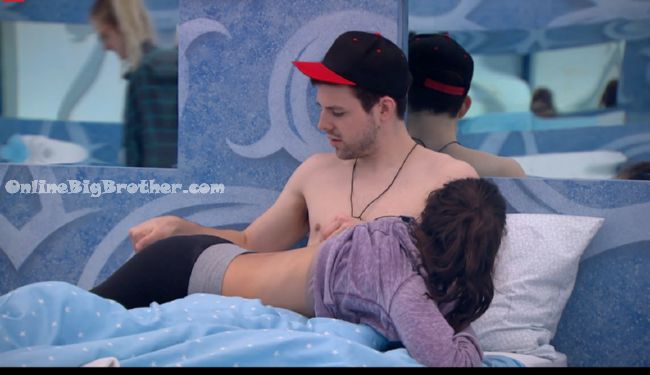 8:09pm Kevin, Brittnee and Johnny
After some giggling with Pilar she leaves. Kevin says he never thought he would be in a showmance. ASks johnny if what he's in is a "Showmance"
Johnny – you guys are 100% a showmance,.
Kevin – alright I accept it
8:18pm Bruno and Godfrey
Talking about Godfrey's environmental charity and Bruno's child's clubfoot.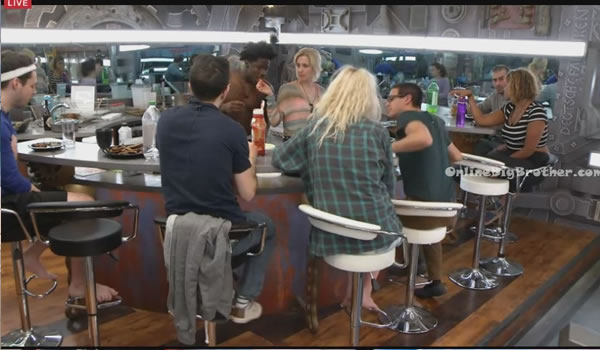 8:37pm During dinner they have steaks. Godfrey starts getting after them for not eating the fat on the steaks. They start giving him their fat, "This is where the flavour is"
Watch the video it's pretty darn funny..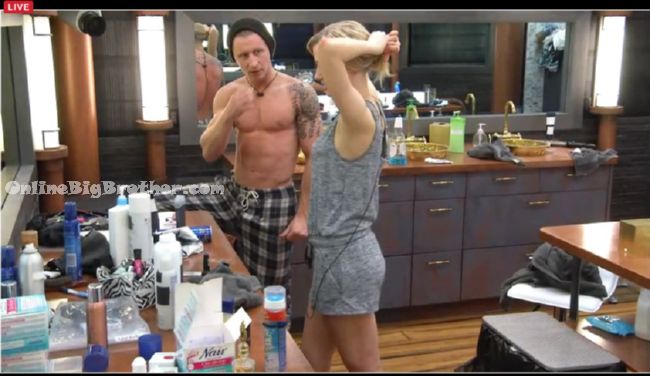 8:47pm Bobby and Ashleigh
Asks her who she would put up if he won HOH. He says Willow told him she would put up Sarah and Godfrey, "Is that Right".
Ashleigh – At this point godfrey that is a easy on
Bobby – why is everyone pitching Pilar as a pawn.. we'll not everyone sorry I don;t know why I said everyone.
Ashleigh – I haven't heard that one.
Ashleigh would put up Godfrey and Sarah.
He's thinking about Pilar and Sarah.
Bobby whispers 'Kevin is the backdoor"
Bobby mentions how EVERYONE knows about the plan next week. He wonders how Kevin wasn't able to hear about it already :That sketches me out"
Asheligh – Huh everyone knows about him going up?
Bobby says that Jordan knows about it the plan to backdoor kevin.
AShleigh – maybe it's his plan too?
Jordan told Bobby "The plan is to backdoor kev right.. It really threw me (BobbY) off"
Bobby thinks is was Zach that told him.
AShleigh – I won't tell Zach regardless I won't say anything
Bobby is surprised that Ashleigh hasn't been told about this "I guess he doesn't tell you everything"
BObby mentions how Zach is good with everyone in the house. Bobby adds that he doesn't mind as long as Zach stays loyal to them he doesn't care if Zach spends hi time snuggling Britt in her bedroom.
Bobby points out how AShleigh is in a good spot right now sh'es nobody's target.
Ashleigh says her intent was not to play under the radar "I haven't had a chance to compete ouch.." She points out sometimes playing under the radar and being nobody's target will make you somebody's target"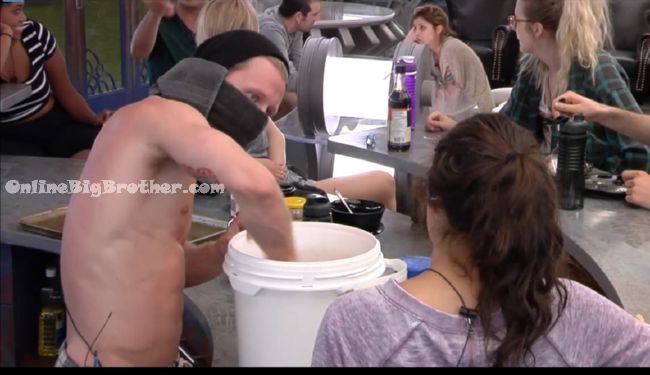 9:09PM Bobby ears some protective gear as he serves up some slop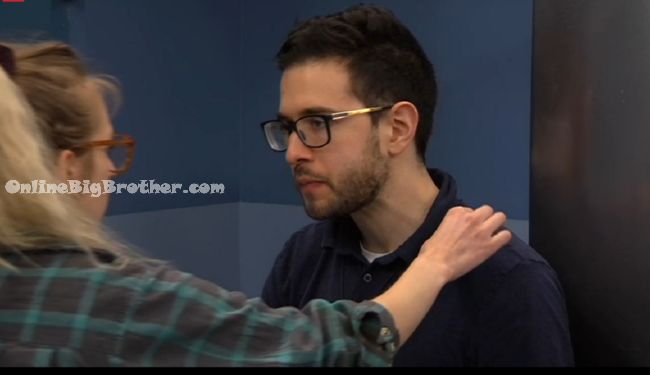 9:12pm Jordan and Sarah
She's wondering why Pilar didn't go up they could have saved Johnny. Jordan explains that Bruno had it in his head to put Sarah and Johnny up he was like 'NOPE". Jordan tells her he should be able to talk Zach into putting Godfrey up as a pawn instead of her.
Zach joins them. Sarah tells him that Brittnee is getting a little insecure she needs some more love from Zach, Points out how Brittnee is use to being the centre of attention.
Jordan brings up his conversation with GOdfrey where he told him he was going to put up Brittnee and Sarah to backdoor kevin. Adds that today Godfrey told Sarah he would put up Kevin and Zach
Zach – he said that today
Jordan – he said that to Sarah
Sarah – he didn't say your names but said these guys have girlfriends.
Brittnee comes in tells Zach she no longer has a crush on him, "The chase is over"
Zach jokes – That was a little harsh
Jordan – we're all on the same page for next week we know what will happen.
bobby comes in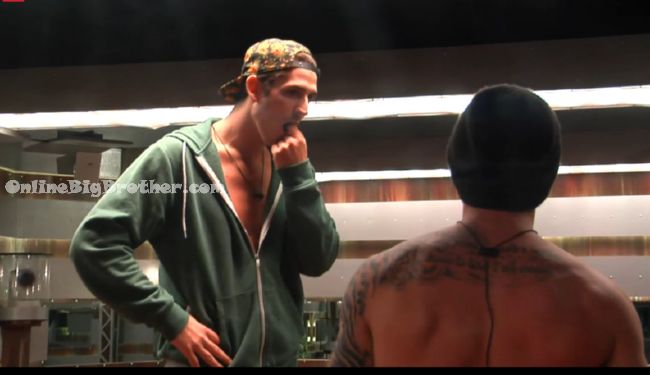 9:20pm Zach and Godfrey playing oxi-ball.
Zach says they gotta with this HOH
Zach – If I win it you're good
Godfrey – Same here man same here
Zach – boys gotta roll deep
Godfrey – we have to .. these girls are already trying to take out the strong guys.. Sarah pulled me aside saying you gotta keep me you'll go farther with me
Zach – A lot of guys want to do kevin this week
Godfrey – ya ya that's fine.. we have to bri
Godfrey – if we can we'll need to get rid of another girl cause they'll gang up on us
9:30pm Hot Tub Zach and Bobby
Bobby is covering his tracks says that Asheligh didn't know that Jordan was in on the plan to take out Kevin. He told her Zach must have said something. He didn't want Zach to think he was selling him out.
Zach – I never told her specifically

Bobby ninja kicks the door shut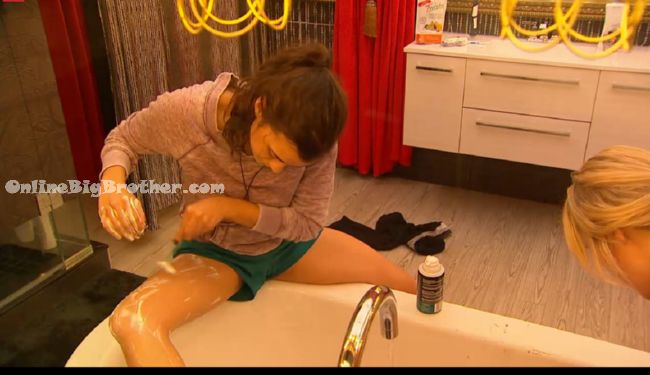 9:19pm HOH Leg shaving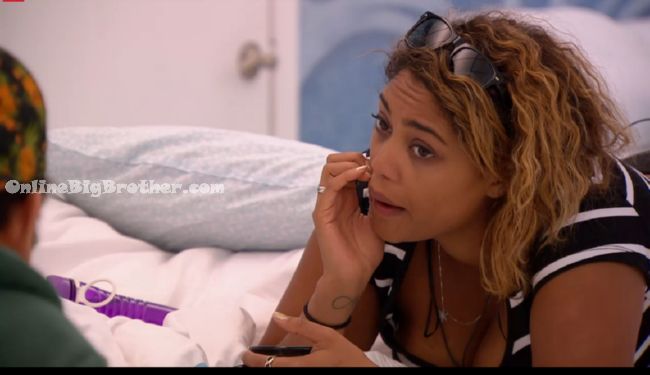 9:38pm Zach and Brittnee
Talking about who his pawns would be so they can go through with the plan to backdoor Bobby. His options are Jordan, Willow, Ashleigh and Pilar (this is what he says)
Zach asks what her noms will be if she wins HOH.
Brittnee – Pilar and Godfrey and b@ckdoor Bobby
Zach – nobody knows where Godfrey's head's at he hasn't made a move in the game.
Zach – I think JP will put up Willow and Godfrey.. each of us are in a different spot our pawns will be different.
Brittnee says she trust Bruno more than Willow 'Pilar, Ashleigh and Willow freak me out they don't commit to anything." She points out that Ashleigh only does what they tell them
Zach says after next week they could take out Willow
He thinks after next week all that's left if Bruno maybe working with Godfrey and Willow, 'Sorry someone has to go"
Zach is up for taking out Willow
Brittnee – I need Bobby out.. he irritates me and he's a threat
Brittnee says they need to throw the HOH to Zach so he can do it.
Zach will tells Bruno that Bobby is a threat to him, "He'll be shattered"
Zach says Bobby's head will hit the floor when he's backdoored.
Zach says Ashleigh is a person that is a number for them. "One of you three (Britt, Sarah adn ?) get it put her up and I'll vote her out"
Zach – it sucks If I get an HOH and it's time that I have to do it I will
Brittnee says she doesn't want to be the one who takes out Bruno she feels the same way.
Zach – each of us has those people that will have to do it for each other and that is why way it works.
Zach – right now one of us will take out Bobby.. further down the line one of you girls does Ashleigh .. Somewhere down the line Jp or Kev.. someone does bruno..
Stress that is the beautiful thing about what they have they don't have to take out the people they are emotional close to.
Zach – why do you look so skeptical.. it's not going to be easy
Zach – Godfrey has to go, Willow has to go and pilar..
Zach – depending if the other side wins the HOH Bruno might take out a pilar
Zach says once Bobby is gone it'll split the other group up and if they win the HOH they'll just get in their ears.
Brittnee asks who bruno is after
Zach – THey want kev out
Brittnee – Out bad eh
Brittnee – it sucks playing with people that don't want to play
Brittne tells him when she won HOH Sarah wanted Bobby gone but she wanted Graig.
Zach says Bruno is scary "Everybody loves him nobody feels he's after them"
Brittnee- I'm more nervous about Willow that I am about Bruno .. Still want to see Godfrey go.
Willow comes in
[polldaddy poll=8790527]
[polldaddy poll=8794961]
ALLIANCES IN THE HOUSE
Week One there's a lot of Alliance but we've tried to make sense of it all.. Read our alliance help guide
If you are outside Canada and want to watch the FREE Big Brother Canada Live feeds sign up for a VPN service here https://www.hidemyass.com/vpn/r16399/. It's safe to use, easy to set up, and cheap. Need to know more check out this post explaining how to set it up.