POV Holder:
Bruno
Next POV
April 10
POV Used
NO
POV Ceremony
April 12
HOH Winner
Bruno
Next HOH
April 15th
Nominations:
Johnny and Sarah
Have Nots
Brittnee, Pilar, Willow (Pickled Eggs & Chicken Feet)
POV Players
Bruno, Sarah, Johnny, Bobby, Brittnee and Kevin
Zach is the POV host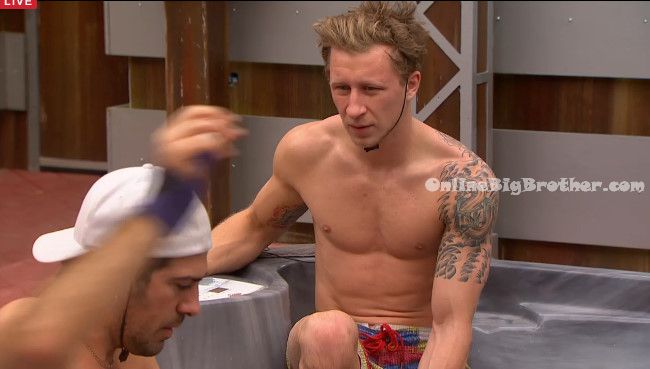 9:30am Big Brother wakes up the house guests. They block the feeds and when they come back – Bobby and Bruno are out in the hot tub room. Bobby and Bruno are talking. Bobby says its hard to know what information to release and what information to give out. They continue talking game in the video below.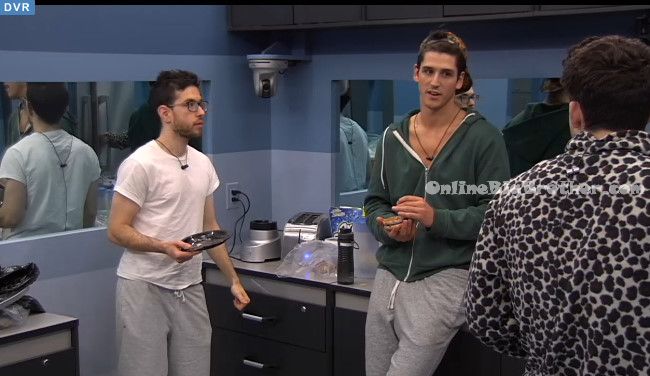 9:45am – 10:20am In the Storage room – The Bromuda Triangle alliance have a meeting. Kevin, Zach and Jordan are talking. After Jordan and Zach talk about Kevin has no idea we have Pilar and Ashleigh down. Zach says I talk to B just enough each day. She is an emotional player. Zach tells Jordan to stay close to Sarah. Out in the backyard – Jordan and Zach agree they need to win the next two HOH's. They talk about being worried about Willow. Zach says I don't think Bobby would stab me in the back because he's such a pu$$y but he would get someone else to do it. Bruno joins them. They talk about how they think the HOH will be a question competition. Bruno asks if Johnny is still fighting. Jordan and Zach say yes. He's not giving up. They talk about how much of a great guy Johnny is but that he has to go. Bobby joins them. The conversation turns to talking about the Veto power and when Bruno told them about it. Zach says I thought you had to use it. I was sitting there just sh*tting my pants. Bruno says if I didn't win this, it would have changed everything. This is the chance to get him out. Zach says if anyone gets voted back in it could be GingaNinja. He would blow this place up. We vote him out and they (viewers) vote him back in. They agree Kevin can't win HOH. Bobby says he thinks the next 4 weeks will be easy. They wonder about how many how many jury members there will be either 7 or 9 with the possibility of Canada being one of them.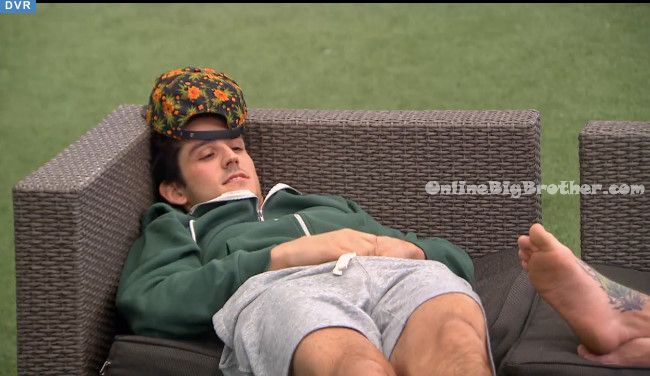 10:20am – 10:40am Jordan and Zach continue to talk in the backyard. Zach laughs at the fact that Bobby thinks the next 4 weeks will be easy. Zach talks about needing to take out Bobby and Bruno and that they would need Brittnee to take out Ashleigh and Pilar. Zach says you can read it all over B's face. Jordan says yeah she's an open book. Zach says I would like to get Willow out in the next few weeks. Zach says I want to get Ashleigh to get in the hot tub with Bobby and convince him to throw the HOH. Jordan agrees and says to tell her to tell him this is an easy week. Bruno and Willow join them.

In the living room – Kevin, Johnny, Brittnee are talking. Kevin asks Johnny if he had to quit his job to be here. Johnny says his job let him take the leave of absence. He says I'll be able to go back to it as long as I didn't say or do anything that would get me fired, which I don't think I did. Kevin asks him about his job and schooling.
Out in the backyard – Bruno, Willow and Jordan are talking. Bruno is talking about his kids and sports. Sarah and Brittnee join them. The conversation turns to talking about extreme wealth. Sarah says she thinks they should put a cap on inheritance like 50 million and whatever's left goes to help others.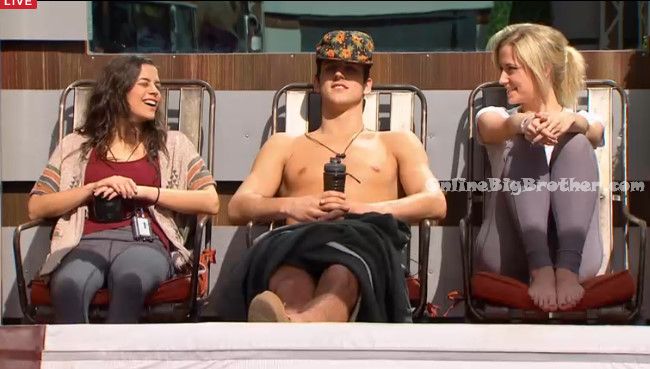 11:15am Out in the hot tub room –
Bobby, Zach, Sarah, Pilar and Ashleigh are hanging out. Sarah says that on Wednesday she's going to wear a dress that she thinks Neda would like. Ashleigh comments on how she was hungry and tried to get into the pantry and it was locked. You know how horrible that feels. Godfrey joins them. Sarah shows them her rocks. Brittnee, Johnny, Pilar and Kevin join them.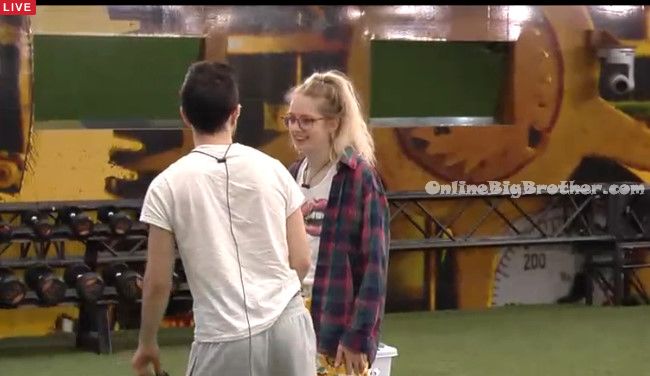 11:25am – 11:45am Jordan tells Sarah that she talked to Kevin last night and she won't be going up in any situation. Sarah says that's good. They head inside. Jordan tells her that Willow is throwing Sarah and the couples under the bus. Jordan talks about how Graig wasn't built for this show. Too emotional. Sarah says if you gave him a good pitch he would switch. He always kept the door open for people. Sarah says we'll keep this just between me and you.. the competition do you think it would be things in the house? Jordan says I know Arlie thought that last year and he went through the house and counted everything. Jordan says I don't know it could be. I think it will just be a before / after or A & B comp. We're set if it is. If Willow, Godfrey throw this HOH and Zach convinces Bobby to throw it then we have a good chance to win it. Sarah says and then we're at jury. Jordan says pretty soon if its not the week after next. It will be either one more or three more evictions. Jordan says there will be a Double coming soon. Jordan says we just need to push for Bruno to go home before Jury to see his wife and kids. Sarah says he would go crazy. Jordan says especially with his kid sick. Sarah says he would go crazy, you cant even make a phone call. Bruno joins them and the conversation ends.
Jordan and Bruno talk about whether or not the next US season will be an all stars season. They discuss past house guests and if they would come back to play again.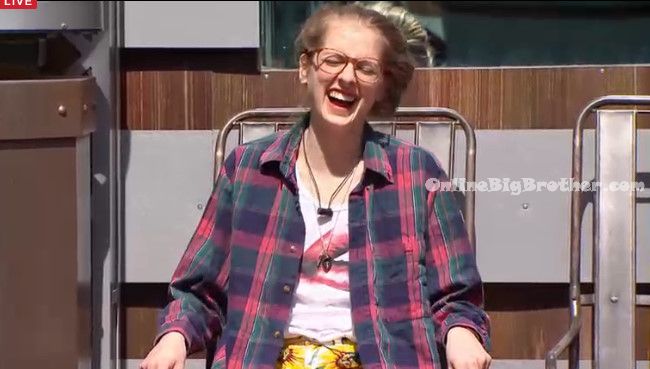 12pm – 1pm Hot Tub room –
The house guests are suntanning. Jordan brings up how Godfrey called out Willow and Ashleigh for having acne. Sarah runs around and kisses everyone. Godfrey says oh what the hell was that yo! Willow talks about how she's begin gaining weight and "bulking up in bulking season". Jordan and Kevin start talking about survivor and other shows/movies. Sarah says she wants a tattoo of Willy Wonka holding the everlasting gobstopper.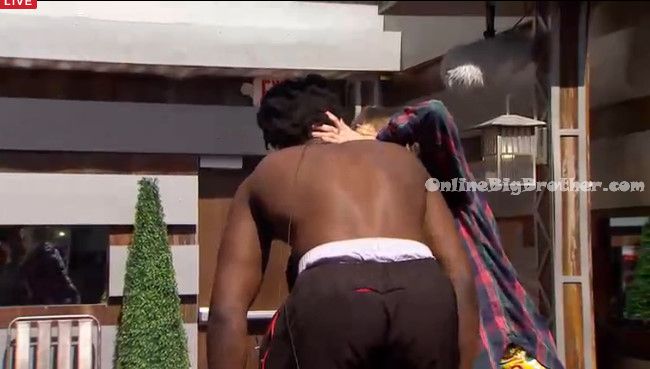 1pm Big Brother blocks the live feeds.
[polldaddy poll=8797487]
[polldaddy poll=8794961]
ALLIANCES IN THE HOUSE
Week One there's a lot of Alliance but we've tried to make sense of it all.. Read our alliance help guide
If you are outside Canada and want to watch the FREE Big Brother Canada Live feeds sign up for a VPN service here https://www.hidemyass.com/vpn/r16399/. It's safe to use, easy to set up, and cheap. Need to know more check out this post explaining how to set it up.