POV Holder:
Bruno
Next POV
April 10
POV Used
NO
POV Ceremony
April 12
HOH Winner
Bruno
Next HOH
April 15th
Nominations:
Johnny and Sarah
Have Nots
Brittnee, Pilar, Willow (Pickled Eggs & Chicken Feet)
POV Players
Bruno, Sarah, Johnny, Bobby, Brittnee and Kevin
Zach is the POV host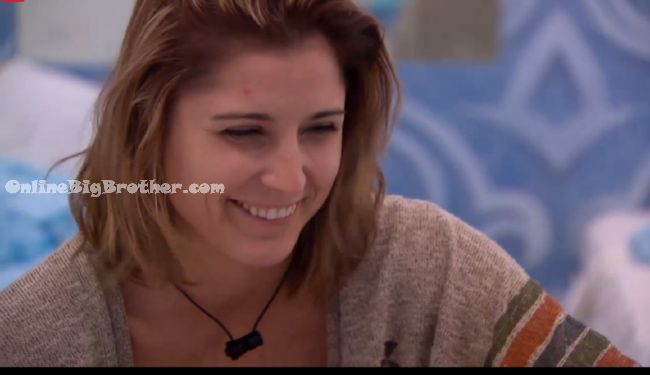 10:20pm Willow and Zach
Willow is worried about Kevin and pilar, but not right now.
Willow says she would nominate Godfrey and Sarah or maybe Godfrey and Pilar. She wants to Backdoor Bobby.
Willow – I want to get into this game I don't mind getting blood on my hands.
Zach – you have to win to actually play the game.
Zach hopes that Bobby throws the HOh to him.
She tells him that Bobby will throw the HOH to him.
Zach says what would she do if he puts her up as a pawn.
Willow will put him up next week.
Willow tells him Bobby is really into Ashleigh he follows her around.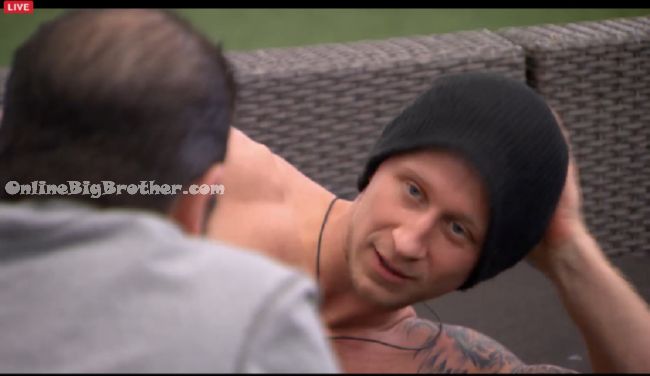 10:25pm Bruno and Bobby
Bruno saying if someone used the POV he would have to put up Kevin and Pilar. if kevin had won the POV he would have put up PIlar and Brittnee.

Bobby points out that the entire house knows the plan is to backdoor Kevin.
Bobby is going to tell Zach the Chop shop is where they have to have their heads at.
Bobby – You want the money and this awesome glory the glory that lasts forever.. the glory suparsses the money for me.
Godfrey says Zach and Jordan are very close
Bobby mentions how he's given Zach so much in this game. (Slop pass)
They contemplate if Zach will make a move. this early.
bobby doesn't think so because Zach can get further with them than the other side.
Bruno is loyal to the chop shop but he's more loyal to Bobby and him. Bruno says Bobby is the one person he trusts 100% (Said this to Godfrey to)
They agree Zach and Ashleigh are 100% and Willow sees it to so they can bring her in.
Bobby's perfect final 6 is the chop chop and godfrey, "we gang up on the showmance".
Bruno says for their game the best is for Kevin to leave followed by JP or Zach
Bobby – If we take a stab at JP Zach think something is up it will have to be a backdoor.
Bruno – I almost think it's better to get Zach first If we get Zach out first JP will crawl to us
Bobby – we can take out Zach's army..
Bruno – If we go after Zach's army he'll catch on
Bobby – who is his army .. Sarah and Britt
Bruno – he's close to Britt.. Ashleigh and JP
Bobby – that is why he's selling Sarah and pilar to put up instead of Sarah and Britt.
Bruno about Zach – you ever notice how he disappears with people .. him and Ashleigh get together him and JP get together.
They count Zach's army, Britt, Ashleigh, Jordan and Zach that's 4 if Zach gets Pilar and kevin that is 6 people.
Bruno isn't sure wher Kevin is but think Zach has 5. "5 people it's not good"
Bobby wants to take out britt first "Its the least amount of blood" (Jeepers Bobby… )
Bruno warns that Sarah is dangerous
Bruno says during the POV power reveal jordan was staring at Zach 'Why is Jordan sweating so much.."
Bobby – JP is playing a really floaty game.. really floaty
Bruno – I know what I say to him he'll run and tell Zach he's Zachs little puppy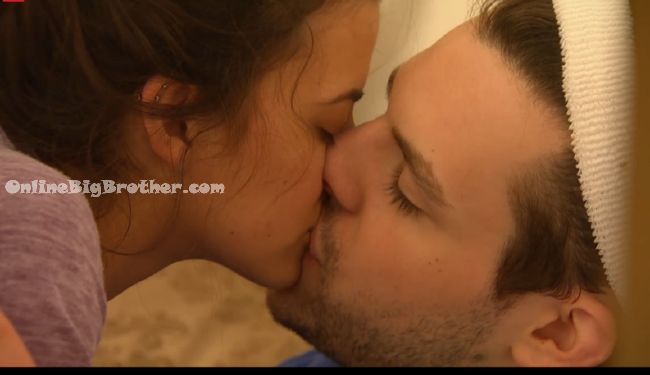 10:55pm – 11:45 Slurping..
Pilar says she doesn't trust Willow anymore. She feels betrayed by her. (Willow is worried about the couples).
Pilar thinks if Willow wins the HOH she'll go after the boy and they don't want that. Asks him who he would put up if he won HOH. Kevin – The Diapers would have to meet up and we'll decide together… I only think of one thing at a time"
He tells her she's very smart she's going to go really far.
Pilar thinks she's really bad at this game, "I trust everyone"
Kevin hopes she trust him
Pilar – I believe you and I trust you 150%.. do you trust me
Kevin – Yeah
Pilar – You're like my brother .. that came out wrong.. You're chill
Pilar – Godfrey is such a nice person but I don't trust him.. I don't
Kevin – He tells us lies for fun
Pilar says Godfrey told her something about Graig but she can't remember what it is, "I'm just going to make something up" After some rambling she says "I'm really good at reading people.. I know when people are lying"
Kevin – You're good at areading people
PIlar – I don't knoww why
kevin – It's a skill
Pilar – sometimes I picture something and it happens.
She goes on to explain she knew there was going to be a power during the POV Ceremony.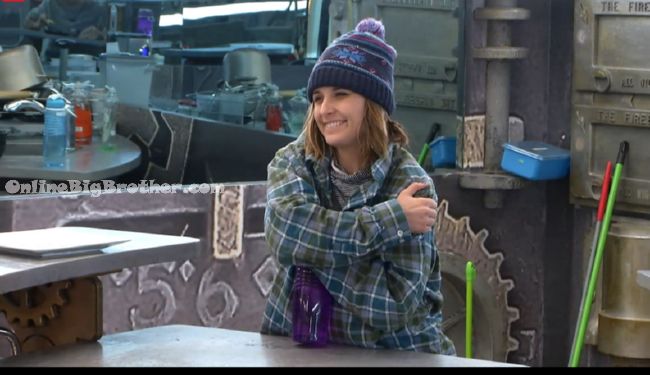 11:03pm Willow and Bruno Hockey Talk
Willow hates Boston Bruins mentions how there isn't many Canadian teams in the running. Thinks maybe Calgary and Vancouver but Calgary made it through.
Bruno says the Habs have a good chance.
Willow – I was going for the leafs last year.. not two years ago.. I was like is this what it's like to be a Leafs fan this Sucks .
Bruno – you could feel the momentum shift.
There is a bit of game talk Bruno tells her he needs a HOH win out of her. Willow mentions how Zach is hoping Bobby throws the HOh to him