POV Holder:
?
Next POV
July 27th
POV Used
?
POV Ceremony
July 29
HOH Winner:
Aaryn
Next HOH:
Aug 1
MVP:
?
Original Nominations:
Spencer and Howard
Current Nominations:
Last Evicted Houseguest
David, Nick, Jeremy, Kaitlin
Have Nots
Judd, Amanda, Candice, GinaMarie
7:01pm Havenots Jessie and Howard
Jessie says that Howard didn't get his opportunity to play in the NFL because of his injury she feels like Big brother is a second chance for him a second opportunity she doesn't want him to get discouraged and give up
Howard says he's always been real with her and the people in the house he's going to fight to stay but won't play dirty and throw people's names in the mud.
Jessie: "Just win the freaking POV"
Howard: 'It's OK"
Howard starts to pray..
7:05pm Storage room Spencer and JUDD
JUDD says he thinks Howard is the target because he's being sneaky. Spencer says it's not that he's sneaky he's just being quiet. JUDD doesn't think Spencer has anything to worry about unless Howard wins HOH and even then Candice will go up
JUDD: "As long as it's not lifting weights you got a good chance"
7:11pm Bedroom
Spencer: "I think Candice will get MVP"
Jessie: 'That would be a fussy situation.. pawns go up all the time:"
Spencer: 'Between you and me his game is hurting my game"
Jessie: "What is his game"
Spencer: 'I don't know"
Jessie says that he's only talked game to her twice and only for a couple minutes so she doesn't know what other people are talking about Howard being a hady.
Jessie says if Howard pulls himself off the block Candice will be the target.
7:17pm Have nots Howard and Candice
Candice: "Amanda is smiling from ear to ear.. I know they are all praying my name doesn't get pulled" (Pulled in the veto)
Candice knows Amanda orchestrating this she wants Howard out.
Candice mentions how GM totally f***ed Aaryn over last week and now that Aaryn is in power she's ki$$ing her a$$. Howard doesn't seem phased says it's a game and this is what it is like.
Howard says he nervous for Candice.. "I'm worried.. good will overcome evil"
Candice: "I hate scary fake people.. "
Howard: "Don't say hate"
Candice: "I disdain scary fake people "
Candice: "I don't understand she's not too scared to flip my mattress and make black and white comments.. but she's scared to put up the person she wants to"
Candice tells him how bad she wants to win HOH. "I would put Amanda and Helen and Backdoor McCrae… and Amanda and McCrae would be sitting their a$$es up there"
Howard tells her if she is the third nomination and he wins the Power of Veto he'll use it to take her off the block.
Candice: "I wonder if Elissa will get it again.. I wonder who she would put up.. I don't think she'll put me up.."
Candice thinks if someone else wins the MVP or if Spencer wins POV they will put her on the block because that would mean it's one less vote for Howard.
Candice knows that Helen wants Spencer out so he needs to work on her.
Candice "Why are people scared to flip someones mattress but they are scared of putting someone up"
Candice: "This is why I hate this season… "
Candice brings up what happened in Big Brother 13 is the same thing that is happening right now in Big Brother 15.
Candice says how boring season 13 was for the viewers because one side had all the power. Candice: "the only person that was strong enough to stick up was Cassie.. she didn't have the numbers and they all got plucked off one by one until Rachel won.. the same thing is happening right now"
JUDD joins them starts talking about Big Brother 13 how Shelly fu*** over the newbies but near the end they stood up to the vets.
Candice: 'It gets boring to viewers if nobody stands up" (yes)
7:38pm Howard and JUDD
Howard: "Yo man i'm not going to campaign against anyone i'm on the block with.. I'm not going to be vile and vindictive in this game.. other people make up lies and gimmicks to make other people look bad I don't do that"
Judd just agreeing to everything Howard says.
JUDD: 'It doesn't matter who Elissa puts up it only matters who wins the veto":
7:51pm Aaryn, GM and Jessie HOH
Aaryn tells them that Howard memorised her HOH letter and used it to talk to her before the nominations.
Jessie: "there are some smart cookies in here "
GM leaves
Aaryn tells her what the sequence of evicts the "House" wants Howard then Spencer then Candice then GM followed by Aaryn.
Jessie: "I don't think Amanda will keep me over you"
Aaryn says that Jessie is with JUDD and jumped on the Amanda bandwagon earlier than her she knows that Jessie is higher up on the totem pole than her.
Aaryn warns Jessie that "Mccrea and Amanda will always choose the other one and whoever goes up against them is going home.. "
Aaryn: "Janelle would have never made it to final 3 if she didn't win competitions"
Jessie starts telling her how deadly she is in competitions. Aaryn builds her up says Jessie is going to win a competition soon she's stronger than most of the other players in the house.
Aaryn says the top six will be 3 sets of pairs, McCrea/Amanda Andy/Helen and Jessie/JUDD.
Jessie wonders if the top 6 is solid. Aaryn says they are rock solid.
Aaryn says yes she thinks McCrea/Amanda, Anady/Helen and Jessie/JUDD will "Gel" this leaves just her. If she doesn't win HOH during the final 7 she's going home and she knows it.
Aaryn says if jessie gets hoh she will be ordered to put up Candice and Spencer up.
They realize they are on the bottom of the superfriends alliance. Jessie asks Aaryn to tell her if she in danger. Aaryn says of course as long as jessie does the same.
8:18pm Cockpit Howard and Candice
Howard is joking around saying he cried for Candice trying to get the MVP. Candice: 'Ohh BOOO"
He tells her he found a cricket today. Candice: "Crickets mean really good luck Howie it's like seeing a lady bug… it means good luck howie"
Candice says she wants to spend all the minutes she has with Howard.
She jokes that this time next week he could be walking around like GM holding her earrings in his hand. He laughs… Candice: "How about a pair of my thongs"
They laugh
Talk gets a bit dirty and Candice says she's going to keep him in check. Say his pastor wouldn't be proud of him. They laugh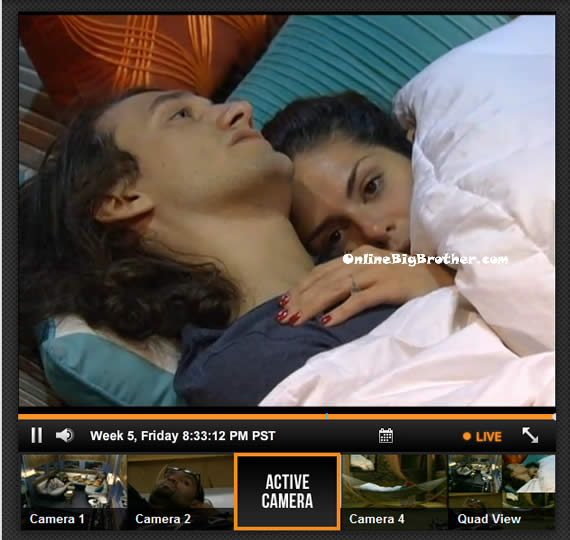 8:34pm Amanda is saying she's been funnier in the DR…
8:38pm Helen going on and on about her life, grad school and letting her life work itself out.. etc etc. .
| | |
| --- | --- |
| [polldaddy poll=7277508] | [polldaddy poll=7277150] |