Check out our BB19 Ranking Grid. . rank your houseguests here
10:21am
They get a hot and cold cup from production .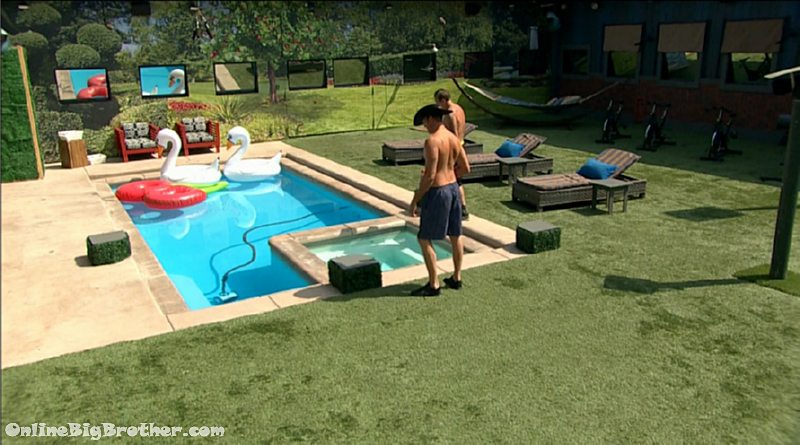 Backyard open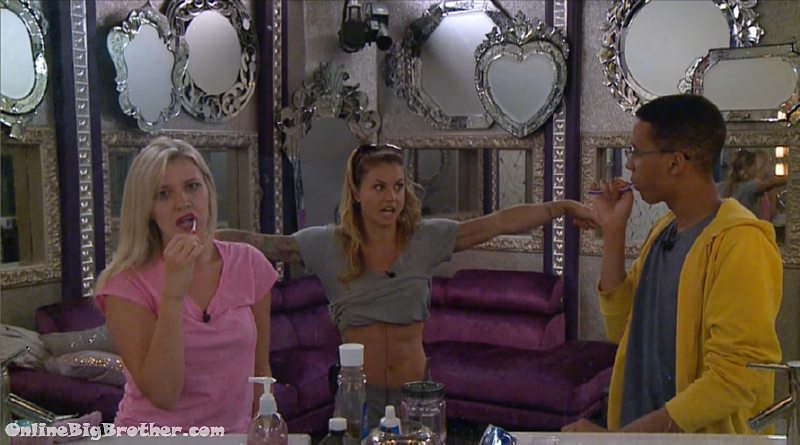 10:27am Bathroom Jillian, Christmas and Ramses
Ramses tells CHristmas he thought she was going to be super serious like Cody.
Ramses – I love your personality
Christmas – thank you, I appreciate that
Christmas says she thought ramses was going to be over the top.. But he's not.
Christmas – I didn't expect Jessica being as hilarious that she actually did
Christmas – I'm going to grab some coffee then some butts.. Then some abs..
Elena joins them Coffee, butts, then we work out"
Christmas mentions how Paul is the king of the house in regards to the sleeping situations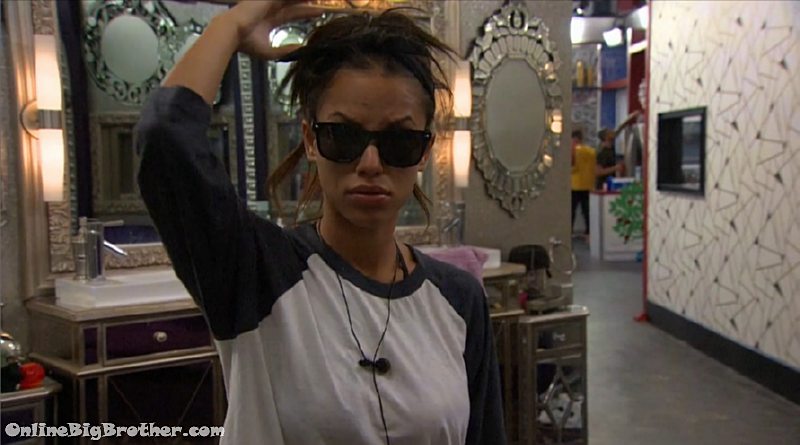 10:35am Jessica and Elena Bathroom
Jessica plans to work out. Elena says she can't so early in the morning "I just woke up" Jessica wants to get it done before it gets too hot outside.
Jessica – it's so weird I had a dream about all of Kevin's daughters..
Jessica – all of them were getting ready to go to prom and like I was talking to them and one of them was like going to prom with one of my guy friends and like humping him (WTF)
Jessica – Kevin was like.. Can you stop
Elena – what the f*** are you doing get off him (in a Kevin accent)
Jessica – he goes can you stop I'm her father
Jessica – I was like how long is he going to let them hump for.
Jessica – Kevin.. You're just going to let your daughter HUMP like that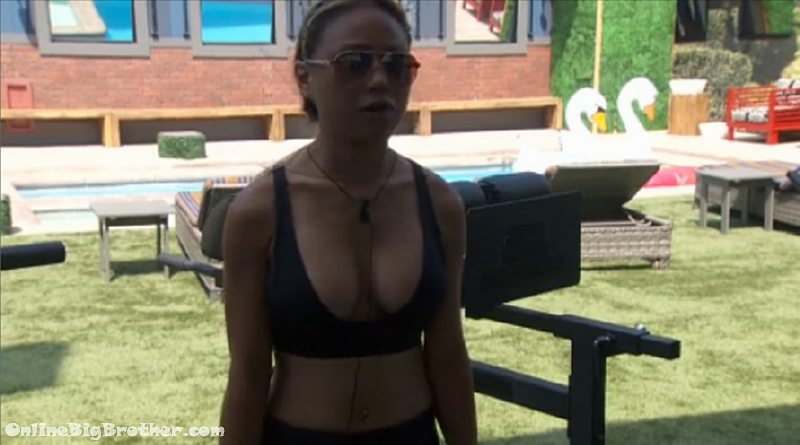 10:40am Outdoor workouts begin
10:47am Lockdown called.. workouts end
Elena write her name on the bottle.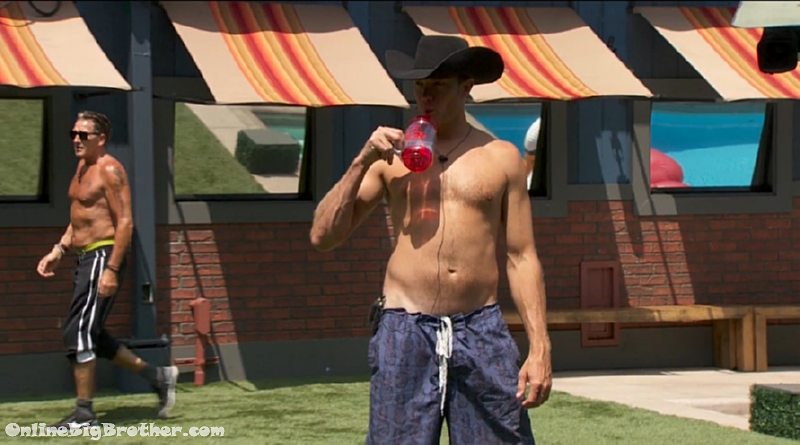 11:11am Backyard open Jason and Cody
Talking about country music…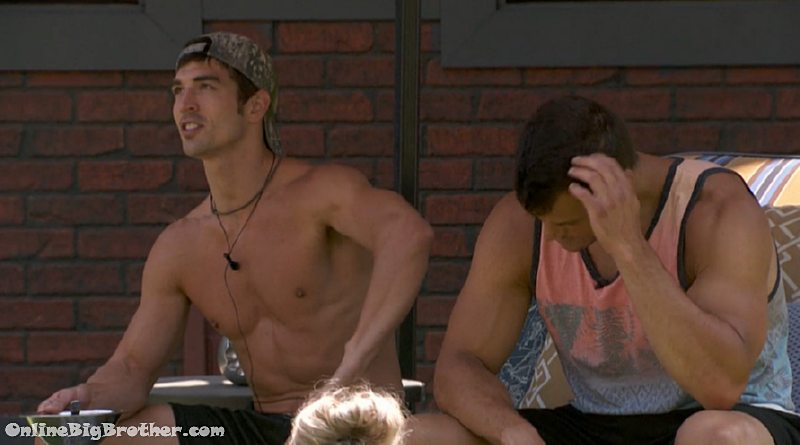 11:19am Mark, Cody, Ramses, Jillian, raven, Kevin, Elena
Talking about how Josh grabbed the safety.
Elena wonders why Josh felt so unsafe that he had to get that safety apple and screw his team over.
Cody says he doesn't imagine anyone in the house is "actually dumb"
Cody – "Like.. I don't think they want someone that's not bright on the show, in some way shape or form he's got some kind of intelligence"
Cody- It's definitely not emotional intelligence, or psychological intelligence… but the guys got something they're"
Elena – Are you sure
Cody – he's cognizant enough to realize that OK These people don't f****g like me
Mark – Dude, it's been a roller coaster this whole time with him. … I thought he was going to be really chill.
Cody – he came on that way
Mark – I don't know what the f*** happened
Ramses brings up how paranoid Josh is getting.. Elena agrees. Feeds flip…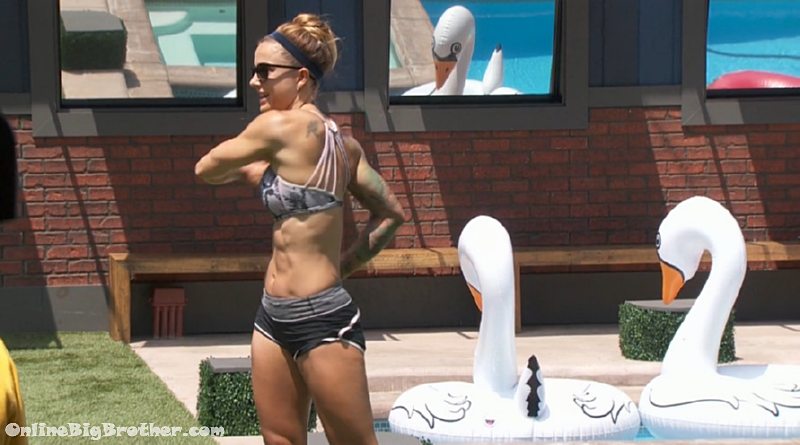 11:29am just out in the sun
Links to the ranking system
For those of you that like Statistics here are some expanded reports.