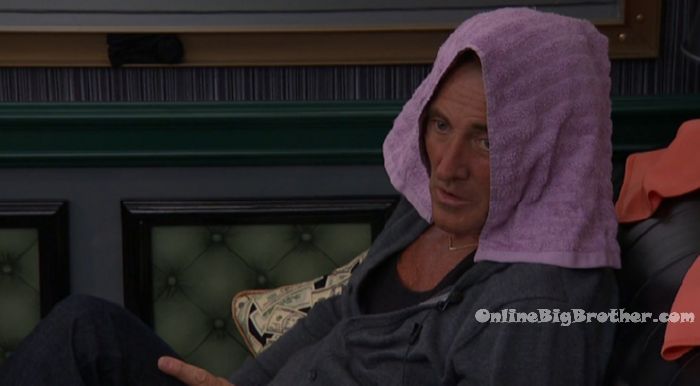 7:20pm Bedroom – Alex & Kevin.
Alex – this is going to be a tough tough house to beat. Kevin – to get to the end? Alex – yeah because all of these people have other people to hide behind. Kevin – why won't I make it to the end? Why am I not in their circle? Am I not a circle person? Take a look, I'm a circle. Alex – he (Cody) says he has a plan and I should trust him … but I don't trust him any more. Kevin – why did he put you up then? Alex – that's just it I didn't think I was going up. I prepared Jason for it and then I saw my face up there. He wants me to bow down to the queen. No! I'm not going to kiss someone's butt because they don't like me. They're going to pick all of us off. They're going to take you or Paul to jury.
Jillian & Alex in the havenot room.
Alex – I don't trust anyone. Jillian – Kevin is good. Alex – no, yeah he's good. Paul joins them. They talk about Josh freaking out. Paul – what I don't understand is that I'm the only vet in the house.. I should be the one freaking out. Alex – you're cool as f**k and everyone here doesn't know how to play the game. Like people calling the POV the HPV. Yup, you got it! Jillian – can we just all agree that he (Josh) has to go next week. Josh joins them.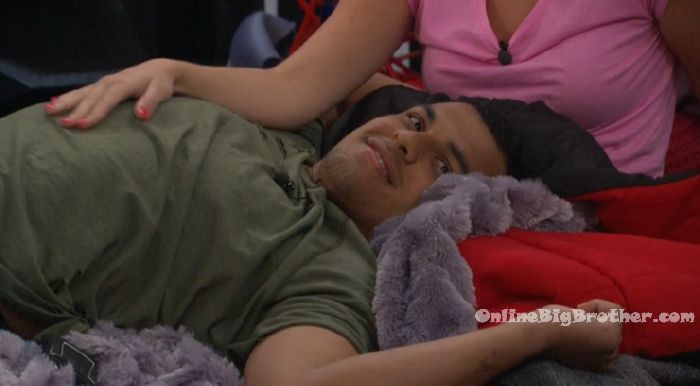 Kitchen – Cody, Matt, Dom, Jessica and Raven are chatting about random things.
Try the Live Feeds FREE for 7 DAYS! Click here for your: Big Brother 19 FREE Trial
8:10pm – 8:30pm HOH room – Elena and Christmas are talking. Christmas – I think we have the same kind of personality .. like when we trust someone we really trust them. I feel close to Mark as a person but we don't talk game much at all. And Paul has been kind of a mentor. Elena – he is so good at social stuff. Megan had no idea he was mad at her. I wonder if he really likes me or if he is just playing me really well. Christmas – I honestly think he likes this group. Dom joins them. Dom – I think it should be an over arching meeting. Elena – She (Alex) is going to take herself off the block and we'll get someone else out and then we'll win HOH again next week and put her up again. Elena – I don't think I'm being deceptive if I backdoor someone .. Its just using a strategy of the game. Dom – so you can work with Ramses? Elena – oh 100%. Christmas – if worst case scenario happens and she wins HOH .. we are all potentially there. You can't put too much energy in its me, its me, its me. Elena – she might be smart enough to work with us … until we get her out. Today she went out of her way to compliment me. Paul – I think either Ramses or Alex have the curse or temptation. I will bet on that. Paul – Ramses is more so with them than us. Either he has the curse or Alex has the temptation. Elena – I think each of us should have a strong relationship with someone on the other side.
8:50pm In the kitchen.
Matt asks Raven why she's single. Raven – plenty of reasons why I'm single. Matt – so generally why are you sick? Raven – because I'm sick. Mark – seriously? Is that a factor? Raven – huge. Matt – for you or for guys? Can you just not get into something because you're sick? Raven – no I've gotten into it… guys just can't handle it. Especially when I get sick. I had a guy break up with me when I was in the hospital. No one wants to marry someone who can die. Matt – everyone can die. Raven – that's true but who wants to spend their life with someone who …Like I could literally be in the hospital next year. I'm a burden. And people are like oh don't say that. You're not a burden. I am. I know that. If I stress out about things and have a hard time dealing with it, other people can too. I'm not dumb. Its just a fact of life. Most guys, men want kids. That's something I would have to really think hard about. Matt – well you're an inspiration. Raven – thank you. You inspire me but I don't want to date you .. I've heard that too. Mark – you'll find someone.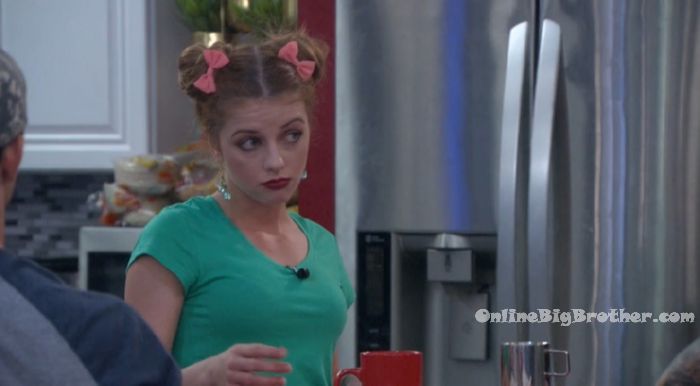 8:50pm – 9:10pm Paul & Kevin in the lounge room.
Paul – so here is how you and I are going to work. I have that side and then we meet in the f**king middle. Paul foot bumps Kevin's fist. Paul – so if my name comes up on that side. Kevin – it did once in the beginning. Just about you being a good player. I told you that. Paul – yeah but everyone knows that. Paul – I am going to make sure that side doesn't mention you. Your name hasn't come up at all. They're convinced Ramses won the $25,000. They're convinced. I sold them. Kevin – cool. No one can even f**king imagine you won it. Dom is on to you. She thinks you're smart and she's saying it. I keep dumbing it down saying na he's just old. You're showing your cards that you're intelligent. Paul – I think they're all just going to start eating each other alive. Josh is a dead man. I don't think anyone in this house likes him. He might just quit if we keep him around. Its going to be Alex and then either Ramses or Josh. Ramses joins them.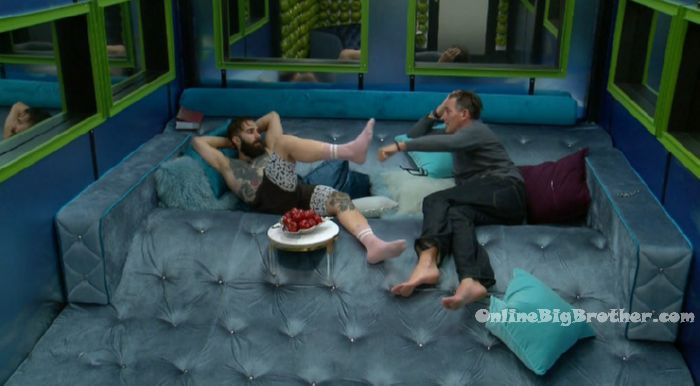 9:30pm The house guests are lounging around chatting and laughing.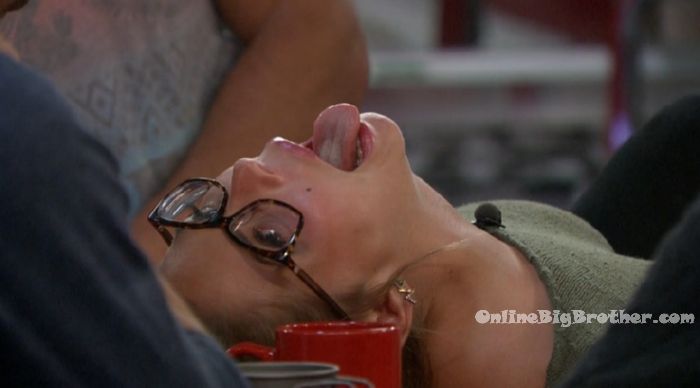 9:45pm Kitchen Jessica tells Matt, Raven and Paul – before Cody comes downstairs … he wasn't talking all day to day because he is sick of hearing about it. He doesn't want to talk about it any more. Just so you know. Matt – I barely said anything. Jessica – exactly he hasn't said anything to me because of the conversation we all had earlier… but like just take it easy on him because he is like over it. You know. Okay.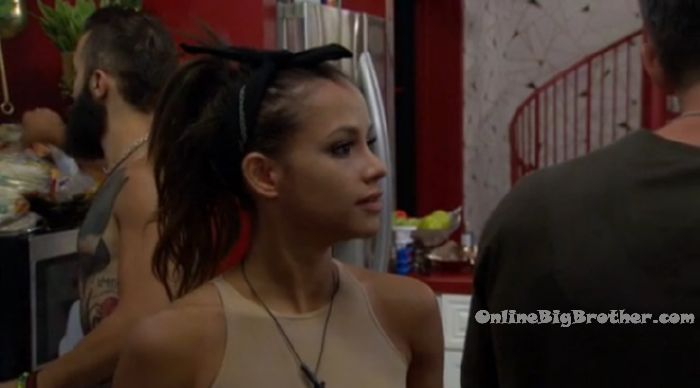 10pm
Jason, Kevin and Alex head to the bedroom and get into bed. Josh joins Alex in bed. "You should just give in already. You need some Latin love in your life"
10:35pm
Living room. Kevin, Jessica, Ramses.
Jessica – I love me some silkies. Haven't you seen Cody walking around in his silkies showing off his mushroom. Kevin – his what?! Ramses – his d**k. Kevin – I know what she said. Elena – have you seen his d**k through his shorts? Jessica – everyone's seen his d**k through his shorts. Kevin – na, I haven't seen his d**k! What are you talking about!? Elena – tell him. Jessica – next time Cody is wearing pants, just look at his d**k. Kevin – why?!! What is wrong with you!? Elena – you can just always see it in his pants. Ramses – its great!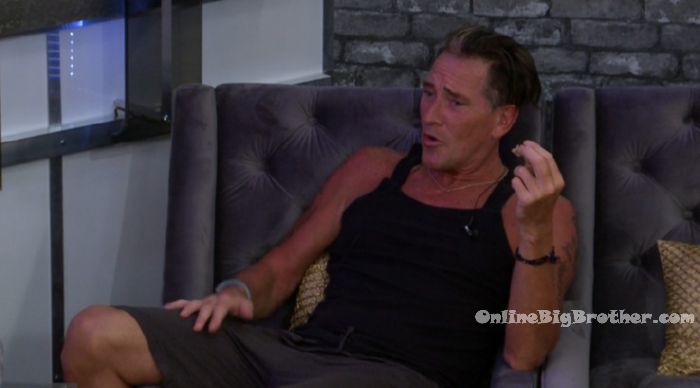 11:20pm Jason and Josh join them in the living room. They talk about how they think because Megan went home they didn't have a live show / eviction. The conversation turns to talking about fights. Jessica says she's been in fights. Ramses asks really? Jessica – yes, I'm from Boston. We scrap.
11:50pm In the bedroom – Jason is telling Kevin all about farming and why its the biggest gamble.
12am Big Brother opens up the backyard. Mark, Josh, Elena and Ramses head outside.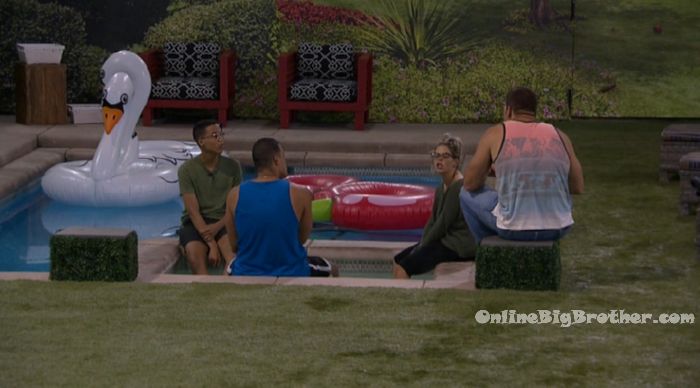 12:15am All the house guests head to bed.
12:10am – 12:45am HOH room – Jessica tells Cody – I'm not doing this for the camera's. This isn't strategy. This isn't game play. Cody – I'm not assuming that at all but I don't know what to think about it beyond that. I just don't know if its more about comfort or the true thing … or if true feelings are going to come out. I just don't know. There is the potential. Jessica – I'm also not doing this because you said somethings actually popped in my head today. This isn't only happening because I avoided options. Cody – no, no, no that was just a joke. I definitely think I am at the top of the pyramid. Jessica – laughs. Cody – I think we fit good together. I look for people that I have blind trust in. I am drawn to people like that. Jessica – you are risking a lot and I am protective of that. When I see you being reckless I want to let you know so that you don't go out week 3 or 4. Cody – I didn't mean it like that .. taking turns off .. we can use that as an asset. Its not necessarily a bad thing that she's (Alex) is off. I'm reckless, that's what I do. Jessica – but maybe you need someone to tell you … hey look at it this way. Like if you go out next week, I would kill you. Cody brings up how Jessica pulled back. Jessica – I avoided touching you for the rest of the day. Cody – you can touch me whenever you want. I realize I'm not easy to date. Jessica – I admire the way that you act … I think you're a born leader and I think that's sexy. I think you think the second I get out of this house that I am just going to be over it. Cody – I don't know what to think.. its too early. Jessica – why do you like me? Cody – for me its all just about feel. You and me will never have a problem finding someone we're attracted to. I look for someone who I just click with. I think you might be a bit wild for me. I'm way more reserved. I might have to pull a disappearing act after all of this. Jessica – you're very contradictory about that. Some times you say you want to use it. Cody – you mean use it for monetary gain. I don't know. I'll be fine either way. Cody and Jessica go to sleep.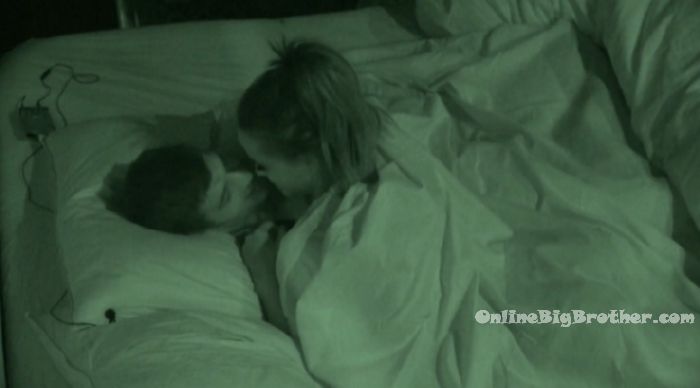 Links to the ranking system
For those of you that like Statistics here are some expanded reports.