POV Holder:
McCrae
Next POV
June 27
POV Used
Yes
POV Ceremony
June 29th
HOH Winner:
McRae
Next HOH:
Wed July 3rd
MVP:
Elissa
Original Nominations:
Candice, David, Jessie
Current Nominations:
Jessie, Elissa and David
Last Evicted Houseguest
?
Have Nots
Andy, Elissa, Jessie, Howard, Helen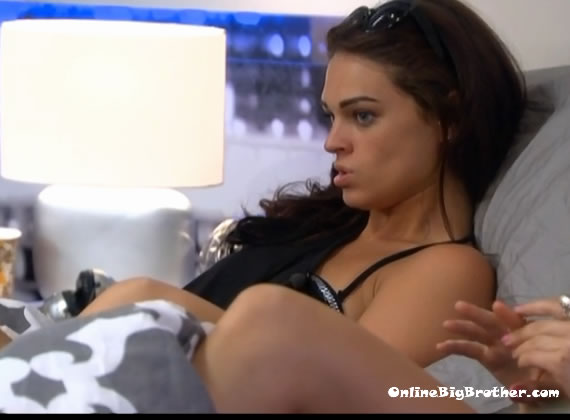 4:22pm Cam 1-2 HOH Kaitlin and Aaryn
Kaitlin: "Amanda is getting overprotected of McCrae "
Aaryn: "Why"
K:" I don't know.. the reason Amanda snapped at Jessie the other day was because Jessie was like MCRae is the sexiest pizza boy she's ever seen.. She felt Territorial because she was moving closer to McCrae"
Aaryn says that Jessie is really weird around the guys always flirting with them even when they have girls in the house.
K: "I don't understand what she's doing.. it shouldn't be awkward for me to touch the guy I like in front of people.. why is she doing this when she wants to be our friend"
Aaryn: "Dude how weird is it that we're in the Big Brother house looking at our pictures on the TV" (They're looking at the HOH spy screen which is on the memory wall)
Aaryn: "this room is so relaxing one of us have to get"
Kaitlin: "Jeremy is going to get it..
Kaitlin brings up that Jeremy ask her if he wins the HOH she'll give him a spanking..
Aaryn: "EHHH that's disgusting .. that's sick"
Kaitlin: "the things that come out of his mouth are so unattractive.. you can tell he's only 23 years old.. he's super cute and super charming.. "
Kaitlin: "He's really f***ing smart though Aaryn"
Aaryn: "would you tell me if he was starting to turn on me"
K: 'Yes 100"
Kaitlin thinks that Elissa is staying this week. Aaryn doens't but want to know why Kaitlin thinks so (Cause Jeremy told her last night)
Kaitlin: 'I got a weird vibe in the DR room"
Aaryn: "So did I .. they asks me what I'm going to do with my vote.. "
They both agree that Elissa isn't going anywhere any time soon. Aaryn 'And if she gets evicted she'll just be brought back"
Aaryn: "I was under the impression that they put people in there to play the game not be popular".. They think with elissa it's all about her image and being popular. They know she's not in it for the money.
Kaitlin: "we're going to get 15 minutes and a year down the road this means nothing except it looks good on our resume"
Kaitlin: "She's not going anywhere dude"
Aaryn: "If she doesn't leave this week I mean.. "
Kaitlin: "we have the votes to get her out.. "
Aaryn is worried that Jeremy is going to manipulate her to turn against Aaryn. Kaitlin swears that she cannot be manipulated but is worried that David can. Aaryn completely agrees says that David's ability in the game "Scare her"
Kaitlin: 'Jeremy is a communication major.. he's smart.. he's very very smart.. he was doing some serious thinking.. he has a huge plan figured out.. He knows when everyone is slated to go home"
Aaryn: "When did he say I need to go.. final 4.."
K: "OMG he hasn't said when the final 4 needs to go "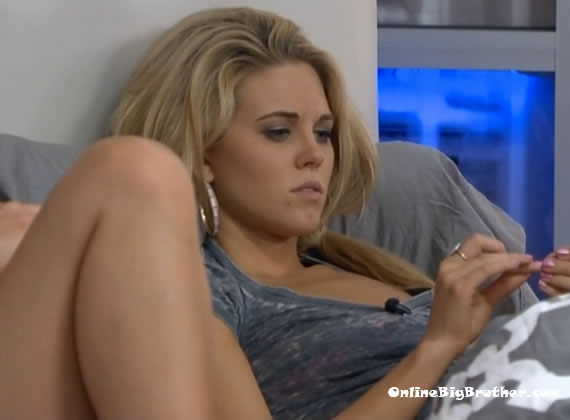 They both agree that AManda and Elissa have some sort of deal neither of them trust her. Kailtin thinks that MC is just as annoyed with Amanda as they are. She brings up that McCrae and Jeremy have some trust. Apparently Andy was throwing Jeremy's name out and McCare "instantly" when to Jeremy and told him. Kailtin: 'That right there is some loyalty so we should keep McCrae"
Aaryn: "I agree even though McCare is good at competitions we should keep him the longest"
Aaryn: "I think Amanda and MC will be the last to go when we hit final 6" (Boat 'n' hoes are there final 6)
Kaitlin: "I agree"
(Reptar is the nickname for Jessie)
Aaryn: "I would rather keep reptar over Candace"
Kaitlin explains that Helen is in Reptars ear but once we get rid of Helen Reptar will go to wherever the numbers are., "Cause Reptar is a floater"
Aaryn: "I think we should put up Helen and Candace.. Helen is more capable of winning HOH than Candace."
Kaitlin thinks they need to show Spencer some love and attention..
Aaryn: "I think we should keep spencer and Judd for awhile"
K: "I would love to get rid of all the other girls before Jessie"
K: "I think we should get rid of Candace and Amanda "
Aaryn explains that Jessie wants to get rid of them so she can have the guys all to herself. Both girls are now freaked out..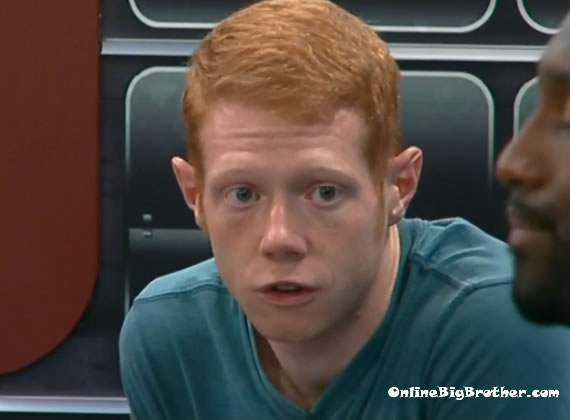 5:04pm Cam 1-2 Howard, Andy and Spencer
Andy: "GIGI is dropping hints that she is getting annoyed at Candace and Jess"
Howard: "she also is getting annoyed at Amanda as well"
Spencer: "Perfect.. that's what we want"
Andy: 'I've been talking to David a lot more.. he's a good guy.. just sucks that he's in the wrong group"
Andy thinks that Nick is playing brilliant by being so quiet and not talking game with anyone. Spencer thinks it's a good way to play but once people start scrambling trying to figure out where the votes went they will look at Nick first.
Andy thinks Spencer and MC will get the MVP
Spencer Thinks it's going to be Elissa
Howard thinks it will GiGi
Spencer: "my personal thoughts is that Elissa will have it for two more weeks after that the game will get rolling.. Rachel doesn't have all the fanbase".
Andy Leaves..
Spencer:"We're so out of the rif raf.. I think we have another couple weeks until we get on the block.
Spencer: "Candace is a sinking ship.. I'm worried Judd will talk to her"
Howard: 'I'll work on Judd to keep his mouth shut"
FYI you can re-watch ever second on the feeds using their flashback feature.. It's super easy to use Big Brother Live Feeds
HUGE improvement over last year
Hot Tub Jeremy, Nick and David.
Nick says he wants to have a shirt with a Wolfe howling at the moon on it. Jeremy: 'Dude my Grandma loves wolves.. if she saw you wearing a shirt with a wolves howling at teh moon she would r**e your bones"
Nick: 'How old is she"
Jeremy: "60 something"
Nick: "perfect"
Jeremy adds that his mom is in her early 40.
Jeremy: 'If you want to get great Dome.. get black girl they slap their faces with it.. they get rounchie with it.. it gets weird.. "
Nick and David both say they have never been with a black girl.
David asks him if he's tried every type of girl.
Jeremy: "I've tried every flavor except a Indian"
David: "How was Asian"
Jeremy: "Tight.. didn't like it you have to be careful"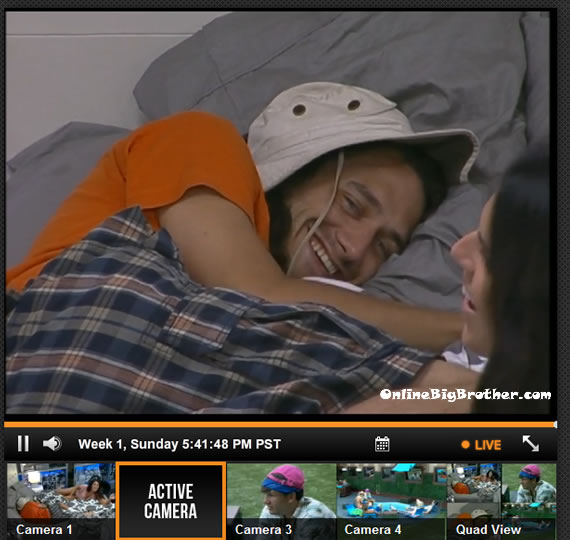 5:39pm Cam 1-2 HOH Amanda and McCrae
MC mentions that Judd said something about GIGI saying there was a rat in the house.
Amanda: "this is how f***ing things start. "
Amanda explains that GIGI got called into the DR and they told her to stop swinging her microphone. When she came out she was saying there was a rat that told the DR about her swining her Microphone.
A: "Don't listen to judd he's paranoid as f***"
MC: 'I know":
A: "Howard is aggressive."
A: "you're cute"
MC: "you are"
A: "I want to fix your hair"
They both agree that it's difficult to have conversations with people right now because everyone is talking over each other.