POV Holder:
Jessie
Next POV
Aug 10th
POV Used
YES
POV Ceremony
Aug 5th
HOH Winner:
GM
Next HOH:
Aug 8th
MVP:
AMERICA
Original Nominations:
Candice, Jessie and Amanda (MVP Nom)
Current Nominations:
Candice, Spencer and Amanda (MVP Nom)
Last Evicted Houseguest
David, Nick, Jeremy, Kaitlin, Howard
Have Nots
no have nots this week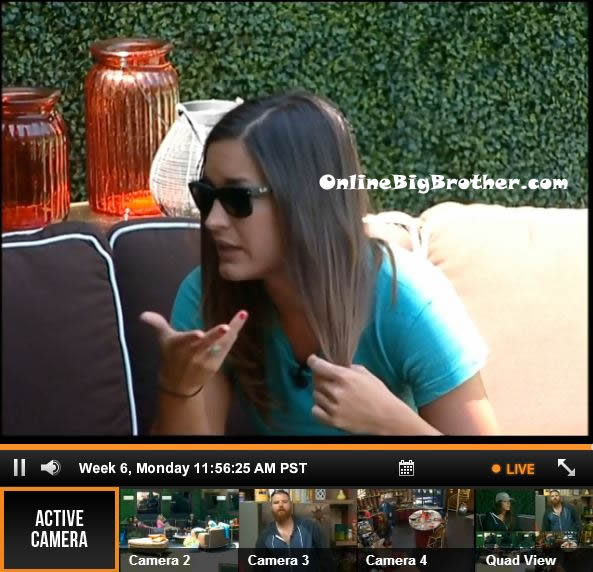 11:50am – 12:05pm Helen joins Judd, Amanda and Aaryn on the backyard couch. Helen asks who else if voting out Candice. Helen says I have made her (Elissa) understand. Helen says that she feels bad for Spencer because this is the 3rd time he's been put on the block. They continue to talk about the original nominations. Jessie questions why Aaryn couldn't have convinced Gina to not put me up. Aaryn says I don't have any power in Gina's nominations. She had those names picked before even talking to anyone. Aaryn explains that you were put up because you had just gotten into a fight, you would rock the boat the least and we needed someone up there who could make sure Candice didn't win the veto. Jessie keeps talking about how she doesn't understand why she was put up and how no one had her back. Jessie says she doesn't understand why I am the one to be put up. Jessie says that everyone was probably throwing my name out there so that means the people that are loyal to me aren't. Amanda asks who is loyal to you? Jessie says um well .. it doesn't matter. Regardless they were throwing my name out there. Aaryn explains that people talk about me all the time, every week but I am not talking about it or getting upset about it. Jessie says I am just mad about it because now that I have been up on the block a few times people think that I am now an easy person to put up. Aayrn and Amanda explain to her that everyone but three people have been on the block. Jessie says that she doesn't understand why Spencer isn't a target and I am. Aaryn says that's not true. Spencer is a target he is on the block and you're not. Jessie asks can we make up our minds about how we would go after next week. Amanda says I am in a weaken'd position and I'm not going to throw names out there. Jessie asks well can we say who we won't put up. You said you wouldn't put me up. Amanda says yes, I am not putting you up. Aaryn says we can't talk about who we would up because anyone could win HOH and that would then be out there. Jessie says why isn't anyone talking about putting up Spencer? His name is out there why can't we just say his is going. He keeps saying his dream is to make it to jury. Well my dream is to make it to jury too. Aaryn says everyone's dream is to make it to jury. Everyone's dream is to win $500,000. Spencer joins them. Judd says Candice is going unanimously. Jessie says okay well good, I am glad we had a chance to talk.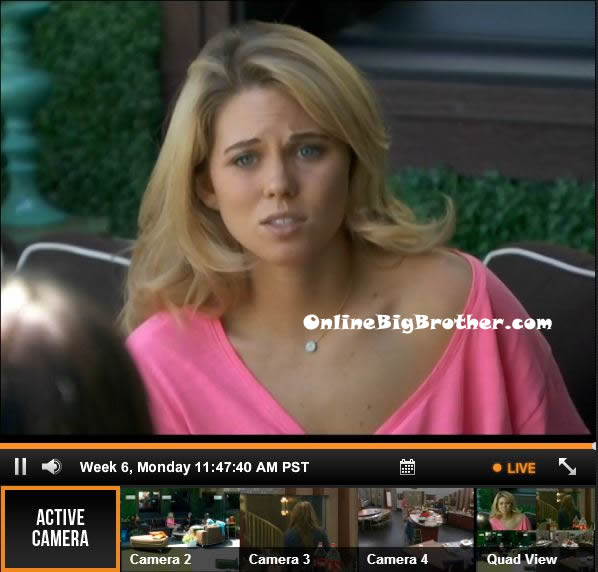 12:06pm The music plays for Amanda to take a spray tan. Judd goes and yells inside the house AMANDA IT'S TIME FOR YOU TO GET YOUR TAN ON!! Amanda goes to get ready for her tan. Amanda comes out to get her spray tan. Big Brother plays the "Get your tan on" music. Andy, McCrae, Judd and Spencer start dancing. Amanda complains it's darker now. They all laugh at how dark Amanda is now. Judd says that Ginamarie is going to be jealous. Amanda heads inside and everyone laughs at how dark she is now. Elissa says I want to get in it. I would much rather look like you than the way I look right now… Well maybe not.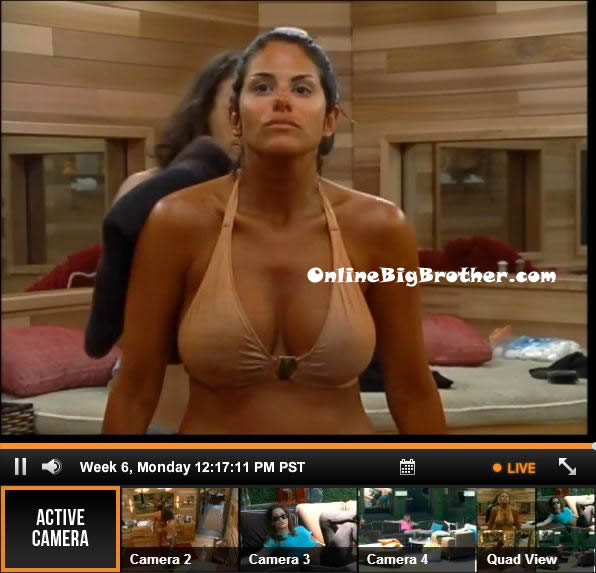 12:25pm Aaryn heads up to the HOH room and tells Gina about how Jessie was outside complaining about how you put her up on the block. Jessie tells her the conversation with Jessie. Gina says Jessie is an a$$hole. Gina brings up how she thinks next week it will be a double eviction right before jury. So one person will go to jury and one person won't go to jury. They wonder if the MVP twist will end after jury. Gina hopes it won't so that Amanda keeps getting put up.
12:30pm Judd and Jessie kiss and curl up together in their bed.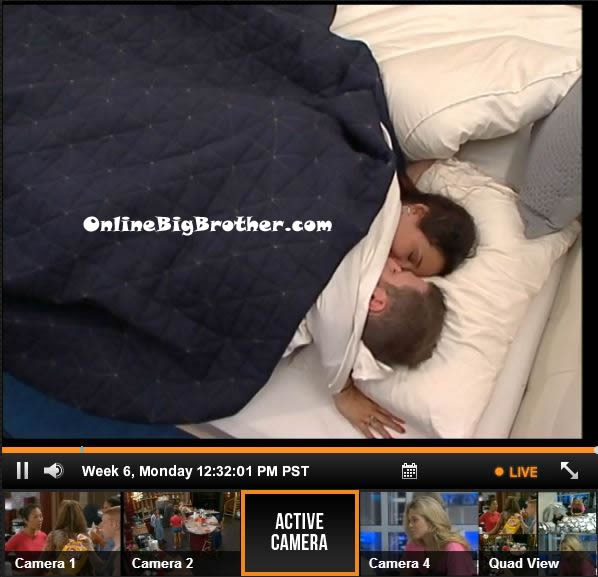 12:37pm Up in the HOH room – Aaryn tries on the cone of shame with Gina. She says imagine if Amanda and McCrae has to wear these, they couldn't kiss.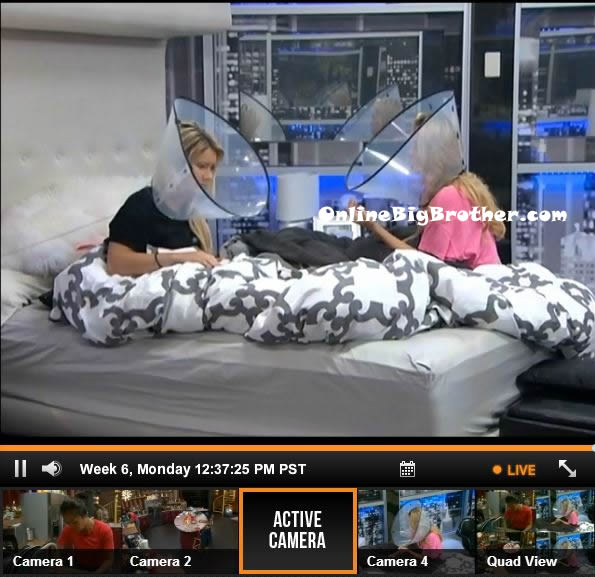 12:40pm – 12:45pm In the bedroom Amanda tells Spencer about how Jessie was throwing his name out there like 40 times trying to throw you under the bus. Spencer says that he doesn't really care if Jessie is the one throwing his name out there. Amanda says it's good because she is trying to make you a target when she is really making herself into a bigger target. Amanda tells him that we have your back. They talk about how they are good and Amanda leaves. She heads into the lounge room with Judd. Judd tells her that Jessie officially flipped back she just told me that she is voting out Candice. Amanda says honestly as long as Jessie isn't coming after me we can keep her as long as you want. And then when you are ready to nip that in the bud I will be behind you.
Big Brother 15 Live Feeds: FREE 2 DAY TRIAL
12:50pm – 1:55pmAmanda heads up to the HOH room and talks to Aayrn and Gina about the backyard conversation with Jessie. Gina tells them that Jessie told her that Nick has a big d*ck. She says that he has a 7 and a half inch d*ck. I asked her how the fu*k she knows and she said she saw it in the outline of his shorts. Gina says first of all don't be looking at my mans d*ck it is going to be in my a$$ not yours! Amanda says that she saw Judd's dick in his shorts last night. Judd joins them and they tell him they are talking about his d*ck. Judd climbs in bed with Aaryn. Aaryn lifts up his shirt and starts rubbing his belly. Aaryn talks about wanting to flirt with Judd while Jessie is around just to piss her off. Judd tells them how he was talking to Jessie asking her if she was going to vote out Candice while she was right beside us. Judd tells them that Jessie said she would vote out Candice. Aaryn tells Judd that he should tell Jessie that I look so hot so that she flips out and gets jealous. Aaryn tells Judd that Jessie is using you – for lack of a better word she told me she is trying to make you jealous. Judd says like last night. Judd says that he gets info from her. Aaryn says we get info from Helen and Elissa we don't get anything from Jessie. Aaaryn says that he is giving into her too much. Who trust Jessie, no one! Aaryn says that Judd and Jessie's relationship is a hoe-mance. Aaryn says that Jessie is the only one benefiting from it. Judd talks about how he trust Helen and says she is playing the game. Elissa I dont trust. Aaryn says she doesn't either. Aaryn says the next people to go are Elissa and Jessie. Judd agrees. Judd says the only way to get Elissa out is to put her up against someone we know wont go home. Judd says I can't even talk game with Elissa. Aaryn says no one can she's an idiot. Judd tells Aaryn that he would use the veto on Aaryn if she was ever up. Judd says I know Jessie is using me but I am using her too. It's a use-mance. Judd says that Jessie is still going off old promises, I haven't promised her anything since she f**ked me over last week. They talk about keeping Andy in the dark for now. Aaryn tells Judd that Helen and Elissa don't talk highly of you. They keep talking about you having MVP. They were trying to convince Amanda and McCrae to get you out. They aren't team Judd they are just pretending to be. Judd and Aaryn head downstairs.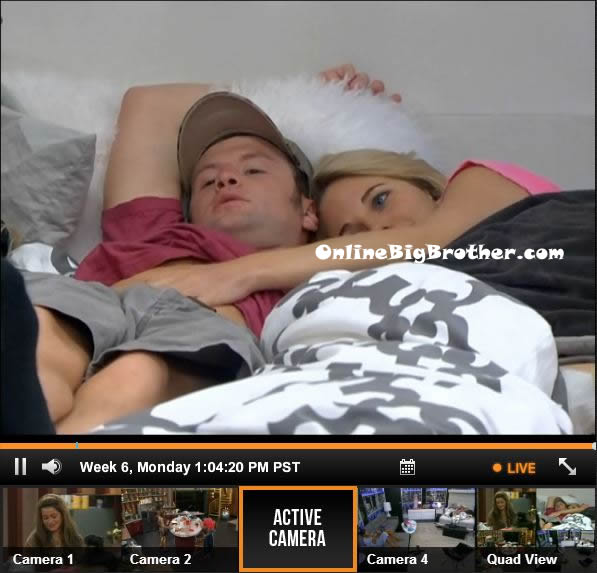 2pm Judd and Aaryn head down to the kitchen to find that Elissa made a bridal cake and Helen is trying to make a bride and groom out of tin foil.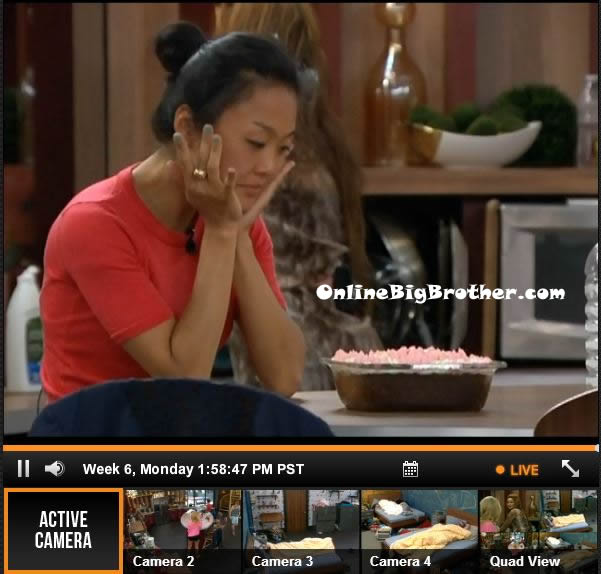 Meanwhile in the back bedroom Andy puts the mad scientist wig on and climbs into bed with Candice. Candice wakes up and asks is this Helen. Judd and Andy laugh. They head into the kitchen – Judd says hey lets bake another cake with fibre powder. Judd and Andy head outside. Judd laughs lets get production to shut off the water today. They both laugh (Because its Amanda's last day of spray tans and it would be funny if she couldn't shower.) Helen joins them.
2:10pm Out in the backyard – Judd and Andy talk about past events of the house and how David went to bed early and didn't even campaign. They head over to join Helen by the pool. Judd says when he is HOH he is going to get someone to sit in one of these small chairs facing the corner of the room and tell them not to look at me. They talk about the bachelorette party being tonight if they get alcohol.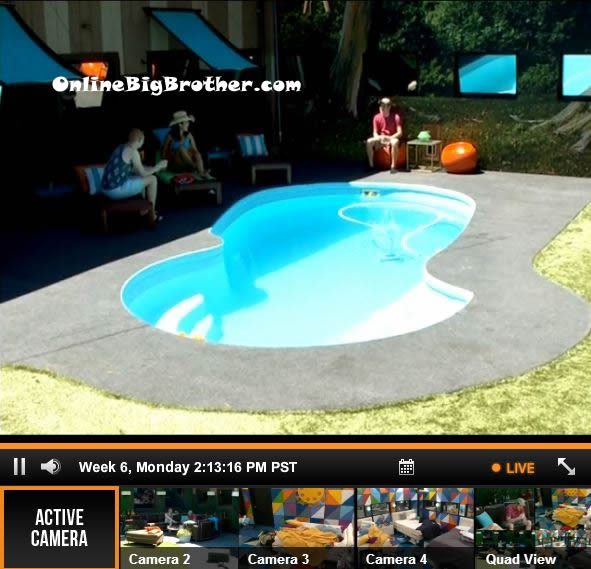 2:35pm – 2:55pm Aaryn joins them. They discuss all of the pranks they played in the house to different people. Aaryn grabs the dental dam from the storage room and shows Helen as she tells her about the prank she played on Amanda/McCrae. They open it up and Aaryn's says while using a dental dam you can still catch syphilis, gonorrhoea, herpies, and Aids. Judd's WHAT DOES IT PREVENT? Aaryn takes it and puts it on Amanda and McCrae while they sleep. She then tells the other outside that she is going to go put Vaseline on it and put it back. Maybe they will wake up and wonder if they used it. Aaryn goes and puts Vaseline on it and put it back. She then tells the other and decides to go back to put it near McCrae's face so that when he rolls over it sticks to his face. She lays it on his pillow. Out in the backyard – Aaryn, Andy Helen and Judd talk about how Candice isn't talking game at all. They think she is waiting till the last day hoping something will happen between Spencer and Amanda. Aaryn says that Gina's HOH is going to her head. Aaryn talks about how Gina has been freaking me out a lot lately. Aaryn says that she was thinking of putting up Judd and Andy and I tried to convince her not to. Judd and Andy say she called us up to tell us she just wanted to talk to us but that Spencer was going up. Helen says wow I can't believe she could put up Judd and Andy that easily.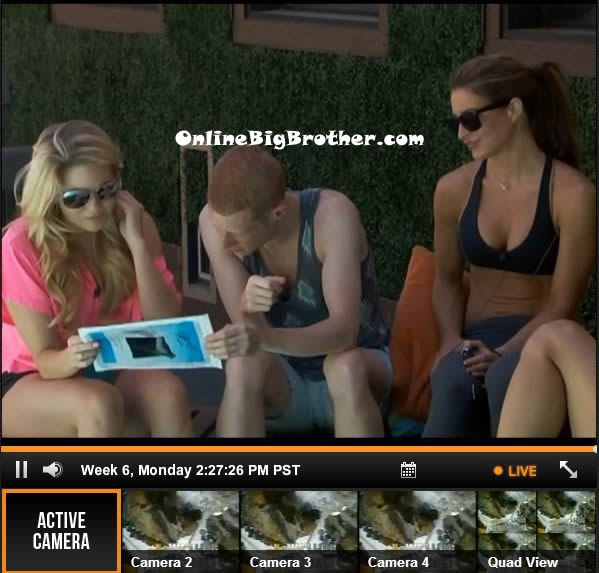 Use the Big Brother Live Feeds to FLASHBACK to SEE what they can't show you on TV: BB15 N!p Sl!ps / N*des