POV Holder:
Jessie
Next POV
Aug 10th
POV Used
YES
POV Ceremony
Aug 5th
HOH Winner:
GM
Next HOH:
Aug 8th
MVP:
AMERICA
Original Nominations:
Candice, Jessie and Amanda (MVP Nom)
Current Nominations:
Candice, Spencer and Amanda (MVP Nom)
Last Evicted Houseguest
David, Nick, Jeremy, Kaitlin, Howard
Have Nots
no have nots this week
10am – 10:45am Big Brother switched the live feed to the TRIVIA screen for the Power of Veto Ceremony. When the feeds return we learn that obviously Jessie used the veto to take herself off the block. As head of household Ginamarie then nominated Spencer as the replacement nominee.

10:45am The live feeds return with Spencer and Ginamarie up in the HOH room. Spencer says that it's okay that you put me up. In the future I may come to you to ask a favour from you. Ginamarie says that Judd was her second choice. She says she will definitely repay the favour. Spencer says he will not hold this against her in the future once they make it to jury and says that we can work together. Gina says that she appreciates that. Spencer says that he is just going to lay low.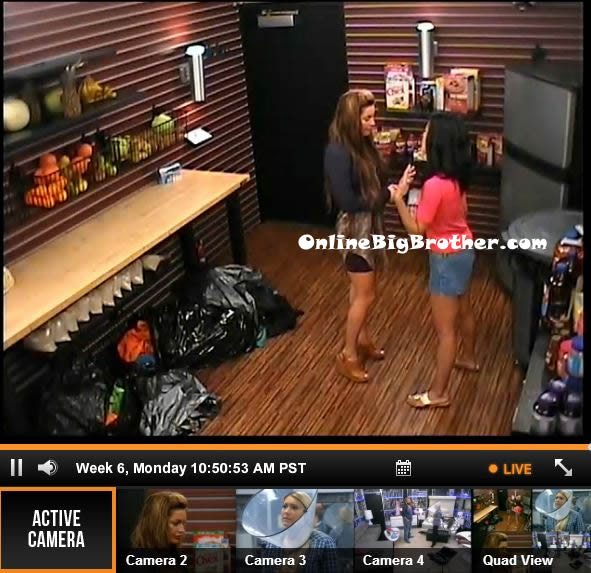 Meanwhile in the storage room – Helen is talking to Elissa convincing her why they need to vote out Candice and not Amanda. Elissa says that she wants to vote Spencer out. Helen says that if you do that Spencer will put you up. Andy joins them and the conversation ends. Helen and Elissa leave the room. Judd comes into the storage room. Andy tells Judd that he talked to Helen and she is 100% voting out Candice. Helen comes back in and talks to them about how Elissa is freaking her out and wanting to vote out Spencer. Judd says well then let her, we have the votes. I am tired of Elissa stressing us out each week. Let her put a target on herself. Helen says that she is sick of Jessie trying to flip the house she needs to go. Judd talks about how Jessie was all over him last night. They leave the room.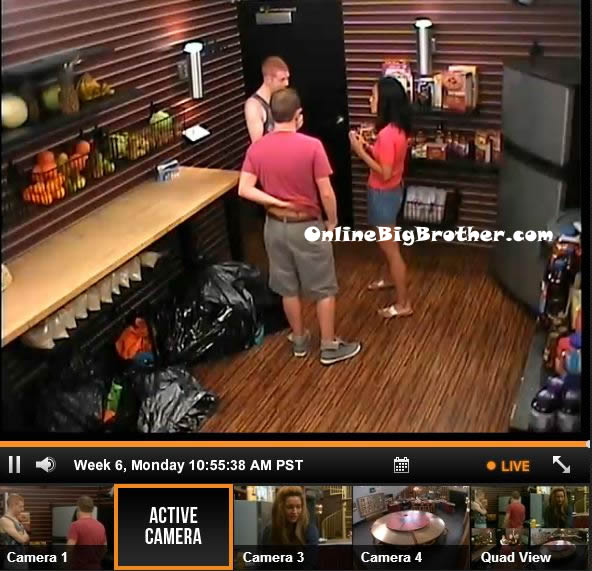 11:05am Helen is talking to Elissa in the lounge room. She tells her that Candice needs to go she is the one that tried to flip the house and blame it on us. Elissa says that she doesn't see why Candice needs to go and wants to vote out Spencer. Helen says that Jessie stirring things up and putting a target on your back. Helen eventually tells Elissa to just do what she wants to do. Elissa asks so you are 100% not changing your mind. Helen says no! Helen says after all the things that Candice did to us last week. I need her out of the house. Elissa says it's just scary that every week someone how is loyal to me gets voted out. Gina and Aayrn aren't loyal to me. Helen says well then next week will get one of them out if that's what you want.
11:15am – 11:40am Amanda and Jessie are talking in the backyard about Gina's nominations. Amanda says that Gina's nomination speech about flip floppers was clearly about her wanting Nick here no matter what the circumstances. Amanda tells Jessie that it was better that she went up because at least you got to play in the veto, if you hadn't gone up originally you would be going up now with no chance to save yourself. Gina just put you up because it wouldn't piss anyone off. Jessie agrees. Amanda tells Jessie that she wants to be good with her because her vote matters. Jessie asks where she stands with Amanda long term. Amanda brings up how when her and Judd started hanging out he talked to us about bringing you in. Jessie says I was loyal to you guys and then I got thrown under the bus by you. Amanda says that the fight happened because I had a couple glasses of wine and I heard the comments that you made to Aaryn about McCrae. Amanda says that my fear was that you wanted me out so that you could get the attention from McCrae. Jessie says that wouldn't happen you and McCrae have a special bond even for the big brother house and I'm sure you will be together outside the house too. Jessie talks about how Judd is her dude! Judd joins them. Amanda continues talking to Jessie about how she saved the house from the moving company and we owe you. If you stay loyal to me I will stay loyal to you. I didn't have a hand in Ginamarie's nominations. Jessie says she just doesn't understand why people keep pinning sh*t on me. Amanda says it is usually pinned on me too we are the easy scapegoats. Amanda agrees that it doesn't makes sense for Jessie to come up with the plan to save Howard. Aaryn joins them. Amanda asks Aaryn you would know, why did Gina put Jessie up over Spencer originally. Aaryn says because you (Jessie) are strong and wanted to make sure Candice didn't win the veto to take herself off. You were always the pawn and Candice was always the target. Spencer hasn't been doing that good in competitions so Gina didn't want to make it easy for Candice to win the veto. They discuss who the MVP could be and how people were trying to pin in on Judd. Judd says I have never been MVP, I would like to win it. Jessie heads inside. Aaryn tells Amanda that she just saw Elissa and Helen in the storage room and kitchen whispering – I think they are trying to devise a plan to get you out. Judd says no Helen was really pissed at Elissa that. Amanda says they can do anything they want to do. Judd says lets see who had the best week ever – Won the veto, ate an omelet, and got to sleep with Judd. Amanda says why would I get McCrae to give up the BBQ to you if I had a problem with you. Jessie says yeah that was great but you also got to stay up in the HOH room. Jessie says I think you just couldn't spend the time away from McCrae. Amanda says I can stand an hour and a half away from McCrae. Jessie says yeah right Amanda you have a panic attack when he goes into the diary room. Amanda says I feel like you think everything I do has something negative attached to it. Jessie says no I just find it hard to believe you wanted to do something nice for me after that fight we had. Amanda says yeah I can understand that. Jessie heads inside.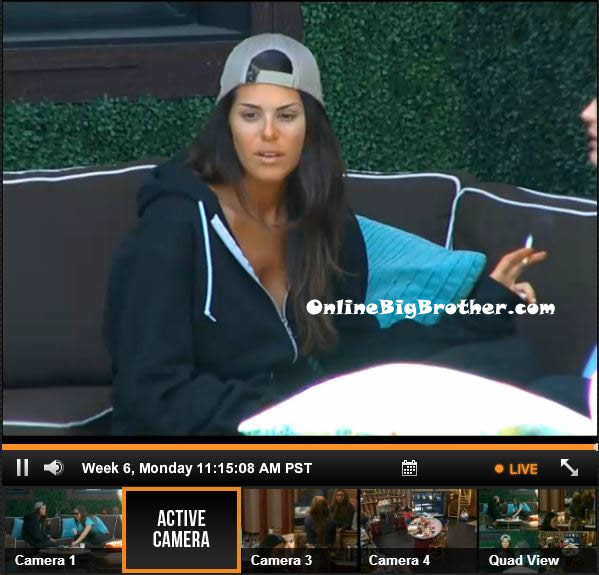 Use the Big Brother Live Feeds to FLASHBACK to SEE what they can't show you on TV: BB15 N!p Sl!ps / N*des