POV Holder:
Jessie
Next POV
Aug 10th
POV Used
YES
POV Ceremony
Aug 12th
HOH Winner:
GM
Next HOH:
Aug 8th
MVP:
AMERICA
Original Nominations:
Candice, Jessie and Amanda (MVP Nom)
Current Nominations:
Candice, Spencer and Amanda (MVP Nom)
Last Evicted Houseguest
David, Nick, Jeremy, Kaitlin, Howard
Have Nots
no have nots this week
Big Brother 15 N*de flashback times here
3:03pm Backyard Helen, Amanda, Aaryn, Andy
Hating on Candice, Jessie and a bit of Howard
Amanda and Andy leave and Candice joins them.
Aaryn says McCrae is saying he's moving to Florida to be with Amanda.
Andy, Candice and Helen
Andy: "I haven't been in the Diary room for 4 days"
Helen: "I'm telling you Andy you are not on the show"
Helen: "I'm not very funny.. they have to feed me lines.. Helen how about say this.. I'm just not clever"
Helen gets in trouble for talking about production.
Andy says he's trying to be like Reagan (BB12) in the Diary room and use Big Words.
Andy leaves
Candice doesn't want to participate in the bachelorette party tonight. "I just want to get my wine and leave"
Helen says she can hang out with Helen and Jessie at the party. Helen: "I think it's going to be the Amanda and GM show.. GM I really like I know you can't stand her"
Elissa joins. she's pissed they haven;t given her a yoga mat. Helen mentions that Jillian from Big Brother Canada was given a yoga mat after she won HOH. They ask Elissa what her favorite Yoga mat is. She gives a shout out to a brand but the feeds go to fish. When they come back Elissa is joking around saying she will Self evict if they don't get her a mat.
(Random chit chat)
3:25pm HOH GM and Aaryn
GM says she likes McCrae and Amanda is just there with him. GM says it's the same as Jeremy and Kaitlin, She liked Jeremy and Kaitlin was just there with him. Aaryn says Amanda is using GM and her to do the dirty work.
Aaryn explains why Amanda wants her and GM in the game. She wants to make it to the end with no blood on her hands. She will keep Aaryn and GM around because they will win the HOH competitions and Amanda will control the nominations. This way when they get to the end everyone is gunning for Aaryn and GM because they were doing all the evicting. Amanda mentions it will be like caring Amanda to the finale and serving her the win on a silver platter.
Aaryn: 'I'm not doing it"
Aaryn stresses that once Amanda doesn't need them she will cut them loose.
Aaryn says it's going to be Candice then Jessie after that people will try and take out the big dogs. GM wonders if it will be Spener or JUDD. Aaryn doesn't think so it'll be one of the big players.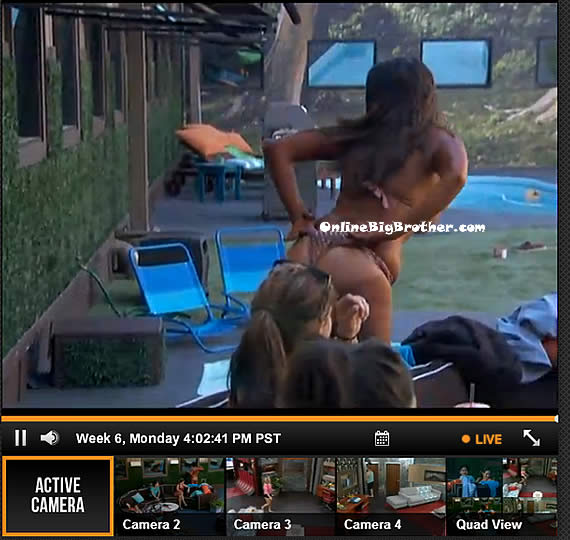 3:55pm Amanda gets called into the Spray tanner. After it's done she catches Andy around with the plan to rub the orange paint on him. She chases him around the house but never catches him. The dance music starts again singling Amanda to go into the Spray tanner again. (This is the first time she's been called twice in a row)
Andy is laughing up a storm.
Spencer: "You look like a dirty child like a orphan"
JUDD: 'You look like a dirty potatoes "
Amanda is crazy tanned now. She says people are going to think she's wearing "Black face"
You can re-watch ever second on the feeds using the flashback feature.. It's just like a DVR and is super easy to use. click this link for a Free Trial —> Subscribe to the Big Brother Live Feeds
4:24pm Backyard Amanda, Aaryn, JUDD, Andy and Spencer
They are amazed at how dark Amanda is now after the back to back spray tans. JUDD jokes that the night is young there will be a couple more tans before they're done.
Amanda: "I look like a migrant worker"
Aaryn: "You look like a immigrant"
Amanda: "I look like a slave"
Aaryn: 'Ok that was racist"
Some groans are heard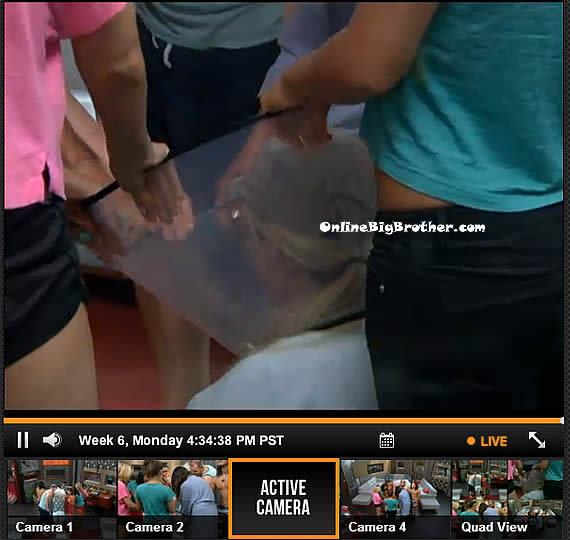 4:36pm GM gets her cone removed She askss everyone in the house to grab the cone and at the count of ten rip it off.
"KILL THE CONE.. KILL THE CONE" they chant.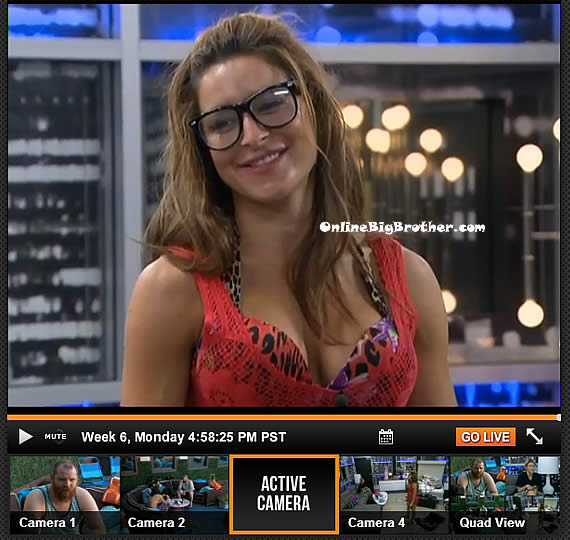 4:50pm HOH Andy and Elissa
Elissa working out with GM's elastic bands.
Elissa: "Do you think I look hot with glasses "
Andy: "ya "
Elissa: "You think I look hot with anything.. "
Gm joins them and tells them all about her dream last night that included Nick.. It involves Nick being in bed with her friend from dance school and some other blonde.
Elissa points out that GM's exercise bands where not taken away but Elissa's Yoga mats were taken. Elissa thinks it's because Production is giving her a hard time in the game.
5:15pm BAck in the spray tanner (They are calling her in a lot now)