Check out our BB19 Ranking Grid. . rank your houseguests here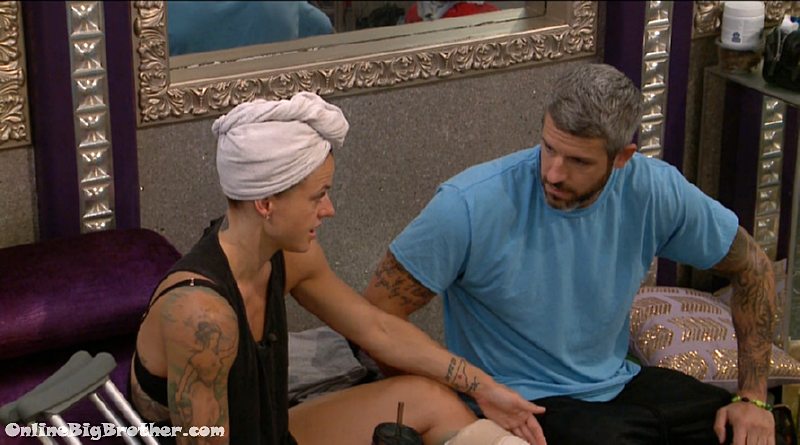 10:10am Bathroom Matt, Raven, Dom and Christmas
Xmas talks about her chat with Josh yesterday. She's telling Matt that Josh has trouble reading Matt and doesn't know where he stands in the game.
Xmas – So, just letting him know that if one of use get it that we have his back
Xmas – when I talked to him I said look I can't guarantee you sh1t but what I can do is continue helping your position in the house in a more positive way
Xmas – he's good with that
Matt – I'm going to say something like how much better he's (josh) been these last couple days
Xmas – that would be honestly all he needs
Matt says he has no problems guaranteeing Josh safety next week, "i have no problem with that kid getting to jury"
Xmas – Josh and I are good.. I would say he's my ride Or die. He will do f***g anything
Matt – that completely tips the numbers 9if they get Josh)
Xmas – ramses and I don't talk all the time, I've earned some respect from him, after today I could potentially have him more on my side.. Not necessarily the whole group
Xmas says Jason owes her a solid she's been working on him for a long time.
Xmas – the only person I really don't have a lot of leverage with is Alex but we're on good terms, She's a wildcard.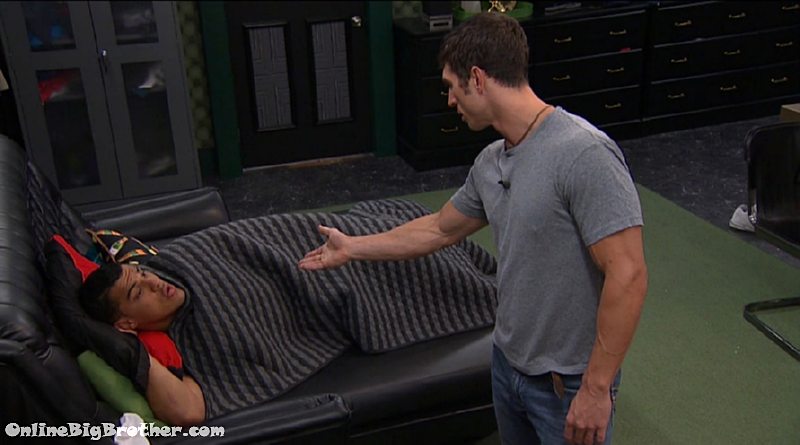 10:22am Josh and Cody
Josh tells him he has to win the Veto.
Josh – you're a target
Cody – whose targeting me? Give me 1 name
Josh – they don't talk game to me
Josh – they blew up the house so watch your back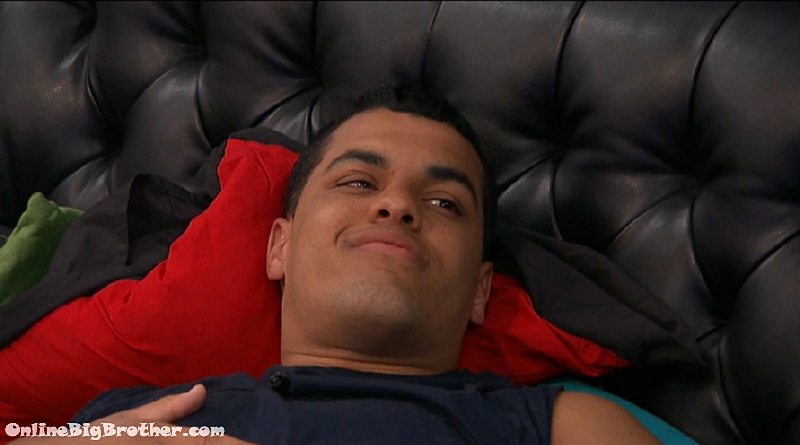 10:27am Christmas and Josh
Xmas – I talked to the group individually and a little bit collectively and they're still happy with you.
Xmas – I got you
Josh – I trust you
Xmas – I told him (matt) he's my f***g ride or die ..
Xmas adds matt mentioned taking josh to Jury
Xmas – they are in it..
Josh – I feel good with you, Dom and Paul
Xmas says Matt, Raven are on board 100%
Josh – you're not going anywhere you have my vote
Xmas – the next 3 weeks will be good, I'm hoping America will give me safety
She tells him he doesn't need safety this week, they are putting up Jessica and Alex and if both come down he's still safe.
Josh mentions how Cody was grilling him about who is targeting Cody next week, "MotherF*** you haven't spoken any game to me"
JOsh – I want you to know, my vote I'm going to be red flagged.
XMas – not necessarily.. Stick to your guns
Josh – they're's no f***G way I can't vote you out
Xmas tells him the targets are Jessica/Cody and Ramses
Josh – cody is being aggressive
Xmas – he's a f****g d1ck
Josh – he thinks he has control over us
Xmas points out nobody wants to work with Cody because he doesn't listen and doesn't tell people what he's doing.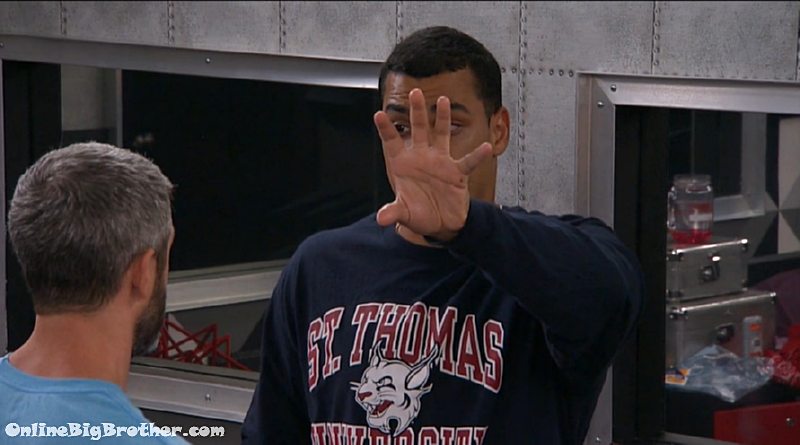 11:13am Josh and Matt
Josh – I have a lot of respect for you, we've never spoken game.
Josh – I'm keeping Christmas
Josh claiming he's all alone in the game.
Josh – if you give me your word that I'm good with you guys then I give you my word through my actions you'll see that
They fist bump
Matt tells him to keep listening to Christmas.
12:04am Feeds on Cats.
(Chances are they won't be back until after the show airs)
Amazing what a week of feeds can do to your popularity. #BB19 https://t.co/S663KKldQF pic.twitter.com/mfR3GdsFBQ

— OnlineBigBrother.com (@bigbspoilers) July 6, 2017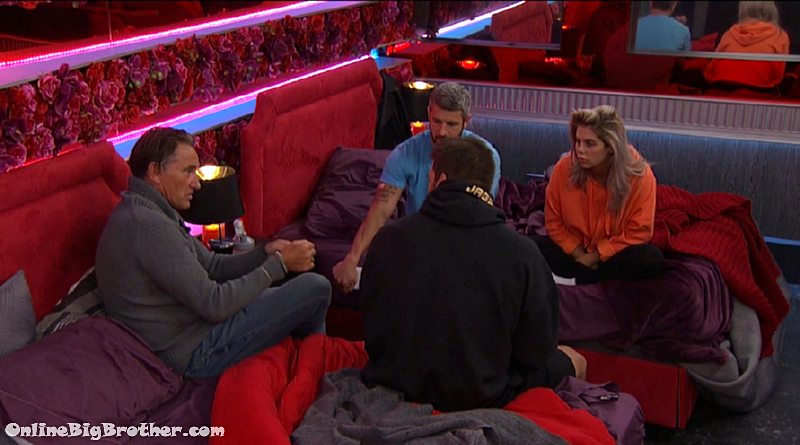 1:06pm Mark, Elena, Matt and Mark
Kevin saying he's voting to keep Christmas
1:09pm Elena and Mark
they think the vote will be 10-2 or maybe 9-3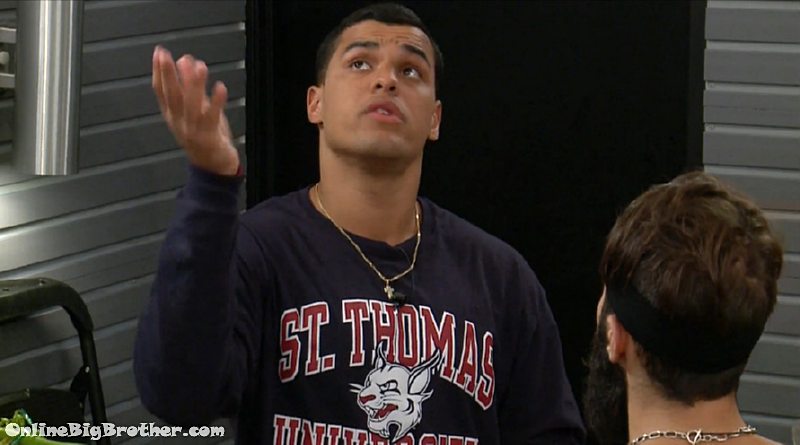 1:13pm Josh and Paul
Paul tells him the vote will be 9-3
Josh goes on about how he's wanted to play with Paul since day one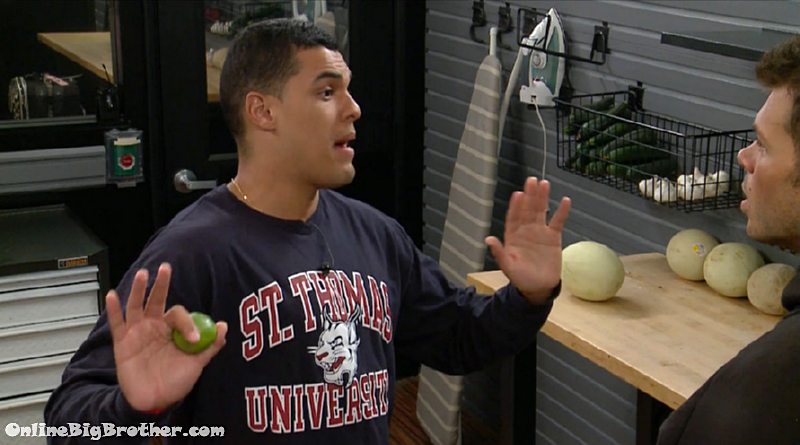 1:16pm Josh and Mark
Mark tells him they are good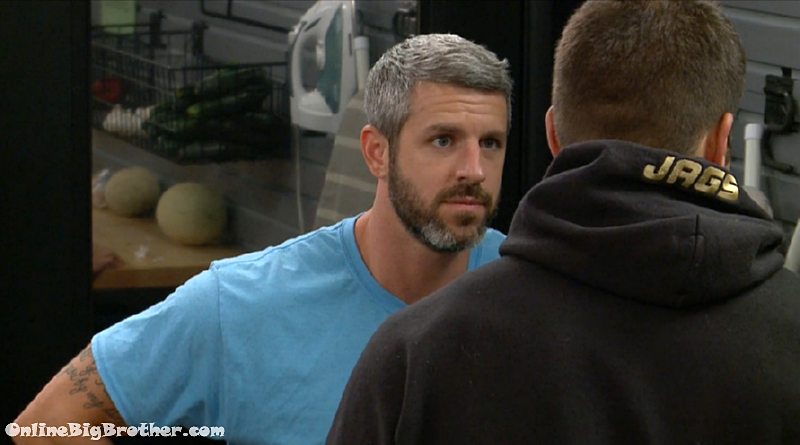 1:21pm Matt and Mark
Broing around over getting josh's vote.
Matt saying that COdy's not playing with a full deck.
Mark – you don't know what they go through
Matt "he was in a wear.. I don't hold it against him" feeds cut..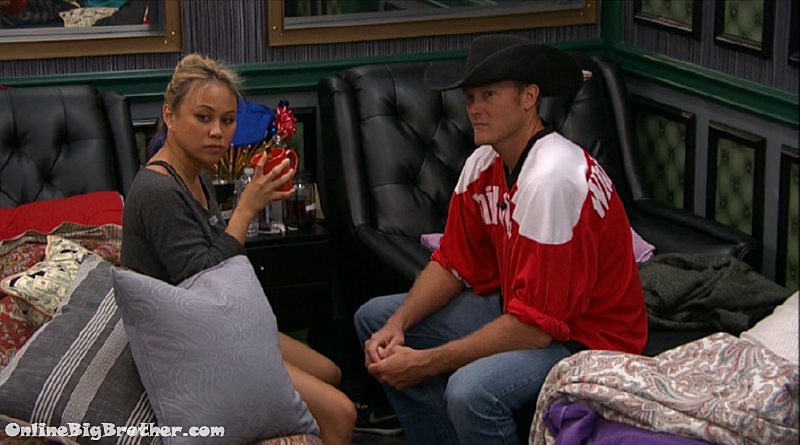 1:36pm Alex and Jason
Alex – he didn't make second place for nothing
1:50pm Alex, Kevin and Jason
Kevin tells them it'll be close like Trump vs Clinton
Jason says Josh better vote the right way or they are f***D
Alex – he said he is
Kevin tells them if they win Alex is going up again.
2:07pm Jason and Kevin
Kevin tells him he's with i'm but the vote is going to be closer than Jason thinks
Jason says it'll be 6-6
Jason – it doesn't matter who goes home this week
Cody comes in
Jason – It's going to be 6-6 dude
Cody – I hope it's 7-6 I want to see what happens with Mark
Jason – it'll be 6-6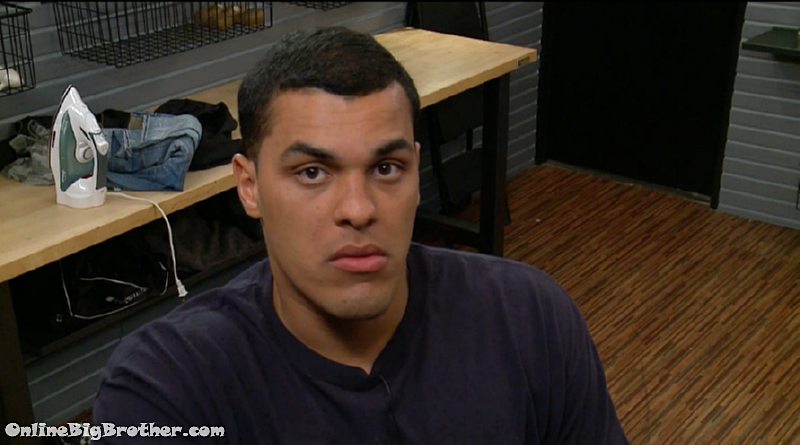 2:51pm Storage room Josh
Josh – whats funny, I believe Cody but if Cody woulda not isolated me and have more conversation with me. Not when he needed me but days before I would have stuck with him
Josh – BUT you f**ked it up
josh – I've built a trust with Christmas, I dunno if she's playing me I don't think so. It's better to keep Christmas here she will make moves protect me a little bit.
Josh – Jillian I love her she's a great girl she's a great friend
Josh – is Jillian going to make moves? NO
Josh – I completely trust Paul and Christmas
Links to the ranking system
Rank your house guests here
For those of you that like Statistics here are some expanded reports.